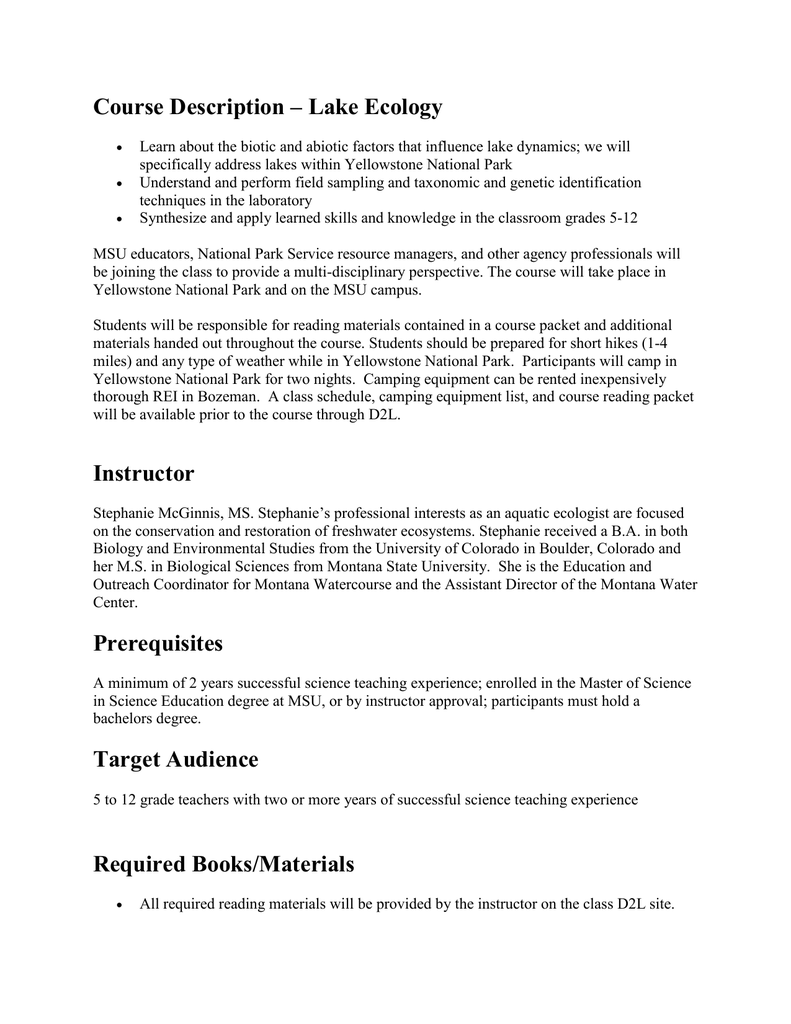 Course Description – Lake Ecology



Learn about the biotic and abiotic factors that influence lake dynamics; we will
specifically address lakes within Yellowstone National Park
Understand and perform field sampling and taxonomic and genetic identification
techniques in the laboratory
Synthesize and apply learned skills and knowledge in the classroom grades 5-12
MSU educators, National Park Service resource managers, and other agency professionals will
be joining the class to provide a multi-disciplinary perspective. The course will take place in
Yellowstone National Park and on the MSU campus.
Students will be responsible for reading materials contained in a course packet and additional
materials handed out throughout the course. Students should be prepared for short hikes (1-4
miles) and any type of weather while in Yellowstone National Park. Participants will camp in
Yellowstone National Park for two nights. Camping equipment can be rented inexpensively
thorough REI in Bozeman. A class schedule, camping equipment list, and course reading packet
will be available prior to the course through D2L.
Instructor
Stephanie McGinnis, MS. Stephanie's professional interests as an aquatic ecologist are focused
on the conservation and restoration of freshwater ecosystems. Stephanie received a B.A. in both
Biology and Environmental Studies from the University of Colorado in Boulder, Colorado and
her M.S. in Biological Sciences from Montana State University. She is the Education and
Outreach Coordinator for Montana Watercourse and the Assistant Director of the Montana Water
Center.
Prerequisites
A minimum of 2 years successful science teaching experience; enrolled in the Master of Science
in Science Education degree at MSU, or by instructor approval; participants must hold a
bachelors degree.
Target Audience
5 to 12 grade teachers with two or more years of successful science teaching experience
Required Books/Materials

All required reading materials will be provided by the instructor on the class D2L site.