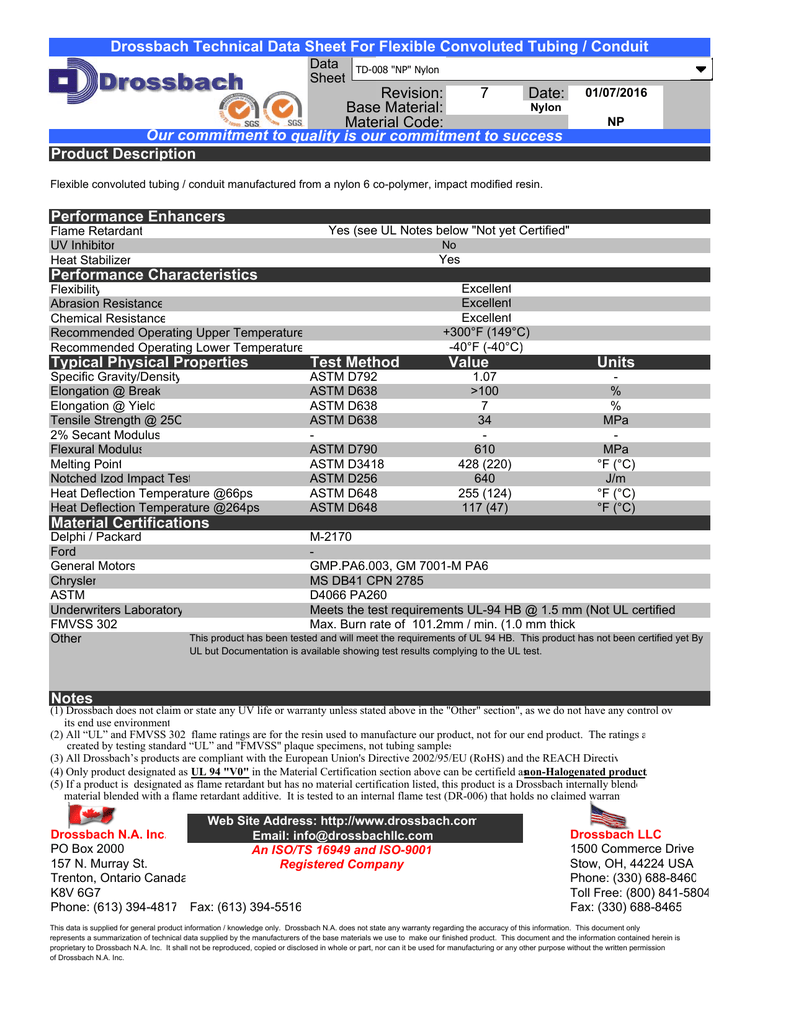 Drossbach Technical Data Sheet For Flexible Convoluted Tubing / Conduit
Data
Sheet
8
TD-008 "NP" Nylon
Revision:
7
Date:
Nylon
Base Material:
Material Code:
Our commitment to quality is our commitment to success
Product Description
01/07/2016
NP
Flexible convoluted tubing / conduit manufactured from a nylon 6 co-polymer, impact modified resin.
Performance Enhancers
Yes (see UL Notes below "Not yet Certified"
Flame Retardant
UV Inhibitor
Heat Stabilizer
No
Yes
Performance Characteristics
Excellent
Excellent
Excellent
+300°F (149°C)
-40°F (-40°C)
Flexibility
Abrasion Resistance
Chemical Resistance
Recommended Operating Upper Temperature
Recommended Operating Lower Temperature
Typical Physical Properties
Test Method
Specific Gravity/Density
Elongation @ Break
Elongation @ Yield
Tensile Strength @ 25C
2% Secant Modulus
Flexural Modulus
Melting Point
Notched Izod Impact Test
Heat Deflection Temperature @66ps
Heat Deflection Temperature @264ps
ASTM D792
ASTM D638
ASTM D638
ASTM D638
ASTM D790
ASTM D3418
ASTM D256
ASTM D648
ASTM D648
Value
1.07
>100
7
34
610
428 (220)
640
255 (124)
117 (47)
Units
%
%
MPa
MPa
°F (°C)
J/m
°F (°C)
°F (°C)
Material Certifications
Delphi / Packard
Ford
General Motors
Chrysler
ASTM
Underwriters Laboratory
FMVSS 302
Other
M-2170
GMP.PA6.003, GM 7001-M PA6
MS DB41 CPN 2785
D4066 PA260
Meets the test requirements UL-94 HB @ 1.5 mm (Not UL certified
Max. Burn rate of 101.2mm / min. (1.0 mm thick)
This product has been tested and will meet the requirements of UL 94 HB. This product has not been certified yet By
UL but Documentation is available showing test results complying to the UL test.
Notes
(1) Drossbach does not claim or state any UV life or warranty unless stated above in the "Other" section", as we do not have any control ove
its end use environment
(2) All "UL" and FMVSS 302 flame ratings are for the resin used to manufacture our product, not for our end product. The ratings a
created by testing standard "UL" and "FMVSS" plaque specimens, not tubing samples
(3) All Drossbach's products are compliant with the European Union's Directive 2002/95/EU (RoHS) and the REACH Directiv
(4) Only product designated as UL 94 "V0" in the Material Certification section above can be certifield asnon-Halogenated product.
(5) If a product is designated as flame retardant but has no material certification listed, this product is a Drossbach internally blende
material blended with a flame retardant additive. It is tested to an internal flame test (DR-006) that holds no claimed warrant
Web Site Address: http://www.drossbach.com
Drossbach N.A. Inc.
Email: [email protected]
PO Box 2000
An ISO/TS 16949 and ISO-9001
157 N. Murray St.
Registered Company
Trenton, Ontario Canada
K8V 6G7
Phone: (613) 394-4817 Fax: (613) 394-5516
Drossbach LLC
1500 Commerce Drive
Stow, OH, 44224 USA
Phone: (330) 688-8460
Toll Free: (800) 841-5804
Fax: (330) 688-8465
This data is supplied for general product information / knowledge only. Drossbach N.A. does not state any warranty regarding the accuracy of this information. This document only
represents a summarization of technical data supplied by the manufacturers of the base materials we use to make our finished product. This document and the information contained herein is
proprietary to Drossbach N.A. Inc. It shall not be reproduced, copied or disclosed in whole or part, nor can it be used for manufacturing or any other purpose without the written permission
of Drossbach N.A. Inc.