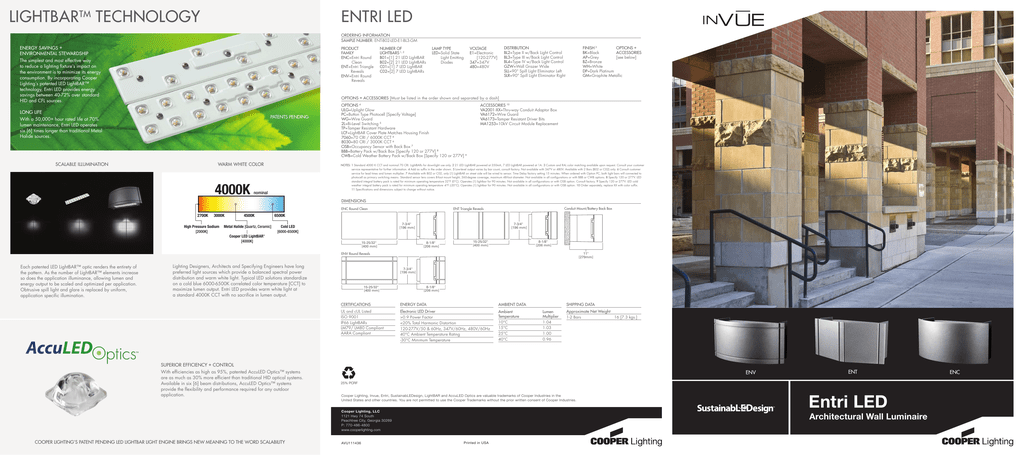 ENTRI LED
LIGHTBARTM TECHNOLOGY
ORDERING INFORMATION
SAMPLE NUMBER: ENT-B02-LED-E1-BL3-GM
ENERGY SAVINGS +
ENVIRONMENTAL STEWARDSHIP
The simplest and most effective way
to reduce a lighting fixture's impact on
the environment is to minimize its energy
consumption. By incorporating Cooper
Lighting's patented LED LightBAR™
technology, Entri LED provides energy
savings between 40-72% over standard
HID and CFL sources.
PRODUCT
FAMILY
ENC=Entri Round
Clean
ENT=Entri Triangle
Reveals
ENV=Entri Round
Reveals
NUMBER OF
LIGHTBARS 1, 2
B01=[1] 21 LED LightBAR
B02=[2] 21 LED LightBARs
C01=[1] 7 LED LightBAR
C02=[2] 7 LED LightBARs
LAMP TYPE
LED=Solid State
Light Emitting
Diodes
OPTIONS +
FINISH 3
BK=Black
ACCESSORIES
AP=Grey
[see below]
BZ=Bronze
WH=White
DP=Dark Platinum
GM=Graphite Metallic
DISTRIBUTION
BL2=Type II w/Back Light Control
BL3=Type III w/Back Light Control
BL4=Type IV w/Back Light Control
GZW=Wall Grazer Wide
SLL=90° Spill Light Eliminator Left
SLR=90° Spill Light Eliminator Right
VOLTAGE
E1=Electronic
[120-277V]
347=347V
480=480V
OPTIONS + ACCESSORIES [Must be listed in the order shown and separated by a dash]
LONG LIFE
With a 50,000+ hour rated life at 70%
lumen maintenance, Entri LED operates
six [6] times longer than traditional Metal
Halide sources.
PATENTS PENDING
SCALABLE ILLUMINATION
WARM WHITE COLOR
4000K
OPTIONS 4
ULG=Uplight Glow
PC=Button Type Photocell [Specify Voltage]
WG=Wire Guard
2L=Bi-Level Switching 5
TP=Tamper Resistant Hardware
LCF=LightBAR Cover Plate Matches Housing Finish
7060=70 CRI / 6000K CCT 6
8030=80 CRI / 3000K CCT 6
OSB=Occupancy Sensor with Back Box 7
BBB=Battery Pack w/Back Box [Specify 120 or 277V] 8
CWB=Cold Weather Battery Pack w/Back Box [Specify 120 or 277V] 9
ACCESSORIES 10
VA2001-XX=Thru-way Conduit Adaptor Box
VA6172=Wire Guard
VA6173=Tamper Resistant Driver Bits
MA1253=10kV Circuit Module Replacement
NOTES: 1 Standard 4000 K CCT and nominal 70 CRI. LightBARs for downlight use only. 2 21 LED LightBAR powered at 350mA, 7 LED LightBAR powered at 1A. 3 Custom and RAL color matching available upon request. Consult your customer
service representative for further information. 4 Add as suffix in the order shown. 5 Low-level output varies by bar count, consult factory. Not available with 347V or 480V. Available with 2 Bars (B02 or C02) only. 6 Consult customer
service for lead times and lumen multiplier. 7 Available with B02 or C02, only (1) LightBAR on street side will be wired to sensor. Time Delay factory setting 15 minutes. When ordered with Option PC, both light bars will connected to
photocell as primary switching means. Standard sensor lens covers 8-foot mount height, 360-degree coverage, maximum 48-foot diameter. Not available in all configurations or with BBB or CWB options. 8 Specify 120 or 277V. LED
standard integral battery pack is rated for minimum operating temperature 32°F (0°C). Operates (1) lightbar for 90 minutes. Not available in all configurations or with OSB option. Consult factory. 9 Specify 120 or 277V. LED cold
weather integral battery pack is rated for minimum operating temperature -4°F (-20°C). Operates (1) lightbar for 90 minutes. Not available in all configurations or with OSB option. 10 Order separately, replace XX with color suffix.
11 Specifications and dimensions subject to change without notice.
nominal
DIMENSIONS
2700K
3000K
High Pressure Sodium
[2000K]
4500K
6500K
Metal Halide [Quartz, Ceramic]
Cooper LED LightBAR
[4000K]
Conduit Mount/Battery Back Box
ENT Triangle Reveals
ENC Round Clean
7-3/4"
[196 mm]
7-3/4"
[196 mm]
Cold LED
[6000-6500K]
TM
15-25/32"
[400 mm]
8-1/8"
[206 mm]
15-25/32"
[400 mm]
8-1/8"
[206 mm]
ENV Round Reveals
Each patented LED LightBAR™ optic renders the entirety of
the pattern. As the number of LightBAR™ elements increase
so does the application illuminance, allowing lumen and
energy output to be scaled and optimized per application.
Obtrusive spill light and glare is replaced by uniform,
application specific illumination.
Lighting Designers, Architects and Specifying Engineers have long
preferred light sources which provide a balanced spectral power
distribution and warm white light. Typical LED solutions standardize
on a cold blue 6000-6500K correlated color temperature [CCT] to
maximize lumen output. Entri LED provides warm white light at
a standard 4000K CCT with no sacrifice in lumen output.
SUPERIOR EFFICIENCY + CONTROL
With efficiencies as high as 95%, patented AccuLED Optics™ systems
are as much as 30% more efficient than traditional HID optical systems.
Available in six [6] beam distributions, AccuLED Optics™ systems
provide the flexibility and performance required for any outdoor
application.
11"
[279mm]
7-3/4"
[196 mm]
15-25/32"
[400 mm]
8-1/8"
[206 mm]
CERTIFICATIONS
ENERGY DATA
AMBIENT DATA
UL and cUL Listed
ISO 9001
IP66 LightBARs
LM79/ LM80 Compliant
AARA Compliant
Electronic LED Driver
>0.9 Power Factor
<20% Total Harmonic Distortion
120-277V/50 & 60Hz, 347V/60Hz, 480V/60Hz
40°C Ambient Temperature Rating
-30°C Minimum Temperature
Ambient
Temperature
10°C
15°C
25°C
40°C
Approximate Net Weight
1-2 Bars
16 [7.3 kgs.]
ENV
ENT
25% PCRF
Cooper Lighting, Invue, Entri, SustainabLEDesign, LightBAR and AccuLED Optics are valuable trademarks of Cooper Industries in the
United States and other countries. You are not permitted to use the Cooper Trademarks without the prior written consent of Cooper Industries.
Cooper Lighting, LLC
1121 Hwy 74 South
Peachtree City, Georgia 30269
P: 770-486-4800
www.cooperlighting.com
COOPER LIGHTING'S PATENT PENDING LED LIGHTBAR LIGHT ENGINE BRINGS NEW MEANING TO THE WORD SCALABILITY
SHIPPING DATA
Lumen
Multiplier
1.04
1.03
1.00
0.96
AVU111436
Entri LED
Architectural Wall Luminaire
Printed in USA
ENC
FEATURES + BENEFITS
INNOVATION CENTER
STANDARD PRODUCT FEATURES
[+] Durable Die-cast Construction
[+] Extruded Aluminum Heat Sinks
[+] 10kV Circuit Protection
[+] Electronic Universal Drivers
[+] Quick Disconnect Wire Connections
[+]
[+]
[+]
[+]
Replaceable LightBARS + Drivers
Industry Leading Optics
Easy Access Tool-less Door
Hook-N-Lock Quick Mount
FINISH
Finished in Super TGIC polyester powder coat
paint. Six [6] standard colors. RAL and custom
colors available.
ARCHITECTURAL FORM
Entri LED offers clean, architectural styling which perfectly
adorns any setting. Choice of three [3] faceplate designs and
the ability to finish match LED cover plates to the housing
exterior allows Entri LED to blend seamlessly with architecture.
INNOVATION IN ACTION
OPTICAL EXCELLENCE
Optical efficiency and control is provided through
patented precision designed AccuLED Optics™
that focus light onto the application region. Entri
LED is available in one [1] or two [2] LightBAR™
configurations with a choice of six [6] industry
leading downlight distributions. State-of-the-art
distributions provide unmatched forward efficiency
and superb brightness control on wall through back
light control [BL] optics. All LightBARs™ feature an
IP66 enclosure rating. Entri LED also features an
upward soft glow option [ULG] for accent and
uplighting applications.
BEST-IN-CLASS DESIGN + RELIABILITY
ENERGY SAVING + CONTROL OPTIONS
Entri LED provides up to 72% energy savings over traditional
lamp sources. Additional energy savings is possible through bi-level
switching [2L], allowing up to 50% additional energy savings with
no compromise in distribution uniformity. Entri LED is available with
an optional button photocontrol [PC].
POWER AND LUMENS BY NUMBER OF LIGHTBARS
The Cooper name has stood for innovation, service and
expertise for over 175 years. Today, Cooper Lighting's LED
Innovation Center is home to the design, validation and
manufacturing of proprietary LED technologies. Through
changing times and technologies, Cooper answers the call
to provide relevant, industry-leading solutions to evolving
market needs.
Precision design practices and rigorous reliability testing result
in dependable luminaries that thrive in outdoor environments.
Entri LED is rated for operation in -30°C to 40°C ambient
environments, comes equipped with 10kV transient surge
protection and is backed by a five-year warranty from a
world class manufacturer.
Number of
LightBARs
DISTRIBUTION
Power
[Watts]
BL2
BL3
C01
27
1,704
1,615
1,686
1,688
1,550
C02
54
3,408
3,230
3,372
3,375
3,099
B01
27
1,770
1,625
1,720
1,725
1,571
B02
51
3,540
3,249
3,440
3,450
3,142
BL4
GZW
SLR/SLL
7 LED LIGHTBAR
21 LED LIGHTBAR
VANDAL RESISTANT OPTIONS
Entri LED offers options to protect your LED investment.
Available wire guard [WG] option offers complete
coverage of the LED array. Tamper resistant [TP] option
utilizes special tamper resistant hardware to inhibit
unauthorized access to the luminaire.
EGRESS OPTIONS
Optional surface mount back box allows the use of
an integral battery pack to power one [1] lightbar for
90 minutes. Entri LED is available with a traditional or
cold-weather battery pack. Entri LED is also capable
of bi-level switching [2L] allowing independent control
of two [2] LightBARs for separate circuit applications.