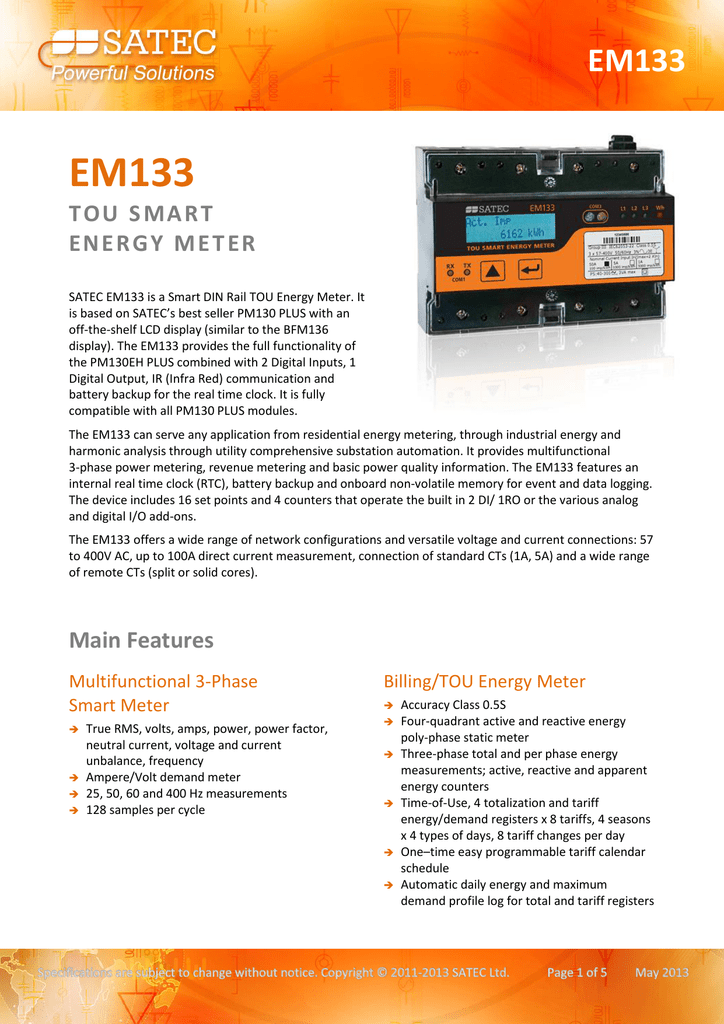 EM133
EM133
TOU SMART
ENERGY METER
SATEC EM133 is a Smart DIN Rail TOU Energy Meter. It
is based on SATEC's best seller PM130 PLUS with an
off-the-shelf LCD display (similar to the BFM136
display). The EM133 provides the full functionality of
the PM130EH PLUS combined with 2 Digital Inputs, 1
Digital Output, IR (Infra Red) communication and
battery backup for the real time clock. It is fully
compatible with all PM130 PLUS modules.
The EM133 can serve any application from residential energy metering, through industrial energy and
harmonic analysis through utility comprehensive substation automation. It provides multifunctional
3-phase power metering, revenue metering and basic power quality information. The EM133 features an
internal real time clock (RTC), battery backup and onboard non-volatile memory for event and data logging.
The device includes 16 set points and 4 counters that operate the built in 2 DI/ 1RO or the various analog
and digital I/O add-ons.
The EM133 offers a wide range of network configurations and versatile voltage and current connections: 57
to 400V AC, up to 100A direct current measurement, connection of standard CTs (1A, 5A) and a wide range
of remote CTs (split or solid cores).
Main Features
Multifunctional 3-Phase
Smart Meter




True RMS, volts, amps, power, power factor,
neutral current, voltage and current
unbalance, frequency
Ampere/Volt demand meter
25, 50, 60 and 400 Hz measurements
128 samples per cycle
Billing/TOU Energy Meter






Accuracy Class 0.5S
Four-quadrant active and reactive energy
poly-phase static meter
Three-phase total and per phase energy
measurements; active, reactive and apparent
energy counters
Time-of-Use, 4 totalization and tariff
energy/demand registers x 8 tariffs, 4 seasons
x 4 types of days, 8 tariff changes per day
One–time easy programmable tariff calendar
schedule
Automatic daily energy and maximum
demand profile log for total and tariff registers
EM133
Harmonic Analyzer


Voltage and current THD, TDD and K-Factor,
up to 40th order harmonic
Voltage and current harmonic spectrum and
angles
Inputs/Outputs



Real-time Waveform Capture
(via PC)


Real-time "scope mode" waveform
monitoring capability
Simultaneous 6-channel 8-cycle waveform
capture at a rate of 64 samples per cycle
Programmable Logical Controller




Embedded programmable controller
16 control set points; programmable
thresholds and delays
Relay output control
1-cycle response time
Event and Data Recording



Non-volatile memory for long-term event and
data recording for at least 90 days history
storage capabilities
Event recorder for logging internal diagnostic
events and setup changes
Two data recorders; programmable data logs
on a periodic basis; automatic daily energy
and maximum demand profile log
Display


Easy to read 2 x 16 Characters LCD display,
adjustable update time
Auto-scroll option with adjustable page
exposition time; auto-return to a default page
Communications







Backup for 260 days
Standard 2-wire RS-485 communication port
Built-in IR communication port
Optional multipurpose RS-232/422/485 port
Optional 10/100Base T port
Optional PROFIBUS port
Optional RF module (available in certain
regions only)
Optional GPRS modem
Communication protocols





Modbus RTU
SATEC ASCII
DNP 3.0
IEC 60870-5-101 (option)
IEC 60870-5-104 (option)
Meter Security

3 levels Password security for protecting
meter setups and accumulated data from
unauthorized changes
Upgradeable Firmware

Easy upgrading device firmware through a
serial or Ethernet port.
Software Support

Real-time Clock

Built-in 2 Digital Inputs and 1 form A solid
state digital output
Optional module 4 Digital Inputs and 2 digital
outputs (Solid State or Electro Mechanical)
Optional module 4 Analog Outputs

Includes comprehensive Power Analysis
Software (PAS) for configuration and data
acquisition
Optional ExpertPowerTM client for
communicating with the SATEC proprietary
ExpertPowerTM Internet services
EM133
Specifications
VOLTAGE INPUTS
Voltage Connections
BUILT IN COMMUNICATION
3 phases, 1 Neutral
Communication Type
RS-485
Direct voltage connection:
220 to 400V (L-N)
 380 to 690V (L-L)
 Range 0-800VAC
Via PT (Power Transformer):
 57.7 to 120V (L-N)
 100 to 207V (L-L)
 Range 0-250VAC
Max. Baud Rate
115.2 kb/s
Isolation
4000 VAC (L-G) for 1 min.
Max. Cable Length
1000 m
Protocols
MODBUS RTU/ASCII
DNP 3.0
IEC 60870 -5-101 (option)
IEC 60870 -5-104 (option)
Starting Voltage
0.2% UN
Terminal Blocks
Input Impedance
 1M
3 Sealed, pitch 7-10mm
2.5 to 4 mm²
Burden with Aux.
Power supply
0.2VA/phase
Overload withstand
Voltage Ratings

INFRA RED COMMUNICATION
Baud rate
Up to 19.200 kb/s
4000 VAC (L-G) for 1 min.
Protocols
MODBUS RTU/ASCII
Impulse Voltage
6kV
ADD-ON MODULES
Terminal Blocks
4 Sealed, pitch 7-10mm
2.5 to 4 mm²
Max. # of Modules
1
Available Modules
RS-232; PROFIBUS; ETHERNET;
Digital I/O; Analog Outputs
Current Connections
3 galvanic isolated inputs
FRONT PANEL
Current Ratings
Choice of 4 options:
 ../5A CT connection
 ../1A CT connection
 Direct up to 100A
 Remote CT (40mA)
Display type
2×16 Characters Transflective
LCD with backlight
Character size
3.2×1.85 mm
Viewing area
46×11 mm
0.2% IN
LEDs
CURRENT INPUTS
Starting Current
Burden per phase
Total 6 LEDs:
1 Pulse calibration output
 3 voltage indication
 2 RX/TX activity

<0.2 VA (../5A)
<0.05 VA (../1A)
Overload (continuous) 2×IN (1.2×IN for 100A model)
Keypad
2 buttons
Over current
50×IN (for 1 second)
Nameplate
Galvanic isolation
4000 VAC (L-G) for 1 min.
According to IEC 60688 and
IEC 62052-11
Terminal Blocks
6 Sealed, pitch 7-10mm
4 to 16 mm²
MECHANICAL
Enclosure
DIN Rail mount
Complies with EN50022
Dimensions [W×H×D]
125 × 90 × 75mm
Enclosure Material
Reinforced Polycarbonate
AUXILIARY POWER SUPPLY
Rated Input
40-300 V AC/DC
Insulation Dielectric
withstand
4000 VAC for 1 min.
Output power
4W
Operational
-25°C to 60°C
Terminal Blocks
2 Sealed, pitch 7-10mm
2.5 to 4 mm²
Storage
-30°C to 85°C
TEMPERATURE
EM133
Standards Compliance specifications
EMC per IEC 60688 and IEC
62052-11:
Atmospheric Environment
Immunity:







IEC61000-4-2: Electrostatic discharge, 15/–
air/contact
IEC61000-4-3: Electromagnetic RF Fields,
10V/m @ 80Mhz – 1000MHz
IEC61000-4-4: Fast Transients burst, 4KV on
current and voltage circuits and 2 KV for
auxiliary circuits
IEC61000-4-5: Surge 4KV on current and
voltage circuits and 1 KV for auxiliary circuits
IEC61000-4-6: Conducted Radio-frequency,
10V @ 0.15Mhz – 80MHz
IEC61000-4-8: Power Frequency Magnetic
Field
Emission (radiated/conducted):


EN55022: 2010 Class A (CISPR 22)
FCC p.15 Class A mandatory
Safety

UL/IEC 61010-1
Insulation



IEC 62052-11: Insulation impulse 6KV/500Ω @
1.2/50 μs
IEC 62053-22: AC voltage tests related to
ground, 4 kV AC @ 1mn, for power and signal
ports (above 40V)
2.5KVAC r.m.s. @ 1mn, for other ports (below
40V)












Operational ambient temperature
range: -25C to +60 C
Long-term damp heat withstand according to
IEC 68-2-3 <95% (non condensing), +40 C
Transport and storage temperature range: –
30C to +85 C
IEC 60068-2-6: Vibration
Frequency range: 10Hz to 150Hz
Transition frequency: 60Hz
Constant movement amplitude
0.075mm, f<60Hz
Constant acceleration 9.8 m/s2 (1g), f > 60Hz
Additional Transport vibration and shocks:
Longitudinal acceleration: 2.0 g
Vertical acceleration: 1.2 g
Transversal acceleration: 1.2 g
Enclosure protection: IP20
Accuracy according to:




IEC 62053-22, class 0.5S – active energy
IEC 62053-21, class 0.5 – reactive energy
IEC 60688, class 0.5S – active energy
IEC 60688, class 1 – reactive energy
EM133
Order String
OPTIONS
Current Inputs
5 Ampere
1 Ampere
Direct current measurement up to 100A
High Accuracy Current Sensors (HACS). Requires ordering
of 3 HACS - please refer to SATEC's HACS Datasheet.
Calibration at Frequency
25 Hz
50 Hz
60 Hz
400 Hz
Resolution
Low Resolution 1A, 1V
High Resolution 0.01A, 0.1V
Power Supply
40-300V AC/DC
Communication Protocol
Modbus and DNP 3.0
Modbus and IEC 60870-101/104
Expansion Module
(Max. 1 module per instrument, can be ordered separately)
Analog Output: ±1mA
Analog Output: 0-20mA
Analog Output: 0-1mA
Analog Output: 4-20mA
Analog Output: 0-3mA
Analog Output: ±3mA
Analog Output: 0-5mA
Analog Output: ±5mA
EM133
5
1
100
HACS
25HZ
50HZ
60HZ
400HZ
H
ACDC
870
AO1
AO2
AO3
AO4
AO5
AO6
AO7
AO8
Communication: Ethernet (TCP/IP)
Communication: PROFIBUS
Communication: RS232/422/485
Communication: GPRS
Communication: RF (see note)
ETH
PRO
RS232
GPRS
RF-x
Digital Input (Dry Contact) / Relay Output 250V / 5A AC
Digital Input (Dry Contact) / SSR Output 250V / 0.1A AC
DIOR
DIOS
12 Digital Inputs (Dry Contact)/4 Relay Outputs 250V/5A AC
12 Digital Inputs (250VDC) / 4 Relay Outputs 250V/5A AC
12DIOR-DRC with Ethernet
12DIOR-250V with Ethernet
12DIOR-DRC with RS-485
RF Accessories (see note)
Concentrator - ROW
Concentrator External for 2 x ETC2002
Repeater
Antenna 1: without cable (module or concentrator)
Antenna 2: with 2M cable (module or concentrator)
Antenna 3: external for concentrator only
Antenna 4: external for module or concentrator
12DIOR-DRC
12DIOR-250V
12DIOR-DRC-ETH
12DIOR-250V-ETH
12DIOR-DRC-485
CON-ROW
CON-EXT
REP
AN-1
AN-2
AN-3
AN-4
Note: The RF module and accessories are available in certain regions only. Please consult your local supplier.