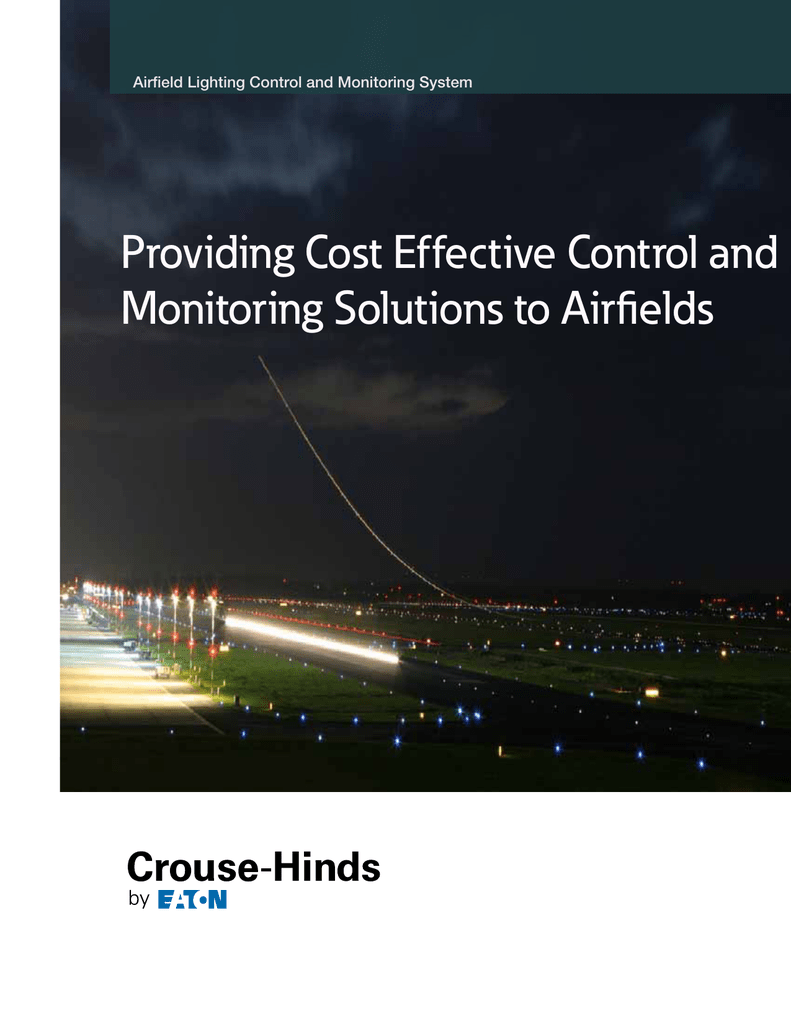 Airfield Lighting Control and Monitoring System
Providing Cost Effective Control and
Monitoring Solutions to Airfields
PRO Command ALCMS
Eaton's Crouse-Hinds PRO Command ALCMS is based on over 20 years experience with
airfield lighting control and monitoring systems. Designed with the philosophy that a
system should be reliable, intuitive to install and simple to use, the PRO Command ALCMS can be installed on any airfield in the world.
Compliance with Standards:
FAA: 150/5345-56, L-890
ICAO: Annex 14 Vol 1
ICAO: Aerodrome Design Manual Part 5
Transport Canada: TP-312E
L-890- X-Y System where:
X = A - Control Only
B - Basic Monitoring
C - Advance Monitoring
Y = A - Preset Fail-safe
B - Last State Fail-safe
The PRO Command ALCMS is a Programmable Logic Controller (PLC) configuration,
assembled with Eaton Components that are built to last. The PRO Command is aimed
at small to medium sized airfields, providing a simple ALCMS system to meet the airfield needs. This system can also be expanded to meet a growing airports needs over
time, making this the only ALCMS that needs to be installed.
2
EATON 
Features:
Control and Monitoring Capabilities:
• Control and Monitoring of CAT I, II and III airports
• Control and Monitoring of all Constant Current Regulators, Circuit Selector Switches, Beacons, Wind
cones, Generators, Radio Control, Photocell and other general elements
• Ability to have Photocell Control, Radio Control and ARCAL Control
• Control can be transferred between locations as required, permission to transfer settings available
• Remote Access to system is available
• Monitoring and Troubleshooting with alarm page and event tracking page
• System history feature stores data for up to 1 year
Open Software Platform:
• Graphic changes can be made by airport maintenance, no need to call manufacturer for minor changes
• Graphic buttons and color scheme can be customized without manufacturer assistance.
• System layout and development is able to be done by authorized airport personnel, advanced technical
is not required
Expandable System Design:
• Streamlined design simplifies and makes installation faster for the contractor
• Site Configuration of Constant Current Regulators through configuration touchscreen interface installed
in PLC cabinet.
• Off-the-shelf system components allow for system expansion of additional CCR and General Elements
without manufacturer assistance as the airport needs evolve
• Off-the shelf system components allow customers to purchase hardware anywhere
World Wide Installations:
• Eaton Service Technicians are available worldwide to conduct installation, commissioning, service and
maintenance of ALCMS systems
• Phone Support is also available to customers who need assistance
Main Screen
Runway/Taxiway Screen
CCR Screen
For more information such as sample specifications, engineering drawings and literature visit
www.crouse-hinds.com/airportlighting
EATON 
3
United States of America:
Eaton's Crouse-Hinds Airport
Lighting Products
Brazil:
Cooper Crouse Hinds
China:
Cooper China
Engenharia de Aplicação
1200 Kennedy Road
No.955 Shengli Road
Sorocaba/SP - Brasil
Windsor, CT 06095, USA
East Area Zone of
Tel: +55 15 3353 7071
Tel: +1-860-683-4300
Zhangjiang High-Tech Park
Fax: +55 15 9755 6016
Fax: +1-860-683-4354
Pudong, Shanghai China 201201
www.crouse-hinds.com.br
Tel: +86 21 2899 3600
www.crouse-hinds.com/airportlighting
Canada:
Cooper Crouse Hinds
For more information:
If further assistance is
required, please contact
an authorized Eaton
Distributor, Sales Office,
or Customer Service
Department.
Fax: +86 21 2899 4055
5925 McLaughlin Road
Mexico/Latin America:
Cooper Crouse-Hinds
Mississauga, On
J. Rojo Gomez
L5R 1B8
1170, Col. Guadalupe del Moral
Tel: +1-905-501-3086
09300, Iztapalapa, Mexico D.F.
Cell: +1- 647-229-1914
Tel: +52-555-804-4009
Fax: +1- 905-501-3169
Tel: +52-555-804-4000
Fax: + 1-800-761-5748
Fax: +52-555-804-4019
Eaton
1000 Eaton Boulevard
Cleveland, OH 44122
United States
Eaton.com
© 2013 Eaton Corporation
All Rights Reserved
Printed in USA
Publication No. 5094-1213
December 2013
Eaton's Crouse-Hinds
Airport Lighting Products
1200 Kennedy Road
Windsor, CT 06095
USA TEL: +1 (860) 683-4300
USA FAX: +1 (860) 683-4354
www.crouse-hinds.com/airportlighting
Middle East (Dubai):
Eaton Electric Middle East
Techno Park, Jebel Ali (South)
P.O. Box 261768
Dubai, United Arab Emirates
Tel: +971-4-806-6100
Fax: +971-4-889-4813
Singapore:
Cooper Crouse Hinds
Singapore Regional Office
2 Serangoon North Avenue 5
#06-01 Fu Yu Building
Singapore, Singapore 554911
Tel: 65-6645-9888
Fax: 65-6297-4819
Eaton is a registered trademark.
All other trademarks are property
of their respective owners.