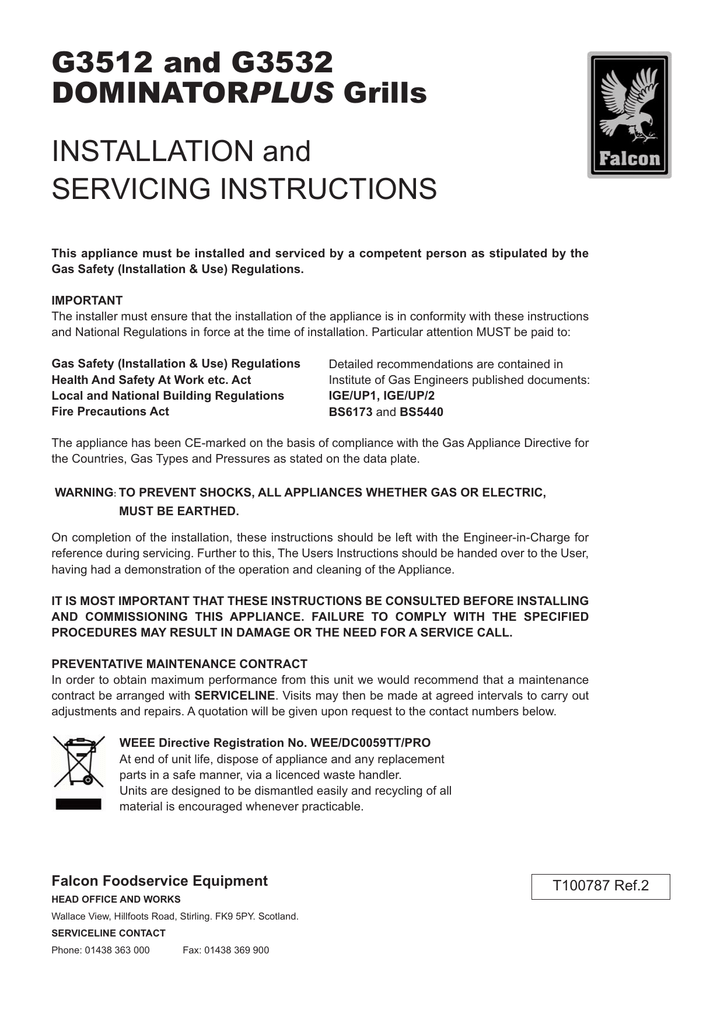 G3512 and G3532
DOMINATORPLUS Grills
INSTALLATION and
SERVICING INSTRUCTIONS
This appliance must be installed and serviced by a competent person as stipulated by the
Gas Safety (Installation & Use) Regulations.
IMPORTANT
The installer must ensure that the installation of the appliance is in conformity with these instructions
and National Regulations in force at the time of installation. Particular attention MUST be paid to:
Gas Safety (Installation & Use) Regulations
Health And Safety At Work etc. Act
Local and National Building Regulations
Fire Precautions Act
Detailed recommendations are contained in
Institute of Gas Engineers published documents:
IGE/UP1, IGE/UP/2
BS6173 and BS5440
The appliance has been CE-marked on the basis of compliance with the Gas Appliance Directive for
the Countries, Gas Types and Pressures as stated on the data plate.
WARNING: TO PREVENT SHOCKS, ALL APPLIANCES WHETHER GAS OR ELECTRIC,
MUST BE EARTHED.
On completion of the installation, these instructions should be left with the Engineer-in-Charge for
reference during servicing. Further to this, The Users Instructions should be handed over to the User,
having had a demonstration of the operation and cleaning of the Appliance.
IT IS MOST IMPORTANT THAT THESE INSTRUCTIONS BE CONSULTED BEFORE INSTALLING
AND COMMISSIONING THIS APPLIANCE. FAILURE TO COMPLY WITH THE SPECIFIED
PROCEDURES MAY RESULT IN DAMAGE OR THE NEED FOR A SERVICE CALL.
PREVENTATIVE MAINTENANCE CONTRACT
In order to obtain maximum performance from this unit we would recommend that a maintenance
contract be arranged with SERVICELINE. Visits may then be made at agreed intervals to carry out
adjustments and repairs. A quotation will be given upon request to the contact numbers below.
WEEE Directive Registration No. WEE/DC0059TT/PRO
At end of unit life, dispose of appliance and any replacement
parts in a safe manner, via a licenced waste handler.
Units are designed to be dismantled easily and recycling of all
material is encouraged whenever practicable.
Falcon Foodservice Equipment
HEAD OFFICE AND WORKS
Wallace View, Hillfoots Road, Stirling. FK9 5PY. Scotland.
SERVICELINE CONTACT
Phone: 01438 363 000
Fax: 01438 369 900
T100787 Ref.2
IMPORTANT INFORMATION
Warranty Policy Shortlist
Warranty does not cover :• Correcting faults caused by incorrect installation of a product.
• Where an engineer cannot gain access to a site or a product.
• Repeat commission visits.
• Replacement of any parts where damage has been caused by misuse.
• Engineer waiting time will be chargeable.
• Routine maintenance and cleaning.
• Gas conversions i.e. Natural to Propane gas.
• Descaling of water products and cleaning of water sensors where softeners/ conditioners are not fitted,
or are fitted and not maintained.
• Blocked drains
• Independent steam generation systems.
• Gas, water and electrical supply external to unit.
• Light bulbs
• Re-installing vacuum in kettle jackets.
• Replacement of grill burner ceramics when damage has been clearly caused by misuse.
• Where an engineer finds no fault with a product that has been reported faulty.
• Re-setting or adjustment of thermostats when unit is operating to specification.
• Cleaning and unblocking of fryer filter systems due to customer misuse.
• Lubrication and adjustment of door catches.
• Cleaning and Maintenance
• Cleaning of burner jets
• Poor combustion caused by lack of cleaning
• Lubrication of moving parts
• Lubrication of gas cocks
• Cleaning/adjustment of pilots
• Correction of gas pressure to appliance.
• Renewing of electric cable ends.
• Replacement of fuses
• Corrosion caused by use of chemical cleaners.
SECTION 1 - INSTALLATION
UNLESS OTHERWISE STATED, PARTS WHICH HAVE BEEN PROTECTED BY THE MANUFACTURER
ARE NOT TO BE ADJUSTED BY THE INSTALLER.
1.1 MODEL NUMBERS, NETT WEIGHTS
and DIMENSIONS
Width
(mm)
Depth
(mm)
Height
(mm)
Weight
(kg)
G3512 Grill
725
585
500
60
G3532 Grill
785
355
340
33
Model
The grill may be mounted on one of the following options:
Bench legs, floor stand or wall bracket.
1.2 SITING
The appliance should be installed on a level, fireproof
surface, in a well lit and draught free position.
If the floor is constructed of combustible material, then
local fire requirements should be checked to ensure
compliance. A clear space of 150mm should be left
between rear and side of unit and any combustible wall.
Important
If a unit is to be installed in suite formation with other
matching appliances, the instructions for all models must
be consulted to determine the necessary clearances to
any combustible rear wall or overlying surface.
Some models require greater clearances than others and
the largest figure quoted in individual instructions will
therefore determine clearance for complete suite of
adjoining appliances.
Grills may be mounted on bench legs, a floor stand or a
wall bracket.
Grills must not be placed directly upon a table top.
The grill flue discharges vertically through the top of the
appliance, meaning the top of the appliance gets very hot.
There must be no direct connection of flue to any
mechanical extraction system or to the outside air.
1.3 VENTILATION
Adequate ventilation must be provided to supply sufficient
fresh air for combustion and allow easy removal of
combustion products which may be harmful to health.
Recommendations for Ventilation of Catering Appliances
are given in BS5440:2.
For multiple installations the requirements for individual
appliances should be added together. Installation should
be made in accordance with local and/or national
regulations applying at the time. A competent installer
MUST be employed.
1.4 GAS SUPPLY
The incoming service must be of sufficient size to supply
full rate without excessive pressure drop.
A gas meter is connected to the service pipe by gas
supplier. Any existing meter should be checked by
supplier to ensure it is of adequate capacity to pass
required rate for appliance in addition to any other gas
equipment installed.
Installation pipe work should be fitted in accordance with
IGE/UP/2. The pipe work should be of adequate size but
not smaller than unit gas inlet connection, i.e. Rp½
(½" B.S.P.). An isolating cock must be located close by to
allow shut-down during an emergency or servicing.
If flexible tube is used, the gas supply tubing or hose shall
comply with national requirements in force. These will be
periodically examined and replaced as necessary.
The installation must be tested for gas tightness.
Procedure details can be found in IGE/UP/1.
The adjustable governor supplied must be fitted to
natural gas appliances.
Care should be taken not to disturb the air combustion
admission and evacuation of open top burner
1.5 ELECTRICAL SUPPLY
Not applicable to this appliance.
Warning
Extraction filters and drip trays become combustible
without regular cleaning.
1.6 WATER SUPPLY
Not applicable to this appliance.
Grills under extraction canopies must have a flue diverter
fitted as advised in DW172.
Note
G3532 model is not compatible with old-style plate
shelves.
1.7 HEAT INPUTS - Natural and Propane Gas
(kW net - Btu/hr gross)
Model
kW
Btu/hr
G3512 grill
8.55
32,100
G3532 grill
6.65
25,100
2.1 ASSEMBLY
Note
Mounting accessories are available. Contact Falcon
Sales, an equipment distributor or place of purchase.
1.8 INJECTOR DIAMETERS - Natural Gas
Model
Main burner(s)
X-lighting burner
Pilot
G3512
Amal 380 x 2
Amal 20
SIT 30
G3532
Ø2.05mm
n/a
SIT 30
Propane Gas
Model
Main burner(s)
X-lighting burner
Pilot
G3512
Amal 140 x 2
Amal 10
SIT 19
G3532
Amal 210
n/a
SIT 19
1.9 GAS PRESSURE ADJUSTMENT
(Natural and Propane gas)
The following supply pressures apply to all models.
Gas type
mbar
inches w.g
Natural gas
20
8
Propane gas
37
14.8
SECTION 2 ASSEMBLY and COMMISSIONING
Pressure test point is located on the injector manifold
situated behind front control facia.
An adjustable governor (½" BSP) is provided on Natural
gas units. This must be adjusted to achieve an operating
pressure at control manifold of 15mbar (6 inches w.g.).
a) Unpack unit and place it in position using separate
mounting accessories.
b) Mounting accessories should be assembled according
to separate instructions provided.
c) Check the following listed parts are included:Brander plate
Brander drip trough
Grid shelf
Grid shelf handles
Drip tray
Gas governor (Natural gas models)
d) The grid shelf handles are supplied separately and
must be screwed on to grid shelf arms.
2.2 CONNECTION TO THE GAS SUPPLY
Installation should be carried out in accordance with the
various regulations listed on the cover of this document.
On NATURAL gas appliances, the adjustable governor
supplied MUST be fitted to gas circuit and fixed securely
in a position that enables adjustment to be carried out
during commissioning. PROPANE appliances do not
require a governor.
Low rate burner pressure must be adjusted to:Gas type
mbar
inches w.g
Natural gas
3.5
1.4
Propane gas
11
4.4
1.10 BURNER ADJUSTMENT
Burners are factory set and NO ADJUSTMENT is
necessary.
Ensure that a gas Isolating cock is fitted to supply in
convenient proximity to grill.
2.3 CONNECTION TO AN ELECTRICAL SUPPLY
Not applicable to this appliance.
2.4 CONNECTION TO A WATER SUPPLY
Not applicable to this appliance.
2.5 COMMISSIONING
Important
Prior to operation, ensure that ALL packing material has
been removed.
2.5.1 Burners
1. Ensure mains gas is turned on.
2. To light grill burners, press knob in and turn it to pilot
position. Ignite pilot using a taper or match. Hold knob
in for 20 seconds and then release. Pilot will remain lit.
Turn knob to required position.
2.5.2 Setting The Gas Pressure
a) Check pressure during commissioning. A suitable
gauge must be connected to test point located on
injector manifold (situated behind front control facia).
b) Turn on main gas valve at supply to unit.
c) Light pilot flame as detailed in Section 2.1.1.
Gas supply pipes may contain air so repeat procedure
until burner lights.
d) Adjust governor (Natural gas installations only) at unit
rear to relevant pressure setting found in Section 1.9.
To increase pressure - turn screw clockwise
(or anti-clockwise to decrease). Check again after
15 minutes of operation.
e) Turn control to low flame position and adjust low rate
screw to relevant pressure setting found in Section 1.9.
f) Disconnect gauge. Replace sealing screw and test for
gas tightness.
2.6 INSTRUCTION TO USER
The installer must ensure that user thoroughly
understands the instructions for lighting, cleaning and
correct use of unit.
It is also important to ensure that gas isolating cock
location is known to user and that the procedure to follow
in event of emergency is demonstrated.
Ensure gas supply is disconnected before commencing.
Only reconnect gas supply after all conversion work has
been completed.
Natural to Propane
Remove governor from appliance inlet pipe-work.
Propane to Natural
Fit governor to appliance inlet pipe-work and follow
details in Section 2.5.
3.1.1 Removal of Burners/Replacement of Injectors
a) Remove control facia.
b) Remove sides.
c) Remove outer top.
d) Remove Inner top, including grill plaques.
e) Remove pilot assembly from RH burner.
f) Remove the burners and cross lighter
g) Remove existing injectors.
h) Insert replacement injector.
i) Remove existing pilot injector from pilot pipe.
j) Fit replacement injector over pilot pipe.
k) Refit pilot pipe to pilot assembly.
l) Refit pilot assembly to burner.
3.1.2 Bypass Screw
The bypass screw should be adjusted according to
Section 1.9.
Ensure data plate with correct information is fitted after
conversion.
SECTION 3 SERVICING and CONVERSION
Important
BEFORE ATTEMPTING ANY SERVICING, ENSURE
ISOLATING COCK IS TURNED OFF AND CANNOT BE
INADVERTENTLY TURNED ON. AFTER ANY
MAINTENANCE TASK, CHECK APPLIANCE TO
ENSURE THAT IT PERFORMS CORRECTLY AND
CARRY OUT ANY NECESSARY ADJUSTMENTS AS
DETAILED IN SECTION 1.
3.2 REMOVAL OF PANELS
Various panels are removed as follows:3.2.1 To Remove Facia Panel
Remove control knob. Undo fixings along underside.
Pull facia panel forward while slightly easing bottom edge
upward to remove.
After carrying out any servicing or exchange of gas
carrying component.
3.2.2 To Remove Side Panels
Remove fixings along side-top.
Remove fixings at rear.
Remove fixings along underside of side panel.
Panel can now be removed.
ALWAYS CHECK FOR GAS TIGHTNESS!
3.2.3 To Remove Outer Top
3.1 GAS CONVERSION CHECK LIST
For conversion to NATURAL GAS, add correct governor
and set burner pressure.
For conversion to PROPANE GAS, remove governor
from gas circuit.
Other considerations
CHANGE INJECTORS
SET LOW RATE
Refer to Section 1.9.
CHANGE DATA PLATE
G3512
Once the side panels are removed the outer top will come
free from its fixings.
G3532
Remove fixings along rear.
Remove fixings from underside of front rail.
Pull outer top up at rear and forwards.
3.2.4 Replacement of Plaques
Follow 3.1.1 to instruction d), remove and replace
plaques as required.
3.3 CLEANING
3.3.1 Burners
Burners should be cleaned periodically to maintain
maximum performance as detailed in User
Instructions. Burners are best cleaned with a wire brush;
port blockage should be freed using a metal broach, any
loose material being shaken out via burner shank.
Ensure burners are dry and free from any cleaning
material before replacing.
3.6 GAS TAPS
Note
Plugs and bodies are machined in pairs and are
therefore not interchangeable. Always clean one tap at
a time.
3.6.1 Service
Remove control knobs and facia panel as detailed
in Section 3.2.1.
Check adjustment as detailed in Section 1.
Remove fixings from front of tap body. Withdraw spindle
and niting arrangement to allow plug to be eased out.
3.3.2 Injectors
Injectors are best cleaned with a wooden splinter or soft
fuse wire. Metal reamers may distort or increase orifice
size and their use should be avoided.
Clean gas tap plug with a soft rag and regrease using an
approved high temperature lubricant. Take care not to
over-grease as surplus may cause gasway blockage.
3.4 THERMOCOUPLES and
FLAME FAILURE DEVICE (FFD)
3.4.1 Flame Failure Device Magnet Unit
To remove and replace FFD magnet unit, the following
procedures must be followed.
Remove hob components as detailed in Section 3.2.2.
Undo FFD thermocouple at rear of tap, undo FFD
section at tap rear and withdraw.
Replace in reverse order.
3.4.2 Thermocouple
Follow section 3.1.1 to instruction e)
Remove nut securing thermocouple to burner support
bracket. Pull thermocouple through bracket from
underside.
Undo thermocouple connection at FFD section of gas tap
and carefully remove thermocouple.
Replace in reverse order.
Ensure thermocouple does not touch any part of burner
when fully re-assembled.
3.5 GOVERNOR (Natural Gas Models Only)
The governor supplied is maintenance free. Check that
blue dust cap is covering vent and in good condition as
this protects the breather hole.
When checking for gas leaks around governor, be aware
that unburned gas may be vented occasionally to release
pressure on diaphragm. This should not be confused with
a gas leak.
Replace parts
gas tightness.
in
correct
order
and
check
3.7 FAULT CHECK LIST
If a flame is not established on the burners follow this
check list.
1. Check mains gas is ON.
2. Check pressure at test point to ensure gas
is flowing to unit.
3. If pressure does not register then check governor
is fully operational or check for line blockage.
4. If gas is present, check burner injector for
blockage.
5. If injector is OK then check FFD is engaging and
passing gas.
6. If flame is still not present, then re-check from start.
If flame is established but not maintained, follow this
check list.
1. Check thermocouple is positioned correctly in burner
flame. Burner ports must be clean.
2. Check thermocouple is not damaged and is
secured to gas valve FFD section to allow FFD to
energise.
3. Check FFD is energising and maintaining flame.
4. If, after carrying out the above, burner is still not
maintaining flame then re-check from start.
SECTION 4 - SPARES
and ACCESSORIES
When ordering spare parts, always quote appliance type
and serial number.
This information will be found on data badge attached to
base plate.