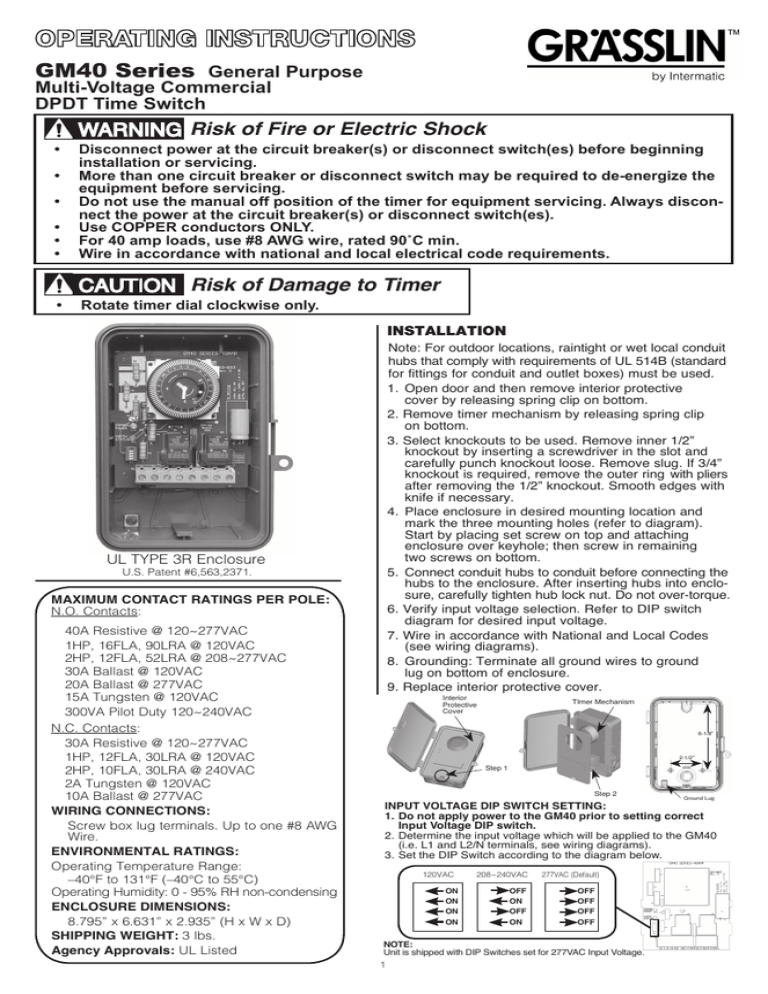 GM40 Series General Purpose
Multi-Voltage Commercial
DPDT Time Switch
WARNING Risk of Fire or Electric Shock
• Disconnect power at the circuit breaker(s) or disconnect switch(es) before beginning
installation or servicing.
• More than one circuit breaker or disconnect switch may be required to de-energize the
equipment before servicing.
• Do not use the manual off position of the timer for equipment servicing. Always disconnect the power at the circuit breaker(s) or disconnect switch(es).
• Use COPPER conductors ONLY.
• For 40 amp loads, use #8 AWG wire, rated 90˚C min.
• Wire in accordance with national and local electrical code requirements.
CAUTION Risk of Damage to Timer
• Rotate timer dial clockwise only.
INSTALLATION
UL TYPE 3R Enclosure
U.S. Patent #6,563,2371.
MAXIMUM CONTACT Ratings PER POLE:
N.O. Contacts:
40A Resistive @ 120~277VAC
1HP, 16FLA, 90LRA @ 120VAC
2HP, 12FLA, 52LRA @ 208~277VAC
30A Ballast @ 120VAC
20A Ballast @ 277VAC
15A Tungsten @ 120VAC
300VA Pilot Duty 120~240VAC
N.C. Contacts:
30A Resistive @ 120~277VAC
1HP, 12FLA, 30LRA @ 120VAC
2HP, 10FLA, 30LRA @ 240VAC
2A Tungsten @ 120VAC
10A Ballast @ 277VAC
WIRING CONNECTIONS:
Screw box lug terminals. Up to one #8 AWG
Wire.
ENVIRONMENTAL RATINGS:
Operating Temperature Range: –40°F to 131°F (–40°C to 55°C)
Operating Humidity: 0 - 95% RH non-condensing
ENCLOSURE DIMENSIONS:
8.795" x 6.631" x 2.935" (H x W x D)
SHIPPING WEIGHT: 3 lbs.
Agency Approvals: UL Listed
Note: For outdoor locations, raintight or wet local conduit
hubs that comply with requirements of UL 514B (standard
for fittings for conduit and outlet boxes) must be used.
1. Open door and then remove interior protective cover by releasing spring clip on bottom.
2. Remove timer mechanism by releasing spring clip on bottom.
3. Select knockouts to be used. Remove inner 1/2" knockout by inserting a screwdriver in the slot and carefully punch knockout loose. Remove slug. If 3/4" knockout is required, remove the outer ring with pliers after removing the 1/2" knockout. Smooth edges with knife if necessary.
4. Place enclosure in desired mounting location and
mark the three mounting holes (refer to diagram). Start by placing set screw on top and attaching enclosure over keyhole; then screw in remaining two screws on bottom.
5. Connect conduit hubs to conduit before connecting the hubs to the enclosure. After inserting hubs into enclo-
sure, carefully tighten hub lock nut. Do not over-torque.
6. Verify input voltage selection. Refer to DIP switch diagram for desired input voltage.
7. Wire in accordance with National and Local Codes (see wiring diagrams).
8. Grounding: Terminate all ground wires to ground lug on bottom of enclosure.
9. Replace interior protective cover.
Interior
Protective
Cover
TImer Mechanism
6-1/8"
2-1/2"
Step 1
Step 2
Ground Lug
INPUT VOLTAGE DIP SWITCH SETTING:
1.Do not apply power to the GM40 prior to setting correct
Input Voltage DIP switch.
2.Determine the input voltage which will be applied to the GM40
(i.e. L1 and L2/N terminals, see wiring diagrams).
3.Set the DIP Switch according to the diagram below.
120VAC
ON
ON
ON
ON
208~240VAC
OFF
ON
OFF
ON
277VAC (Default)
OFF
OFF
OFF
OFF
NOTE:
Unit is shipped with DIP Switches set for 277VAC Input Voltage.
1
PROGRAMMING INSTRUCTIONS
SETTING THE TIME: Rotate the program dial
gradually clockwise until the day of the week (7 day)
and time of day on the outer dial is nearly aligned with
the triangle marker at 2 o'clock position. Then set time
to the minute by rotating minute hand clockwise.
CAUTION: Do not rotate dial or minute hand
counter-clockwise.
APPLICATION
THE GM40 Multi-Volt Series Time Controls are
universal, electromechanical time switches which can
be field configured for various power supply voltages.
The Voltage options include 120VAC, 208/240VAC and
277VAC-all within the same unit! Selection of the
desired supply voltage is easily achieved by selecting
the DIP to the corresponding input voltage as indicated
on the printed circuit board assembly (refer to "input
voltage DIP switch setting section on page 1). The
mechanism is mounted in a UL TYPE 3R outdoor
enclosure and has been designed for the control of
lighting, heating, air conditioning, pumps, motors, or
general electrical circuits in residential, commercial,
industrial and agricultural facilities. All GM40 models
are available as "Mechanism Only" (-M) for installation
in other enclosures or control panels.
SPECIFIERS GUIDE
Furnish and install an Intermatic GM40 Multi-Volt
Series 24 hour or (7 day) time switch with captive
trippers and quartz or synchronous drive. Input voltage
shall be 120, 208/240 or 277VAC selectable via simple
to set DIP switch. All units shall incorporate both SPDT
and DPDT contacts that shall be rated at 40A, 2 HP @
277V. To set the starting time and to provide time
indication, the unit shall have an authentic clock face
with hour and minute hands. LED indicators shall
provide Power and Status feedback. Enclosure shall be
UL TYPE 3R suitable for both indoor or outdoor
installation. Time Switch shall contain an OFF/AUTO/
ON manual override. For Carry-over: The time switch
shall have a quartz drive with 7 day reserve carry-over.
PROGRAMMING: The 24 hour model has trippers of
15 minute increments, and an AM/PM indication on the
outer dial. The 7 day model has trippers of 2 hour
increments. the outer dial shows the 7 days of the
week and AM/PM for each day. Push the captive
trippers outward for the time period(s) that the load is
to be on (Normally open contacts closed).
MANUAL OVERRIDE: With the manual switch in the
middle position, the GM40 is in automatic mode and
will switch at the programmed times. In the upper
position "I", the load is permanently OFF.
BATTERY POWERED RESERVE
(Quartz Models):
In case of power failure, the built-in nickel-metal
hydride battery maintains the time of day for 7 days.
During power outage relays are de-energized.
The GM40 is the only electromechanical general purpose time switch that offers multi-voltage selection, SPDT and
DPDT contacts, 40 Amp rating, indoor and outdoor enclosure - all standard in one model.
Captive Trippers
Can't Be Lost
Orange and Green
LED Lights Indicate
Power and Status
Easy Multi-Voltage
Field Adjustable
DIP Switch for
120, 208/240,
or 277 VAC
Independently
Adjustable Trippers at
15 Minute Intervals
Real-Time Clock Face
New Compact
UL TYPE 3R Outdoor
Enclosure
Replaces All Metal
Enclosures
NO TOOLS REQUIRED!
Our "GUTS" simply snap
into existing Intermatic
enclosures
Large Screw
Terminals for Easy Wiring
Up to one #8 AWG Wire
40 Amp
Rated Contacts
Moisture Resistant
Conformal Coated Board
Ground Lug Termination
GM40 – 120, 208/240, or 277 Volts – The only one to stock.
2
GM40 Terminal designations
TIMER
T
NO
NC
COM
NC2
NO2
Normally Open
(Isolated Contact)
L1
Normally Open
(Isolated Contact)
Normally Closed
(Isolated Contact)
L2/N
COM2
Normally Closed
(Isolated Contact)
GM40 Typical Wiring Diagrams
Typical Wiring Diagram (120VAC Application)
Controlling One 120VAC Load
Typical Wiring Diagram (120VAC Application)
Controlling Two 120VAC Loads
TIMER
T
L1
L2/N
TIMER
T
NC
NO
COM
NC2
NO2
COM2
L1
L2/N
NC
NO
LOAD
L
N
120VAC
L2/N
L1
L2
240VAC
NO2
COM2
LOAD
#2
Typical Wiring Diagram (277VAC Application)
Controlling Two 277VAC Loads
TIMER
T
L1
NC2
LOAD
#1
L
N
120VAC
Typical Wiring Diagram (240VAC Application)
Controlling One 240VAC (Dual Phase) Load
COM
TIMER
T
NC
NO
COM
NC2
NO2
COM2
L1
LOAD
L2/N
L
N
277VAC
Note: Refer to page 1 for proper Input Voltage DIP Switch selection.
3
NC
NO
COM
LOAD
#1
NC2
NO2
COM2
LOAD
#2
GM40 Troubleshooting Guide
120V:ALL ON
200V - :
240V
1
277V:ALL OFF
S1 Setting:
&
ON 3
PROBLEM: LOAD (Lights/Pumps/Motor, etc.) does not turn ON
1. Check ORANGE Power LED, if ON it indicates power is applied to GM40.
2. Verify correct input voltage DIP switch setting (refer to page 1).
3. Check voltage across terminals L1 and L2/N with Multi-meter.
4. Slide manual override switch (located on right side of timer module) up.
The GREEN LED should illuminate indicating that the output should be ON.
5. Check wiring (refer to page 3).
ORANGE LED
ORANGE
POWER
GREEN
STATUS
Illuminated when power is
applied to the GM40
Problem: LOAD (Lights/Pumps/Motor, etc.)
does not turn OFF
GREEN LED
1. Verify manual override switch is set to the middle position.
Illuminated when GM40
output is ON
2. Verify correct programming dial (refer to page 2).
3. Slide manual override switch (located on right side of timer module) down.
The GREEN LED should turn OFF indicating that the output should be OFF.
S1
GM40 Contact terminals transition
White arrow on timer module points to current time.
Trippers are "OUT"
Indicates
Output is ON
GREEN LED – ON
Trippers are "IN"
Indicates
Output is OFF
GREEN LED – OFF
Status of Contacts
Status of Contacts
TIMER
T
TIMER
T
L1
L2/N
NC
NO
COM
NC2
NO2
L1
COM2
L2/N
NC
NO
COM
NC2
NO2
COM2
Note: Power must be applied across terminals L1 and L2/N in order for contacts to transition.
LIMITED ONE YEAR WARRANTY
If within the warranty period specified, this product fails due to a defect in material or workmanship, Intermatic
Incorporated will repair or replace it, at its sole option, free of charge. This warranty is extended to the original
purchaser only and is not transferable. This warranty does not apply to: (a) damage to units caused by accident,
dropping or abuse in handling, acts of God or any negligent use; (b) units which have been subject to unauthorized
repair, opened, taken apart or otherwise modified; (c) units not used in accordance with instructions; (d) damages
exceeding the cost of the product; (e) sealed lamps and/or lamp bulbs, LED's and batteries; (f) the finish on any
portion of the product, such as surface and/or weathering, as this is considered normal wear and tear; (g) transit
damage, initial installation costs, removal costs, or reinstallation costs.
INTERMATIC INCORPORATED WILL NOT BE LIABLE FOR INCIDENTAL OR CONSEQUENTIAL DAMAGES. SOME
STATES DO NOT ALLOW THE EXCLUSION OR LIMITATION OF INCIDENTAL OR CONSEQUENTIAL DAMAGES,
SO THE ABOVE LIMITATION OR EXCLUSION MAY NOT APPLY TO YOU. THIS WARRANTY IS IN LIEU OF ALL
OTHER EXPRESS OR IMPLIED WARRANTIES. ALL IMPLIED WARRANTIES, INCLUDING THE WARRANTY OF
MERCHANTABILITY AND THE WARRANTY OF FITNESS FOR A PARTICULAR PURPOSE, ARE HEREBY MODIFIED
TO EXIST ONLY AS CONTAINED IN THIS LIMITED WARRANTY, AND SHALL BE OF THE SAME DURATION AS THE
WARRANTY PERIOD STATED ABOVE. SOME STATES DO NOT ALLOW LIMITATIONS ON THE DURATION OF AN
IMPLIED WARRANTY, SO THE ABOVE LIMITATION MAY NOT APPLY TO YOU.
INTERMATIC INCORPORATED
Spring Grove, IL 60081-9698
www.intermatic.com
4
158--01014-REVA
This warranty service is available by either (a) returning the product to the dealer from whom the unit was purchased, or (b) completing a warranty claim on line at www.intermatic.com. This warranty is made by: Intermatic
Incorporated, Customer Service 7777 Winn Rd. Spring Grove, Illinois 60081-9698. For warranty service go to: http://
www.intermatic.com or call 815-675-7000.