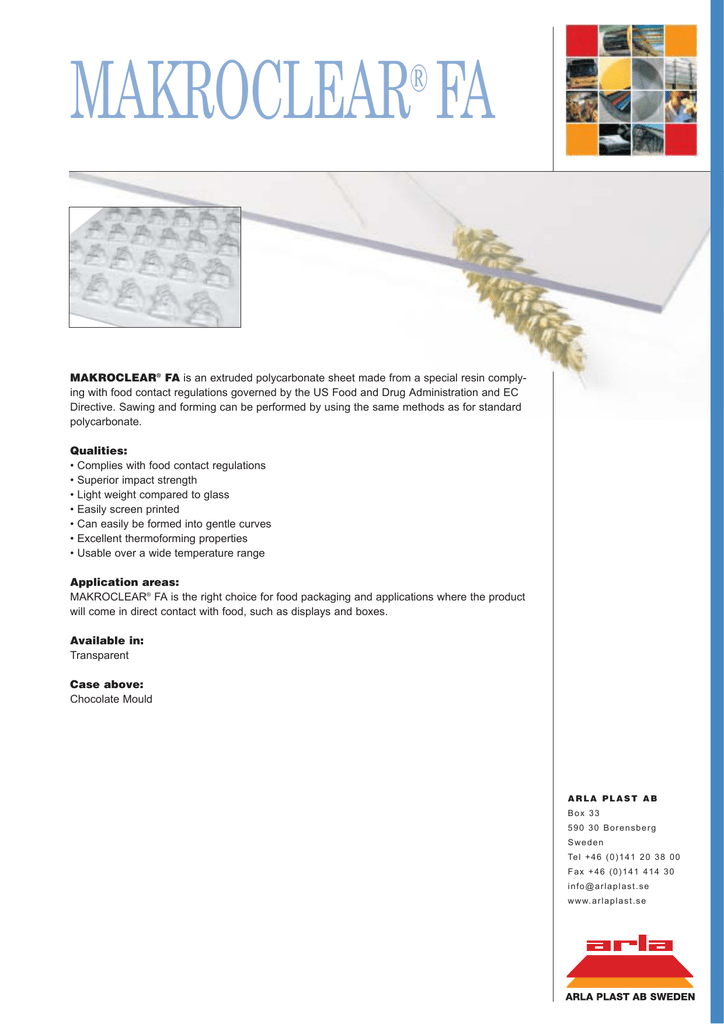 MAKROCLEAR FA
®
MAKROCLEAR® FA is an extruded polycarbonate sheet made from a special resin complying with food contact regulations governed by the US Food and Drug Administration and EC
Directive. Sawing and forming can be performed by using the same methods as for standard
polycarbonate.
Qualities:
• Complies with food contact regulations
• Superior impact strength
• Light weight compared to glass
• Easily screen printed
• Can easily be formed into gentle curves
• Excellent thermoforming properties
• Usable over a wide temperature range
Application areas:
MAKROCLEAR® FA is the right choice for food packaging and applications where the product
will come in direct contact with food, such as displays and boxes.
Available in:
Transparent
Case above:
Chocolate Mould
ARLA PLAST AB
Box 33
590 30 Borensberg
Sweden
Te l + 4 6 ( 0 ) 1 4 1 2 0 3 8 0 0
Fax +46 (0)141 414 30
[email protected]
w w w. a r l a p l a s t . s e
MAKROCLEAR® FA Properties
Property
Value
Unit
Standard
1,20
g/cm3
ISO 1183
Tensile strength at yield (at break)
63 (70)
N/mm2
ISO 527
Elongation at yield (at break)
6 (110)
%
ISO 527
2300
N/mm2
ISO 527
ISO 178
Physical properties
Density
Mechanical properties
Elastic modulus
Flexural modulus
2300
N/mm2
Charpy unnotched impact strength +23°C
no break
kJ/m2
ISO 179/2D
Charpy unnotched impact strength -40°C
no break
kJ/m2
ISO 179/2D
IZOD notched impact strength +23°C
65
kJ/m2
ISO 180/1A
IZOD notched impact strength -30°C
10
kJ/m2
ISO 180/1A
Rockwell hardness
M70
ISO 2039-2
Thermal properties
Linear coefficient of thermal expansion (23-80°C)
0,70
10-4 x K-1
Fire properties
Fire classification according to UL94
HB/1.14
UL 94
V0/6.10
Max. temperature glow wire test (1.0 mm)
Oxygen index
850
°C
IEC 695-2-1
25
%
ASTM D2863-77
Food contact regulations (resin) a)
USA (FDA) Code of Federal Regulations,
Title 21 Par. 177.1580.
Complies
European Union EC Directive 90/128/EEC of
23.02.1990 as amended. b)
Complies
a) It is the responsibility of the manufacturer of the finished article to check compliance with the relevant regulations.
b) For information about compliance to food contact regulations in a specific European country, please contact Arla
Plastprodukter AB.
The above information is based upon experience and given in good faith. Due to many factors which are outside our knowledge and control, no warranty is given
or is to be implied with respect to such information.
w w w. t r y c k s a k e r. c o m • 2 0 0 1 . 1 0
Arla sheets are produced from resins that are certified according to UL 94. Furthermore, several products have been tested according DIN 4102 (class B1 and
B2), DIN 5510 (class S3, SR1 and SR 2, ST1 and ST2), BS 476 part 7 (class 1Y), NF P 92-501 (M2), CSE/75/A (class 1), CSE/RF/3/77 (class 1), UNE 23.727-90
(class M.4). A list of products that have been tested and their respective classification is presented on www.arlaplast.se. If information regarding classifications
according to other standards is needed, it is often possible to retrieve information from our raw material suppliers. Please contact our technical support.