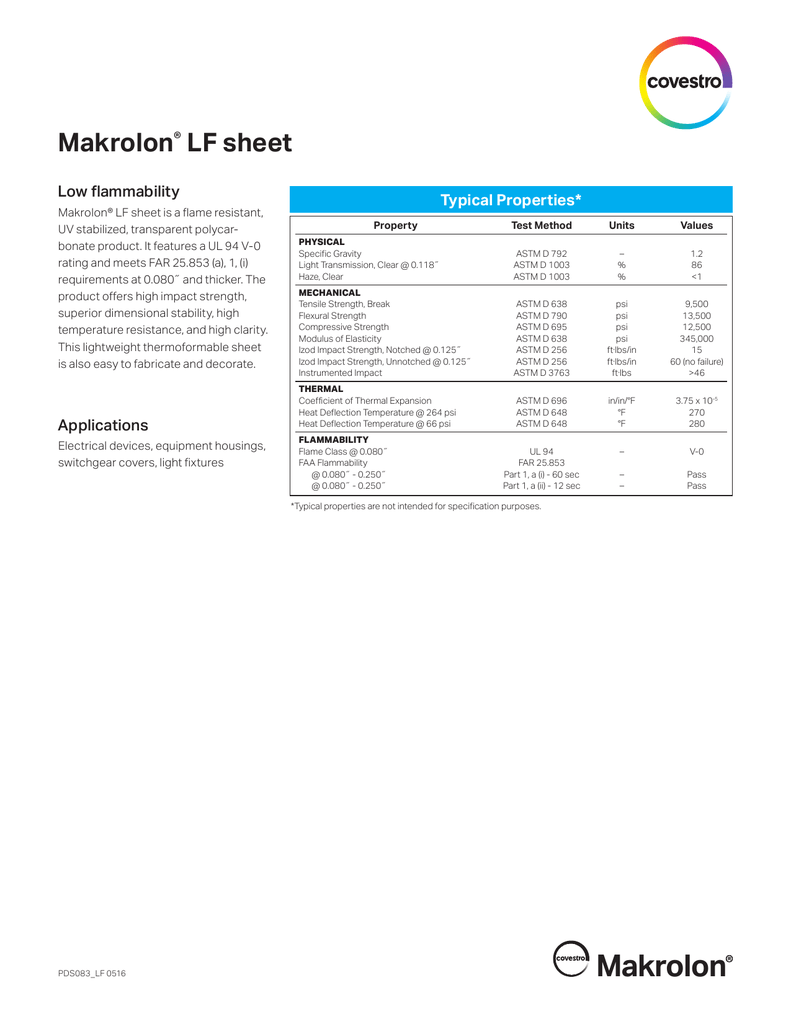 Makrolon® LF sheet
Low flammability
Makrolon® LF sheet is a flame resistant,
UV stabilized, transparent polycarbonate product. It features a UL 94 V-0
rating and meets FAR 25.853 (a), 1, (i)
requirements at 0.080˝ and thicker. The
product offers high impact strength,
superior dimensional stability, high
temperature resistance, and high clarity.
This lightweight thermoformable sheet
is also easy to fabricate and decorate.
Applications
Electrical devices, equipment housings,
switchgear covers, light fixtures
Test Method
Units
Values
MECHANICAL
Tensile Strength, Break
ASTM D 638
Flexural Strength
ASTM D 790
Compressive Strength
ASTM D 695
Modulus of Elasticity
ASTM D 638
Izod Impact Strength, Notched @ 0.125˝
ASTM D 256
Izod Impact Strength, Unnotched @ 0.125˝
ASTM D 256
Instrumented Impact
ASTM D 3763
psi
psi
psi
psi
ft·lbs/in
ft·lbs/in
ft·lbs
9,500
13,500
12,500
345,000
15
60 (no failure)
>46
in/in/°F
°F
°F
3.75 x 10-5
270
280
Property
Typical Properties*
PHYSICAL
Specific Gravity
ASTM D 792
–
1.2
Light Transmission, Clear @ 0.118˝
ASTM D 1003
%
86
Haze, Clear
ASTM D 1003
%
<1
THERMAL
Coefficient of Thermal Expansion
ASTM D 696
Heat Deflection Temperature @ 264 psi
ASTM D 648
Heat Deflection Temperature @ 66 psi
ASTM D 648
FLAMMABILITY
Flame Class @ 0.080˝
UL 94
–
FAA Flammability
FAR 25.853
@ 0.080˝ - 0.250˝
Part 1, a (i) - 60 sec
–
@ 0.080˝ - 0.250˝
Part 1, a (ii) - 12 sec
–
V-0
Pass
Pass
*Typical properties are not intended for specification purposes.
PDS083_LF 0516
Makrolon
Makrolon® LF sheet
Impact Resistance*
50
>46
Total Energy (ft·lbs)
40
30
20
10
0.5
2
0
Glass
Acrylic
Makrolon® LF
*Instrumented Impact per ASTM D 3763,
sample thickness 0.125˝ nominal
Agency and specification compliance
Polycarbonate sheet classification
Polycarbonate resin classification
Flammability - Plastic component
Flammability - FAA
119 Salisbury Road
Sheffield, MA 01257
Toll Free: 800.254.1707
Fax: 800.457.3553
[email protected]
sheets.covestro.com
©Copyright, Covestro, 2016
Makrolon® is a registered trademark of Covestro
A-A-59502
ASTM D 3935
UL 94
FAR 25.853
Type II Class 1
PC0120
UL File #E351891
Part 1 60-second and 12-second
The manner in which you use and the purpose to which you put and utilize our products, technical assistance and
information (whether verbal, written or by way of production evaluations), including any suggested formulations and
recommendations, are beyond our control. Therefore, it is imperative that you test our products, technical assistance,
information and recommendations to determine to your own satisfaction whether our products, technical assistance
and information are suitable for your intended uses and applications. This application-specific analysis must at least
include testing to determine suitability from a technical as well as health, safety, and environmental standpoint. Such
testing has not necessarily been done by Covestro.
Unless we otherwise agree in writing, all products are sold strictly pursuant to the terms of our standard conditions of
sale which are available upon request. All information and technical assistance is given without warranty or guarantee
and is subject to change without notice. It is expressly understood and agreed that you assume and hereby expressly
release us from all liability, in tort, contract or otherwise, incurred in connection with the use of our products, technical
assistance, and information. Any statement or recommendation not contained herein is unauthorized and shall not
bind us. Nothing herein shall be construed as a recommendation to use any product in conflict with any claim of any
patent relative to any material or its use. No license is implied or in fact granted under the claims of any patent.
With respect to health, safety and environment precautions, the relevant Safety Data Sheets (SDS) and product labels
must be observed prior to working with our products.