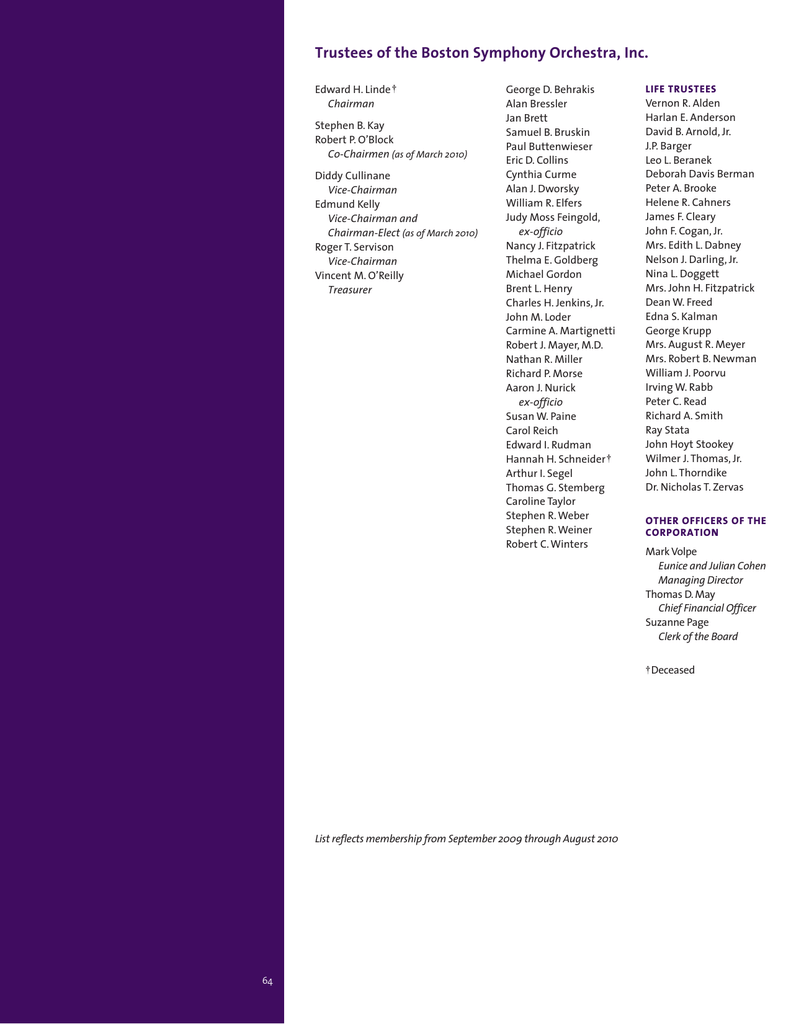 Trustees of the Boston Symphony Orchestra, Inc.
Edward H. Linde †
Chairman
Stephen B. Kay
Robert P. O'Block
Co-Chairmen (as of March 2010)
Diddy Cullinane
Vice-Chairman
Edmund Kelly
Vice-Chairman and
Chairman-Elect (as of March 2010)
Roger T. Servison
Vice-Chairman
Vincent M. O'Reilly
Treasurer
George D. Behrakis
Alan Bressler
Jan Brett
Samuel B. Bruskin
Paul Buttenwieser
Eric D. Collins
Cynthia Curme
Alan J. Dworsky
William R. Elfers
Judy Moss Feingold,
ex-officio
Nancy J. Fitzpatrick
Thelma E. Goldberg
Michael Gordon
Brent L. Henry
Charles H. Jenkins, Jr.
John M. Loder
Carmine A. Martignetti
Robert J. Mayer, M.D.
Nathan R. Miller
Richard P. Morse
Aaron J. Nurick
ex-officio
Susan W. Paine
Carol Reich
Edward I. Rudman
Hannah H. Schneider †
Arthur I. Segel
Thomas G. Stemberg
Caroline Taylor
Stephen R. Weber
Stephen R. Weiner
Robert C. Winters
LIFE TRUSTEES
Vernon R. Alden
Harlan E. Anderson
David B. Arnold, Jr.
J.P. Barger
Leo L. Beranek
Deborah Davis Berman
Peter A. Brooke
Helene R. Cahners
James F. Cleary
John F. Cogan, Jr.
Mrs. Edith L. Dabney
Nelson J. Darling, Jr.
Nina L. Doggett
Mrs. John H. Fitzpatrick
Dean W. Freed
Edna S. Kalman
George Krupp
Mrs. August R. Meyer
Mrs. Robert B. Newman
William J. Poorvu
Irving W. Rabb
Peter C. Read
Richard A. Smith
Ray Stata
John Hoyt Stookey
Wilmer J. Thomas, Jr.
John L. Thorndike
Dr. Nicholas T. Zervas
OTHER OFFICERS OF THE
CORPORATION
Mark Volpe
Eunice and Julian Cohen
Managing Director
Thomas D. May
Chief Financial Officer
Suzanne Page
Clerk of the Board
† Deceased
List reflects membership from September 2009 through August 2010
64
Board of Overseers of the Boston Symphony Orchestra, Inc.
Judy Moss Feingold, Chairman
William F. Achtmeyer
Noubar Afeyan
David Altshuler
Diane M. Austin
Judith W. Barr
Lucille M. Batal
Linda J.L. Becker
George W. Berry
Paul Berz
James L. Bildner
Mark G. Borden
Partha Bose
Anne F. Brooke
Stephen H. Brown
Gregory E. Bulger
Joanne Burke
Ronald G. Casty
Carol Feinberg Cohen
Susan Bredhoff Cohen
Richard F. Connolly, Jr.
Charles L. Cooney
Ranny Cooper
James C. Curvey
Gene D. Dahmen
Mrs. Miguel de Bragança
Paul F. Deninger
Ronald F. Dixon
Ronald M. Druker
Alan Dynner
Ursula Ehret-Dichter
John P. Eustis II
Joseph F. Fallon
Thomas E. Faust, Jr.
Steven S. Fischman
John F. Fish
Myrna H. Freedman
Carol Fulp
Robert Gallery
Robert P. Gittens
Carol Henderson
Susan Hockfield
Roger Hunt
William W. Hunt
Valerie Hyman
Ernest Jacquet
Everett L. Jassy
Stephen J. Jerome
Darlene Luccio Jordan, Esq.
Paul L. Joskow
Stephen R. Karp
Douglas A. Kingsley
Robert Kleinberg
Farla H. Krentzman
Peter E. Lacaillade
Charles Larkin
Robert J. Lepofsky
Christopher J. Lindop
Nancy K. Lubin
Jay Marks
Jeffrey E. Marshall
Joseph B. Martin, M.D.
C. Ann Merrifield
Dr. Martin C. Mihm, Jr.
Maureen J. Miskovic
Robert Mnookin
Paul M. Montrone
Sandra O. Moose
Robert J. Morrissey
Evelyn Stefansson Nef †
Robert T. O'Connell
Peter Palandjian, Jr.
Vincent J. Panetta
Diane Patrick
Joseph Patton
Ann M. Philbin
May H. Pierce
Claudio Pincus
Joyce L. Plotkin
Jonathan Poorvu
Dr. John Thomas Potts, Jr.
William F. Pounds
Dr. Tina Young Poussaint
Claire Pryor
Patrick J. Purcell
John Reed
Dr. Carmichael Roberts
Susan Rothenberg
Alan Rottenberg
Joseph D. Roxe
Kenan Sahin
Gilda Slifka
Christopher Smallhorn
Margery Steinberg
Theresa Stone
Patricia L. Tambone
Jean C. Tempel
Douglas Thomas
Mark D. Thompson
Albert Togut
Diana Osgood Tottenham
Joseph M. Tucci
Robert A. Vogt
David C. Weinstein
Dr. Christoph Westphal
James Westra
Patricia Plum Wylde
Dr. Michael Zinner
D. Brooks Zug
OVERSEERS EMERITI
Helaine B. Allen
Marjorie Arons-Barron
Caroline Dwight Bain
Sandra Bakalar
William T. Burgin
Mrs. Levin H. Campbell
Earle M. Chiles
Mrs. James C. Collias
65
Joan P. Curhan
Phyllis Curtin
Tamara P. Davis
Disque Deane†
Betsy P. Demirjian
JoAnne Walton Dickinson
Phyllis Dohanian
Goetz B. Eaton
Harriett Eckstein
George Elvin
Pamela D. Everhart
J. Richard Fennell
Lawrence K. Fish
Peter H.B. Frelinghuysen
Mrs. Thomas Galligan, Jr.
Mrs. James Garivaltis
Dr. Arthur Gelb
Jordan Golding
Mark R. Goldweitz
Michael Halperson
John Hamill
Deborah M. Hauser
Mrs. Richard D. Hill
Marilyn Brachman Hoffman
Lola Jaffe
Michael Joyce
Martin S. Kaplan
Mrs. S. Charles Kasdon
Mrs. Gordon F. Kingsley
David I. Kosowsky
Robert K. Kraft
Benjamin H. Lacy
Mrs. William D. Larkin
Edwin N. London
Frederick H. Lovejoy, Jr.
Diane H. Lupean
Mrs. Charles P. Lyman
Mrs. Harry L. Marks
Joseph C. McNay
Albert Merck
John A. Perkins
Daphne Brooks Prout
Robert E. Remis
John Ex Rodgers
Roger A. Saunders
Lynda Anne Schubert
Mrs. Carl Shapiro
L. Scott Singleton
Charles A. Stakely
Samuel Thorne
Paul M. Verrochi
Robert A. Wells
Mrs. Joan D. Wheeler
Margaret Williams-DeCelles
Mrs. Donald B. Wilson†
Mrs. John J. Wilson †
Richard Wurtman, M.D.
† Deceased
Boston Symphony Orchestra 2009–10
JAMES LEVINE
Music Director
Ray and Maria Stata Music
Directorship, fully funded
in perpetuity
BERNARD HAITINK
Conductor Emeritus
LaCroix Family Fund,
fully funded in perpetuity
SEIJI OZAWA
Music Director Laureate
FIRST VIOLINS
Malcolm Lowe
Concertmaster
Charles Munch chair,
fully funded in perpetuity
Tamara Smirnova
Associate Concertmaster
Helen Horner McIntyre chair,
endowed in perpetuity in 1976
Alexander Velinzon
Assistant Concertmaster
Robert L. Beal, Enid L., and
Bruce A. Beal chair, endowed
in perpetuity in 1980
Elita Kang
Assistant Concertmaster
Edward and Bertha C. Rose chair
Bo Youp Hwang
John and Dorothy Wilson chair,
fully funded in perpetuity
Lucia Lin
Forrest Foster Collier chair
Ikuko Mizuno
Dorothy Q. and David B. Arnold,
Jr., chair, fully funded in perpetuity
Sheila Fiekowsky*
Muriel C. Kasdon and Marjorie C.
Paley chair
Jennie Shames*
Ruth and Carl J. Shapiro chair,
fully funded in perpetuity
Valeria Vilker Kuchment*
Theodore W. and Evelyn
Berenson Family chair
Tatiana Dimitriades*
Stephanie Morris Marryott and
Franklin J. Marryott chair
Si-Jing Huang*
Catherine and Paul
Buttenwieser chair
Nicole Monahan*
Mary B. Saltonstall chair, fully
funded in perpetuity
Wendy Putnam*
Kristin and Roger Servison chair
Xin Ding*
Donald C. and Ruth Brooks Heath
chair, fully funded in perpetuity
Glen Cherry*
SECOND VIOLINS
Haldan Martinson
Principal
Carl Schoenhof Family chair,
fully funded in perpetuity
Vyacheslav Uritsky
Assistant Principal
Charlotte and IrvingW. Rabb chair,
endowed in perpetuity in 1977
James Cooke*
Victor Romanul*
Bessie Pappas chair
Catherine French*
Jason Horowitz*
Julianne Lee*
Yuncong Zhang*
VIOLAS
Steven Ansell
Principal
Charles S. Dana chair, endowed
in perpetuity in 1970
Cathy Basrak
Assistant Principal
Anne Stoneman chair, fully
funded in perpetuity
Edward Gazouleas
Lois and Harlan Anderson chair,
fully funded in perpetuity
Robert Barnes
Michael Zaretsky
Marc Jeanneret
Mark Ludwig*
(position vacant)
Rachel Fagerburg*
Ronald Knudsen
Shirley and J. Richard Fennell
chair, fully funded in perpetuity
Kazuko Matsusaka*
Joseph McGauley
David H. and Edith C. Howie
chair, fully funded in perpetuity
Ronan Lefkowitz
Nancy Bracken*
Aza Raykhtsaum*
Robert Bradford Newman chair,
fully funded in perpetuity
Bonnie Bewick *
Rebecca Gitter*
CELLOS
Jules Eskin
Principal
Philip R. Allen chair, endowed in
perpetuity in 1969
Martha Babcock
Assistant Principal
Vernon and Marion Alden chair,
endowed in perpetuity in 1977
Mihail Jojatu
Sandra and David Bakalar chair
Jonathan Miller*
Charles and JoAnne Dickinson chair
Owen Young*
John F. Cogan, Jr., and Mary L.
Cornille chair, fully funded in
perpetuity
Andrew Pearce*
Stephen and DorothyWeber
chair, fully funded in perpetuity
Mickey Katz*
Richard C. and Ellen E. Paine
chair, fully funded in perpetuity
Alexandre Lecarme*
Lillian and Nathan R. Miller chair
Adam Esbensen*
Blaise Déjardin*
BASSES
Edwin Barker
Principal
Harold D. Hodgkinson chair,
endowed in perpetuity in 1974
Lawrence Wolfe
Assistant Principal
Maria Nistazos Stata chair, fully
funded in perpetuity
Benjamin Levy
Leith Family chair, fully funded
in perpetuity
Dennis Roy
Joseph and Jan Brett Hearne chair
Joseph Hearne
James Orleans*
Todd Seeber*
Eleanor L. and Levin H. Campbell
chair, fully funded in perpetuity
John Stovall*
Sato Knudsen
Mischa Nieland chair, fully
funded in perpetuity
New Orchestra Members 2009–10
Daniel Bauch, percussion
Assistant Timpanist
Mr. and Mrs. Edward H. Linde chair
Thomas Siders, trumpet
Assistant Principal
Kathryn H. and Edward M.
Lupean chair
Yuncong Zhang, violin
Jessica Zhou, harp
Nicholas and Thalia Zervas chair,
fully funded in perpetuity by
Sophia and Bernard Gordon
FLUTES
Elizabeth Rowe
Principal
Walter Piston chair, endowed
in perpetuity in 1970
(position vacant)
Myra and Robert Kraft chair,
endowed in perpetuity in 1981
Elizabeth Ostling
Associate Principal
Marian Gray Lewis chair, fully
funded in perpetuity
PICCOLO
Cynthia Meyers
Evelyn and C. Charles Marran chair,
endowed in perpetuity in 1979
OBOES
John Ferrillo
Principal
Mildred B. Remis chair, endowed
in perpetuity in 1975
Mark McEwen
James and Tina Collias chair
Keisuke Wakao
Assistant Principal
ENGLISH HORN
Robert Sheena
Beranek chair, fully funded in
perpetuity
CLARINETS
William R. Hudgins
Principal
Ann S.M. Banks chair, endowed
in perpetuity in 1977
Michael Wayne
Thomas Stemberg chair
Thomas Martin
Associate Principal &
E-flat clarinet
Stanton W. and Elisabeth K.
Davis chair, fully funded in
perpetuity
BASS CLARINET
Craig Nordstrom
Farla and Harvey Chet Krentzman
chair, fully funded in perpetuity
BASSOONS
Richard Svoboda
Principal
Edward A. Taft chair, endowed in
perpetuity in 1974
Suzanne Nelsen
John D. and Vera M. MacDonald
chair
Richard Ranti
Associate Principal
Diana Osgood Tottenham/
Hamilton Osgood chair, fully
funded in perpetuity
CONTRABASSOON
Gregg Henegar
Helen Rand Thayer chair
HORNS
TRUMPETS
LIBRARIANS
Benjamin Wright
Arthur and Linda Gelb chair
William Shisler
Thomas Rolfs
Principal
Roger Louis Voisin chair, endowed
in perpetuity in 1977
Thomas Siders
Assistant Principal
Kathryn H. and Edward M.
Lupean chair
(position vacant)
Ford H. Cooper chair, endowed
in perpetuity in 1984
TROMBONES
Toby Oft
Principal
J.P. and Mary B. Barger chair,
fully funded in perpetuity
(position vacant)
James Sommerville
Principal
Helen Sagoff Slosberg/Edna S.
Kalman chair, endowed in
perpetuity in 1974
BASS TROMBONE
Richard Sebring
Associate Principal
Margaret Andersen Congleton
chair, fully funded in perpetuity
TUBA
(position vacant)
Elizabeth B. Storer chair, fully
funded in perpetuity
Jay Wadenpfuhl†
John P. II and Nancy S. Eustis
chair, fully funded in perpetuity
Jason Snider
Gordon and Mary Ford Kingsley
Family chair
Jonathan Menkis
Jean-Noël and Mona N. Tariot chair
Douglas Yeo
John Moors Cabot chair, fully
funded in perpetuity
Mike Roylance
Principal
Margaret and William C.
Rousseau chair, fully funded
in perpetuity
TIMPANI
Timothy Genis
Sylvia Shippen Wells chair,
endowed in perpetuity in 1974
PERCUSSION
Frank Epstein
Peter and Anne Brooke chair,
fully funded in perpetuity
J. William Hudgins
Peter Andrew Lurie chair, fully
funded in perpetuity
W. Lee Vinson
Barbara Lee chair
Retiring In 2009–10
† In Memoriam
Daniel Bauch
Assistant Timpanist
Mr. and Mrs. Edward H. Linde chair
HARP
Jessica Zhou
Nicholas and Thalia Zervas chair,
fully funded in perpetuity by
Sophia and Bernard Gordon
VOICE AND CHORUS
Joseph McGauley, violin
David H. and Edith C. Howie
chair, fully funded in perpetuity
Jay Wadenpfuhl, horn
BSO member 1981–2010
John P. II and Nancy S. Eustis
chair, fully funded in perpetuity
John Oliver
Tanglewood Festival Chorus
Conductor
Alan J. and Suzanne W. Dworsky
chair, fully funded in perpetuity
Marshall Burlingame
Principal
Lia and William Poorvu chair,
fully funded in perpetuity
John Perkel
ASSISTANT CONDUCTORS
Julian Kuerti
Anna E. Finnerty chair, fully
funded in perpetuity
Shi-Yeon Sung
PERSONNEL MANAGERS
Lynn G. Larsen
Assistant Personnel Managers
Bruce M. Creditor
Timothy Tsukamoto
STAGE MANAGER
John Demick
BOSTON POPS ORCHESTRA
2009-10
Keith Lockhart
Conductor
Julian and Eunice Cohen Boston Pops Conductor's chair, fully funded in perpetuity
John Williams
Laureate Conductor
* participating in a system
of rotated seating
Tanglewood Festival Chorus
2009–10 Winter & Tanglewood Season Roster
SOPRANOS
Deborah Abel
Carol Amaya
Emily Anderson
Margaret Batista
Debra Benschneider
Michele Bergonzi §
Ondine Brent
Joy Emerson Brewer
Alison M. Burns
Angelina Calderon
Jeni Lynn Cameron
Catherine C. Cave
Anna S. Choi
Saewon Lee Chun
Lorenzee Cole §
Lisa Conant
Alyson Cury
Sarah Dorfman Daniello §
Christine Pacheco Duquette §
Ann M. Dwelley
Tiffany N. Evans
Mary A. V. Feldman §
Margaret Felice
Erin Fink
Abigail Frost
Kaila J. Frymire
Hailey Fuqua
Stefanie J. Gallegos
Rachel Gillett
Karen Ginsburg
Bonnie Gleason
Beth Grzegorzewski
Meredith Hall
Carrie Louise Hammond
Alexandra Harvey
Renée Hersee
Kathy Ho
Mikhaela E. Houston
Eileen Huang
Stephanie Janes
Anna Oppenheimer Jesus
Cynthia Kassell
Polina Dimitrova Kehayova
Carrie Kenney
Donna Kim
Sarah Koonce
Sarah Kornfeld
Nancy Kurtz
Alison E. LaGarry
Glenda Landavazo
Leslie A. Leedberg
Angela Lett
Barbara Abramoff Levy *
Erica Lopatofsky
Ruthie Miller
Kathleen Molony
Margaret D. Moore
Jessica Morris
Karen M. Morris
Kieran Murray
Ebele Okpokwasili-Johnson
Katie Oliver
Jaylyn Olivo
Laurie Stewart Otten
Kimberly Pearson
Deborah Slade Pierce
Laura Stanfield Prichard
Livia M. Racz
Sarah Riskind
Janet Ellen Ross
Jessica Rucinski
Adi Rule
Melanie Salisbury
Yayra Sánchez
Laura C. Sanscartier
Johanna Schlegel
Pamela Schweppe
Joan P. Sherman‡
Erin M. Smith
Tracy E. Smith
Kristyn M. Snyer
Stephanie Steele
Dana R. Sullivan
Robyn Tarantino
Victoria Thornsbury
Youliana Tichelova
Anna Ward
Lisa Watkins
Alison L. Weaver
Mary Jo Wiedey
Michelle Wilson
Alison Zangari
MEZZO-SOPRANOS
Kristen Ascenzi
Virginia Bailey
Martha A. R. Bewick
Betty Blanchard Blume
Betsy Bobo
Lauren A. Boice
Donna J. Brezinski
Laura B. Broad
Janet L. Buecker
Abbe Dalton Clark
Elizabeth Clifford
Cypriana Slosky Coelho
Sarah Cohan
Nicole Craven
Lauren Cree
Kathryn DerMarderosian
Betsy L. Draper
Diane Droste
Barbara Naidich Ehrmann
Katherine Barrett Foley
Paula Folkman §
Debra Swartz Foote
Dorrie Freedman *
Irene Gilbride §
Denise Glennon
Mara Goldberg
Lianne Goodwin
Rachel K. Hallenbeck
Julie Hausmann
Evelyn Hernandez
Julia Jaffe
Betty Jenkins
Susan L. Kendall
Evelyn Eshleman Kern §
Yoo-Kyung Kim
Gale Livingston §
Katherine Mallin
Anne Forsyth Martín
Kristen McEntee
Cristina McFadden
Louise-Marie Mennier
Mary Mindas-Ellis
Ana Morel
Louise Morrish
Tracy Elissa Nadolny
Antonia R. Nedder
Fumiko Ohara §
Andrea Okerholm
Roslyn Pedlar
Laurie R. Pessah
Cassandra N. Peterson
Linda Doreen Rapciak
Lori Salzman
Kathleen Hunkele Schardin
Jeanne Ann Sevigny
Jamie Horr Shushan
Ada Park Snider §
Amy Spound
Julie Steinhilber §
Michele C. Truhe
Martha F. Vedrine
Cindy M. Vredeveld
Jennifer A. Walker
Christina Lillian Wallace
Marguerite Weidknecht
Lidiya Yankovskaya
TENORS
Matthew Allen
Brad W. Amidon
James Barnswell
John C. Barr §
Richard A. Bissell
Adam Kerry Boyles
Colin Britt
Felix M. Caraballo
Fredric Cheyette
Stephen Chrzan
Andrew Crain
Tom Dinger
Kevin F. Doherty Jr.
Paul Dredge
Ron Efromson
Carey D. Erdman
Jonathan Erman
Keith Erskine
David J. Fieldgate
Len Giambrone
James E. Gleason
Leon Grande
J. Stephen Groff §
David Halloran §
John W. Hickman §
Jamie Hillman
Boston Symphony Association of
Volunteers Executive Committee
William Hobbib
John Horigan
Stanley G. Hudson §
Timothy O. Jarrett
James R. Kauffman §
Thomas Kenney
Jeffrey A. Kerr
Carl Kraenzel
Michael Lapomardo
Michael Lemire
Lance Levine
Ronald Lloyd
Henry Lussier *
John Vincent MacInnis *
Jeffrey L. Martin
Ronald J. Martin
Glen Matheson
Mark Mulligan
David Norris §
Christopher F. Norton
John R. Papirio
Kevin Parker
David R. Pickett
Dwight E. Porter §
Guy F. Pugh
Peter Pulsifer
David L. Raish §
Brian R. Robinson
David Loring Rose
Sean Santry
Carl Schlaikjer
Blake Siskavich
Arend Sluis
Peter L. Smith
Stephen E. Smith
Stephen J. Twiraga
Andrew Wang
Joseph Y. Wang
Matthew Wang
Mox Weber
Theodore Weckbacher
Hyun Yong Woo
BASSES
Thomas Anderson
Thaddeus Bell
Solomon Berg
Nathan Black
Daniel E. Brooks §
Nicholas A. Brown
Stephen J. Buck
Richard Bunbury
Jesse R. Call
Kirk Chao
Matthew Collins
Mark Costello
Matthew E. Crawford
Aram Demirjian
Arthur M. Dunlap
Michel Epsztein
Jeff Foley
Eli Gerstenlauer
Mark Gianino
Alexander Goldberg
Jim Gordon
Jay S. Gregory
Mark L. Haberman §
Jeramie D. Hammond
Robert Hicks
Marc J. Kaufman
David M. Kilroy
Will Koffel
G.P. Paul Kowal
Bruce Kozuma
Timothy Lanagan §
Joseph E. Landry
Ryan M. Landry
Daniel Lichtenfeld
Nathan Lofton
David K. Lones §
Christopher T. Loschen
David B. MacGregor Jr.
Martin F. Mahoney II
James Mangan
Lynd Matt
Devon Morin
Joshua H. Nannestad
Eryk P. Nielsen
Richard Oedel
Stephen H. Owades‡
Donald R. Peck
Michael Prichard
Bradley Putnam
Steven J. Ralston
Sebastian Rémi
Peter Rothstein *
Vladimir Roudenko
Jonathan Saxton
Charles F. Schmidt
Karl Josef Schoellkopf
Daniel Schwartz
Kenneth D. Silber
Scott Street
Joseph J. Tang
Craig A. Tata
Stephen Tinkham
Bradley Turner
Jonathan VanderWoude
Thomas C. Wang §
Terry L. Ward
Peter J. Wender *
Carl T. Wrubel
Channing Yu
Aaron J. Nurick
Chair
Charles Jack
Vice-Chair, Boston
Wilma Michaels
Vice-Chair, Tanglewood
Audley Fuller
Secretary
Richard Dixon
Co-Chair, Education, Boston
Gerald Dreher
Co-Chair, Membership and
Administration, Boston
Ellen Mayo
Co-Chair, Community Outreach and
Audience Development, Boston
Howard Arkans
Co-Chair, Community Outreach and
Audience Development, Tanglewood
Bill Ballen
Usher Liaison, Tanglewood
Augusta Leibowitz
Co-Chair, Education, Tanglewood
Ken Singer
Glass House Liaison, Tanglewood
Alexandra Warshaw
Co-Chair, Membership and Administration,
Tanglewood
Mark B. Rulison
Chorus Manager
Martin Amlin
Rehearsal Pianist
Matthew A. Larson
Rehearsal Pianist
‡ 40 year member
* 35-39 year member
§ 25-34 year member
69
Administration
Mark Volpe
Eunice and Julian Cohen
Managing Director
Boston Pops
Dennis Alves
Director of Artistic Planning
Anthony Fogg
Artistic Administrator
Marion Gardner-Saxe
Director of Human Resources
Ellen Highstein
Director of Tanglewood
Music Center, position endowed in honor of Edward H. Linde by
Alan S. Bressler and Edward I.
Rudman
Bernadette M. Horgan
Director of Public Relations
Thomas D. May
Chief Financial Officer
Kim Noltemy
Chief Marketing and
Communications Officer
Bart Reidy
Director of Development—
Institutional Giving, Events,
and Administration
Elizabeth P. Roberts
Director of Development—
Campaign and Individual Giving
Ray F. Wellbaum
Orchestra Manager
Gina Randall
Administrative/Operations
Coordinator
Margo Saulnier
Assistant Director of
Artistic Planning
Amanda Severin
Manager of Artistic
Services/Assistant to the
Pops Conductor
Administrative Staff/Artistic
Bridget P. Carr
Senior Archivist
Felicia Burrey Elder
Executive Assistant to the
Managing Director
Vincenzo Natale
Chauffeur/Valet
Claudia Robaina
Manager of Artists Services
Benjamin Schwartz
Assistant Artistic Administrator
Administrative Staff/Production
Christopher W. Ruigomez
Director of Concert Operations
H.R. Costa
Technical Director
Vicky Dominguez
Operations Manager
Jake Moerschel
Assistant Stage Manager
Julie G. Moerschel
Concert Operations
Administrator
Leah Monder
Production Manager
John Morin
Stage Technician
Mark C. Rawson
Stage Technician
Mark B. Rulison
Chorus Manager
70
Business Office
Sarah J. Harrington
Director of Planning and
Budgeting
Mia Schultz
Director of Investment
Operations and Compliance
Pam Wells
Controller
Mimi Do
Budget Manager
Thomas Engeln
Budget Assistant
Michelle Green
Executive Assistant to the
Business Management Team
Karen Guy
Accounts Payable Supervisor
David Kelts
Staff Accountant
Minnie Kwon
Payroll Associate
John O'Callaghan
Payroll Supervisor
Nia Patterson
Accounts Payable Assistant
Harriet Prout
Accounting Manager
Mario Rossi
Staff Accountant
Teresa Wang
Staff Accountant
Audrey Wood
Senior Investment Accountant
Development
Joseph Chart
Director of Major Gifts
Susan Grosel
Director of Annual Funds
Nina Jung
Director of Development
Events and Volunteer Outreach
Ryan Losey
Director of Foundation and
Government Relations
Richard Subrizio
Director of Development
Communications
Jennifer Roosa Williams
Director of Development
Research and Information
Systems
Cara Allen
Development Communications Coordinator
Stephanie Baker
Campaign Manager
Amanda Bedford
Data Projects Coordinator
Dulce Maria de Borbon
Beranek Room Hostess
Cullen E. Bouvier
Donor Relations Officer
Maria Capello
Grant Writer
Diane Cataudella
Associate Director of
Donor Relations
Sabine Chouljian
Manager of Development
Events and Volunteer Services
Emily Diaz
Donor Information and
Data Coordinator
Allison Goossens
Associate Director of
Society Giving
David Grant
Manager of Development
Operations
Barbara Hanson
Major Gifts Officer
James Jackson
Assistant Director of
Telephone Outreach
Sabrina Karpe
Manager of Direct Fundraising and Friends Membership
Dominic Margaglione
Donor Ticketing Representative
Jill Ng
Senior Major and Planned
Gift Officer
Suzanne Page
Associate Director for
Board Relations
Emily Reeves
Assistant Manager of
Planned Giving
Amanda Roosevelt
Executive Assistant to the
Directors of Development
Laura Sancken
Assistant Manager of
Development Events
and Volunteer Services
Joyce M. Serwitz
Major Gifts and Campaign
Advisor
Alexandria Sieja
Manager of Development Events
and Volunteer Services
Yong-Hee Silver
Major Gifts Officer
Erin Simmons
Major Gifts Coordinator
Kenny Smith
Donor Acknowledgment and Gift
Processing Coordinator
Stephanie J. Smith
Annual Funds Project
Coordinator
Benjamin Spalter
Annual Funds Coordinator, Friends Program
Mary E. Thomson
Associate Director of
Development Corporate Giving
Szeman Tse
Assistant Director of
Development Research
Romain Tsiplakis
Graphic Designer
and Print Production Coordinator
Education and Community
Programs
Myran Parker-Brass
Director of Education and
Community Programs
Claire Carr
Manager of Education Programs
Sarah Glenn
Assistant Manager of
Education and Community
Programs
Emilio Gonzalez
Manager of Curriculum
Research and Development
Darlene White
Manager, Berkshire Education
and Community Programs
Facilities
C. Mark Cataudella
Director of Facilities
S y mphony H all Operations
Christopher Hayden
Facilities Manager
Tyrone Tyrell
Security and Environmental Services Manager
Judith Melly
Facilities Coordinator
Shawn Wilder
Mailroom Clerk
Maintenance Services
Jim Boudreau
Electrician
Charles F. Cassell, Jr.
Facilities Compliance and
Training Coordinator
Thomas Davenport
Carpenter
Michael Frazier
Carpenter
Paul Giaimo
Electrician
Steven Harper
HVAC Technician
Sandra Lemerise
Painter
Michael Maher
HVAC Technician
Environmental Services
Landel Milton
Lead Custodian
Rudolph Lewis
Assistant Lead Custodian
Desmond Boland
Julien Buckmire
Claudia Ramirez Calmo
Errol Smart
Gaho Boniface Wahi
T anglewood O perations
Robert Lahart
Tanglewood Facilities Manager
Ronald T. Brouker
Grounds Supervisor
Peter Socha
Buildings Supervisor
Robert Casey, Crew
Stephen Curley, Crew
Richard Drumm, Facilities Mechanic
Maurice Garofoli
Electrician
Bruce Huber
Assistant Carpenter/Roofer
Human Resources
Heather Mullin
Human Resources Manager
Susan Olson
Human Resources Recruiter
Kathleen Sambuco
Benefits Manager
Information Technology
Timothy James
Director of Information
Technology
Andrew Cordero
Manager of User Support
Stella Easland
Switchboard Operator
Michael Finlan
Switchboard Supervisor
David Tucker
Infrastructure Systems Manager
Brian Van Sickle
User Support Specialist
Richard Yung
Technology Specialist
Public Relations
Kathleen Drohan
Associate Director of
Public Relations
Samuel Brewer
Public Relations Assistant
Taryn Lott
Public Relations Supervisor
Publications
Marc Mandel
Director of Program Publications
Robert Kirzinger
Assistant Director of Program Publications—Editorial
Eleanor Hayes McGourty
Assistant Director of Program Publications— Production and Advertising
Sales, Subscription, and Marketing
Helen N.H. Brady
Director of Group Sales
Alyson Bristol
Director of Corporate
Sponsorships
Sid Guidicianne
Front of House Manager
Roberta Kennedy
Buyer for Symphony Hall
and Tanglewood
Sarah L. Manoog
Director of Marketing
Michael Miller
Director of Ticketing
Amy Aldrich
Ticket Operations Manager
Susan Beaudry
Manager of Tanglewood
Business Partners
Megan Bohrer
Group Sales Coordinator
Gretchen Borzi
Associate Director of Marketing
Rich Bradway
Associate Director of
E-Commerce and New Media
Lenore Camassar
Associate Manager,
SymphonyCharge
Theresa Condito
Access Services
Administrator/Subscriptions
Associate
Susan Coombs
SymphonyCharge Coordinator
Jon Doyle
Junior Graphic Designer
Paul Ginocchio
Manager, Symphony Shop
and Tanglewood Glass House
Erin Glennon
Senior Graphic Designer
Randie Harmon
Customer Service and Special Projects Manager
Matthew Heck
Office and Social Media Manager
Michael King
Subscriptions Associate
Michele Lubowsky
Associate Subscriptions Manager
Jason Lyon
Group Sales Manager
Laura Maas
Merchandising Assistant
Ronnie McKinley
Ticket Exchange Coordinator
Maria McNeil
SymphonyCharge Representative
Michael Moore
E-Commerce Marketing Analyst
Allegra Murray
Corporate Sponsorship
Coordinator
Doreen Reis
Advertising and Events Manager
Andrew Russell
Senior Manager, Corporate
Sponsorships
Laura Schneider
Web Content Editor
Robert Sistare
Subscriptions Associate
Kevin Toler
Art Director
Himanshu Vakil
Web Application Lead
Stacy Whalen-Kelley
Manager, Corporate
Sponsor Relations
Box Office
David Chandler Winn
Manager
Megan E. Sullivan
Assistant Manager
Bo x O ffice R epresentatives
Mary J. Broussard
Arthur Ryan
Event Services
Kyle Ronayne
Director of Events Administration
Sean Lewis
Manager of Venue Rentals
and Events Administration
Jean Cesar Vilalon De Lima
Events Administration Assistant
Tanglewood Music Center
Peter Grimm
Tanglewood Special Projects
Manager
Andrew Leeson
TMC Budget and Office Manager
Karen Leopardi
Associate Director for
Faculty and Guest Artists
Michael Nock
Associate Director for
Student Affairs
Gary Wallen
Manager of
Production and Scheduling
As of February 24, 2011
FOR ADDITIONAL INFORMATION:
Annual Funds
617-638-9276
Corporate Sponsorship
617-638-9278
Corporate Events
Donor Relations
Foundation and Government Relations
Major and Planned Giving
Development Special Events
Subscription Office
SymphonyCharge
Symphony Hall Switchboard
Volunteer Office
617-638-9466
617-638-9203
617-638-9202
617-638-9268
617-638-9423
617-266-7575
617-266-1200
617-266-1492
617-638-9390
BOSTON SYMPHONY ORCHESTRA, INC.
Symphony Hall
301 Massachusetts Avenue
Boston, MA 02115
bso.org
This fiscal year 2010 Annual Report was
published in March 2011 by the Office of
Development Communications.
Bart Reidy, Director of Development – Institutional Giving, Events, and Administration
Richard Subrizio, Director of Development Communications
Cara Allen, Development Communications Coordinator
Kevin Toler, Art Director
Romain Tsiplakis, Graphic Designer
Cover image and principal photography: Michael J. Lutch
Other photography by: Betsy Bassett, John Ferrillo, Matthew Karas,
Helene Norton-Russell, Stu Rosner, Hilary Scott, Peter Vanderwarker
For inquiries regarding information contained in this report,
please contact Diane Cataudella, Associate Director of Donor
Relations, at 617-638-9251 or [email protected]
© 2011 Boston Symphony Orchestra, Inc.
This annual report was printed on recycled paper.