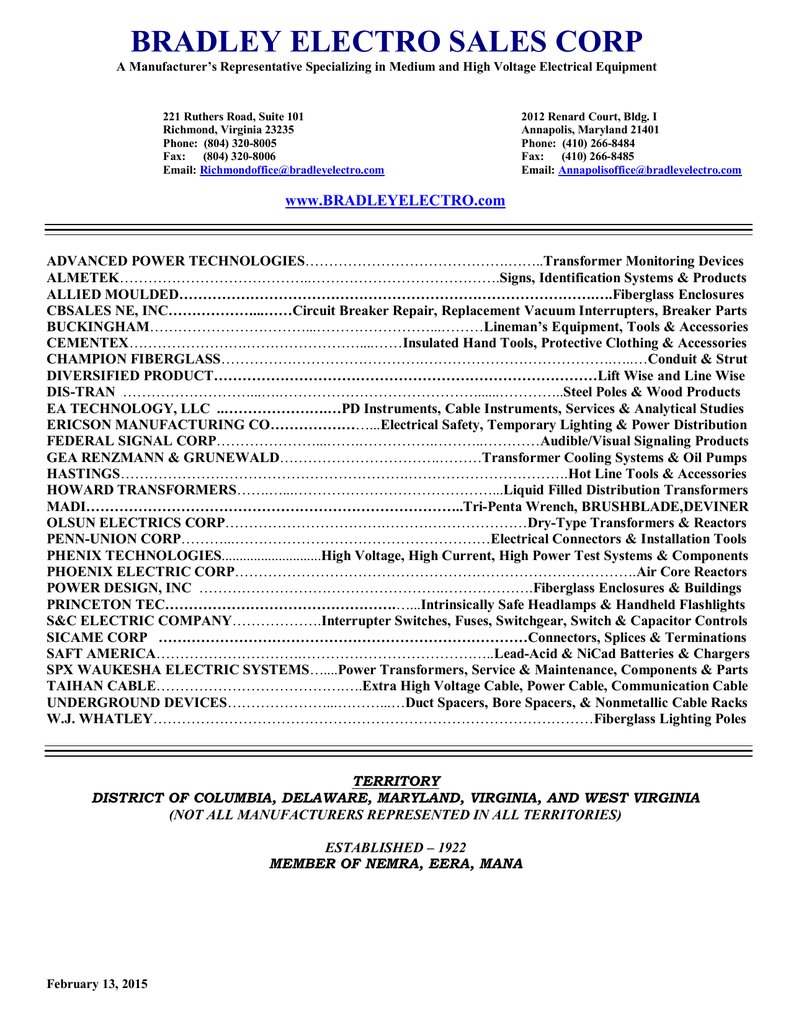 BRADLEY ELECTRO SALES CORP
A Manufacturer's Representative Specializing in Medium and High Voltage Electrical Equipment
221 Ruthers Road, Suite 101
Richmond, Virginia 23235
Phone: (804) 320-8005
Fax: (804) 320-8006
Email: [email protected]
2012 Renard Court, Bldg. I
Annapolis, Maryland 21401
Phone: (410) 266-8484
Fax: (410) 266-8485
Email: [email protected]
www.BRADLEYELECTRO.com
ADVANCED POWER TECHNOLOGIES…………………………………….……..Transformer Monitoring Devices
ALMETEK…………………………………..………………………………….Signs, Identification Systems & Products
ALLIED MOULDED…………………………………………………………………………….….Fiberglass Enclosures
CBSALES NE, INC………………...……Circuit Breaker Repair, Replacement Vacuum Interrupters, Breaker Parts
BUCKINGHAM……………………………...……………………...………Lineman's Equipment, Tools & Accessories
CEMENTEX…………………….……………………....……Insulated Hand Tools, Protective Clothing & Accessories
CHAMPION FIBERGLASS…………………………………….………………………………….…..…Conduit & Strut
DIVERSIFIED PRODUCT………………………………………………………………………Lift Wise and Line Wise
DIS-TRAN ………………………...….……………………………………......…………..Steel Poles & Wood Products
EA TECHNOLOGY, LLC ..………………….…PD Instruments, Cable Instruments, Services & Analytical Studies
ERICSON MANUFACTURING CO…………………...Electrical Safety, Temporary Lighting & Power Distribution
FEDERAL SIGNAL CORP…………………...…….…………….………..…………Audible/Visual Signaling Products
GEA RENZMANN & GRUNEWALD…………………………….………Transformer Cooling Systems & Oil Pumps
HASTINGS…………………………………………………….…………………………….Hot Line Tools & Accessories
HOWARD TRANSFORMERS…….…...……………………………………...Liquid Filled Distribution Transformers
MADI……………………………………………………………………..Tri-Penta Wrench, BRUSHBLADE,DEVINER
OLSUN ELECTRICS CORP…………………………….…………………………Dry-Type Transformers & Reactors
PENN-UNION CORP………...………………………………………………Electrical Connectors & Installation Tools
PHENIX TECHNOLOGIES............................High Voltage, High Current, High Power Test Systems & Components
PHOENIX ELECTRIC CORP………………………………………………………………………….Air Core Reactors
POWER DESIGN, INC …………………………………………….……………….Fiberglass Enclosures & Buildings
PRINCETON TEC………………………………………….…...Intrinsically Safe Headlamps & Handheld Flashlights
S&C ELECTRIC COMPANY……………….Interrupter Switches, Fuses, Switchgear, Switch & Capacitor Controls
SICAME CORP ……………………………………………………………………Connectors, Splices & Terminations
SAFT AMERICA………………………….…………………………………..Lead-Acid & NiCad Batteries & Chargers
SPX WAUKESHA ELECTRIC SYSTEMS…....Power Transformers, Service & Maintenance, Components & Parts
TAIHAN CABLE………………………………….….Extra High Voltage Cable, Power Cable, Communication Cable
UNDERGROUND DEVICES…………………...………...…Duct Spacers, Bore Spacers, & Nonmetallic Cable Racks
W.J. WHATLEY…………………………………………………………………………………Fiberglass Lighting Poles
TERRITORY
DISTRICT OF COLUMBIA, DELAWARE, MARYLAND, VIRGINIA, AND WEST VIRGINIA
(NOT ALL MANUFACTURERS REPRESENTED IN ALL TERRITORIES)
ESTABLISHED – 1922
MEMBER OF NEMRA, EERA, MANA
February 13, 2015
BRADLEY ELECTRO SALES CORP.
A Manufacturers Representative Specializing in Medium and High Voltage Electrical Equipment
ADVANCED POWER TECHNOLOGIES – (www.advpowertech.com) Advanced Power Technologies is a new
company creating innovative protection and control products for the Electric Utility Industry. Advanced Power
manufactures the following products; an affordable dual probe transformer temperature controller that has built-in
calculated winding temperature and LTC conditioning monitoring, single or dual probe ambient temperature controller for
automatically changing relay setting groups based on temperature, substation capacitor bank control and ventilation
applications.
ALLIED MOULDED – (www.alliedmoulded.com) Manufactures a full line of fiberglass enclosures offering all the
advantages of nonmetallic materials including: increased strength, reduced weight, corrosion resistance, non-conductivity,
cost savings and ease of installation. These enclosures have been put to the test in hundreds of demanding applications
and dozens of industries worldwide. Our commitment to quality and innovation is well known throughout the electrical
industry.
ALMETEK – (www.almetek.com) Almetek Industries manufactures identification and labeling systems for electric
utilities, telecommunications, and other industries. Almetek designs and manufactures both standard and custom designed
signs, tags, labels and nameplates. Almetek assists a vast array of companies, organizations and individuals worldwide to
develop ID systems that fit their unique needs. From the state-of-the-art laser engravings to CNC high speed routing
machines, ALMETEK continues to lead the industry with cutting-edge technology.
BUCKINGHAM – (www.buckinghammfg.com) Buckingham Manufacturing is primarily responsible for the design and
manufacture of climbing and work positioning equipment, fall protection gear, and accessories specifically designed for
the electric, telecommunications, cable and professional arborist markets. The company follows all applicable standards
including OSHA, ANSI, ASTM, CSA and CE requirements.
CIRCUIT BREAKER SALES NE, INC – (www.cbsalesne.com) CBS Northeast has a large inventory of new, surplus,
and reconditioned circuit breakers, switchgear, motor control, transformers, and other power apparatus, along with
hundreds of replacement parts. The shop services include supplying from stock repairing , upgrading, and reconditioning,
and remanufacturing your electrical equipment from a single circuit breaker to a complete substation, no longer supplied
by the original manufacture. Life Extension is there specialty.
CEMENTEX – (www.cementexusa.com) Cementex Products' continued use of American tools, fabrics and labor set us
apart from the imitators and has established us as the trusted safety tool specialists. Since 1950, Cementex has defined its
core competence in insulated safety hand tools and safety related products. Cementex is recognized throughout the
industry as the only double-insulated hand tool supplier which controls the entire manufacturing process from insulation
through testing with an unparalleled commitment to quality and delivery. Cementex prides itself on innovation and the
ability to deliver custom solutions to our customers. We are always on the cutting edge of engineering insulated tools,
such as designing and manufacturing the only 1000V rated fully insulated adjustable wrench. Headquartered in
Burlington, NJ and recognized as the industry leader, Cementex wants to be your zero-fault supplier of choice for
insulated hand tools and associated safety products.
CHAMPION FIBERGLASS INC. – (www.championfiberglass.com/home.html) The leading supplier of fiberglass
conduit and strut for the electrical and mechanical markets. Our headquarters and manufacturing are located in Spring,
TX.
DIS-TRAN - (www.distran.com) DIS-TRAN Steel, LLC has been providing the utility industry transmission and
substation steel structures for over 45 years. These structures include tapered tubular poles, wide flange, square tube, and
lattice structures. Our specialty is providing outstanding customer service, flexible scheduling for quick turn projects, and
the highest quality product for our customers. We are the ELITE substation and transmission steel supplier. DIS-TRAN
Wood Products, LLC was organized in 1965 to serve the growing distribution and transmission needs of the utility
industry. We manufacture and treat a complete line of Douglas Fir and Southern Yellow Pine distribution crossarms,
ground molding, and transmission arms and assemblies. Transmission products also include x-braces, vee-braces, and
tension braces. Our standard treatment is Pentachlorophenol, but we can offer any of the approved treatments that are
accepted under the current AWPA guidelines.
DIVERSIFIED PRODUCT-
(www.diversifiedproduct.com) (www.lift-wise.com) (www.line-wise.com) The
Diversified Lift Wise brand includes multiple models of fall-arrest man baskets, industrial products and the Rig
Em&Roll. Our man baskets are designed for accessing high-reach maintenance areas and offer quick
attachments to boom trucks, service cranes, knuckleboom cranes and digger derricks. All provide a convenient,
safe alternative to renting aerial lifts, using ladders or climbing on equipment. Diversified Products has been
collaborating with the people on the front line of the utility industry for more than 15 years. In fact, that's how
we got our start – listening to the specific demands of lineman – and working with them to develop field-tested
solutions to make their jobs more efficient, productive and safe. Diversified Line Wise brand includes a
variety of lineman tools, such as energized/static line lifters, auxiliary arms, phase lifters, temporary conductor
supports, insulated work platforms and pole pullers. All of these products have been field-tested and approved
by transmission and distribution maintenance professionals.
EATECHNOLOGY,LLC – (www.eatechnologyusa.com) A global , independent provider of end-to-end
power engineering solutions, supporting customers in managing and operating electrical assets. Providing a
wide range of instruments for recording, locating, monitoring, measuring, and analyzing Partial Discharge.
These instruments include there ULTRA TEV Detector, ULTRA TEV Plus, ULTRA TEV Locator, and the PD
HAWK and others. We also have a Cable Data Collector and can perform an analysis on the data.
ERICSON MANUFACTURING CO - (www.ericson.com) Ericson Manufacturing Company has been an industry
leader that provides products for the safe use and management of temporary power. From our first rubber hand lamp in
1918 (and our patent on the dead-front-back-wired electric plug and connector in 1936) to our recent patents on portable
ground fault circuit interrupters, Ericson has built our reputation on the highest quality, state-of-the-art electrical safety
products in the industry. Ericson's product line consists of the following; Temporary lighting, Plugs and Connectors,
Temporary
Power,
GFCI's,
Perma-Sync
connectors,
IEC
309,
Cord
Reels,
and
Pendants.
FEDERAL SIGNAL CORP - (www.federalsignal-indust.com) Federal Signal is the world's largest prime manufacturer
of audible and visual signaling devices. Federal Signal is the place to turn when it comes to the critical areas of worker
safety and internal plant communications. Federal Signal's line of products includes visual signals, audible signals,
outdoor warning, intercoms, public address, telephony, initiating systems, fire alarms, uninterruptible power supplies, and
more.
GEA RENZMANN & GRUNEWALD - (www.renzmann.de) Transformer Cooling Systems must ensure reliable and
efficient heat removal on oil-cooled transformers. For this reason, developing optimum layouts is the focus of our
commitment to you. Trust our experience in designing and manufacturing components and systems for this application.
To successfully meet this and future challenges, continuous improvement of our products is a top priority of GEA
Renzmann & Grünewald GmbH.
HASTINGS – (www.hfgp.com) Since 1959 Hastings has pioneered design and fabrication of fiberglass products and
tools for the electrical power and communications industries. In addition, Hastings' Research and Development talents and
manufacturing capabilities are ready to fulfill your special needs from concept to finished fiber glass product. In every
way, Hastings hot line tools are made for working in today's toughest field conditions. And with our commitment to
innovation, Hastings' tools make that job safer and easier.
HOWARD TRANSFORMERS – (www.howard-ind.com/HowardTransformers) Howard Industries' Transformer
Division is the USA's leading manufacturer of oil-filled electrical distribution transformers. We manufacture a complete
line of distribution transformers from 69kV and below, including single-phase pole-type, three-phase pole-type, singlephase pads, single-phase subsurface, three-phase pads, duplex transformers and unit substations.
MADI- (www.madillc.com) MADI , Making a difference through innovation with innovative Utility Tools for Lineman.
Madi's changing product portfolio includes the DEVINER, DOUBLE –HEADER, TRI PENTA WRENCH, and the
newest addition BRUSHBLADE-The Lineman's Knife.
OLSUN ELECTRICS CORPORATION - (www.olsun.com) Olsun specializes in standard and custom manufactured
Dry Type Transformers, Switchgear and Reactors. We currently produce transformers from 5 VA thru 20,000 KVA in
voltages through 34.5 KV. Olsun's current line of products includes the following; Substation transformers to 10 MVA,
Pad-mounted transformers, Harmonic mitigating and F-factor transformers, Silica/Resin encapsulated transformers, Cast
Coil transformers, Hazardous location transformers, Drive isolation transformers, Load interrupter switches and
switchgear, Current limiting reactors and AC reactors, General purpose transformers and Motor starting auto transformers
to 7500 hp.
PENN-UNION CORP - (www.penn-union.com) Penn-Union manufactures a wide range of copper and aluminum
mechanical and compression electrical connectors and installation tools. Products are designed to meet a wide variety of
test criteria and specifications such as UL, CSA, ANSI, NEMA and individual customer requirements.
PHENIX TECHNOLOGIES – (www.phenixtech.com) Phenix Technologies is a leading manufacturer of high-voltage,
high-current, and high-power test systems and components. Our test systems are in operation around the world satisfying
the testing requirements of our customers for over 30 years.
PHOENIX ELECTRIC CORP - (www.pec-usa.biz) Phoenix Electric designs and manufactures; dry type air core
reactors for operation on systems rated through 800 kV. Phoenix Electric reactors are air cooled, single or multi-layer,
cylindrically wound units constructed on weather resistant fiberglass epoxy tubes with all materials chosen to meet the
most severe thermal and electrical shocks and cycling requirements. Reactor Types: Current limiting reactors, Filter
reactors, Neutral grounding reactors, Transient limiting reactors, Motor starting reactors, HVDC applications, Shunt
reactors (size permitting).
POWER DESIGN, INC – (www.powerdesigninc.com) Power Design, Inc. is nationally distributed manufacturer of
fiberglass utility and industrial enclosures for padmounted switchgear, padmounted enclosures, modular enclosures and
cable junction pedestals with a wide range of needs and specifications.
PRINCETON TEC - (www.princetontec.com) Princeton Tec has been pioneering new technologies and building lights
for more than three decades. The company is an industry leader in the manufacture of intrinsically safe headlamps and
flashlights. Princeton Tec products are utilized by outdoor enthusiasts, military, police, and industrial customers alike and
are engineered and tailored to excel in any situation.
S&C ELECTRIC COMPANY - (www.sandc.com) S&C's products are known worldwide for their quality,
dependability, and long-term value. The product line is extensive, and includes all types of switching and protection
equipment for substations and overhead and underground distribution systems, distribution automation products, power
quality products, epoxy components, sensors, and electronic controls.
SICAME CORPORATION – (www.sicameusa.com) Sicame is a supplier of various types of connectors for
underground applications, PIRANHA Insulation Piercing Connectors, TTD Series Overhead Insulating Piercing
Connectors, a full line of Medium Voltage Underground Network Connectors, Including Splices and Indoor and Outdoor
Terminations, Cold Shrink, Heat Shrink, Slip On, and Resin –Injected.
SAFT AMERICA - (www.saftbatteries.com) SAFT batteries are everywhere providing reliable power in critical
situations for backup power engine starting and switchgear applications. SAFT's line of products include; NiCad
batteries, Lead acid batteries, Battery racks and Chargers.
SPX WAUKESHA ELECTRIC SYSTEMS - (www.waukeshaelectric.com) Waukesha is one of the USA's foremost
producers of medium and large-size power transformers, compact integrated substations, and a service provider of
transformer and substation equipment for electric utilities and industrial/commercial firms. Waukesha is the largest U.S.
manufacturer of medium-power (2.5 to 100 MVA) and large-power transformers (up to 800 MVA). Customers include
public power and investor-owned utilities, merchant power providers, and industrial/commercial firms.
TRANSFORMERS – (www.waukeshaelectric.com/transformers/index.html) Waukesha is the largest U.S.
manufacturer of medium-power (2.5 to 100 MVA) and large-power transformers (up to 300 MVA). Waukesha
transformers enjoy an enviable reputation for quality and reliability in extended service throughout North America
and the world. Customers include public power and investor-owned utilities, merchant power providers, and
industrial/commercial firms.
SERVICES – (www.waukeshaelectric.com/service/index.html) WES Services is a division of Waukesha that
provides emergency repairs, routine maintenance, or power system upgrades, the WES Service team stands as a
single-source point of contact for your service, diagnostic and power systems engineering requirements. The Service
division provides the following services; Transformer, LTC expertise, Substation painting and encapsulation, Field
service equipment, Electric Power Systems Engineering, Reverse Engineering, Low and Medium voltage service,
Emergency service.
HIGH VOLTAGE SUPPLY – (www.highvoltagesupply.com) HVS has built a strong reputation in North, Central
and South America as a leader in reverse engineering, design and manufacturing and is recognized as a leading
supplier of OEM replacement parts for circuit breakers and load tap changers, as well as superior customer service.
TAIHAN CABLE – (www.taihan.com) Telecom & Energy Cable is a subsidiary of Taihan Electric Wire Co., Ltd.
Taihan is a leading manufacturer of Underground Extra High Voltage Cable; they recently added a 125 foot VCV tower,
the tallest in the world to produce 500KV XLPE cable. Their power cable product line includes; Extra High Voltage
cable accessories, GIS epoxy insulated parts, Bare wire for overhead transmission line, XLPE insulated cable, MV 90,
URD cable, PVC insulated wire, Building wire, Halogen free fire resistant cable, Trolley wire. Their communications
cable product line includes; Optical fiber, Optical cable, OPGW, Fiber optic accessories, communication cable, DATA
cable, Wireless communication cable, CATV coaxial cable.
UNDERGROUND DEVICES – (www.udevices.com) Underground Devices manufactures duct spacers and bore
spacers for underground encasement of conduit and nonmetallic cable racking for use in power and communications
manholes.
W.J. WHATLEY – (www.whatley.com) Whatley is a leading supplier of composite lighting poles and ornamental lamp
posts specified by utilities, municipalities, developers, electrical engineers, landscape architects and governmental
agencies from coast to coast. As part of Valmont Industries Inc., we have the knowledge, expertise and resources to
provide the highest quality precision engineered products and services in the industry.