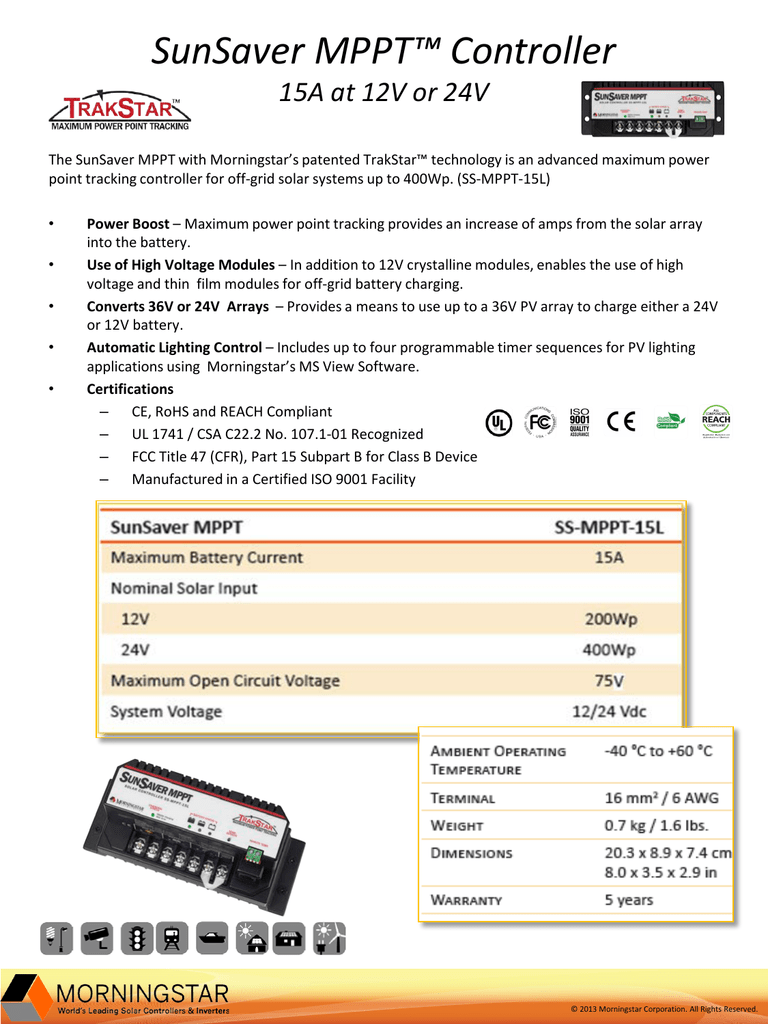 SunSaver MPPT™ Controller
15A at 12V or 24V
The SunSaver MPPT with Morningstar's patented TrakStar™ technology is an advanced maximum power
point tracking controller for off-grid solar systems up to 400Wp. (SS-MPPT-15L)
•
•
•
•
•
Power Boost – Maximum power point tracking provides an increase of amps from the solar array
into the battery.
Use of High Voltage Modules – In addition to 12V crystalline modules, enables the use of high
voltage and thin film modules for off-grid battery charging.
Converts 36V or 24V Arrays – Provides a means to use up to a 36V PV array to charge either a 24V
or 12V battery.
Automatic Lighting Control – Includes up to four programmable timer sequences for PV lighting
applications using Morningstar's MS View Software.
Certifications
– CE, RoHS and REACH Compliant
– UL 1741 / CSA C22.2 No. 107.1-01 Recognized
– FCC Title 47 (CFR), Part 15 Subpart B for Class B Device
– Manufactured in a Certified ISO 9001 Facility
© 2013 Morningstar Corporation. All Rights Reserved.
SunSaver MPPT™ Controller
Features & Benefits
•
•
•
•
•
•
•
•
Maximizes Energy Harvest – 97.5% peak efficiency
Compact and Cost Effective Design
– Smaller mechanical design; engineered to be more easily installed in industrial equipment
enclosures.
– Affordable solution for smaller PV systems of up to 400Wp.
– The total PV system's costs may be reduced further by down-sizing the PV array, using on-grid
or thin-film modules or decreasing cable sizes.
– DIN rail mountable with optional custom clips.
Equipped with Load Control
– Automatically disconnects loads when the battery has been discharged to a low state-ofcharge. Loads are reconnected again when the battery is sufficiently recharged.
– Handles inductive loads without problems.
Delivers the Industry's Highest Reliability
– Epoxy encapsulation and conformal coating protect the SS-MPPT against dust and high
humidity.
– Efficient electronics and a conservative thermal design allow the controller to operate reliably
at high temperatures.
– Comes standard with a five year warranty and has an estimated 15 year operating life.
Fully Adjustable – Four setting switches provide the user with a choice of several digital presets.
Custom settings are enabled by connection to a personal computer and using Morningstar's MS View
PC software.
Extensive Electronic Protections – Fully protected against reverse polarity, short circuit, overcurrent,
lightning and transient surges, high temperature and reverse current at night.
Optimizes PV System Reliability and Increases Battery Life
– Delivers longer battery life, using TrakStar MPPT tracking and 4-stage charging: bulk,
absorption, float and optional equalization.
– Includes temperature compensation at the controller or at the battery when using the optional
remote temperature sensor.
Self Diagnostics and System Information
– Status LED indicates charging status and any existing solar input error conditions.
– Three battery state-of-charge LEDs indicate the level of charge on the battery and the load
status.
– Use of the optional meter will provide additional digital and pictorial system data.
– Includes 30 days of data logging and records key operating parameters of the PV system. The
data may be read through the optional Remote Meter or via connection to a personal
computer.
© 2013 Morningstar Corporation. All Rights Reserved.