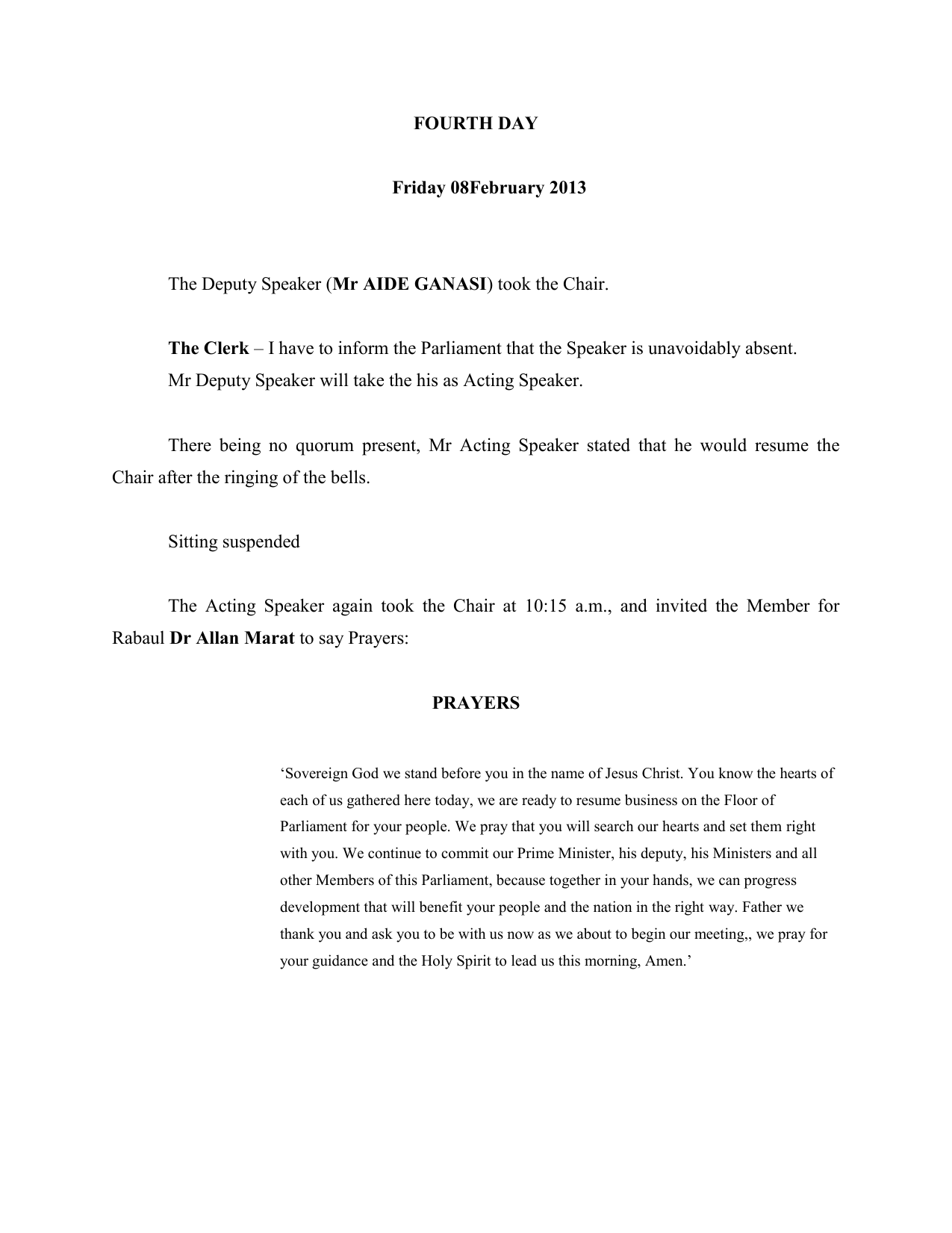 FOURTH DAY
Friday 08February 2013
The Deputy Speaker (Mr AIDE GANASI) took the Chair.
The Clerk – I have to inform the Parliament that the Speaker is unavoidably absent.
Mr Deputy Speaker will take the his as Acting Speaker.
There being no quorum present, Mr Acting Speaker stated that he would resume the
Chair after the ringing of the bells.
Sitting suspended
The Acting Speaker again took the Chair at 10:15 a.m., and invited the Member for
Rabaul Dr Allan Marat to say Prayers:
PRAYERS
'Sovereign God we stand before you in the name of Jesus Christ. You know the hearts of
each of us gathered here today, we are ready to resume business on the Floor of
Parliament for your people. We pray that you will search our hearts and set them right
with you. We continue to commit our Prime Minister, his deputy, his Ministers and all
other Members of this Parliament, because together in your hands, we can progress
development that will benefit your people and the nation in the right way. Father we
thank you and ask you to be with us now as we about to begin our meeting,, we pray for
your guidance and the Holy Spirit to lead us this morning, Amen.'
DEATH OF FORMER MEMBERSTATEMENT BY Mr ACTING SPEAKER
Mr ACTING SPEAKER – I refer to the death on January 16, 2013 of Sir Barry
Holloway, CBE, KBE a former Member of the Kainantu Open Seat and Eastern Highlands
Regional Seat.
The late Sir Barry Holloway was first elected as Member for Kainantu Open in the First
House of Assembly from 1964-1968. During his term as a Member of the First House of
Assembly, he was appointed as a Member of the House Committee, Public Accounts Committee
and Deputy Member of the Public Works Committee. He was re-elected to the third House of
Assembly and First National Parliament from 1972-1977 for the Eastern Highlands Regional
Seat.
He was elected Speaker from 1972-1977 and was appointed Chairman of the Constituent
Assembly which adopted the Constitution and the Organic Law of the Independent State of
Papua New Guinea. He was then re-elected to the Second National Parliament from 1972-1982
as member for Eastern Highlands Province. He was again re-elected to the third National
Parliament from 1982-1987 for the same seat and was appointed Minister for Education from
1982-1984, then Minister for National Planning and Development from 1984-1985.
Honourable Members, as a mark of respect to the memory of the late honorable
gentleman, I invite all Honorable Members to rise in their places.
(All honourable Members stood in their places and observed a minute of silence in
memory of the late gentleman)
QUESTIONS
Mr WILLIAM POWI –My question is directed to the Minister for Communications and
is in relation to social chaos and disorder, abusive language including threats that we are
frequently being bombarded with through the use of mobile phones.
Mr Acting Speaker, while we acknowledge the benefits brought about by its introduction
into the country, the social disorder and abuse that goes with it cannot go unnoticed. I think the
issue of SIM cards with some form of identification in the country will serve some purpose.
I want to ask the Minister for Communications if his department is taking any measures
to deal with these prevailing problems we have in the community.
Mr JIM MIRINGTORO –I want to say thank you for the question raised by the
Governor of Southern Highlands in relation to the use of mobile phones.
02/04
Mr Speaker, there are lot of negative impact stemming from the use of mobile phones.
One thing I want to highlight here is that when the government liberalized communication a lot
of accessories and peripherals of mobile phones came into the country. There is no control over
this and many of these mobile phones can be obtained from the streets.
A lot of bad influence is permeating into society. If we study it properly we will find that
there is high rate of drop outs in schools because many students use mobile phones and cannot
concentrate on classroom work.
We also read in the newspapers about the high rate of marriage break downs and an
increase in prostitution due to abuse of mobile phones.
I also wish to stress here that mobile phones are not the problem it is the mind and hearts
of individuals, especially in the way we use this equipment. This is what really matters. For
example, in developed countries the users are experienced in this use of this technology and they
have also come across such negative impacts of the equipment. It is not a new problem.
Lot of the problems emerging from the abuse of mobile phones are propagated by a few
people and not the majority of users. And so my department, in attempting to prevent such
problems, are looking at formulating laws and policies to get smart cards registered. When
people wish to use their mobile phones they must registered their smart cards so that there must
be some control.
I must also stress here that even if we make laws to prevent such happenings if our
intentions are not right we still will not have an answer to that problem.
That is the best answer I can give in reply to the question from the governor for Southern
Highlands.
Dr ALLAN MARAT – Thank you Mr Deputy Speaker. My question is directed at the
honourable Prime Minister. And I urge the Minister for Commerce and Industry, State
Enterprises and Police to take note.
My questions relate to the management of the Investment Corporation of Papua New
Guinea, the Investment Corporation Fund of Papua New Guinea and the new Pacific Balance
Fund.
There was a Commission of Inquiry set up by the Prime Minister the Right Honourable
Grand Chief Sir Michael Somare in June 22006 with its report due in March 2007.
The inquiry was similar to the National Provident Fund and the Defence Force
Retirement Fund Commissions of inquiry.
Mr Acting Speaker, there were 11 terms of reference relating to administration and
financial management procedure, appointment of trustees, managers, write off of K37 million of
shareholder funds ad many more issues.
Mr Acting Speaker, the point is we must not establish expensive commissions of inquiry
when the public pressure is on, and then once reports are presented there does not seem to be any
direction from the office or person being the Prime Minister who I authorized by the Commission
of Inquiry Act to establish the inquiry in the first instance.
Mr Acting Speaker, my questions are;
When if the Prime Minister going to give directions as per the findings and
recommendations of the Commission of Inquiry Report into the Investment Corporation, the
Investment Corporation Fund to various authorities and state agencies to be implemented?
Many persons and firms were referred to the Ombudsman Commission, the Royal Papua
New Guinea Constabulary, the Register of Companies, the Securities Commission and IPBC for
appropriate action. And so when are we going to have a report to date, tabled on the progress or
status?
Thirty Seven million of employees, cooperatives, churches, students, youths, business
groups and individuals investments were written off. What is the state doing to ensure these
people are compensated for the state and agencies failure as highlighted by the Commission of
Inquiry?
It is surprising to see many persons implicated in the Investment Corporation of Papua
New Guinea saga now appointed to many state-owned-enterprises. Was the Prime Minister's
announcement on corruption and merit based appointments a smokescreen to appeased Papua
New Guineans.
What will the Prime Minister do to remove people implicated from the various boards
and as CEO of state owned enterprises and the public services since for them to remain in those
positions they are liable to continue to plunder state institutions?
Mr PETER O'NEILL – Thank you, Mr Acting Speaker, and I thank the honourable
Member for Rabaul for his question on this very important issue about people's funds managed
by Investment Corporation of Papua New Guinea and subsequently the Pacific Balance Fund and
related issues.
My understanding of this particular inquiry was that it was tabled in this Parliament and –
03/04
(incomplete)
04/04
Of, course the Minister for Foreign Affairs and Immigration has cancelled the passport,
which was recommended by Ministers and many of us in the Government.
Because he is still a citizen, he has got every right that is accorded to the citizens like
ordinary citizens. Whether he got the citizenship in the right way or wrong way, I as the Chief
Executive of this country or any Member or Minister of Cabinet does not have the powers to
cancel a citizenship. It must go through a process of investigation and then we must apply to the
National Court or the court of law so that the courts can cancel the citizenship if there are
allegations that prove that he got his citizenship in a deceitful manner. So that process is now
beginning.
The first thing we have done is cancel the passport and though his lawyer Mr Loani
Henao who is very familiar to our friends on that other side and familiar to me too, yes.
(Laughter in the Chamber)
Mr PETER O'NEILL – He is now representing Mr Tjandra and he has written and
rightfully so, to me, that he needs a Ministerial Committee which is under the Immigration law
that we establish a Committee to review that decision of cancellation of passport basically stating
that he is still a citizen of this country, which our Citizenship Committee has awarded like any
other citizen, he is entitled to the right of access to a passport and other things that we citizens
take for granted.
My position has been very clear that I do not want to set a precedent where a Government
of the Day willingly goes and cancels citizenships. That will set a very bad precedence in this
country. There are other good naturalized citizens who are already exposed to that kind of
practice. If I don't like someone who is a naturalized citizen, I can go and cancel his citizenship
and put him on the plane. We cant take those steps because we have laws in place.
We have investigated the matter and the Reports from the Attorney Generals Office are
clear and we will now present that to Cabinet and Cabinet will endorse the next course of action
which is to go to Court and we have set up a Review Committee which by law we must give him
the right as a citizen. That Committee is been headed by the Minister for Forest including the
Minister for Environment and the Minister for Finance. This three men Committee will review
and make their recommendations to Cabinet and Cabinet will take further actions from there on.
I know it is taking too long but if we don't we will be subject to litigation and further
frustration so let the due process take its course and of course we will see the outcomes of the
court case.
In regards to Public Servants who have been involved in this matter, of course if the
Courts prove that things where not done correctly they will be held to account and that is my
assurance to the Honourable Governor.
In regards to the issuing of citizenship, I agree with him and it was discussed in Cabinet
and we are now trying to change the law rather than the Citizenship Committee screening the
applications and recommending to the Minister for Foreign Affairs and Immigration for his
approval, we are now saying that, that recommendation should come to the Minister through to
the Cabinet, so that almost thirty Ministers or so can screen that person again so that when we all
agree to it any body who objects violently can object in that room and then we can all know that
it is open and very transparent.
We are now changing the systems to put in place a much more stringent process for
people who want to become citizens of this country.
Mr JOE KOI KOMUN –Mr Speaker, I direct my question to the Deputy Prime Minister
but seems he is not in the Chamber I would like to direct it to the Prime Minister.
My people have been baldy affecting by the heavy wet conditions recently and I
responded by writing to your Office and the relevant authorities and I did a submission for some
relief as well as arresting that problem of flooding because my electorate is in the Waghi Valley
and it is flat and so many tributary are within and they over flood the whole area and the river
level is almost close to the land and when there is heavy rain.
I engaged relevant engineers to work on my submission and they did some work on it and
I submitted almost two or three months ago and I wish to ask when can I get some relief
supplies? If there is any, notify me so that I can inform my people.
I also would like to ask if the Government help with arresting that Flooding situation in
my electorate.
Mr PETER O'NEILL – I thank the Member for Anglimp/South Waghi for his question
on the struggles that our people are facing in our electorate.
Firstly I want to advise him that I received his submission just this week and infact I am
aware of that bridge that he is talking about the bridge that collapsed and has been washed away.
I have already directed the Works Department to look into that and I understand that they
are looking for a spare bridge and there is one either in Mt Hagen or Lae which I am not too sure
but I am –
05/04
the department to look into it.
I understand they are looking for a spare bridge, I think there is one either in Lae or Mt
Hagen I'm not too sure but I hope they will facilitate that as quickly as possible.
The other works programs that he has requested are quite substantial and the figures are
above what we have projected.
In the 2014 budget, we budgeted K50 million for disaster relief which is managed by the
National Disaster office.
In addition to that we are trying to engage the other agencies or government like Works
and Health department.
In terms of immediate food supplies and basic health supplies to the affected areas I have
been using the community development fund to assist the people, in the case of Bulolo, Oro
province and recently in Dei.
I have put in a request for K500, 000 to assist you on that and I'm hoping it would be
ready within the next few days to pass onto the district.
But in terms of the work program on the bridge and the road we are working through the
Works and I will continue to pursue that for the member. Thank you Mr Acting Speaker.
Mr ROBERT GANIM- My question is directed to the Minister for Labour and
Industrial Relations but firstly I would like to take this time to thank two other Ministers who
responded promptly to the questions I raised previously.
Firstly I thank Hourable Ben Micah the Minister for Public Enterprise.
I raised the questions previously about the power blackout in Wabag and I think he has
responded favorably by making sure that Wabag town has a stand by generator. On behalf of the
people of Wabag I thank you for your prompt action.
I would also like to thank the Minister for Works, I raised a question yesterday and he
promptly advised his officers.
Mr ACTING SPEAKER- Member for Wabag what is your question?
Mr ROBERT GANIM- Well Im just trying to thank people who responded to my
question. I thank him also for his prompt response for sending engineers up to Wabag.
Mr Acting Speaker my question is directed to the Minister for Labour and Industrial
Relations and is on the allowance and pay rates of the village court magistrates and peace
officers in our villages through out Papua New Guinea which I want the Minister for Provincial
Affairs to also take note.
(Members interjecting)
Mr ACTING SPEAKER- Member for Wabag, the Deputy Prime Minister is not
present.
Mr ROBERT GANIM- I'm trying to say something in relation to the minimum wages
board determination so I think the board should take note of that therefore I'm directing my
question to him.
Mr ACTING SPEAKER- Who is him?
Mr ROBERT GANIM- The Minister for Labour and Industrial Relations , Mr. Acting
Speaker.
My second question is related to the Minister for Labor and Industrial Relations so I think
Ill just ask the question and whoever can answer, can do so.
The village court Magistrates are paid K29 per month and according to the information
that I received, the previous Somare government have raised the minimum wages determination
yet the village court magistrates and peace officers though they are doing a lot of work in our
villages particularly in remote areas where there is no Police officers, they help to solve
problems.
We are expecting the pay to be increased but this has not happened.
(1)
I would like the minister to tell us whether the government is in breach of this
minimum wages determination?
(2)
And if they have plans to increase the pay for these officials, when will that be
and how soon?
Mr BEN MICAH- The appropriate Minister responsible for determination of Village
court Magistrate pay is the Attorney General.
On the general issue of pay rise that comes under my ministry.
Just for comfort of general public the government has directed for a new minimum wage
board to be established.
The last review was done by me in the last Ministry that was about three to four years ago
and the pressure is out there for new rates to be set for our workforce out there.
I can inform Parliament that the submissions are before cabinet for the decision to
establish a new minimum wages board, once that is in place, we'll set the new rates.
To answer our good members question, under the determination the right Minister would
be the Attorney General and I think he will make a note of that.
But I can recall the last increases were done couple of years ago when I was Justice
Minister since then I don't think any new changes happened but I will leave that my colleague
Minister to take on to look after our very important people because without these people we cant
have peace and order in communities so that's my answer to these Parliament.
Mr HAVILA KAVO- Thankyou Mr Acting Speaker for giving me the opportunity to
ask my questions without notice to the Minister for Works.
06/04
Mr HAVILA KAVO – Thank you, Mr Speaker, for giving me this opportunity. My
question is directed to the Minister for Works and for the Prime Minister to take note.
Hiritano Highway is a very important road to the people Gulf Province and Central
Province and I believe Papua New Guinea also as a whole.
Mr DEPUTY SPEAKER – Governor the Minister for Works is not here.
Mr HAVILA KAVO – Very well, my questions are directed then to the Prime Minister.
My people including the people of Central Province travel that road and it is also an
economic corridor.
During your Budget nothing much was said and not much funding was allocated to fix
this road.
(1) Will the Prime Minister consider putting some money to fix that road so that my
people and the people of Central Province can use to market their commodities?
This highway is like the Highlands Highway and I believe that the government has
allocated funding for the Highlands Highway and the same should be done for the Hiritano and
Magi Highways. These two highways are economic corridors and I am asking your government
to immediately put some funding to fix these roads.
I have already gone through five motor vehicles because they got damaged travelling on
the highway due to bad road conditions. The bad conditions of the road are costing PMV owners
lot of money to the wear and tear sustained by the PMVs.
(2) Therefore, can the government immediately put funding into this highway?
Thank you, Mr Deputy Speaker.
Mr PETER O'NEILL – Thank you, Mr Deputy Speaker, and I thank the Honourable
Governor for Gulf for his very important regarding this major highway that links Gulf Province,
NCD and Central Province.
I would like to state here that the National Government in the Budget about K80 million
for the continued maintenance of the National Highways, which includes both the Hiritano and
Magi Highways.
Therefore, I want to assure the Governor, and as he knows the accounts have just recently
opened and we are starting to roll out most of the funds for many of these projects. I will also
bring this matter to the attention of the Minister for Works and I will make sure that he
distributes some funds for repair work on key areas because of the heavy rainfall experienced
recently.
I am also aware that between Bereina and Malalaua that there is contractor working on
the ground already and doing some work there. I will also ask the Works Department to
supervise that work more closely so that quality work can be done rather than just superficial
work because the roads are need of maintenance for many years now.
Mr Deputy Speaker, I do not want the Governor for Gulf to think that we are neglecting
other responsibilities throughout the country.
Mr Deputy Speaker, in fact, we have got the National Roads Authority (NRA) in place
who mange about 7000 km of national roads throughout the country which includes these two
major highways and there are enough funds for us to continue to maintain many of these roads.
Due to the PNG LNG Project the Highlands Highway in the last 3 or 4 years has been
completely destroyed has very high volumes of machinery were carried up and down that road.
Apart from that, the highway is also used by 4 to 5 provinces and therefore, the population mass
that is using this road is quite significant.
Therefore, I do not want the Governor to think that because I am from that region we are
focusing more on that region. We are trying make sure that we distribute the government funds
evenly across the country because all roads in the country are of priority to this government,
nevertheless, the Highlands Highway is in more need than any other road.
I also want to inform the Governor that we are now 20 km away and continuing to fund
the road between Sembiriki and Kikori. The road between Kikori to Sembiriki is fone and we are
now doing Sembiriki to Erave, which will eventually link up the Highlands Highway all the way
from Lae down to Kikori.
We are also doing the road from the other side from Hela Province down to Kikori. That
road following the pipeline is already done and we are ion negotiations with the developer of the
PNG LNG Project to declare that road as a National Highway so that our people can travel.
Mr Deputy Speaker, you can now travel from Lae all the down to Hela Province and
down to Kikori following the Highlands Highway. We are focusing on linking up the country so
that we have options because when we have landslips and collapse of bridges our people suffer,
and therefore, we must give our people options.
Mr Deputy Speaker, I must also let you know that, when Shadow Finance Minister did
the Budget Reply he spoke about a piecemeal approach on some of the funding that we were
putting for design, study and scoping for many of the highways like Hagen to Madang. It is
another major road project that we are trying to do, a four lane road following the Highlands
Highway from Hagen to Tokuba, Hagen to Kunjip, Goroka to Asaro and Goroka to Bena Bridge.
Those roads have 4 km extensions.
There is also an upgrade of 20 km from Madang to Lae, and these are deliberately done
because we must know the cost before we allocate that project to a contractor. We just cannot go
and estimate because I am not an engineer therefore; we must design it, cost it and scope it so
that we will know that budgets can be allocated to it so construction work can be carried out.
Mr Deputy Speaker, these things are planned for the next 3 or 4 years and we will attend
to many of these projects throughout the country and we can only do it by working together.
I am also very happy that some of the provincial governments have taken ownership of
this, for instance, the Western Highlands Province is putting its own resources to help us design
the Mul Baiyer/Madang Highway. That is very encouraging because if we know the actual cost
and design then we can look for funds either form ADB or EXIM Bank and other sources that
are able to give concessional loans to our government so that we can build these infrastructures.
Mr Deputy Speaker, I would like to assure this honourable Parliament and the nation that
we are doing all we can under the limited constraints of funds that we have to make sure that we
have a long term solution to fixing –
07/04
Mr PETER O'NEILL - If we know the actual costs and the design we can than look for
funds either from ADB or the Exim Bank or from any other sources who are able to give
concessional loans to our government so that we can build this infrastructure.
I want to assure the nation that we are doing all we can under the limited constraints of
funds that is available. We want to make sure we have a long term solution to fix the key
infrastructure road network in the country.
Mr AMKAT MAI – Thank you Deputy Speaker. I direct my question to the Minister
for Enterprises and State Investment.
The population growth in Vanimo town has increased from 10 to 20,000 over the last 10
years and the rate is increasing. We have huge demand for water supply. It is now a major
impediment to development. But thank you to O'Neill – Deon government because there are big
on-going projects in progress, like the Boarder Development Project.
A lot of money has been injected into Western and Sandaun provinces however; Vanimo
town is still faced with no water problem. During dry seasons all the public servants go to the
steams and rivers to do laundry with their families. In doing so, they do not provide service to
the people and country as a whole.
Can the Minister direct PNG Waterboard to do a survey and come up with a solution to
solve this problem in Vanimo Township?
Mr BEN MICAH – Thank you Mr Deputy Speaker, the population explosion in Vanimo
is not my concern. It is your concern as well as the Opposition Leaders. But we can work
together and by Monday I will be deploying the Engineers of PNG Waterboard to inspect this
problem.
I urge you together with the Oppositon Leader to set aside money from your DSIP
program to assist PNG Waterboard to address this problem.
Mr RONNY KNIGHT – I direct my question to the Minister for Health. For the benefit
of this Honourable Parliament can the Minister advice my people of Manus the case of Lorengau
Hospital where the Board has drastically inflated fees for our patients. I think it is probably the
highest in the country in terms of public hospitals.
(1) If this is sanction by your department if not, are you taking any action against the
Board?
(2) The much talked about asylum seeker package which we appreciated is still contested
by our people, can you please advice on the floor what is on offer from your ministry and the
Australian Government to help our ANU hospital?
Mr MICHAEL MALABAG – We are not supposed to be charging hefty user fees to
patients especially to the outpatients and providing medicine to our people. Hopefully next week
in Cabinet we will be bring an amendment to the Hospital Charges Act to amend that provision
so that the full component of the free health care will come into motion.
But I will also take this opportunity to assure you that I will take up that issue with
Lorengau Hospital if they are charging hefty fees.
On the second issue I was fortunate to have travelled with the Prime Minister to Manus
recently. The High Commissioner Ian Camis was also on the same flight who also accompanied
the Prime Minister. We had an open meeting with the people of Lorengau at Lorengau market.
Mr Ian Kemish, Australian High Commissioner also addressed the people at the same
venue and I think the Member was also present at that time. He mentioned that together with the
Asylum seekers issue the Australian Government will spent up to K1 million towards improving
facilities at the Lorengau Hospital.
They will also be looking at acquiring essential equipments for the hospital and I believe
they will also be looking at the Dental facilities within Lorengau Hospital. So the High
Commissioner has made that commitment but at the same time, the Government through the
Prime Minister gave a cheque of K18.5 Governor of Manus. Of the K18.5 million K1 million
will also go to improving basic infrastructure rehabilitation at the Lorengau Hospital.
So
Member this is worth K2 million but as we go along improvement will take place.
Mr KILA HAODA – I direct my question to the Minister for Public Enterprises and
State Investment. I will continue to complain because I have been deprived my rights to the
resources in the capital city which is taken over by Papua New Guineans.
The resource found in this city belongs to my people and my people must benefit from
these resources. Eda Ranu was here for a very long time. However, they will be moving out in
four years time and therefore I want shares belonging to the Central Province Government.
Mr Speaker, the Motuan villages for instance Tubusereia is a big village with eligible
voters of 3,900. Many of our people live in the village and travel to town to work. But water
problem is a big problem for them.
08/04
..some of the provinces in this country will probably put maybe 100 villages will make up
tubusereia. Lot of our people come to work in town, from Tubusereia, Barakau, Gaire, Lealea
and other villages close to the city. We come to work here in the city and contribute to the
growth of this city.
We help the government because by way of acquiring land we save the government and
housing as well because we are living on our land. I want the important services of electricity
and water, especially so that bulk of the population that are commuting to and from the city are
hygienically clean and fit to be at work every day.
Mr Minister, do you have a plan for these villages to have water?
Mr BEN MICAH – Thankyou, if I could speak motu, I would reply in motu but I cannot
. I was not present in Parliament yesterday as I summoned all chairmen of the Board of the SOE
and CEOs and we had a consultation on finalising a policy on state-owned enterprises and state
investment that I will soon bring to Cabinet and if all things are well, I will table this statement to
Parliament.
Because you asked, I will briefly outline part of the policy but once the Cabinet approves
it, I will answer your questions very well. We are looking at a policy where the resource owners
of dams and waterways where power is generated from and reservoirs for collecting water and
sea ports. These landowners must be treated similar to those that own gas and oil because they
are being deprived of hunting and gardening grounds.
We use water and power and we say that we are paying for the services of using power
and water but we do not realise that these services are being provided from someone's land that
would otherwise have been used for other purposes.
There is a policy proposal that I will bring to Parliament and it is approved, these issues
of participation of landowners are being proposed in this policy. Also I have made an
announcement during the handover-takover ceremony of the board of Eda Ranu and also at the
policy consultation yesterday that Eda Ranu will remove restrictions for it to be able to do
business in Central and Gulf provinces and the rest of Papua New Guinea because I believe in
supporting the aims of this government that is to provide clean water and sanitation services to
all people of this country for the next 10-20 years.
It is part of that policy that we are removing the restrictions and Eda Ranu will go to
Tubusereia, Gaire and even to your place at March Girls Resort.
SUPPLEMENTARY QUESTION
Mr … I wish to ask leave of Parliament to respond to a question raised by the Member
for Chuave.
Leave granted.
The Member's questions were in relation to pubic servants and citizens who have settled
on land at ATS (Air Transport Squadron) but now they are being asked to move and he asked if
we can let the pubic servants remain on this land. I have carried out some investigations and I
want to clarify to the Member that this land has three titles to it. Firstly, there is the agricultural
lease with two portions; 693 and 694.
The other portion is the freehold lease, which means it is a private area where it has been
purchased by a private company and it is being put under the government system and, therefore,
we do not have a limit to it. The former Prime Minister, the last Sir Bill Skate, during his term
there were some issues with wildlife are there were ethnic clashes so he moved for groups to the
ATS area.
When these people settled they settled on the agricultural lease and the Lands Department
had no knowledge of this exercise, this decision was done to relocate groups to resolve the
conflict of the wildlife area.
Today we are unable to remove people from this area as they have already settled with
permanent residences. And also the landowners have taken ownership and have sold block of
land to other locals as well.
09/04
They reside there and them improve their status to permanent settlement status so we just
leave it and allow them to settle there. At the same time the landowners have also taken
ownership of that by selling small portions of land there.
I wish to make this House understand that at that time the Prime Minister made a decision
to relocate some of the people who were facing problems to that area so the department will not
evict them we will let them remain on that land. It is an agricultural lese, portion 693 and 694.
GRIEVANCES DEBATE
Question proposed – That grievances be noted.
Mr TITUS PHILEMON (Milne Bay) – Thank you very much, Mr Deputy Speaker for
giving me this first opportunity to speak in today's Grievances Debate.
Firstly, I'd like to say thank you to the Minister for Lands for the papers he brought to
Parliament on the land matters in this country.
Mr Deputy Speaker, I'd like to raise a land issue on Milne Bay Province and that is on
the Woodlark Island land issue.
I know successive ministers had this matter brought to them and they are fully aware of
it. The land on Woodlark Island in totality does not belong to the people of Woodlark.
Now I want to return this land to the people of Woodlark Island, I tried in my time as the
Member for Samarai-Murua to return the land to the people but I only succeeded in return I little
bit of it. Now, as the Governor of Milne Bay I want to try again because the people of Woodlark
are still concerned. As a leader I want to see this happen.
When the Minister presented his papers and I wish to endorse it and what many of the
speakers spoke on yesterday.
My concern for Woodlark Island is this, why hasn't the government returned the land
back to the people?
All the arguments, debates, comments and presentations to the government is to no avail
but when corporate companies want to acquire land in that particular area we are very fast in
facilitating that. But when the traditional landowners wish to reclaim their land we do why don't
we act that fast.
I'll make a classical example of mining on Woodlark Island, Woodlark Mines, the
company has now made an application for the licence to be granted to them to start mining for
nine years. My fear is that if the mine licence is granted to Woodlark Mines while the land is not
owned by the landowners they will not be compensated for the damage that is going to be done
to the land.
I am standing with my people of Woodlark Island to say that we will disagree to that
mining licence being issued or anything else for that matter to happen on Woodlark Island until
the land is given back to them. That is my position because we need the people to get back their
land.
Woodlark Mines is one company, in a previous arrangement Vitro Plants was another
company which went there to introduce oil palm plants to the island. And the Woodlark people
protested against those companies because their interest was in reclaiming their land.
I have with me information stating that way back in 1978, when Boyamo Sali was the
Minister for Lands, he gave it back to the Woodlark people. I will give these documents to the
Minister for Lands so that he can correct the situation by ensuring that the land is given back to
the people. These documents were obtained from private research. Against this backdrop and the
current situation I want the Minister for Lands to give us a quick attention and an immediate
response before other companies move in to carry out commercial activities on the island.
I feel very strongly for my people because this is just like any other projects in the
country where landowners have been denied their rights to ownership of their land.
That's my first grievance.
My second grievance is also in regard to the questions that I raised yesterday to the
Minister for Transport and I know that my brother the Minister for Public Enterprises is fully
aware of it. But I just want to emphasize this for the support of my fellow Members of
Parliament, especially those of us who come from islands and those of us who belong to
maritime provinces.
Our seas have been used as a highway by overseas companies. Big fishing and shipping
companies are passing through our reefs and our islands and destroying it and our fish by
pumping rubbish, especially their oil and gas into our seas. Our little people are fishing in the
canoes and dinghies and are always being threatened by these big ships.
I'll give one example. If we are on land and a make a truck route through your land
without giving you any payment or even without your knowledge how would you feel. You
would feel upset. And that is the same treatment that we in the coastal provinces are feeling.
Milne Bay is currently being used as a highway.
I com from Rossell Island, at the eastern tip of Papua New Guinea and there we have
ships that –
10/04
Milne Bay is currently used as a highway, I come from Wasol Island the Eastern tip of PNG and
there we have the ships that pass through and then you come in further and reach SamaraiMurua, then you come further inside just next to Samarai Island and the Alotau mainland there is
a strait called China strait, the reason behind it is that you have to go through that passage to
China. And then you have all these other major ships like Jomad that goes to other provinces
such as New Ireland, Bouganville, East and West New Britain and Manus and I know that
members from these provinces have this same concern.
In other countries they get payment for that or recognized and have what they call
(PSSA) particular sensitive sea areas, for example, in Australia Great Barrier Reef has been
identified as PSSA. But here in PNG none has been declared as PSSA that is why we are not
qualified under any terms to get anything. So these are some of the issues that I want the
government to know that it's about time that we declare our maritime boundaries, reefs, waters
and so forth as PSSA then we can argue for compensation but at the moment we are not. Even
they call us as innocent people and any time they can come into our waters and fish and do other
business as well and we can't track them because they are very big ships. And so our Island
communities are always living in danger by this big ships and I want this government to support
us and I know this matter has been brought up to the appropriate minister already and I want the
support from Parliament especially those members from Maritime Provinces. In the pervious day
when I asked the Minister for Transport on this same question his reply was legislations will be
tabled in Parliament. Therefore, I thank the Prime Minister and his cabinet for recognizing the
needs of the Maritime Provinces and so I urged all the members to support this legislation.
Mr BIRE KIMISOPA – Thank you Mr Deputy Speaker, the people have
overwhelmingly embarrass the 2013 National Budget. This government has given the legislative
support it deserves in order to implement its programs given its major policy announcement it
made since it resumed office in August 2012.
Mr Deputy Speaker, the fiscal landscaping for 2013 and beyond as been drastically
altered given the emphasis on planning spending which is based on a five year period as opposed
to a one year fiscal cycle. The serious threats to the National Budget can not be underestimated
given the Executive Governments resolve to ensure it delivers on its full commitments to the
economic enablers it has identified as education and health.
Mr Deputy Speaker, the dramatic fiscal intervention into the districts is unprecedented
were K890 million would be spent over the next 12 months. There are cheating problems in
terms of the performance of each district which may require the Department of Finance to
conceive a reporting template to capture the government intervention for districts socio economic
development. This major development stimulus will increase domestic growth as a result of
public spending and political leadership is required more than ever to maintain economic growth
in both formal and informal sectors of PNG economy.
Mr Deputy Speaker, the Governments considered move to amendment Section 145 of the
National Constitution by extending the grace period for vote of no confidence from 18 to 30
months is well understood.
However, the test for absolute power as to be met with a slate of legislative responses that
will enhance the public confidence in the performance of the executive branch of the government
and also provide for Parliament the recourse mechanisms it needs to hold executive government
to account for such an extended time in office.
Mr Deputy Speaker, an extension of time from 18 to 30 months is actually half the term
of Parliament. Further more by convention a government can not be removed 12 months prior to
any election. And therefore what the government has secured in reality is 48 months with only a
year for anyone who wants to challenge a Prime Minister and his government. If this is the
intention of this government it would also seem fair that this Parliament insist that we quarantine
this power graph with a series of legislative responses that will hold this government and future
governments to account for all its executive decisions.
Mr Deputy Speaker, I am proposing a number of legislative responses that is then amount
to good governance which is required now more than ever. Further more under the present
circumstances we must make every effort to secure the good will of our people as the powers we
hold are actually held in trust. Any attempts to surf the intentions of the Constitution must be met
with stiff opposition within this Parliament or alternatively must be mitigated with an appropriate
legislative response that will act as a counter balance in the event of a fiscal crisis or legislative
curios.
Mr Deputy Speaker, firstly, this Parliament in my view should consider enacting a
Freedom of Information Act that should hold executive government to account by making public
executive decision so that we do not have a repeat of the public service housing -
11/04
That should hold Executive Governments by making public executive decisions so that
we do not a repeat of the public service housing debauch.
This Parliament should be prevee to NEC decisions to award contract as a matter of
public interest and such an Act of Parliament to enforce the mandatory publication of
information would curtail the over ambitious and conspirious activities of corrupt Ministers and
Government agents.
Mr Deputy Speaker, secondly, it is my view that the Courts in this country should be
restrained by statute in so far as the accommodation of Court Orders, Court Injuctions and Ex
parte Orders which prevents the administration of the Leadership Code and the Commissions of
Inquiry.
It is an established fact that tribunals or commissions are unnecessarily frustrated or
impeded on by leaders or well of citizens who are sprinting to the Court House seeking
unnecessary Orders. That is a gross insult to our people where the Leadership Code or
Commission of Inquiry worked primarily for the advancement of good governance.
Mr Deputy Speaker, furthermore it is now a national travesty that the Finance Inquiry is
forever gagged in the National Court and it appears we are dragging our feet when Parliament
should reassess the peoples right to restrain the Courts from unnecessary interruptions through
legislative recourse.
A legislative response is now required to leave the gag order for the Finance Inquiry to be
made public and those responsible should be made to account.
An amendment to the Judicial Act is urgently required under the present circumstances.
The vast public resource of our people is entrusted to only a few in this country and therefore it
is mandatory that Governments or agents of Governments are made to account.
Since, we have extended the Grace-Period from 18 to 30 months it is now fair and just we
keep our political ambitions checked and ensure that we don't short change our people for one
sided political greed.
Mr Deputy Speaker, thirdly, this Parliament should immediately introduce a Budget
Integrity and Honesty Bill that requires the strict adhearance to the appropriations sanctioned by
Parliament.
There is no further Executive discretion guaranteed by incumbency to allow for
misappropriation of funds designated by Parliament appropriations.
In 2012 Parliament appropriated K130 million to the National Development Bank and
before the year ended a K60 million was withheld and applied for purposes outside of the
Parliamentary appropriation.
This is a blunt abuse of Parliament and an extension of Grace Period from 18 to 30
months can only bolster the cause of a Government who has unserted powers by enjoying the
privileges of public office and then abrogate the good intention of an extended period that is on
leaser.
Mr Deputy Speaker, an Act of Parliament that enforces Budget Honesty and Integrity will
ensure Government is held to account for public monies regardless of its longevity in office. The
longer the grace period the greater the scrutiny it should be. Otherwise too much political power
will erode public confidence which is the case in Papua New Guinea where the agenda for
political patriotism is purely driven by monitory interests.
Mr Deputy Speaker, finally this Parliament should consider a Bill to quarantine the
remaining 30 months of the life of Parliament by review Section 145 of the Constitution. A
Public Commission of Inquiry must be instituted by the Law Reform Committee to address the
issues pertaining to the appointment of a Prime Minister the State of Political Parties and the
fluid nature of changing allegiance which continues to invoke fear within the ruling Party.
Mr Deputy Speaker, furthermore, it would be an appropriate time to ask this question,
can we consider changing the Term of Parliament from 5 years to 3 years and remove altogether
the requirements of Section 145 of the Constitution. I am cautiously optimistic that we are now
politically matured and any fear of too much power can only be mitigated through a concerted
legislative effort to quarantine the abuse of privilege and power and on that note our people must
be involved.
Mr RONNY KNIGHT (Manus Open) – Mr Deputy Speaker, I also would like to
contribute in this debate the plight of my people of Manus and the dismal situation we find our
selves as leaders in trying to serve them.
My province is a scattered northckle province somewhat similar to Milne Bay province in
respect that we are both notically challenged.
However, Manus does not have the benefit of private or church agency vessels services at
all.
The private transport sector is by banana boat.
This province and district which I have to look after may have a small population but
the remoteness of this island and its scattered atolls is huge challenge logistically. The furthest
island is about 400 N/miles from Lorengau.
Manus, contrary to many assertions is a huge province taking into account the sea nd
surrounding islands. The actual cost of freight sometimes over run the cost of the project itself.
For example if we had to build a double classroom on one of our islands the logistical
component will often be more expensive than the actual project, simply because of lack of
cheaper effective local shipping.
Mr Speaker, 80 percent of the populations of my province live on the coastal mainland
and many surrounding islands. These people are producers of copra, coco and marine products.
Mr Deputy Speaker, this people are the slat of the earth and may not have much
materially but they are the kindest most hardworking humble and intelligent people you will
meet in the country. They are the survivors living as their ancestors did many thousands of years
ago unchanged from the bounty of the sea. Their crops are rotting in the plantations because
there is no way for them to get this items to the market.
Mr Speaker, my people are dying of malaria related diseases, child brith complications
and infections yearly because of intermediate service they receive.
The medical staff on the island must be commended for doing what they can do with
what they have but invariably the medical supplies they need are sitting down in Lorenagu for
want of delivery.
Mr Deputy Speaker, I want to thank the Members of East and West Sepik as they have
taken many of our emergencies into their hospitals in the Western Islands and served us without
compliant.
Mr Deputy Speaker, on top of these we have the effects of climate change asserting itself
adding further misery into our dilemma. Our coastlines and small islands are getting inundated.
Our arable land is being reduced from salt permeation through the water tables. Dye indeed is the
projected focus for my peoples future and they are becoming more and more dependent on
commercial food supply.
Mr Deputy Speaker, these issues are often the major catalysts for the tragedies that occur
yearly in the form of boating accidents. When my people desperate with no option risk traveling
over open seas in banana boats to seek help and transport patients needing urgent medical care.
Mr Deputy Speaker, on one island alone in AUA in my South Western LLG, five boats
have been lost in the sea and whole families have lost their bread winners and men folk.
Mr Deputy Speaker, in Christmas 2011, a former LLG Prseident and one of our
prominent sons and an executive of British American Tobacco lost his dear life with the whole
family. What was left of his body bids on our paddy island some 400 miles from where they
sank.
Mr Deputy Speaker, until we have a decent monthly shipping service that can provide
logistical support to my people, this terrible tragedy will continue to play out and we will have
more and more deaths.
Mr Deputy Speaker, a death at sea is one of the most horrible ways for a human being to
endure, drowning is the easy part.
In previous debate, in this Parliament the Honourable Sir Puka Temu told us of his
experience of swimming with his people when their ship over turned. He however was from the
coast and saved quickly.
Mr Deputy Speaker, I too, had the misfortune of loosing a banana boat 32 N/miles from
Bukei Island and I swam that distance in 17 hours to get assistance for my boys.
Invariably when sea tragedies occur in my province they do so in open seas and help
arises when its already too late.
Mr Deputy Speaker, it is really indescribable the feeling of being alone in the sea, with a
vast open sea to cover, the thirst and the feeling. I tell this Parliament that I know when I am
talking about when I say that it is horrible way to live this world.
12/04
the feeling of being alone in the sea with the vast open distance to cover.
I tell this house that I know what I'm talking about when I say it is a horrible way to
leave this world. It is at such times that we acknowledge that there is a God.
Mr Speaker since the demise of the government trawler service in the eighties, our
province has had no proper alternative to serve our people.
All the stakeholders including health services, education prime industries whatever other
relevant department has building materials and supplies sitting in Lorengau for some years
without means to get these items to the site.
In addition, our people cannot move their marine produce as cocoa and copra to market
and when they do so these items would have deteriorated, be unfit to use and need replacement.
The Border Development Authority attempted to help the Western Isands where they did
one trip but it's not working anymore and it's not assisting.
Mr Speaker in the last government's term my province acquired several fishing boats and
they are support vessels which are now basically freighters and suitable to service my needs and
until we find our own vessels or a permanent solution to these long lasting problems, we should
be able to use them.
Mr Speaker these perfectly good vessels are sitting idle in Lorengau while my people
suffer.
The status of these vessels's brought in by MAFIASCO is quite murky and I don't know
if the import duties on these vessels have been paid yet.
However we don't dwell on the past the funding for this project has been the subject of
much discussion and finger pointing and the whole thing collapsed leaving us with several sea
worthy vessels sitting idle.
Mr Speaker as soon as my sit was declared I wrote a plan for the use of these vessels
especially the freighters to service my island in our dire need.
I believe this issue is a provincial and national emergency and I emailed copies of this
plans to Customs, National Maritime Safety Authority and National Fisheries Authority to
ascertain the status of the vessels and asked them to assist us to allow use of these vessels for our
relief on the plight of our people.
Only Customs responded to me with the foresight intelligent of someone understanding
the situation.
Mr Speaker the National Maritime Safety Authority seemed to be like an animal held up
in an air-conditioned office behind an empty desk, which can only quote regulations to us.
Their negativity is seriously and impediment to bettering the lives of our people.
The reply I got from a senior officer within NMSA was that no passengers are allowed on
fishing boats despite my asking them to provide guidelines to equip one of these freighters with
the required safety considerations to make her fit to serve this urgent run.
Another officer told me that they don't want another Rabaul Queen situation, its not a
good idea to carry pregnant women and sick people on a fishing boat in fact I was advised that
this was criminal act and I could be charged for it.
Mr Speaker what is the alternative, I was taught by my father not to criticize without a
valid alternative as it's the hallmark of stupidity.
There are no alternative vessels available in my Province, and these freighters are
virtually unsinkable owing to the huge water tide ice holds they spot and they are freighters not
fishing boats.
Mr Speaker it seems that I am being victimized for doing the right thing here by asking
this government agency to help.
Instead of advising me on what I can do get some of these vessels up to standard to assist
my people I'm told I cannot do it and I should forget about it.
To add more insult my next reply was from the Secretary whom through commensurate
and feeling very badly on the shocking plight of my people and duly noting the terrible
circumstances of our predicament referred me to the health department for assistance.
Meantime my people die while we pass the buck, Mr Speaker we need urgent positive
action from the NMSA with young vibrant officers who can think outside the box to help our
people by telling us what we can do to help the situation.
I fully expected them to advice me on the number of life rafts, life jackets and other
requirements I would need for NMSA to certify this vessel as safe for making an urgent service
run to the islands on a monthly or fortnightly basis.
I am not asking to circumvent the rules or break the laws that are in place.
Mr Speaker we don't need negative people who quote regulations and cannot help the
people in need.
If they cannot help us, what use are they?
Mr Speaker I was mandated by people to better their lives and serve them and we are in
the stages of near disaster here and I feel that I should have just gone ahead and used the vessels.
Mr SPEAKER- Honourable member you time is up
Mr RONNY KNIGHT- Mr Speaker if that's the case can I have the rest of my speech
incorporated into the Handard.
I seek leave to have my statement incorporated into the hansard.
Leave granted.
Mr. Speaker I cannot ring up a hospital ship in the yellow pages or conjure a passenger
boat out of thin air! I am not a magician or sorcerer but I am mandated by my people as their
leader so hard decisions must be made.
Mr. Speaker our own NMSA seems to be telling me that we should leave all those
pregnant mothers and sick people to die in prolonged agony rather than help them on the only
available ships to seek medical help.
It is further telling us that we should leave all the building materials for aid posts and
schools to rot in the rain, leave all the medical supplies to sit in a damp warehouse until they
expire while we wait patiently for an alternative vessel to turn up sometime in the future.
Or do we consign our people to a fate worse than death by risking a run over open three hundred
nautical miles of rough open sea by overloaded banana boat?
Mr. Speaker here in this province we have a term suicide by boat! It is self explanatory.
What do NMSA regulations say about banana boats traveling overloaded over vast distances in
vast open seas?
Why in the world are we allowing banana boats to be used in situations where they are
unseaworthy?
Mr. Speaker these boats we have adopted as our premium sea transport are banned in our
countries.
Mr. Speaker it would be interesting for NMSA to give us the statistics of boating
accidents over the last ten years, you will probably find that most have been these death traps.
Mr. Speaker I must tell this house that for someone from NMSA to quote the Rabaul
Queen to me and sprout regulations is not only sickening it is highly offensive and makes me
very angry.
Shipping in all aspects is my blood; it has been my family's bread and butter for
generations.
I have numerous times in the past reported Rabaul Shipping and Boarder Development
Authority overloading vessels and carrying dangerous and obnoxious cargo along with
passengers to this very NMSA for years and there has been no action taken.
I for one do not know what the families of the victims of this terrible tragedy think about
the incident, or who you and other honorable members consider may be the responsible party.
I have read the report presented to Parliament and gone through it with interest.
This subject for Rabaul Queen is before this very house for deliberations But I must say
we cannot lay blame solely on Mr Sharpe , he was only doing what every other shipping operator
has been ding for years –ripping off the traveling public risking their lives for a profit by
overloading and it s still done today.
In fact it amazes me that her sister ships are still carrying passengers from Manus. .
No I lay the blame solely on NMSA they are directly responsible party who should be
held accountable for not making sure shipping standards and practices were adhered to.
Is the NMSA another toothless hound? Are we the Manus people to bear the brunt of the
NMSA attempt to show they are doing something about the Rabaul Queen?I feel that is the
situation here.
Mr Speaker I am now in a quandary here, do I sit and let my people die as NMSAQ has
decided so or do I become a criminal and commander these vessels and service my people.
Mr Speaker that is an easy decision to make , I must uniform this house that I am now a
criminal because I will not let anyone in my province die needlessly because of bureaucracy
tomfoolery.
For someone to tell me that its against the law to use fishing vessels for passengers is an
insult to my intelligence as there are so many such vessels all over this country, some in nearby
New Ireland and Milne Bay Provinces which carry passengers continually through these islands
and have done so for many years they are all former fishing boats. I wonder what planet this
NMSA officer lives on.
Mr Speaker I am not impressed by Public servants with fancy titles who quote regulations
that they don't enforce and my reply to them has clearly indicated that I'm not happy.
Mr Speaker it seems that I am being victimized for doing the right thing here by asking
this government agency to help.
Instead of advising me on what I can do get some of these vessels up to standard to assist
my people I'm told I cannot do it and I should forget about it.
To add more insult my next reply was from the Secretary whom through commensurate
and feeling very badly on the shocking plight of my people and duly noting the terrible
circumstances of our predicament referred me to the health department for assistance.
Meantime my people die while we pass the buck, Mr Speaker we need urgent positive
action from the NMSA with young vibrant officers who can think outside the box to help our
people by telling us what we can do to help the situation.
I fully expected them to advice me on the number of life rafts, life jackets and other
requirements I would need for NMSA to certify this vessel as safe for making an urgent service
run to the islands on a monthly or fortnightly basis.
I am not asking to circumvent the rules or break the laws that are in place.
Mr Speaker we don't need negative people who quote regulations and cannot help the
people in need.
If they cannot help us, what use are they?
Mr Speaker I was mandated by people to better their lives and serve them and we are in
the stages of near disaster here and I feel that I should have just gone ahead and used the vessels
without advising them of my intention then there would be no issue at all.
Mr Speaker and the good Ministers responsible for these agencies I stand before you
pleading for urgent common understanding of my concerns and the plight of my people.
If the Department of transport has surplus funds can they assist us.
We have been spending a lot of money on the construction of highways but what about
the sea and sea transport are we to remain this way?
Mr Speaker on December 19th a young boy from Minigo was rushed by his family three
hundred miles to Lorengau in a banana boat only to die in sight of mainland Manus .He suffered
meningitis and because of lack of antibiotics his parents took the risk to travel and what is more
saddening is that he was buried on Manus away from his family.
On December 17th another banana boat with eight passengers ,two males and five females
and a three year old boy ran out of petrol and drifted for eighty hours .By the time the alert went
out our naval base had no fuel in the patrol boat and we duly refilled it.
By the time they had finished refueling they were picked up by a fishing boat and saved
from drifting into international seas.
Mr Speaker I must advise you that this trip that I am referring to has already been done
on the vessel that we mentioned and if I am a criminal as inferred then I am proud to be one.
I have brought the sick children and pregnant women to get hospital care and if the need
arises I may do so again.
Thankyou Mr Speaker.
Sir PUKA TEMU-Mr Acting Speaker my grievance debate will be very short.
Firstly I want join the Prime Minister in condemning the burning of that young
mother in front of a crowd.
I think every leader in this country should condemn this barbaric act it should
never happen in this country particularly when the reason is an unproven thing such as
Sanguma, magic or puripuri is blamed for the death of her own child.
Acting Speaker I wish to take the queue from the Prime Minister in condemning
this barbaric act and this Parliament should seriously look at this issue.
We cannot run away from it because it will happen again, it has happened in the
past and has fallen on deaf ears.
We as legislators must look at this issue so that it does not happen to another
citizen in this country any where whether its in my electorate in Abau or Goilala
This issue is a terrible issue and is happening in many of our institutions tertiary
and even primary school which makes every one to believe in it.
13/04
This is happening in many of our tertiary institutions as well as the primary schools.
Mr Deputy Speaker, therefore, I recommend that we establish a committee at the
parliamentary level to address this issue, or that the Minister for Justice and Attorney-General
refer the matter to the Constitutional and Law Reform Commission.
Nevertheless, we have to find a solution. I have consulted with our legal brains to come
up with a law to deal with the practice of sorcery and witchcraft to better understand and deal
with this issue.
Mr Deputy Speaker, on that point, I am becoming worried that we are bordering towards
a lawless society as many of our people are not complying with the law. For instance, just the
other day the Attorney-General raised an issue regarding land titles. Regardless of a person who
has a title to a particular land, he is still brought before the courts to dispute his title ownership
by third parties. The Minister for Lands must protect these land titles.
Even so, third parties still use dubious means to remove the land title holders from their
land. They do this through people in the courts and through the police. This was a similar case
regarding a family from Gulf who was residing in a National Housing Commission property for
30 years got a shock when someone went and paid the police to have that family removed from
that property.
Mr Deputy Speaker, in my own experience during the General Elections the Metropolitan
Supervisor went to the court and got a warrant to search my houses in Port Moresby, Kupiano
and my village. This happened because somebody complained during the counting that I was
keeping ballot boxes, ballot papers and factory made guns.
Mr Speaker, I for one do not know how to use a firearm or even owned a firearm.
I drive from Port Moresby to Kupiano with a guard or a firearm and therefore, I cannot
understand how the system allowed the complainant with the Metropolitan Supervisor got the
search warrant from the courts.
The police came to my residential property carrying firearms. They came in five vehicles
loaded with seven policemen carrying high powered guns in front of all my scrutineers. They
came and showed their warrant which was also signed on the same day. At that same time
around 9 a.m. another ten vehicles went to Kupiano and Kapari and that exercise cost the State
money.
Mr Deputy Speaker, institutions responsible to maintain law and order are now conniving
with people with certain interests. Anybody can go and pay the police through a middleman or
go to policeman and evict other person from their property, which they have a title to.
Then again, in front of a crowd of people, someone can pick up a young mother and burn
her in public. We have a serious problem and we have to address it.
Mr Deputy Speaker, I have been in Parliament for 10 years and after next we are going to
our districts for the so-called delivery of services. Is that what we are here for? There are many
laws that need to be changed and many that are outdated.
Mr Deputy Speaker, we really need to have a look at how the Parliament can be
restructured.
Mt Deputy Speaker, my personal opinion is that, once we are elected as National
Members of Parliament our people must then forget us. We must come and sit here and the
Parliamentary committee system must be restructured to work in that regard. We must work day
and night.
At the moment the parliamentary committee system is not working because half the time
we are worried about coming back in the elections. And when we get our cheques in our
accounts; we hold our meetings; run around; go to all the wedding ceremonies so that they see
our face and funerals.
How many of you new Members of Parliament have received letters and on that letter the
sub matter is always financial assistance? You are lucky that many of you do not leave in Port
Moresby.
I live in Port Moresby and as I am speaking people from Abau are waiting outside my
gates now. When I woke up at 6 a.m. in the morning they were not there. We have to change this
political culture for it cannot be allowed to continue.
Now, sixty of us Members here are debutants including you, Mr Deputy Speaker.
Together we have to have the will to change this political culture because there is too much
pressure on leaders. We are always watching our backs. We must look towards the front and see
what this Parliament the highest institution in the land and the pride of our democracy. We are
here to represent the people for we need to look at restructuring Parliament.
Mr Deputy Speaker, we have to be serious about this matter. I am on my way out and
most of you are just building your political careers and have another 10 to 15 years to be here. I
do not want you to follow the same path because then, this Parliament is not being utilised for its
intended purpose.
I will be doing a survey to see how many Bills have come through the private Member,
the Opposition and by the Governors. The answer to that is few to none at all. Yet, during
grievance debate we hear complaints after complaints, thus, putting pressure on the Prime
Minister, especially, regarding funding.
Mr Deputy Speaker, this has to stop otherwise we will not make use of this Parliament
and its responsibility as a legislator. Therefore, part of the restructure that I would like to see
happen is that, all the National Members are given more than capable secretariat support. We
must employ the best brains to support the leaders to advice us on law and policy making.
The Honourable Governor for Milne Bay raised a matter regarding our sea borders in
country and if he did not mention it we would not know about it. There are lots of loop holes in
our system and that is why our institutions are dysfunctional.
Mr Deputy Speaker, I look forward to the time when we strengthen the delivery arm of
the Government; the Public Service and probably make it independent. Therefore, we give them
funding and the institutions will delivery it so that we Members come here sleep day and night to
improve the laws of our land.
I hope and pray that one day this will come about in this nation.
Thank you, Mr Deputy Speaker.
Motion (by Mr…) put –
That the question be now put.
ADJOURNMENT
Motion (by Mr…) agreed to –
That the Parliament do now adjourn until Tuesday 12, February at 10 a.m..
Parliament adjourned at …….p.m..
14/04
As mentioned by the Governor of Milne Bay, we must make such policies because if he
did not mention it we will not know about it too. There is a lot of loop holes in our system that is
why our institutions are dysfunctional.
I look forward to a time Mr Acting Speaker, when we strengthen the delivery arm of the
government, the public service and make it probably independent. So that when we inject funds
in the institutions will deliver it. The Members can only come here to improve the laws of our
land. I hope and pray that one day we will achieve it. Thank you.
Motion – That the question be now put – agreed to.
ADJOURNMENT
Motion (by Mr JAMES MARABE) agreed to –
That the Parliament do now adjourn.
Parliament adjourned at ……..