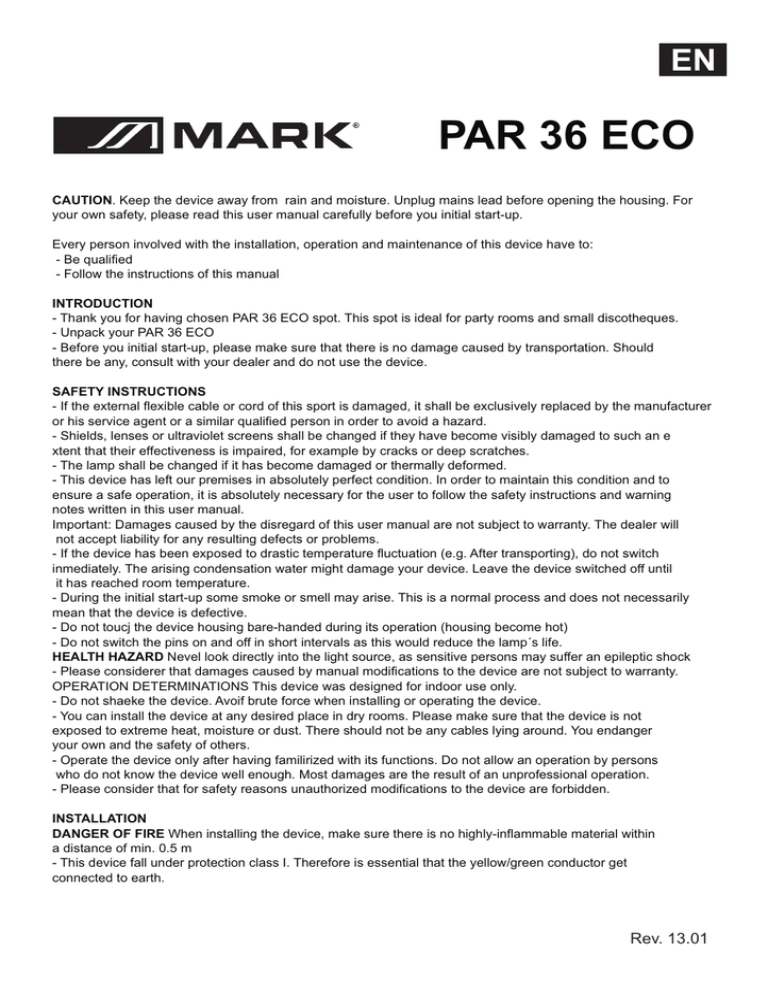 EN
PAR 36 ECO
CAUTION. Keep the device away from rain and moisture. Unplug mains lead before opening the housing. For
your own safety, please read this user manual carefully before you initial start-up.
Every person involved with the installation, operation and maintenance of this device have to:
- Be qualified
- Follow the instructions of this manual
INTRODUCTION
- Thank you for having chosen PAR 36 ECO spot. This spot is ideal for party rooms and small discotheques.
- Unpack your PAR 36 ECO
- Before you initial start-up, please make sure that there is no damage caused by transportation. Should
there be any, consult with your dealer and do not use the device.
SAFETY INSTRUCTIONS
- If the external flexible cable or cord of this sport is damaged, it shall be exclusively replaced by the manufacturer
or his service agent or a similar qualified person in order to avoid a hazard.
- Shields, lenses or ultraviolet screens shall be changed if they have become visibly damaged to such an e
xtent that their effectiveness is impaired, for example by cracks or deep scratches.
- The lamp shall be changed if it has become damaged or thermally deformed.
- This device has left our premises in absolutely perfect condition. In order to maintain this condition and to
ensure a safe operation, it is absolutely necessary for the user to follow the safety instructions and warning
notes written in this user manual.
Important: Damages caused by the disregard of this user manual are not subject to warranty. The dealer will
not accept liability for any resulting defects or problems.
- If the device has been exposed to drastic temperature fluctuation (e.g. After transporting), do not switch
inmediately. The arising condensation water might damage your device. Leave the device switched off until
it has reached room temperature.
- During the initial start-up some smoke or smell may arise. This is a normal process and does not necessarily
mean that the device is defective.
- Do not toucj the device housing bare-handed during its operation (housing become hot)
- Do not switch the pins on and off in short intervals as this would reduce the lamp´s life.
HEALTH HAZARD Nevel look directly into the light source, as sensitive persons may suffer an epileptic shock
- Please considerer that damages caused by manual modifications to the device are not subject to warranty.
OPERATION DETERMINATIONS This device was designed for indoor use only.
- Do not shaeke the device. Avoif brute force when installing or operating the device.
- You can install the device at any desired place in dry rooms. Please make sure that the device is not
exposed to extreme heat, moisture or dust. There should not be any cables lying around. You endanger
your own and the safety of others.
- Operate the device only after having familirized with its functions. Do not allow an operation by persons
who do not know the device well enough. Most damages are the result of an unprofessional operation.
- Please consider that for safety reasons unauthorized modifications to the device are forbidden.
INSTALLATION
DANGER OF FIRE When installing the device, make sure there is no highly-inflammable material within
a distance of min. 0.5 m
- This device fall under protection class I. Therefore is essential that the yellow/green conductor get
connected to earth.
Rev. 13.01
EN
- Install the lamp (6 V/30 W PAR 36) in the housing. Please remove the fixation ring by pressing it together.
Connected the wires with the lamp using a flat-blade screwdriver. Insert the lamp in the housing. Place
the lens onto the bulbb. Fix the lamp and the lens with the fixation ring. Please refer to the following drawing.
- For ceiling and wall mounting fix the device with the mounting bracket onto the desired installation place.
This device must be earthed.
- This device es not suitable for mounting on flammable
surfaces.
- Connect the spot to the mains.
OPERATION
- After you connected the device to the mains, the lamp starts burning. Adjust the light´s angle to get the
best results.
- Unplug or disconnect the PAR 36 spot from ther mains, when you are not using it.
REPLACING THE LAMP
Warning: Before replacing the lamp, unplug the pin spotlight. Be sure the lamp has cooled down, or wear a thick
glove when replacing it.
Caution: Use only a PAR 36 6 V 30 W lamp. Using another type and size lamp could damage the lamp or the
pin spotlight.
- Remove the fixation ring by pressing it togheter
- Turn the pin spot light with the lamp side down so the lamp falls out.
- Use a flat-blade screwdriver to loosen the two screws that secure the wire to the bulb´s terminal. Remove
the old bulbl and discard it.
- Reconnect the two wires to the screws on the new lamp and tighten the screws securely. Insert the new
lamp into the housing.
- Replace the lens and fix the lamp and the lens with the fixation ring.
HOUSING
PAR 36 6V 30W LAMP
LENS (NOT INCLUDED)
FIXATION RING
SPECIFICATIONS
Power supply: AC 220 - 240 V, 50 Hz, 36 W
Fitting lamps: 6 V/30 W PAR 36
Este símbolo en su equipo o embalaje, indica que el presente producto
no puede ser tratado como residuos domésticos normales, sino que deben
entregarse en el correspondiente punto de recogida de equipos electrónicos
y eléctricos. Asegurándose de que este producto es desechado
correctamente, Ud. está ayudando a prevenir las consecuencias negativas
para el medio ambiente y la salud humana que podrían derivarse de la
incorrecta manipulación de este producto. EL reciclaje de materiales
ayuda a conservar las reservas naturales. Para recibir más información,
sobre el reciclaje de este producto, contacte con su ayuntamiento, su
punto de recogida más cercano o el distribuidor donde adquirió el producto.
ES
PAR 36 ECO
PRECAUCION. Mantenga el dispositivo alejado de la lluvia y la humedad. Desconecte el cable de la
alimentación antes de abrir la carcasa. Por su propia seguridad, lea atentamente este manual antes de
encender la unidad pro vez primera.
Cada persona relacionada con la instalación, funcionamiento y mantenimiento de este dispositivo, debe:
- Ser una persona cualificada
- Seguir las instrucciones contenidas en este manual
INTRODUCCION
- Gracias por elegir un PAR 35 ECO. Este foco es ideal para habitaciones o pequeñas discotecas.
- Desembale su PAR 36 ECO
- Antes de su puesta en marcha inicial, asegúrese que la unidad no ha sufrido daños durante el transporte,
caso de ocurrir, consulte con su transportista y no use el dispositivo.
INSTRUCCIONES DE SEGURIDAD
- Si el cable externo de red está dañado, debe ser sustituido exclusivamente por el fabricante o servicio
técnico para evitar riesgos.
- Pantallas, lentes, etc deben ser cambiadas si se observa un daño visible que afecta a su efectividad
como golpes o ralladuras.
- La lámpara debe ser sustituida si se ha dañado o deformado por la temperatura
- El dispositivo ha abandonado nuestras instalaciones en perfectas condiciones. Para mantener este
estado, es absolutamente necesario que siga las instrucciones de seguridad contenidas en este manual.
Importante: Los daños causados por la no observancia de las normas contenidas en el manual, no están
sujetos a garantía. El distribuidor no aceptará ninguna responsabilidad ante cualquier problema.
- Si el dispositivo a sido expuesto a fluctuaciones severas de temperatura, como p.e. durante el transporte,
no lo encienda de inmediato. La condensación podría
dañarlo. Dejelo apagado hasta que alcance la temperatura ambiente.
- Durante la puesta en marcha inicial, puede ser que aparezca algo de humo o mal olor. Es un proceso
normal que no implica que el dispositivo esté estropeado.
- No toque el dispositivo mientras funciona, el chasis está muy caliente
- No encienda o apaga la unidad de manera repetitiva, podría reducir la vida útil de la lámpara.
RIESGO A LA SALUD Nunca mire directamente al foco, una persona sensible puede sufrir ataques epilépticos.
- Considere que los daños causados por modificaciones manuales en el dispositivo, no están sujetas a
garantía.
FUNCIONAMIENTO El dispositivo ha sido diseñado para su uso en interiores.
- No sacuda la unidad, evite la fuerza bruta durante la instalación y uso de la unidad.
- Instale el foco en un lugar seco de la habitación. Asegúrese que no está expuesto a calor extremo, humedad
o polvo. No deben haber cables alrededor.
- Use la unidad sólo después de haberse familiarizado con la unidad. No permita su uso por personas que no
conozcan el dispositivo lo suficiente. Muchos daños son causados por un uso no profesional.
- Considere que por razones de seguridad, las modificaciones no autorizadas en el dispositivo, están
prohibidas.
INSTALACION
PELIGRO DE FUEGO Cuando instele el dispositivo, asegúrese que no hay material inflamable al menos
a 0.5 m de la unidad.
- El dispositivo está bajo la protección clase I. Así pues es esencial que el cable amarillo/verde sea conectado
a tierra.
ES
Instale la lámpara ( 6 V 30 W PAR 36) en la carcasa. Retire el anillo de presión y conecte los cables a la
lámpara usando un destornillador plano. Inserte la lámpara en la carcasa. Fije la lámpara con el anillo de
presión. Por favor fijese en el dibujo adjunto.
- Para instalación en techo o pared, fije el dispositivo con el asa en el lugar deseado. El dispositivo debe
ser conectado a tierra.
- El foco no debe instalarse sobre superficies inflamables.
- Conecte el foco a la alimentación.
FUNCIONAMIENTO
- Despues de conectar el foco a la alimentación, la lámpara se enciende, ajuste el ángulo para obtener
un mejor resultado.
- Desconecte el foco de la red cuando no vaya a usarlo.
SUSTITUYENDO LA LAMPARA
Atención: Antes de sustituir la lámpara, desconecte el foco. Asegúrese que se ha enfriado o utilice unos
guantes para cambiar la lámpara.
Precaución: Use únicamente una lámpara de 6 V 30 W PAR 36. Usar otro tipo de lámpara en potencia o
tamaño, puede dañar el foco.
- Retire el anillo de presión
- Gire el foco hacia abajo, con lo cual se desprenderá la lámpara.
- Use un destornillador plano para desconectar los terminales de los tornillos. Inserte la nueva lámpara en
el recinto.
Fije la lámpara con el anillo de presión.
CARCASA
LAMPARA PAR 36 6V 30W
LENTE (NO INCLUIDA)
ANILLO DE FIJACION
ESPECIFICACIONES
Alimentación: AC 220 - 240 V, 50 Hz, 36 W
Tipo de lámpara: 6 V/30 W PAR 36
This symbol on the product or on its packaging indicates that this product
shall not be trated as household waste. Instead it shall be handed over to
the applicable collection point for the recycling of electrical an electronic
equipment. By ensuring this product is disposed of correctly, you will help
prevent potential negative consequences for the environment and human
health, which could otherwise be caused by inappropriate waste handling
of this product. The recycling of amterials will help to conserve natural
resources. For more detailed information sabout recycling of this product,
please contact your local city office, your household waste disposal service
or the shop where you purchased the product.