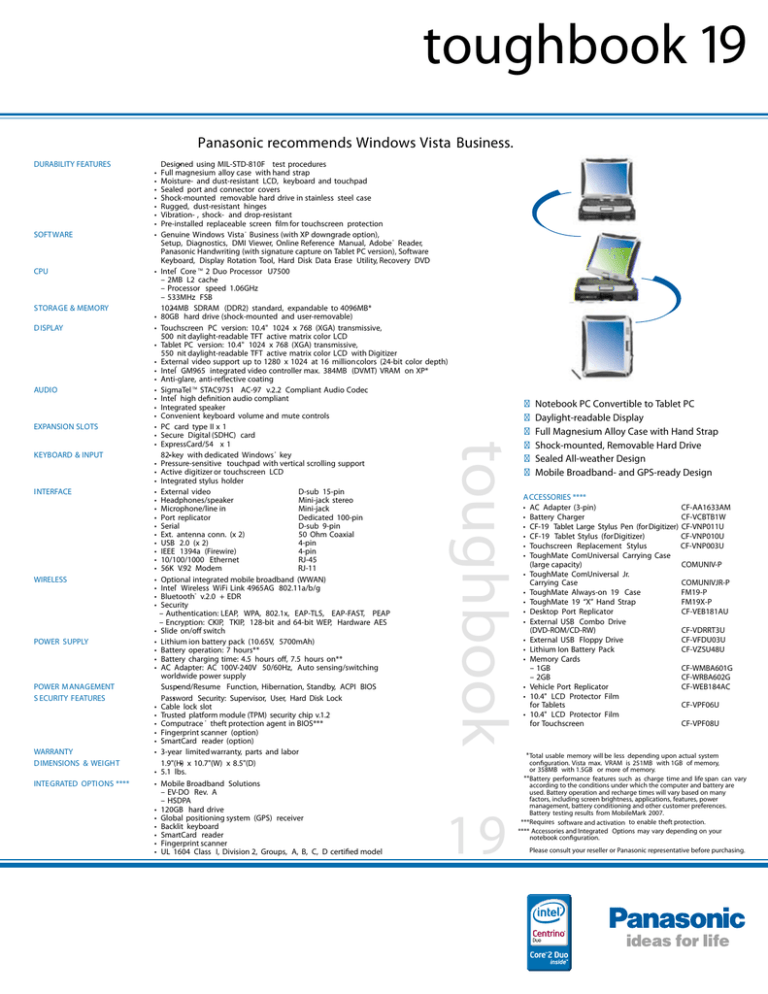 toughbook 19
Panasonic recommends Windows Vista Business.
DURABILITY FEATURES
SOFT WARE
•
•
•
•
•
•
•
•
CPU
•
STORAGE & MEMORY
D ISPLAY
•
•
•
AUDIO
EXPANSION SLOTS
INTERFACE
WIRELESS
POWER SUPPLY
POWER MANAGEMENT
S ECURITY FEATURES
WARRANTY
D IMENSIONS & WEIGHT
INTEGRATED OPTIONS ****
•
•
•
•
•
•
•
•
•
•
•
•
•
•
•
•
•
•
•
•
•
•
•
•
•
•
•
•
•
•
•
•
•
•
•
•
toughbook
KEYBOARD & INPUT
•
•
•
•
•
•
•
•
•
•
Designed
•
using MIL-STD-810F test procedures
Full magnesium alloy case with hand strap
Moisture- and dust-resistant LCD, keyboard and touchpad
Sealed port and connector covers
Shock-mounted removable hard drive in stainless steel case
Rugged, dust-resistant hinges
Vibration- , shock- and drop-resistant
Pre-installed replaceable screen film for touchscreen protection
Genuine Windows Vista ® Business (with XP downgrade option),
Setup, Diagnostics, DMI Viewer, Online Reference Manual, Adobe ® Reader,
Panasonic Handwriting (with signature capture on Tablet PC version), Software
Keyboard, Display Rotation Tool, Hard Disk Data Erase Utility, Recovery DVD
Intel® Core TM 2 Duo Processor U7500
– 2MB L2 cache
– Processor speed 1.06GHz
– 533MHz FSB
1024MB
•
SDRAM (DDR2) standard, expandable to 4096MB*
80GB hard drive (shock-mounted and user-removable)
Touchscreen PC version: 10.4" 1024 x 768 (XGA) transmissive,
500 nit daylight-readable TFT active matrix color LCD
Tablet PC version: 10.4" 1024 x 768 (XGA) transmissive,
550 nit daylight-readable TFT active matrix color LCD with Digitizer
External video support up to 1280 x 1024 at 16 million colors (24-bit color depth)
Intel® GM965 integrated video controller max. 384MB (DVMT) VRAM on XP*
Anti-glare, anti-reflective coating
SigmaTel TM STAC9751 AC-97 v.2.2 Compliant Audio Codec
Intel® high definition audio compliant
Integrated speaker
Convenient keyboard volume and mute controls
PC card type II x 1
Secure Digital (SDHC) card
ExpressCard/54 x 1
82-key
•
with dedicated Windows ® key
Pressure-sensitive touchpad with vertical scrolling support
Active digitizer or touchscreen LCD
Integrated stylus holder
External video
D-sub 15-pin
Headphones/speaker
Mini-jack stereo
Microphone/line in
Mini-jack
Port replicator
Dedicated 100-pin
Serial
D-sub 9-pin
Ext. antenna conn. (x 2)
50 Ohm Coaxial
USB 2.0 (x 2)
4-pin
IEEE 1394a (Firewire)
4-pin
10/100/1000 Ethernet
RJ-45
56K V.92 Modem
RJ-11
Optional integrated mobile broadband (WWAN)
Intel® Wireless WiFi Link 4965AG 802.11a/b/g
Bluetooth® v.2.0 + EDR
Security
– Authentication: LEAP, WPA, 802.1x, EAP-TLS, EAP-FAST, PEAP
– Encryption: CKIP, TKIP, 128-bit and 64-bit WEP, Hardware AES
Slide on/off switch
Lithium ion battery pack (10.65V, 5700mAh)
Battery operation: 7 hours**
Battery charging time: 4.5 hours off, 7.5 hours on**
AC Adapter: AC 100V-240V 50/60Hz, Auto sensing/switching
worldwide power supply
Suspend/Resume
•
Function, Hibernation, Standby, ACPI BIOS
Password
•
Security: Supervisor, User, Hard Disk Lock
Cable lock slot
Trusted platform module (TPM) security chip v.1.2
Computrace ® theft protection agent in BIOS***
Fingerprint scanner (option)
SmartCard reader (option)
3-year limited warranty, parts and labor
1.9"(H)• x 10.7"(W) x 8.5"(D)
5.1 lbs.
Mobile Broadband Solutions
– EV-DO Rev. A
– HSDPA
120GB hard drive
Global positioning system (GPS) receiver
Backlit keyboard
SmartCard reader
Fingerprint scanner
UL 1604 Class I, Division 2, Groups, A, B, C, D certified model
19
Notebook PC Convertible to Tablet PC
Daylight-readable Display
Full Magnesium Alloy Case with Hand Strap
Shock-mounted, Removable Hard Drive
Sealed All-weather Design
Mobile Broadband- and GPS-ready Design
A CCESSORIES ****
• AC Adapter (3-pin)
CF-AA1633AM
• Battery Charger
CF-VCBTB1W
• CF-19 Tablet Large Stylus Pen (for Digitizer) CF-VNP011U
• CF-19 Tablet Stylus (for Digitizer)
CF-VNP010U
• Touchscreen Replacement Stylus
CF-VNP003U
• ToughMate ComUniversal Carrying Case
(large capacity)
COMUNIV-P
• ToughMate ComUniversal Jr.
Carrying Case
COMUNIVJR-P
• ToughMate Always-on 19 Case
FM19-P
• ToughMate 19 "X" Hand Strap
FM19X-P
• Desktop Port Replicator
CF-VEB181AU
• External USB Combo Drive
(DVD-ROM/CD-RW)
CF-VDRRT3U
• External USB Floppy Drive
CF-VFDU03U
• Lithium Ion Battery Pack
CF-VZSU48U
• Memory Cards
– 1GB
CF-WMBA601G
– 2GB
CF-WRBA602G
• Vehicle Port Replicator
CF-WEB184AC
• 10.4" LCD Protector Film
for Tablets
CF-VPF06U
• 10.4" LCD Protector Film
for Touchscreen
CF-VPF08U
* Total usable memory will be less depending upon actual system
configuration. Vista max. VRAM is 251MB with 1GB of memory,
or 358MB with 1.5GB or more of memory.
**Battery performance features such as charge time and life span can vary
according to the conditions under which the computer and battery are
used. Battery operation and recharge times will vary based on many
factors, including screen brightness, applications, features, power
management, battery conditioning and other customer preferences.
Battery testing results from MobileMark 2007.
***Requires software and activation to enable theft protection.
**** Accessories and Integrated Options may vary depending on your
notebook configuration.
Please consult your reseller or Panasonic representative before purchasing.