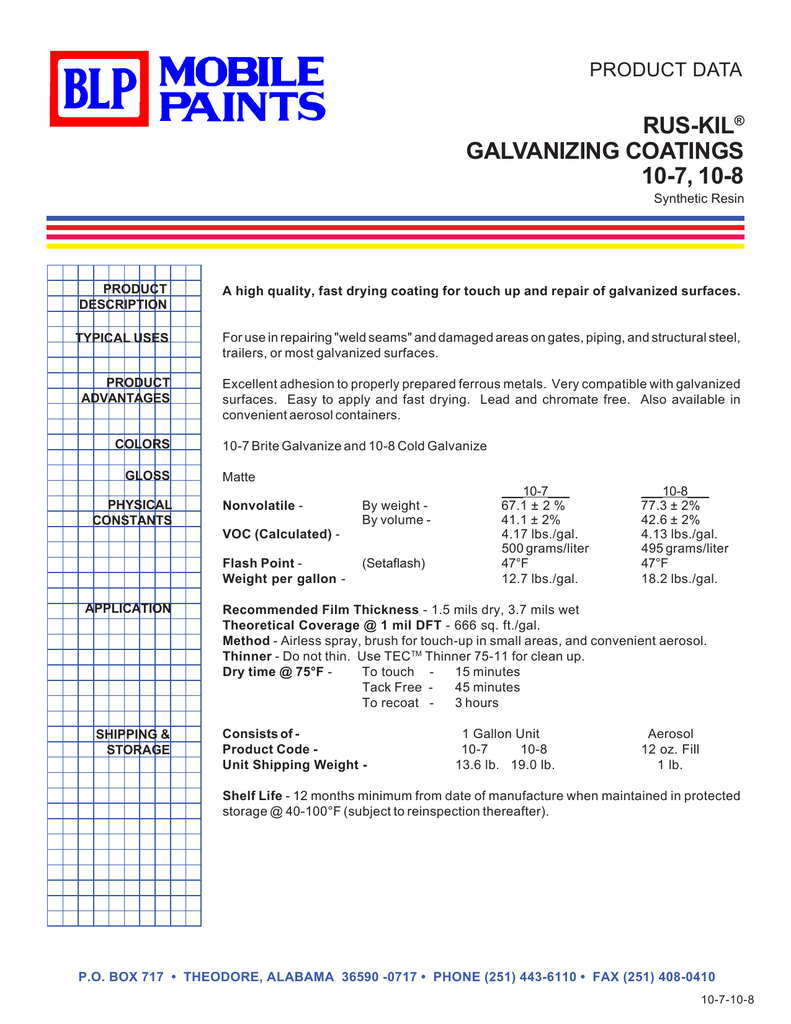 PRODUCT DATA
RUS-KIL®
GALVANIZING COATINGS
10-7, 10-8
Synthetic Resin
PRODUCT
DESCRIPTION
A high quality, fast drying coating for touch up and repair of galvanized surfaces.
TYPICAL USES
For use in repairing "weld seams" and damaged areas on gates, piping, and structural steel,
trailers, or most galvanized surfaces.
PRODUCT
ADVANTAGES
Excellent adhesion to properly prepared ferrous metals. Very compatible with galvanized
surfaces. Easy to apply and fast drying. Lead and chromate free. Also available in
convenient aerosol containers.
COLORS
GLOSS
PHYSICAL
CONSTANTS
10-7 Brite Galvanize and 10-8 Cold Galvanize
Matte
Nonvolatile -
By weight By volume -
VOC (Calculated) Flash Point Weight per gallon APPLICATION
SHIPPING &
STORAGE
(Setaflash)
___10-7___
67.1 ± 2 %
41.1 ± 2%
4.17 lbs./gal.
500 grams/liter
47°F
12.7 lbs./gal.
___10-8___
77.3 ± 2%
42.6 ± 2%
4.13 lbs./gal.
495 grams/liter
47°F
18.2 lbs./gal.
Recommended Film Thickness - 1.5 mils dry, 3.7 mils wet
Theoretical Coverage @ 1 mil DFT - 666 sq. ft./gal.
Method - Airless spray, brush for touch-up in small areas, and convenient aerosol.
Thinner - Do not thin. Use TECTM Thinner 75-11 for clean up.
Dry time @ 75°F To touch 15 minutes
Tack Free 45 minutes
To recoat 3 hours
Consists of Product Code Unit Shipping Weight -
1 Gallon Unit
10-7
10-8
13.6 lb. 19.0 lb.
Aerosol
12 oz. Fill
1 lb.
Shelf Life - 12 months minimum from date of manufacture when maintained in protected
storage @ 40-100°F (subject to reinspection thereafter).
P.O. BOX 717 • THEODORE, ALABAMA 36590 -0717 • PHONE (251) 443-6110 • FAX (251) 408-0410
10-7-10-8
APPLICATION INSTRUCTIONS
Consult your Mobile Paint Representative for the protective coating system best suited for your requirements.
Limitations: Apply in good weather when air and
surface temperatures are between 50°F - 100°F and
surface temperature is at least 5°F above the dew point.
For optimum application properties, material should be
between 70° to 100°F prior to mixing and application.
Maintain unmixed material in closed containers in
protected storage at 40 - 100°F.
Surface Preparation: Proper surface preparation is
essential to a satisfactory coating system. Surfaces to
be coated should be clean, cool and dry. Remove all
oil, grease, mildew, flux, weld spatter or other contaminates by solvent or detergent cleaning or other effective
means. Grinding or abrasive blasting is recommended
for best performance. Remove blasting dust and grit
from surfaces before painting. Blasted surfaces should
be coated within 8 hours after blasting to prevent
contamination of the surface.
New or Unfinished Surfaces - Ferrous Metal: "Hand
or Power Tool Cleaning" (SSPC-SP2 or -SP3) should be
considered minimum. "Commercial Blast Cleaning"
(SSPC-SP6) is recommended for best performance.
Masonry surfaces: Do not apply to masonry surfaces.
Aluminum: Do not apply to aluminum.
Thinning: Supplied at airless spray viscosity and
should not require thinning. Clean Air and AIM regulations do not allow thinning of this product.
Equipment: Airless spray - Use a minimum 15:1 ratio
pump with a .011 - .015 tip and 1/4 inch ID Teflon
material. Maximum hose length 25 feet. Brush - Use
a good quality bristle brush. Conventional spray and
roller application will not produce a uniform protective
film.
Cleanup: Clean all equipment before and immediately
after use with TECTM Thinner 75-11. Completely flush all
spray equipment with this thinner. Occasional flushing
of spray equipment during the course of the working day
helps prevent buildup and possible clogging.
Safety: Safe storage, handling and use dictate that
adequate health and safety precautions be observed
with this product and any clean up thinners. User is
specifically directed to consult the current Material
Safety Data Sheet for this product as well as precautions contained on product labeling.
10-7/10-8(1/03)
Previously Finished Surfaces - Do not apply over
any finishes. Apply only to galvanized steel or to
properly prepared ferrous metal surfaces.
Mixing: This is a one component coating. Always mix
thoroughly with a power agitator before application. For
aerosol cans shake can vigorously until the mixing ball
"rattles". Then continue to shake a minimum of one
additional minute to redistribute the powdered zinc
contents and prevent clogging. Failure to properly
agitate contents may render the aerosol can useless.
LIMITED WARRANTY
The successful performance of this product is highly dependent on many factors beyond our control. Results are highly dependent upon the skill of the operator. This product
is manufactured to meet the highest level of consistency and quality for the intended use. Mobile Paint warrants that its products meet the specifications which it sets for them.
Should this product be proven to be off-specification within one year from date of shipment, Mobile Paint will, at its sole discretion, either replace the product or issue credit
for the original purchase price of the product. The replacement or refund shall be the buyer's sole remedy and Mobile Paint and its affiliates MAKE NO OTHER WARRANTY
OR GUARANTEE, EXPRESS OR IMPLIED, INCLUDING MERCHANTABILITY, DESIGN COMPATIBILITY AND FITNESS FOR A PARTICULAR PURPOSE. LABOR OR COST
OF LABOR AND OTHER INCIDENTAL AND/OR CONSEQUENTIAL DAMAGES ARE SPECIFICALLY EXCLUDED. The technical data contained herein are true and accurate
to the best of our knowledge. Published technical data and instructions are subject to change without prior notice.