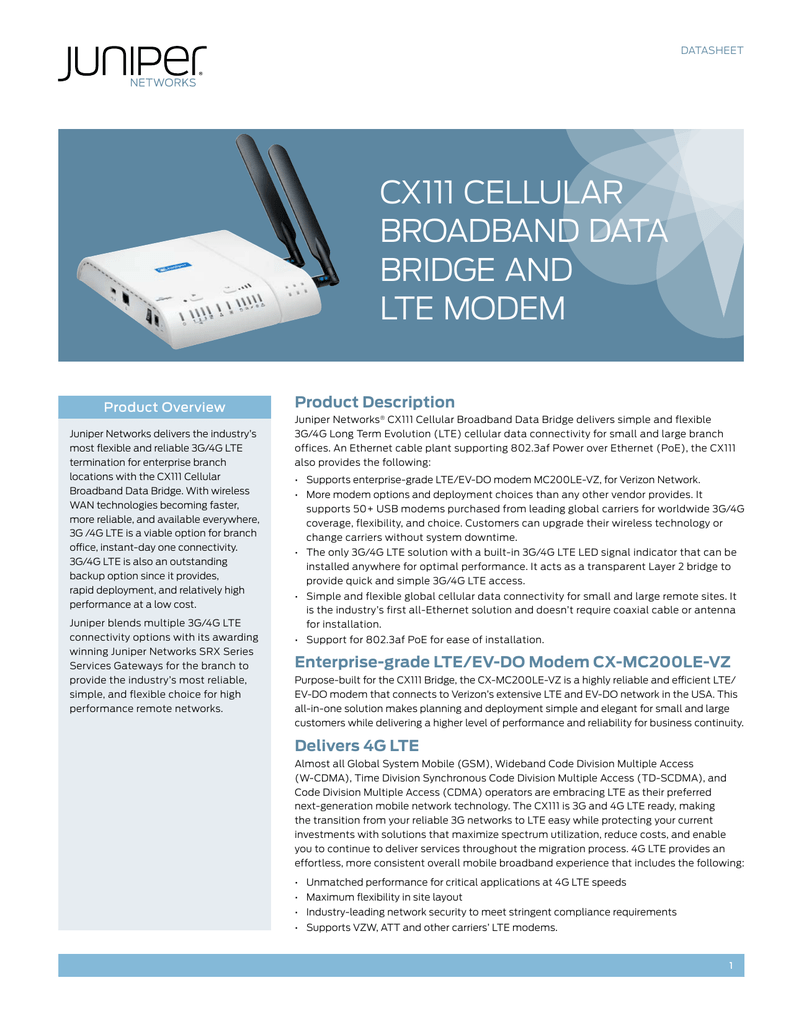 DATASHEET
CX111 Cellular
Broadband Data
Bridge AND
LTE MODEM
Product Overview
Juniper Networks delivers the industry's
most flexible and reliable 3G/4G LTE
termination for enterprise branch
locations with the CX111 Cellular
Broadband Data Bridge. With wireless
WAN technologies becoming faster,
more reliable, and available everywhere,
3G /4G LTE is a viable option for branch
office, instant-day one connectivity.
3G/4G LTE is also an outstanding
backup option since it provides,
rapid deployment, and relatively high
performance at a low cost.
Juniper blends multiple 3G/4G LTE
connectivity options with its awarding
winning Juniper Networks SRX Series
Services Gateways for the branch to
provide the industry's most reliable,
simple, and flexible choice for high
performance remote networks.
Product Description
Juniper Networks® CX111 Cellular Broadband Data Bridge delivers simple and flexible
3G/4G Long Term Evolution (LTE) cellular data connectivity for small and large branch
offices. An Ethernet cable plant supporting 802.3af Power over Ethernet (PoE), the CX111
also provides the following:
• Supports enterprise-grade LTE/EV-DO modem MC200LE-VZ, for Verizon Network.
• More modem options and deployment choices than any other vendor provides. It
supports 50+ USB modems purchased from leading global carriers for worldwide 3G/4G
coverage, flexibility, and choice. Customers can upgrade their wireless technology or
change carriers without system downtime.
• The only 3G/4G LTE solution with a built-in 3G/4G LTE LED signal indicator that can be
installed anywhere for optimal performance. It acts as a transparent Layer 2 bridge to
provide quick and simple 3G/4G LTE access.
• Simple and flexible global cellular data connectivity for small and large remote sites. It
is the industry's first all-Ethernet solution and doesn't require coaxial cable or antenna
for installation.
• Support for 802.3af PoE for ease of installation.
Enterprise-grade LTE/EV-DO Modem CX-MC200LE-VZ
Purpose-built for the CX111 Bridge, the CX-MC200LE-VZ is a highly reliable and efficient LTE/
EV-DO modem that connects to Verizon's extensive LTE and EV-DO network in the USA. This
all-in-one solution makes planning and deployment simple and elegant for small and large
customers while delivering a higher level of performance and reliability for business continuity.
Delivers 4G LTE
Almost all Global System Mobile (GSM), Wideband Code Division Multiple Access
(W-CDMA), Time Division Synchronous Code Division Multiple Access (TD-SCDMA), and
Code Division Multiple Access (CDMA) operators are embracing LTE as their preferred
next-generation mobile network technology. The CX111 is 3G and 4G LTE ready, making
the transition from your reliable 3G networks to LTE easy while protecting your current
investments with solutions that maximize spectrum utilization, reduce costs, and enable
you to continue to deliver services throughout the migration process. 4G LTE provides an
effortless, more consistent overall mobile broadband experience that includes the following:
• Unmatched performance for critical applications at 4G LTE speeds
• Maximum flexibility in site layout
• Industry-leading network security to meet stringent compliance requirements
• Supports VZW, ATT and other carriers' LTE modems.
1
• Reduced network operating costs:
-- Our multi-standard base CX111 facilitates efficient mobile
evolution and reduces operational, maintenance, and service
costs.
-- A flat all-IP network reduces operating expenses across the
entire network.
• Rapid launch with minimized risk:
-- Network agility and an open LTE ecosystem accelerate service
deployment.
-- Smooth introduction of LTE and IP technologies enables service
continuity.
• Unprecedented quality of experience (QoE):
-- Unmatched policy management, service routing, and rich IP
communications enable end-to-end QoE.
CX111 Cellular Broadband Data Bridge
Delivering an End-to-End Solution
The CX111 Cellular Broadband Data Bridge integrates seamlessly
with the Juniper Networks Branch SRX Series Services Gateways.
Branch SRX Series products are high-performance, carrier
grade secure routers for enterprises and service providers that
consolidate security, routing, and switching services into a single
platform, helping to reduce cost, complexity, and risk.
Features and Benefits
Modem usage
• Up to 4 can be connected with one modem used at a time
(Default dial order: EXPCD, USB1, USB2, USB3)
Modem cap
• Can be used to conceal modems
Buttons
• Signal strength button
• All Ethernet plant—quick and low cost installation since neither
coaxial cable nor antenna is required
• Activation button
• Install anywhere
Switches
-- LED signal strength meter
-- 802.3af PoE
-- Trouble free 3G/4G LTE installation with optimal performance
• Freedom of choice
-- Connect to your carrier of choice for 3G/4G LTE
-- 50+ USB and ExpressCard modems supported
• Future ready
-- Clearwire and Sprint WiMAX supported
-- 4G LTE supported
• Platform flexibility
• Reset button (recessed)
• Mode selector (pass-through (default) or local management)
• Power on/off
Power plug
• 12 V DC input (used if PoE not available). Automatic failover
between PoE and DC input.
Power supply
• 30 W (included)
LEDs
• Power
-- Works with all Juniper branch devices—SRX Series, J Series, and
SSG Series
• USB modem status (x3)
-- Tight wired/wireless WAN integration for primary or backup
connectivity
• Modem signal strength (x4)
CX111 Bridge Specifications
Ethernet
• ExpressCard modem status (x1)
• LAN activity
• Data
• Info LEDs
• Failover
• 1 x10/100 Auto MDIX
• Low-speed
PoE
• PoE power
• 802.3af (<5 W typical with one modem connected)
• Config mode
USB ports
• Attention
• 3 x USB 2.0
• Activation
ExpressCard ports
Dimensions Without Modem Cap
• ExpressCard/34
• Width: 130 mm
Modem types supported*
• Depth: 230 mm
• EV-DO, High Speed Packet Access (HSPA), WiMAX and LTE
• Height: 40 mm
• Weight: 450 gms
* Please visit www.juniper.net/us/en/products-services/wireless/cx-series/cx111/#literature for a complete list of supported modems
2
Safety and Emissions, Certifications
Interface to CX111 Bridge
USA
• USB 2.0
• EMC: FCC Class B, UL 60950-1
Canada
• EMC: ICES Class B, CAN/CSA-C22.2 No. 60950-1
EU
• Safety: EN 60950-1
• EMC: EN 55022 Class B
Australia
• Safety: CB Scheme
• EMC: AS/NZS CISPR22 Class B
NZ
• Safety: CB Scheme
• EMC: AS/NZS CISPR22 Class B
Japan
• Safety: CB Scheme
• EMC: VCCI Class B
CX-MC200LE-VZ Modem Specifications
Antennas
• External Antennas: 2 SMA – Male (plug)
• Gain: 1 dBi (LTE), 2 dBi (Cellular/PCS) gain
• Antenna connectors: 2 SMA – female (socket)
Environmental
• Temperature: 0 to 40° C (32 to 104° F) operating,
-20° to 70° C (-4 to 158° F) storage
• Relative Humidity: 10% to 85%, operating; 5% to 90%, storage
Dimensions
• Weight: 230 g (8 oz)
• 54 x 230 x 43 mm (2.1x9.1x1.7 inches)
Industry Standards and Certifications
• FCC Part 15, 22, 24 & 27
• TIA/EIA/IS-2000, IS-95-B, 3GPP Rel 8
• Verizon IOT
Juniper Networks Services and Support
Juniper Networks is the leader in performance-enabling services
that are designed to accelerate, extend, and optimize your
high-performance network. Our services allow you to maximize
operational efficiency while reducing costs and minimizing
risk, achieving a faster time to value for your network. Juniper
Networks ensures operational excellence by optimizing the
network to maintain required levels of performance, reliability,
and availability. For more details, please visit juniper.net/us/en/
products-services/.
Ordering Information
Part Number
Description
CX111
CX111-3G-BRIDGE
Ethernet (PoE powered) Wireless WAN
bridge supports 3G/HSPA/EVDO/WiMAX/
LTE USB or ExpressCard Modems.
Connects to SRX, J-Series and SSG
platforms. Power supply and modem
cover included. 3G/4G LTE modem NOT
included.
CX111-MC200LE-VZ-BNDL
Bundle package includes CX111 Bridge and
LTE/EV-DO business-grade modem for
Verizon USA LTE connectivity.
CX-MC200LE-VZ LTE/EV-DO enterprise-grade modem
Technology
• LTE 3GPP Rel. 8, EVDO RevA, A/0; CDMA 1x
Downlink Rates
• LTE 100 Mbps, EVDO 3.1 Mbps (theoretical)
Uplink Rates
• LTE 50 Mbps, EVDO 1.8 Mbps (theoretical)
Frequency Band
• LTE Band 13 (700MHz), Cellular/PCS (800MHz/1,900 MHz)
Power
• LTE 23 +/- 1 dBm, EVDO 24 +/- 1 dBm (typical conducted)
Module
• Sierra Wireless MC7750
Operator Certification
Modems
CX-MC200LE-VZ
LTE/EV-DO business-grade modem for
Verizon USA LTE connectivity. Requires
CX111 Bridge (sold separately).
About Juniper Networks
Juniper Networks is in the business of network innovation. From
devices to data centers, from consumers to cloud providers,
Juniper Networks delivers the software, silicon and systems that
transform the experience and economics of networking. The
company serves customers and partners worldwide. Additional
information can be found at juniper.net.
• Verizon ODI
3
Corporate and Sales Headquarters
APAC Headquarters
EMEA Headquarters
Juniper Networks, Inc.
Juniper Networks (Hong Kong)
Juniper Networks Ireland
1194 North Mathilda Avenue
26/F, Cityplaza One
Airside Business Park
Sunnyvale, CA 94089 USA
1111 King's Road
Swords, County Dublin, Ireland
Phone: 888.JUNIPER (888.586.4737)
Taikoo Shing, Hong Kong
Phone: 35.31.8903.600
or 408.745.2000
Phone: 852.2332.3636
EMEA Sales: 00800.4586.4737
Fax: 408.745.2100
Fax: 852.2574.7803
Fax: 35.31.8903.601
juniper.net
Copyright 2012 Juniper Networks, Inc. All rights reserved. Juniper Networks, the Juniper Networks logo, Junos,
NetScreen, and ScreenOS are registered trademarks of Juniper Networks, Inc. in the United States and other
countries. All other trademarks, service marks, registered marks, or registered service marks are the property of
their respective owners. Juniper Networks assumes no responsibility for any inaccuracies in this document. Juniper
Networks reserves the right to change, modify, transfer, or otherwise revise this publication without notice.
1000299-005-EN
4
May 2012
Printed on recycled paper
To purchase Juniper Networks solutions,
please contact your Juniper Networks
representative at 1-866-298-6428 or
authorized reseller.