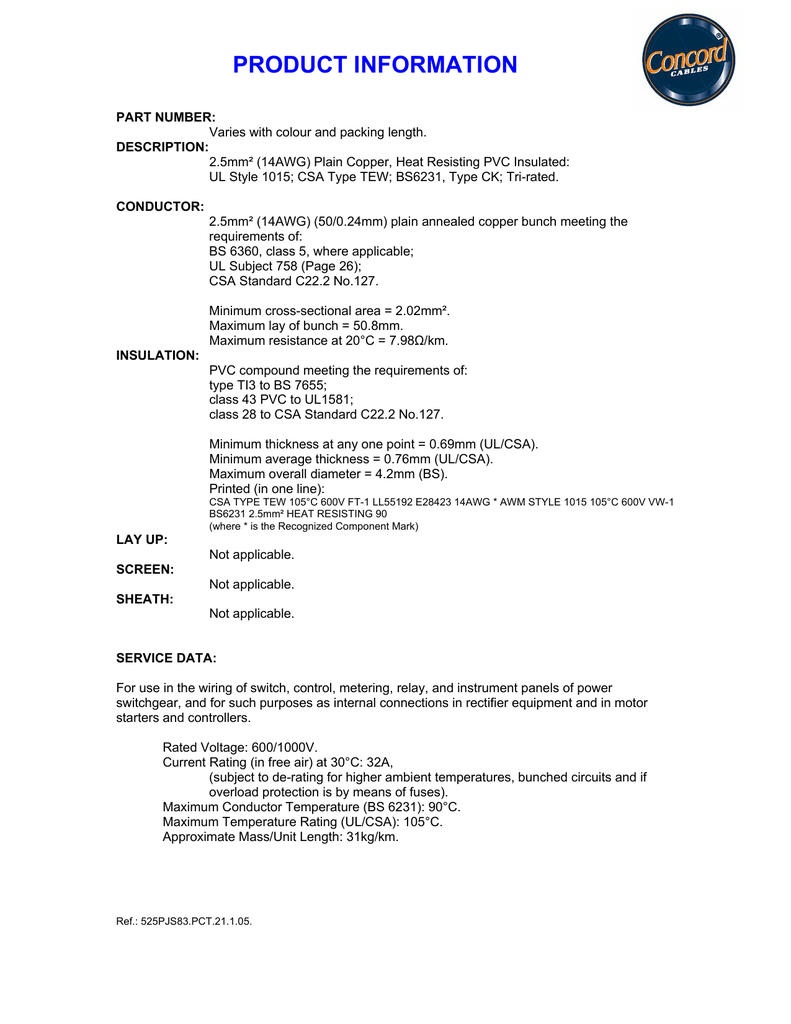 PRODUCT INFORMATION
PART NUMBER:
Varies with colour and packing length.
DESCRIPTION:
2.5mm² (14AWG) Plain Copper, Heat Resisting PVC Insulated:
UL Style 1015; CSA Type TEW; BS6231, Type CK; Tri-rated.
CONDUCTOR:
2.5mm² (14AWG) (50/0.24mm) plain annealed copper bunch meeting the
requirements of:
BS 6360, class 5, where applicable;
UL Subject 758 (Page 26);
CSA Standard C22.2 No.127.
Minimum cross-sectional area = 2.02mm².
Maximum lay of bunch = 50.8mm.
Maximum resistance at 20°C = 7.98Ω/km.
INSULATION:
PVC compound meeting the requirements of:
type TI3 to BS 7655;
class 43 PVC to UL1581;
class 28 to CSA Standard C22.2 No.127.
Minimum thickness at any one point = 0.69mm (UL/CSA).
Minimum average thickness = 0.76mm (UL/CSA).
Maximum overall diameter = 4.2mm (BS).
Printed (in one line):
CSA TYPE TEW 105°C 600V FT-1 LL55192 E28423 14AWG * AWM STYLE 1015 105°C 600V VW-1
BS6231 2.5mm² HEAT RESISTING 90
(where * is the Recognized Component Mark)
LAY UP:
Not applicable.
SCREEN:
Not applicable.
SHEATH:
Not applicable.
SERVICE DATA:
For use in the wiring of switch, control, metering, relay, and instrument panels of power
switchgear, and for such purposes as internal connections in rectifier equipment and in motor
starters and controllers.
Rated Voltage: 600/1000V.
Current Rating (in free air) at 30°C: 32A,
(subject to de-rating for higher ambient temperatures, bunched circuits and if
overload protection is by means of fuses).
Maximum Conductor Temperature (BS 6231): 90°C.
Maximum Temperature Rating (UL/CSA): 105°C.
Approximate Mass/Unit Length: 31kg/km.
Ref.: 525PJS83.PCT.21.1.05.