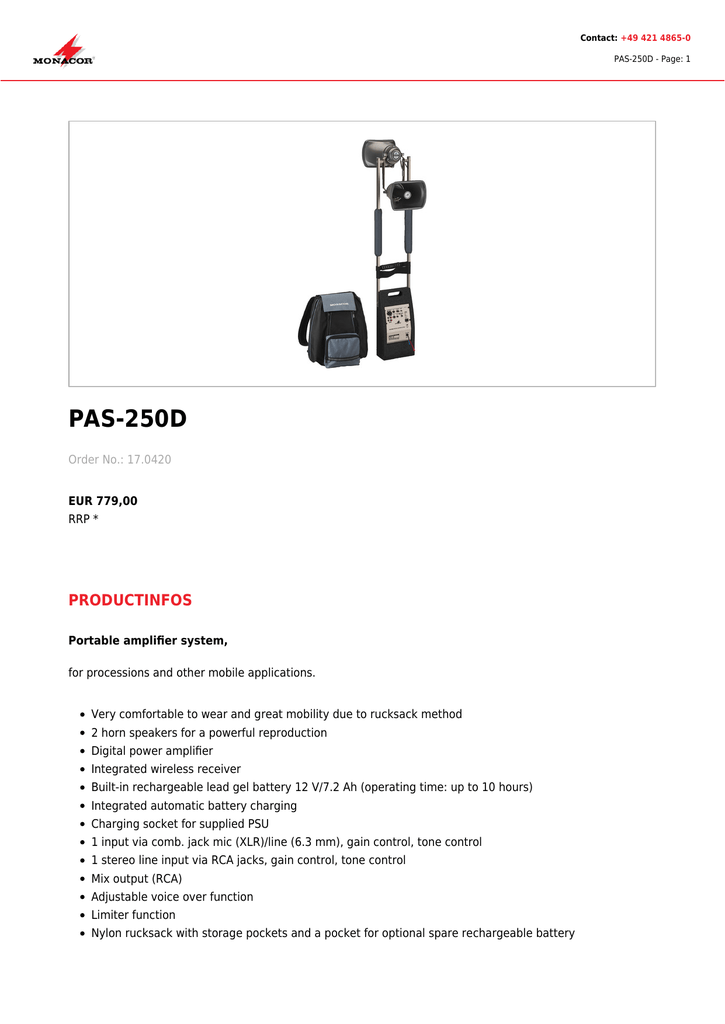 Contact: +49 421 4865-0
PAS-250D - Page: 1
PAS-250D
Order No.: 17.0420
EUR 779,00
RRP *
PRODUCTINFOS
Portable amplifier system,
for processions and other mobile applications.
Very comfortable to wear and great mobility due to rucksack method
2 horn speakers for a powerful reproduction
Digital power amplifier
Integrated wireless receiver
Built-in rechargeable lead gel battery 12 V/7.2 Ah (operating time: up to 10 hours)
Integrated automatic battery charging
Charging socket for supplied PSU
1 input via comb. jack mic (XLR)/line (6.3 mm), gain control, tone control
1 stereo line input via RCA jacks, gain control, tone control
Mix output (RCA)
Adjustable voice over function
Limiter function
Nylon rucksack with storage pockets and a pocket for optional spare rechargeable battery
Contact: +49 421 4865-0
PAS-250D - Page: 2
Matching microphone transmitters or pocket transmitters are available at option, e.g. TXS-821HT,
TXS-820HSE, TXS-820LT or TXS-820SX.
Licence-free in the EU.
TECHNICAL SPECIFICATIONS
Power rating (PRMS)
35 W
Peak music power output (PMAX) 50 W
Frequency range
350-12,000 Hz
Carrier frequency
863.05 MHz
Operating range
approx. 30 m
Inputs
1 mV (mic),
150 mV (line)
Link
-
THD
-
Max. SPL
-
Equalizer, bass
-
Equalizer, midrange
-
Equalizer, treble
-
Power supply
rech. batt. 12 V/7.2 Ah
Admiss. ambient temp.
0-40 °C
Dimensions
total length: 120 cm
Weight
7.7 kg
1 x XLR (mic),
Connections
1 x 6.3 mm jack (line),
1 x RCA L/R (line in),
1 x RCA L/R (line out),
* Important Notice: The retail prices shown here are non-binding recommendations that retailers can charge their customers. They are not
part of any specific offer or advertisement. These prices include all charges as well as VAT, but do not cover any additional delivery and
shipping costs. Our latest price lists for the retail market include all applicable delivery and payment terms for retailers.