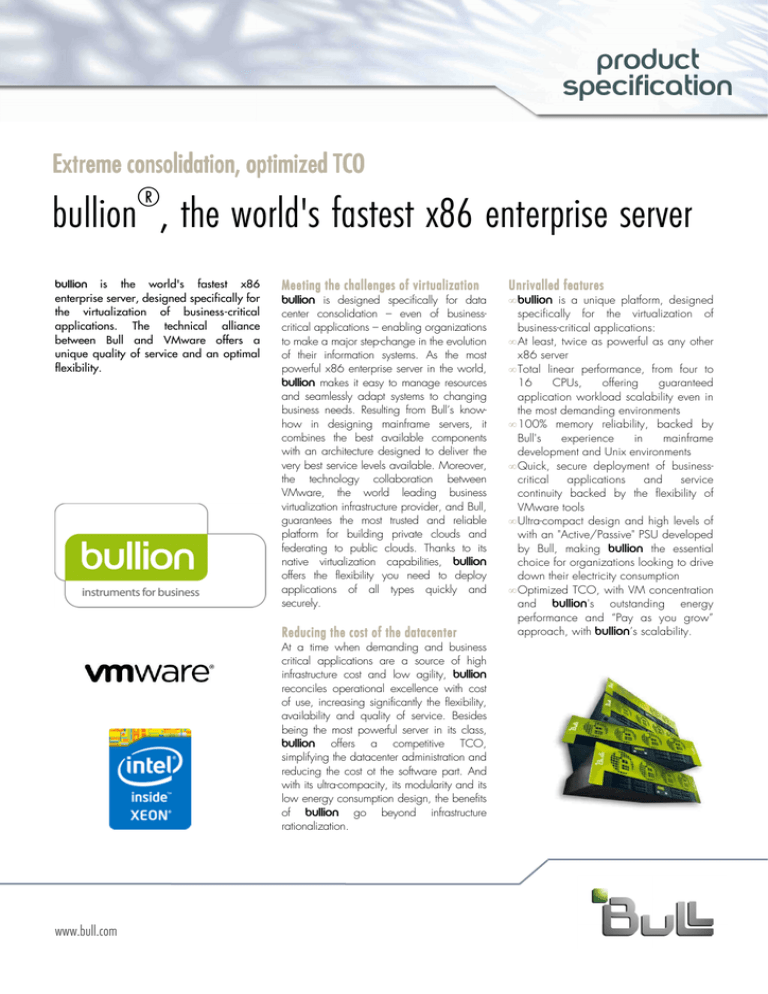 Product
specification
Extreme consolidation, optimized
optimized TCO
®
bullion , the world's fastest x86 enterprise server
bullion
is the world's fastest x86
enterprise server, designed specifically for
the virtualization of business-critical
applications. The technical alliance
between Bull and VMware offers a
unique quality of service and an optimal
flexibility.
Meeting the challenges of virtualization
Unrivalled features
is designed specifically for data
center consolidation – even of businesscritical applications – enabling organizations
to make a major step-change in the evolution
of their information systems. As the most
powerful x86 enterprise server in the world,
bullion makes it easy to manage resources
and seamlessly adapt systems to changing
business needs. Resulting from Bull's knowhow in designing mainframe servers, it
combines the best available components
with an architecture designed to deliver the
very best service levels available. Moreover,
the technology collaboration between
VMware, the world leading business
virtualization infrastructure provider, and Bull,
guarantees the most trusted and reliable
platform for building private clouds and
federating to public clouds. Thanks to its
native virtualization capabilities, bullion
offers the flexibility you need to deploy
applications of all types quickly and
securely.
•
bullion
Reducing the cost of the datacenter
At a time when demanding and business
critical applications are a source of high
infrastructure cost and low agility, bullion
reconciles operational excellence with cost
of use, increasing significantly the flexibility,
availability and quality of service. Besides
being the most powerful server in its class,
bullion
offers a competitive TCO,
simplifying the datacenter administration and
reducing the cost ot the software part. And
with its ultra-compacity, its modularity and its
low energy consumption design, the benefits
of bullion go beyond infrastructure
rationalization.
www.bull.com
•
•
•
•
•
•
bullion is a unique platform, designed
specifically for the virtualization of
business-critical applications:
At least, twice as powerful as any other
x86 server
Total linear performance, from four to
16
CPUs,
offering
guaranteed
application workload scalability even in
the most demanding environments
100% memory reliability, backed by
Bull's
experience
in
mainframe
development and Unix environments
Quick, secure deployment of businesscritical
applications
and
service
continuity backed by the flexibility of
VMware tools
Ultra-compact design and high levels of
with an "Active/Passive" PSU developed
by Bull, making bullion the essential
choice for organizations looking to drive
down their electricity consumption
Optimized TCO, with VM concentration
and bullion's outstanding energy
performance and "Pay as you grow"
approach, with bullion's scalability.
Unrivalled scalability and performance capabilities
DESIGN
Form Factor
SECURITY
19" 3U/ module
Max 4 modules/system (12U)
2-level password
Yes
Front door/Intrusion
protection
Yes
2-16 sockets, max 160 cores and
320 threads
Trusted Platform Module
Yes
Type
Intel® Xeon® series E7-4800,
Supports 6, 8 or 10 cores
USB ports
L2 Cache
Up to 30MB shared cache
Ethernet port
Intel® 7510 Chipset.
• Bull Coherence Switch (BCS) for
extension from 4 to 16 sockets
• X-QPI protocol between BCS
modules
• Intel® QPI protocol between CPU
sockets
Max 6,4GT/s
ALIMENTATION
PROCESSEURS
Number
ARCHITECTURE
Chipset
Quick Path Interconnect
MEMORY
Min/max
Type
Memory slots
min: 64GB, max configuration: 2TB
for ESX, 4TB for Memory Mirroring.
(with 16 GB DIMM's).
DDR3-1066MHz, RDIMM
256x slots in max. configuration,
64x per module
I/O SLOTS
BUS slots
Drive bays
Up to 8x HDD's /system
Hard drives
300GB, 600GB, 900GB 2.5" SAS
10Krpm, 146GB 2.5" SAS 15Krpm
120GB, 250GB 2.5" SSD SATA
EMC, NetApp, or other connected
SAN support
STORAGE CONTROLLER
Controller for internal storage Optional: SAS RAID 0,1,5,10
SAS/SATA RAID
controller - 512MB cache & BBU
Controller for external
LSI SAS 9200-8e, for Optima 1600
storage SAS/SATA
Optional HBAs
Intel® 82576 Gigabit Ethernet,
8x dual ports (4 ports/module)
1GbE :Intel I350-T2, I350-T4
10GbE: Intel X520-SR2, X520-T2,
8Gb/s: Emulex LPE1250,LPE12002
Optional IO Accelerators
PCIe SSD Flash: sTec s1100 series
Optional NICs
VIDEO
S-bullion VMware-en
Video Controller
Memory
Via iBMC
8MB
1x Ethernet port for System
Management, with :
-remote KVM over IP
-remote redirect CD/DVD over IP
-control over system at any state.
Hot-plug PSU
1+1 standard
Power supply number
Power type
2, redundant
Passive/active power-supply solution
with ultra-capacitor
Label 80+ Platinum 94% efficient
Power consumption
1600watt w/PFC
Auto-sensing
220V 60/50Hz
VENTILATION
FAN specifications
8xHot plug 1+1 redundant per module
PHYSICAL SPECIFICATIONS
Weight
Operating constraints
520 (12U) x440mm (19") x750mm
(max). Recommend to use Bull racks
180kg for max configuration
(45kg per module)
15°C to 30°C, gradient 5°C/h,
35% to 60%, gradient 5%/h
OS & SOFTWARE
Management Software
VMware Hypervisor
Bull System Manager and iCare
ESXi embedded or Vsphere
SYSTEM MANAGEMENT
BMC
Remote Management
IPMI 2.0
Standard via on-board iBMC
WARRANTY & SERVICES
Standard warranty
Warranty extension
Other services
COMMUNICATIONS
Embedded NIC
2
PS/2port (mouse, keyboard) USB or iBMC
Size (HxLxP)
• 4x PCIe Gen2 x16 and 20x PCIe
Gen 2x8 in max configuration
• 1x PCIe Gen2 x16 and 5x PCIe
Gen2x8 per module
STORAGE
Storage Expansion Unit
PORTS ENTRÉES/SORTIES
3 years on site at day+1 with CRU
components
Optional
• IT infrastructures Advisory, energy
audits,
• Server consolidation, VMware HA
& DRS implementation, back-up in
VMware environment,
• HA, capacity & performance
management,
• Installation & integration services
REGULATORY & SAFETY
Regulatory compliance
CE (FCC, UL)
©Bull SAS - 2013 - RCS Versailles B 642 058 739 - RCS Versailles B 642 058 739 – All trademarks mentioned herein are the property of their respective owners. Intel, Intel Inside and Intel Xeon are registered
trademarks of Intel Corporation in the United States and other countries. Bull reserves the right to modify this document at any time without prior notice. Some offers or parts of offers described in this document may not be
available locally. Please contact your local Bull correspondent to know which offers are available in your country. This document has no contractual significance.
Bull - Rue Jean Jaurès - 78340 Les Clayes sous Bois - France
This flyer is printed on paper containing 40% eco-certifed fibers originating from sustainably managed forests and 60% recycled fibers, in conformity with environmental regulations (ISO 14001).