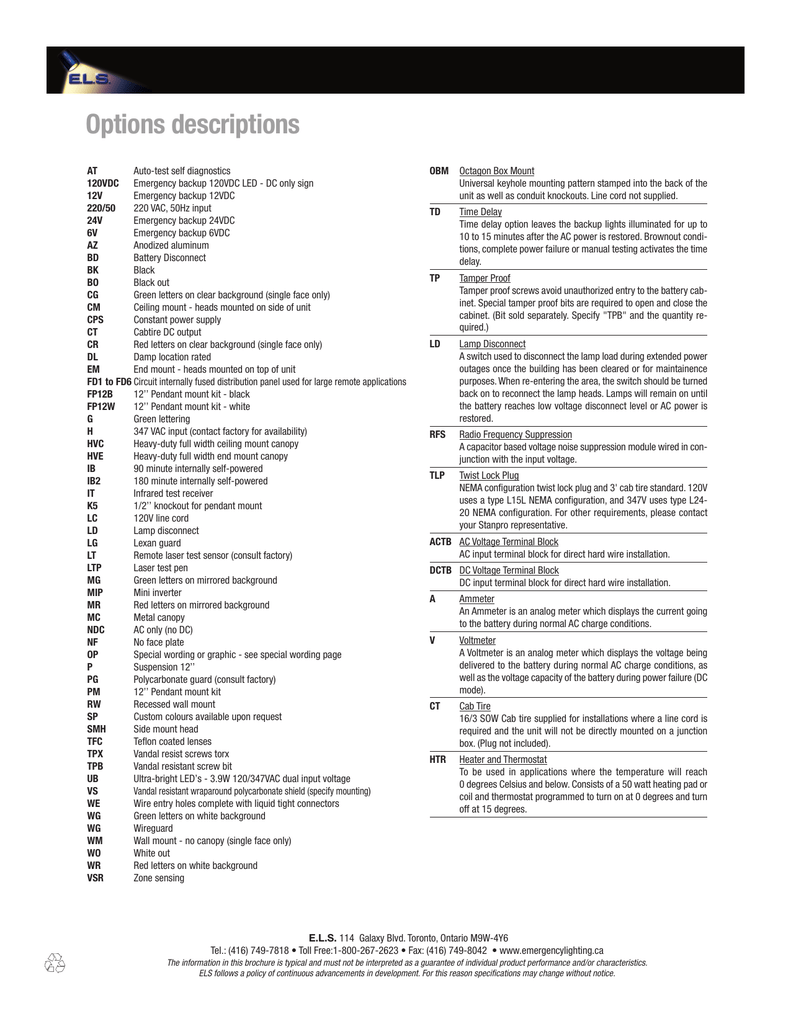 Options descriptions
AT
Auto-test self diagnostics
120VDC Emergency backup 120VDC LED - DC only sign
12V
Emergency backup 12VDC
220/50
220 VAC, 50Hz input
24V
Emergency backup 24VDC
6V
Emergency backup 6VDC
AZ
Anodized aluminum
BD
Battery Disconnect
BK
Black
BO
Black out
CG
Green letters on clear background (single face only)
CM
Ceiling mount - heads mounted on side of unit
CPS
Constant power supply
CT
Cabtire DC output
CR
Red letters on clear background (single face only)
DL
Damp location rated
EM
End mount - heads mounted on top of unit
FD1 to FD6 Circuit internally fused distribution panel used for large remote applications
FP12B
12'' Pendant mount kit - black
FP12W
12'' Pendant mount kit - white
G
Green lettering
H
347 VAC input (contact factory for availability)
HVC
Heavy-duty full width ceiling mount canopy
HVE
Heavy-duty full width end mount canopy
IB
90 minute internally self-powered
IB2
180 minute internally self-powered
IT
Infrared test receiver
K5
1/2'' knockout for pendant mount
LC
120V line cord
LD
Lamp disconnect
LG
Lexan guard
LT
Remote laser test sensor (consult factory)
LTP
Laser test pen
MG
Green letters on mirrored background
MIP
Mini inverter
MR
Red letters on mirrored background
MC
Metal canopy
NDC
AC only (no DC)
NF
No face plate
OP
Special wording or graphic - see special wording page
P
Suspension 12''
PG
Polycarbonate guard (consult factory)
PM
12'' Pendant mount kit
RW
Recessed wall mount
SP
Custom colours available upon request
SMH
Side mount head
TFC
Teflon coated lenses
TPX
Vandal resist screws torx
TPB
Vandal resistant screw bit
UB
Ultra-bright LED's - 3.9W 120/347VAC dual input voltage
Vandal resistant wraparound polycarbonate shield (specify mounting)
VS
WE
Wire entry holes complete with liquid tight connectors
WG
Green letters on white background
WG
Wireguard
WM
Wall mount - no canopy (single face only)
WO
White out
WR
Red letters on white background
VSR
Zone sensing
OBM
Octagon Box Mount
Universal keyhole mounting pattern stamped into the back of the
unit as well as conduit knockouts. Line cord not supplied.
TD
Time Delay
Time delay option leaves the backup lights illuminated for up to
10 to 15 minutes after the AC power is restored. Brownout conditions, complete power failure or manual testing activates the time
delay.
TP
Tamper Proof
Tamper proof screws avoid unauthorized entry to the battery cabinet. Special tamper proof bits are required to open and close the
cabinet. (Bit sold separately. Specify "TPB" and the quantity required.)
LD
Lamp Disconnect
A switch used to disconnect the lamp load during extended power
outages once the building has been cleared or for maintainence
purposes. When re-entering the area, the switch should be turned
back on to reconnect the lamp heads. Lamps will remain on until
the battery reaches low voltage disconnect level or AC power is
restored.
RFS
Radio Frequency Suppression
A capacitor based voltage noise suppression module wired in conjunction with the input voltage.
TLP
Twist Lock Plug
NEMA configuration twist lock plug and 3' cab tire standard. 120V
uses a type L15L NEMA configuration, and 347V uses type L2420 NEMA configuration. For other requirements, please contact
your Stanpro representative.
ACTB AC Voltage Terminal Block
AC input terminal block for direct hard wire installation.
DCTB DC Voltage Terminal Block
DC input terminal block for direct hard wire installation.
A
Ammeter
An Ammeter is an analog meter which displays the current going
to the battery during normal AC charge conditions.
V
Voltmeter
A Voltmeter is an analog meter which displays the voltage being
delivered to the battery during normal AC charge conditions, as
well as the voltage capacity of the battery during power failure (DC
mode).
CT
Cab Tire
16/3 SOW Cab tire supplied for installations where a line cord is
required and the unit will not be directly mounted on a junction
box. (Plug not included).
HTR
Heater and Thermostat
To be used in applications where the temperature will reach
0 degrees Celsius and below. Consists of a 50 watt heating pad or
coil and thermostat programmed to turn on at 0 degrees and turn
off at 15 degrees.
WARRANTY: As always E.L.S. is focused on quality. For complete warranty details, please see our terms and conditions.
E.L.S. 114 Galaxy Blvd. Toronto, Ontario M9W-4Y6
Tel.: (416) 749-7818 • Toll Free:1-800-267-2623 • Fax: (416) 749-8042 • www.emergencylighting.ca
The information in this brochure is typical and must not be interpreted as a guarantee of individual product performance and/or characteristics.
ELS follows a policy of continuous advancements in development. For this reason specifications may change without notice.