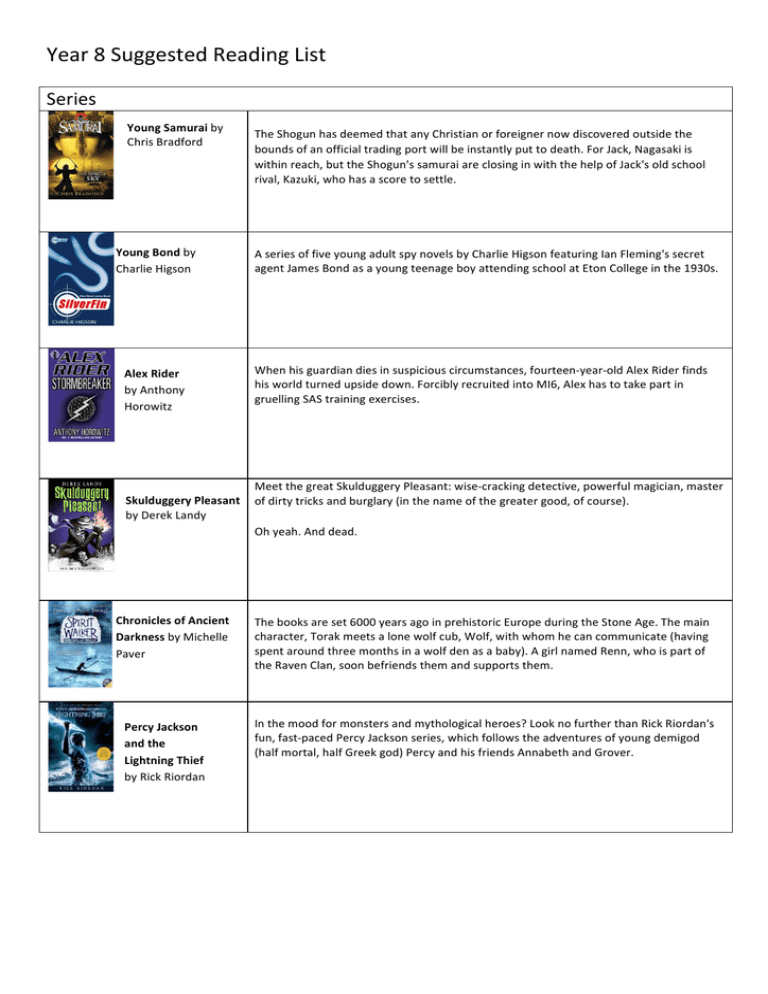 Year 8 Suggested Reading List Series The Shogun has deemed that any Christian or foreigner now discovered outside the bounds of an official trading port will be instantly put to death. For Jack, Nagasaki is within reach, but the Shogun's samurai are closing in with the help of Jack's old school rival, Kazuki, who has a score to settle. Young Bond by A series of five young adult spy novels by Charlie Higson featuring Ian Fleming's secret agent James Bond as a young teenage boy attending school at Eton College in the 1930s. Charlie Higson When his guardian dies in suspicious circumstances, fourteen-­‐year-­‐old Alex Rider finds Alex Rider his world turned upside down. Forcibly recruited into MI6, Alex has to take part in by Anthony gruelling SAS training exercises. Horowitz Meet the great Skulduggery Pleasant: wise-­‐cracking detective, powerful magician, master Skulduggery Pleasant of dirty tricks and burglary (in the name of the greater good, of course). by Derek Landy Oh yeah. And dead. Young Samurai by Chris Bradford Chronicles of Ancient Darkness by Michelle Paver Percy Jackson and the Lightning Thief by Rick Riordan The books are set 6000 years ago in prehistoric Europe during the Stone Age. The main character, Torak meets a lone wolf cub, Wolf, with whom he can communicate (having spent around three months in a wolf den as a baby). A girl named Renn, who is part of the Raven Clan, soon befriends them and supports them. In the mood for monsters and mythological heroes? Look no further than Rick Riordan's fun, fast-­‐paced Percy Jackson series, which follows the adventures of young demigod (half mortal, half Greek god) Percy and his friends Annabeth and Grover. Year 8 Suggested Reading List Action, Crime, Thrills Just Jealous by Anne Cassidy The Word-­‐
Eater by Michael Dahl Dahl Hell Bent by Anthony McGowan The Recruit by Robert Muchamore Smoke by Alison Prince There's a boy in a girl's bedroom by Louis Sachar Elise has a crush. She's been infatuated with her best friend, Carl, for as long as she can remember. When he starts dating an American girl who's just arrived at their school, Elise thinks it will just be a short fling. When she realises it's not, she decides she needs to take matters into her own hands. A young man gets a sliver from a strange book. That night, beneath the glow of a full moon, the man transforms into the Word Eater. The beast prowls the streets, searching for words to eat. If the Librarian doesn't stop it, every word and everything on earth could disappear. Connor O'Neil is in Hell. No, really. While chasing his dog, he got run over by an ice-­‐cream truck, and now he's sentenced to eternal damnation. He's stuck in a corner of Hell specifically designed for his maximum torture -­‐-­‐ lined with bookshelves and droning educational radio programs. Then he realises that his personal version of Hell might be someone else's idea of Heaven -­‐-­‐ and vice versa. Cherub agents are all seventeen and under. They look like regular kids. But they're not. They are trained professionals who are sent out on missions to spy on terrorists and international drug dealers. Cherub agents hack into computers, bug entire houses, and download crucial documents. It is a highly dangerous job. For their safety, these agents DO NOT EXIST After losing their dad en route to Glasgow to visit their Gran, Pete and Helen are left to cope on their own. A funny and moving story. Bradley Chalkers Is the oldest kid in the fifth grade. He tells enormous lies. He picks fights with girls. No one likes him—except Carla, the new school counsellor. She thinks Bradley is sensitive and generous, and knows that Bradley could change, if only he wasn't afraid to try. But when you feel like the most-­‐hated kid in the whole school, believing in yourself can be the hardest thing in the world. Year 8 Suggested Reading List Horror Jonathan Starling's home has been attacked, his dad is in an asylum, he's running for his life, and there's nowhere to hide. Jonathan has stumbled upon London's greatest secret: Darkside. Incredibly dangerous and unimaginably exciting, Darkside is the creepiest place Jonathan has ever seen. When 16-­‐year-­‐old Lexi is forced to move in with her estranged mother, she thinks she will die of boredom. Yet midnight howlings and regular break-­‐ins convince her otherwise. And when Lexi follows her mother's dog into the woods and discovers the abandoned asylum, it is only too apparent that there is something out there. Something real. Something very shocking indeed. Robert Harper is going back to school, and it is the first railway journey he has ever made alone. The train stops at the mouth of a tunnel and in order to help while away the time a strange woman dressed in white tells Robert stories. But these are not the kind of stories normally told to a child. Soon Robert is both entranced and terrified by the strange woman and the macabre stories. Kyle has always been afraid of things, especially dying. Whilst on a train on a school trip, Kyle realises that he isn't the only one who has buried fears and, more importantly, he now burns with the desire to live, and to live without fear. But will Death release him? Scarlett March lives to hunt the Fenris-­‐-­‐the werewolves that took her eye when she was defending her sister Rosie from a brutal attack. Armed with a razor-­‐sharp hatchet and blood-­‐red cloak, Scarlett is an expert at luring and slaying the wolves. She's determined to protect other young girls from a grisly death, and her raging heart will not rest until every single wolf is dead. Enthoven delivers a sprawling fantasy epic set in modern-­‐day London about a 14-­‐year-­‐
old boy, Charlie, who thinks he has been given superpowers. The truth is, however, that Charlie has been possessed by a demon. Darkside by Tom Becker Bedlam by Ally Kennen Tales of terror from the tunnel's mouth by Chris Priestley Stuff of Nightmares by Marlorie Blackman Sisters Red by Jackson Pearce Black Tattoo by Sam Enthoven Year 8 Suggested Reading List Fantasy Worlds Coraline by Neil Gaiman Uglies by Scott Westerheld Gone by Michael Grant Septimus Heap -­‐ Magyk by Angie Sage Artemis Fowl by Eoin Colfer Sabriel by Garth Nix Unwind by Neal Shusterman Coraline's often wondered what's behind the locked door in the drawing room. It reveals only a brick wall when she finally opens it, but when she tries again later, a passageway mysteriously appears. Coraline is surprised to find a flat decorated exactly like her own, but strangely different. And when she finds her "other" parents in this alternate world, they are much more interesting despite their creepy black button eyes. Tally Youngblood is about to turn sixteen, and she can't wait for the operation that turns everyone from a repellent ugly into a stunningly attractive pretty and catapults you into a high-­‐tech paradise where your only job is to party. But new friend Shay would rather hover board to "the Smoke" and be free. Tally learns about a whole new side of the pretty world and it isn't very pretty. In the blink of an eye. Everyone disappears. GONE. Except for the young. But not one single adult. No teachers, no cops, no doctors, no parents. Just as suddenly, there are no phones, no internet, and no television. No way to get help. And no way to figure out what's happened. The seventh son of the seventh son, aptly named Septimus Heap, is stolen the night he is born by a midwife who pronounces him dead. That same night, the baby's father, Silas Heap, comes across a bundle in the snow containing a new born girl with violet eyes. The Heaps take this helpless newborn into their home, name her Jenna, and raise her as their own. But who is this mysterious baby girl, and what really happened to their beloved son Septimus? Twelve-­‐year-­‐old Artemis Fowl is a millionaire, a genius—and, above all, a criminal mastermind. But even Artemis doesn't know what he's taken on when he kidnaps a fairy, Captain Holly Short of the LEP Recon Unit. These aren't the fairies of bedtime stories—they're dangerous! Full of unexpected twists and turns, Artemis Fowl is a riveting, magical adventure. Sent to a boarding school in Ancelstierre as a young child, Sabriel has had little experience with the random power of Free Magic or the Dead who refuse to stay dead in the Old Kingdom. But during her final semester, her father, the Abhorsen, goes missing, and Sabriel knows she must enter the Old Kingdom to find him. The Second Civil War was fought over reproductive rights. The chilling resolution: Life is inviolable from the moment of conception until age thirteen. Between the ages of thirteen and eighteen, however, parents can have their child "unwound," whereby all of the child's organs are transplanted into different donors, so life doesn't technically end. Year 8 Suggested Reading List Relationships Artichoke Hearts by Sita Brahmachari A Perfect Ten by Chris Higgins Mates, dates and Inflatable bras by Cathy Hopkins Zoe and Chloe – On the prowl by Sue Limb Stargirl by Jerry Spinelli Love Aubrey by Suzanna LaFleur Four Children and It by Jacqueline Wilson Twelve-­‐year-­‐old Mira comes from a chaotic, artistic and outspoken family where it's not always easy to be heard. As her beloved Nana Josie's health declines, Mira begins to discover the secrets of those around her, and also starts to keep some of her own. She is drawn to mysterious Jidé, a boy who is clearly hiding a troubled past and has grown hardened layers -­‐ like those of an artichoke -­‐ around his heart. Perfection. That's the key aim in Eva's life. She works hard to be the girl all the other girls wish they could be: pretty, popular, smart and a gymnastic star. She seems to have it all. But the arrival of new girl Patty threatens Eva's perfect life. When "Wacko Watkins" assigns the class a writing project about themselves, Lucy Lovering is not optimistic. Her parents are health food–loving hippies, her best friend, Izzie, has become buds with the knockout Nesta, and she just doesn't match up to either of them. What's a girl to do when her two friends can pass for older and she's stuck looking like a 12-­‐year-­‐old? Zoe and Chloe need escorts for the forthcoming Ball, and one thing's certain: they're definitely not going to go with their mates Fergus and Toby who are simply not dreamboat material. Stargirl. From the day she arrives at quiet Mica High in a burst of colour and sound, the hallways hum with the murmur of "Stargirl, Stargirl." She captures Leo Borlock's heart with just one smile. She sparks a school-­‐spirit revolution with just one cheer. The students of Mica High are enchanted. At first. A tragic accident has turned eleven-­‐year-­‐old Aubrey's world upside down. Starting a new life all alone, Aubrey has everything she thinks she needs. She cannot talk about what happened to her. Writing letters is the only thing that feels right to Aubrey, even if no one ever reads them. A funny, moving and heart-­‐warming story of four children who discover a way to make wishes come true. Echoing the classic E Nesbit novel, Five Children and It, this new story from this mega-­‐selling author, winner of the Guardian Children's Fiction Prize. Year 8 Suggested Reading List Historical Boy in the Striped Pajamas by John Boyne Remembrance by Theresa Breslin Once by Maurice Gleitzman Annexed by Sharon Dogar Guantanamo Boy by Anna Perera At the sign of Sugared Plum by Mary Hooper When Bruno returns home from school one day, he discovers that his belongings are being packed in crates. His father has received a promotion and the family must move from their home to a new house far away, where there is no one to play with and nothing to do. A tall fence running alongside stretches as far as the eye can see and cuts him off from the strange people he can see in the distance. 1915 – Scotland. All too soon the horror of The Great War engulfs two families, their friends and the whole village. From the horror of the trenches, to the devastating reality seen daily by those nursing the wounded, they struggle to survive. Nothing will ever be the same again. Once I escaped from an orphanage to find Mum and Dad. Once I saved a girl called Zelda from a burning house. Once I made a Nazi with toothache laugh. My name is Felix. This is my story. In this powerful and gripping novel, Sharon Dogar explores what this might have been like from Peter's point of view. What was it like to be forced into hiding with Anne Frank, first to hate her and then to find yourself falling in love with her? Especially with your parents and her parents all watching almost everything you do together. To know you're being written about in Anne's diary, day after day? Khalid, a fifteen-­‐year-­‐old Muslim boy from Rochdale, is abducted from Pakistan while on holiday with his family. He is taken to Guantanamo Bay and held without charge, where his hopes and dreams are crushed under the cruellest of circumstances. An innocent denied his freedom at a time when Western boys are finding theirs, Khalid tries and fails to understand what's happening to him and cannot fail to be a changed young man. It is 1665 and Hannah is full of excitement at the prospect of her first trip to London. She is going to help her sister, Sarah, in her candy shop, 'The Sugared Plum'. But Hannah does not get the welcoming reception she expected from her sister, because the Plague is taking hold of London. Year 8 Suggested Reading List Mind games and Magic The Prisoner of Azkaban by J.K. Rowling Numbers by Rachel Ward Sara's Face by Melvin Burgess My Swordhand is singing by Marcus Sedwick Hush, Hush by Becca Fitzpatrick The Crowfield Curse by Pat Walsh When Harry and his best friends go back for their third year at Hogwarts, the atmosphere is tense. There's an escaped mass-­‐murderer on the loose and the sinister prison guards of Azkaban have been called in to guard the school. Lessons, however, must go on and there are lots of new subjects in third year -­‐ Care of Magical Creatures and Divination among others -­‐ to take Harry's mind off things. Ever since she was child, Jem has kept a secret: Whenever she meets someone new, no matter who, as soon as she looks into their eyes, a number pops into her head. That number is a date: the date they will die. Burdened with such awful awareness, Jem avoids relationships. Until she meets Spider, another outsider, and takes a chance. Sara wants to be famous, and when legendary rock star Jonathon Heat offers to take her under his wing and pay for her cosmetic surgery, it's like a dream come true. But beauty comes with a hidden price tag. Is Sara willing to pay? In the bitter cold of an unrelenting winter Tomas and his son, Peter, arrive in Chust to settle as woodcutters. Tomas digs a channel of fast-­‐flowing waters around their hut so they have their own little island kingdom. Peter doesn't understand why his father has done this. One of the best vampire stories written for young people. Romance was not part of Nora Grey's plan. She's never been particularly attracted to the boys at her school, no matter how hard her best friend, Vee, pushes them at her. Not until Patch comes along. With his easy smile and eyes that seem to see inside her, Patch draws Nora to him against her better judgment. It's 1347 and fifteen-­‐year-­‐old Will, an orphan boy, lives at Crowfield Abbey. Sent into the forest to gather wood, he rescues instead, a creature from a trap -­‐ a hob, who shares with Will a terrible secret. Somewhere in the forest behind the abbey where he lives, is a grave. And buried deep in the snow is an angel. But how can an angel die? What has it to do with the monks of the Abbey?