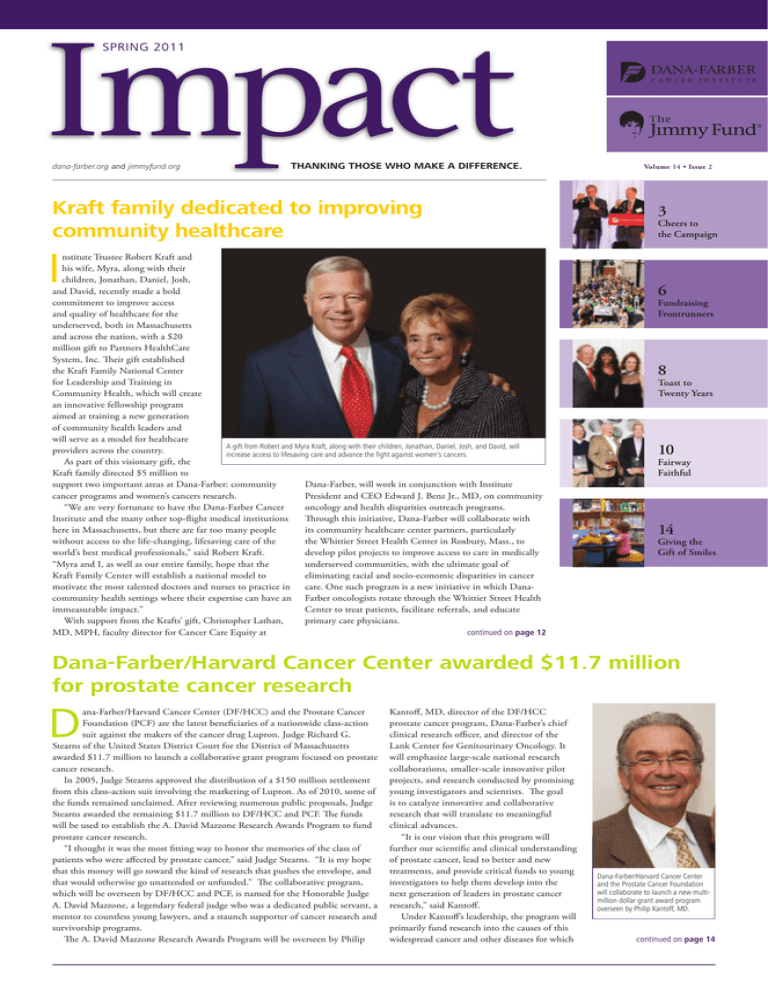 Impact
SPRING 2011
dana-farber.org and jimmyfund.org
THANKING THOSE WHO MAKE A DIFFERENCE.
Kraft family dedicated to improving
community healthcare
I
nstitute Trustee Robert Kraft and
his wife, Myra, along with their
children, Jonathan, Daniel, Josh,
and David, recently made a bold
commitment to improve access
and quality of healthcare for the
underserved, both in Massachusetts
and across the nation, with a $20
million gift to Partners HealthCare
System, Inc. Their gift established
the Kraft Family National Center
for Leadership and Training in
Community Health, which will create
an innovative fellowship program
aimed at training a new generation
of community health leaders and
will serve as a model for healthcare
A gift from Robert and Myra Kraft, along with their children, Jonathan, Daniel, Josh, and David, will
providers across the country.
increase access to lifesaving care and advance the fight against women's cancers.
As part of this visionary gift, the
Kraft family directed $5 million to
support two important areas at Dana-Farber: community
Dana-Farber, will work in conjunction with Institute
President and CEO Edward J. Benz Jr., MD, on community
cancer programs and women's cancers research.
oncology and health disparities outreach programs.
"We are very fortunate to have the Dana-Farber Cancer
Through this initiative, Dana-Farber will collaborate with
Institute and the many other top-flight medical institutions
its community healthcare center partners, particularly
here in Massachusetts, but there are far too many people
the Whittier Street Health Center in Roxbury, Mass., to
without access to the life-changing, lifesaving care of the
develop pilot projects to improve access to care in medically
world's best medical professionals," said Robert Kraft.
underserved communities, with the ultimate goal of
"Myra and I, as well as our entire family, hope that the
eliminating racial and socio-economic disparities in cancer
Kraft Family Center will establish a national model to
motivate the most talented doctors and nurses to practice in care. One such program is a new initiative in which Danacommunity health settings where their expertise can have an Farber oncologists rotate through the Whittier Street Health
Center to treat patients, facilitate referrals, and educate
immeasurable impact."
primary care physicians.
With support from the Krafts' gift, Christopher Lathan,
MD, MPH, faculty director for Cancer Care Equity at
continued on page 12
Volume 14 • Issue 2
3
Cheers to
the Campaign
6
Fundraising
Frontrunners
8
Toast to
Twenty Years
10
Fairway
Faithful
14
Giving the
Gift of Smiles
Dana-Farber/Harvard Cancer Center awarded $11.7 million
for prostate cancer research
D
ana-Farber/Harvard Cancer Center (DF/HCC) and the Prostate Cancer
Foundation (PCF) are the latest beneficiaries of a nationwide class-action
suit against the makers of the cancer drug Lupron. Judge Richard G.
Stearns of the United States District Court for the District of Massachusetts
awarded $11.7 million to launch a collaborative grant program focused on prostate
cancer research.
In 2005, Judge Stearns approved the distribution of a $150 million settlement
from this class-action suit involving the marketing of Lupron. As of 2010, some of
the funds remained unclaimed. After reviewing numerous public proposals, Judge
Stearns awarded the remaining $11.7 million to DF/HCC and PCF. The funds
will be used to establish the A. David Mazzone Research Awards Program to fund
prostate cancer research.
"I thought it was the most fitting way to honor the memories of the class of
patients who were affected by prostate cancer," said Judge Stearns. "It is my hope
that this money will go toward the kind of research that pushes the envelope, and
that would otherwise go unattended or unfunded." The collaborative program,
which will be overseen by DF/HCC and PCF, is named for the Honorable Judge
A. David Mazzone, a legendary federal judge who was a dedicated public servant, a
mentor to countless young lawyers, and a staunch supporter of cancer research and
survivorship programs.
The A. David Mazzone Research Awards Program will be overseen by Philip
Kantoff, MD, director of the DF/HCC
prostate cancer program, Dana-Farber's chief
clinical research officer, and director of the
Lank Center for Genitourinary Oncology. It
will emphasize large-scale national research
collaborations, smaller-scale innovative pilot
projects, and research conducted by promising
young investigators and scientists. The goal
is to catalyze innovative and collaborative
research that will translate to meaningful
clinical advances.
"It is our vision that this program will
further our scientific and clinical understanding
of prostate cancer, lead to better and new
treatments, and provide critical funds to young
investigators to help them develop into the
next generation of leaders in prostate cancer
research," said Kantoff.
Under Kantoff's leadership, the program will
primarily fund research into the causes of this
widespread cancer and other diseases for which
Dana-Farber/Harvard Cancer Center
and the Prostate Cancer Foundation
will collaborate to launch a new multimillion dollar grant award program
overseen by Philip Kantoff, MD.
continued on page 14
Dear Friends,
As we all know so well, cancer is a disease that
does not discriminate. From a next door neighbor
or family member, to a co-worker or friend, cancer
affects young and old, from all walks of life, across
the globe. That is why, in this issue of Impact,
we thank Institute Trustee Robert Kraft and his
wife, Myra, along with their children, Jonathan, Daniel, Josh, and David,
for their $5 million gift for community cancer programs and women's
cancers research at Dana-Farber. Their generosity will touch the lives of not
only those in Boston and its surrounding neighborhoods, but also those
the world over by highlighting the critical importance of expanding care
to underserved populations and changing the outcome for women with
cancer. The Kraft family's leadership and commitment to changing the
standard of healthcare for every person is an inspiration to all of us.
We also gratefully acknowledge the decision of Judge Richard G. Stearns
of the United States District Court for the District of Massachusetts to
award $11.7 million to Dana-Farber/Harvard Cancer Center (DF/HCC)
to be administered at Dana-Farber in collaboration with the Prostate
Cancer Foundation to launch a new grant award program. Under the
direction of the Director of the DF/HCC Prostate Cancer Program Philip
Kantoff, MD, this grant will fund both large-scale research collaborations
and innovative pilot projects that will translate to meaningful clinical
advances for prostate cancer patients everywhere.
Also inspiring are the more than 550 runners who took on the DanaFarber Marathon Challenge, tackling the 26.2 historic and challenging
miles of the 115th Boston Marathon® on April 18. This dedicated team
anticipates raising $4.5 million in funds to benefit the Claudia Adams
Barr Program in Innovative Basic Cancer Research, which supports our
talented young investigators conducting groundbreaking studies in basic
cancer science.
In addition, we appreciate our dedicated Palm Beach community for
the more than $2.3 million it raised to support cancer research and patient
care through the 20th Anniversary Discovery Celebration held Feb. 19 at
Mar-a-Lago Club. We are tremendously grateful to Co-chairs Phyllis and
Paul Fireman along with the many event chairs, committee members, and
attendees for producing a memorable celebration to honor 20 years of
partnership in the fight against cancer.
Finally, we acknowledge the more than one million individuals and
organizations who contributed to Mission Possible: The Dana-Farber
Campaign to Conquer Cancer. The Campaign Celebration held on
April 27 enabled us all to reflect on the progress of the past seven years,
celebrate the momentous success of raising $1.18 billion, and look
forward to even greater achievements because of the momentum built
during this Campaign.
Your continued generosity is the catalyst for advancing innovative
cancer research and developing valuable patient care programs, ultimately
revolutionizing how cancer is treated worldwide. Thank you for helping
Dana-Farber make notable strides in its mission to conquer cancer.
Sincerely,
Susan S. Paresky
Senior Vice President for Development
Impact
SPRING 2011
Volume 14 • Issue 2
Chair, Medical Oncology James Griffin, MD
Chair, Radiation Oncology Jay R. Harris, MD
This issue covers gifts received and finalized through the spring of 2011.
Senior Vice President, Human Resources Deborah Hicks, MA
President and Chief Excecutive Officer Edward J. Benz Jr., MD
Chief Quality Officer Joseph Jacobson, MD
Executive Vice President and Chief Operating Officer Janet E. Porter, PhD
Chief Clinical Research Officer Philip W. Kantoff, MD
Executive Vice President and Chief Financial Officer Dorothy E. Puhy, MBA
Chair, Executive Committee for Research David M. Livingston, MD
Senior Vice President, Experimental Medicine Lee M. Nadler, MD
Senior Vice President, Finance Karen S. Bird, MPH
Chair, Pediatric Oncology Stuart H. Orkin, MD
Chair, Psychosocial Oncology and Palliative Care Susan D. Block, MD
Senior Vice President, Development and the Jimmy Fund Susan S. Paresky, MBA
Senior Vice President and General Counsel and Chief Governance Officer Richard S. Boskey, Esq.
Senior Vice President, Patient Care Services; Chief Nurse Patricia Reid Ponte, RN, DNSc, FAAN
Senior Vice President, Research Beverly Ginsburg Cooper, MBA
Chief Scientific Officer Barrett J. Rollins, MD, PhD
Senior Vice President, Experimental Therapeutics George D. Demetri, MD
Chief of Staff Stephen E. Sallan, MD
2
Impact
SPRING 2011
Make your gift online at dana-farber.org/give
Donors Celebrated for Collective Generosity to Campaign
D
onors
ors gathered
gaat
gat
ath
the d aat the Yawkey
aw
Center
en for C
Cancer Care
aree A
April
pr l 227
7 tto be
recognized
gn ze for th
their exceptional
ptioonal generosity
os to Mi
Mission
Mis
issi Possible:
e: The
Dana-Farber
naa-F
-Fa
Far
a
C
Campaign
aig
ig to Conquer
qqu Cancer
cer. Guests
es moved
d throughout
ro
ut
the Y
Yawkey
wkeyy C
Ce
Center's
nte
ter warm,
m, patient-designed
attiie
esign
n spaces
ce enjoying
njjoyy cocktails and hors
d'oeuvres,
d'o
o vre ffeaturing
ng culinary
inaar d
delights
ht fr
from celebrity
ellleb
ebr chefs
f Gordon
on Hamersley
and Lydia
an
ydi
d Sh
Shire,
re while
hil ""science
nce as ar
art
art"" ggraced w
walls an
and table tops.
Guests
G
sts
ts gathered
atthe d iin th
the
hee D
Dining P
Pavilion
on for a sspeaking
eakkin
kingg p
program,
gram,
m w
where
h re Jo
Josh
h
Bekenstein
B
en
nst and L
Larry
rry L
Lucchino,
uc h
ucchin
Institute
nst
Tr
Trustees
ru te
tees and
and M
Mission
on Po
Possible
blee C
Campaign
pa
co-chairs,
co
-cch
welcomed
om d eeveryone
ne with a celebratory toast.
t Dana-Farber President
and CE
CEO Edward
ard J. Benz
nz Jr
Jr., MD, introduced the eve
evening's
nin featured speaker,
Siddhartha
Sid
rth Mukherjee,
kh
MD, PhD, former DFCI fellow and 2011 Pulitzer Prizewinning
ni g aauthor of The Emperor
or of All Maladies: A Biography
B g
of Cancer.
This special
cia
ial evening was an opportunity to thank
nkk the
tth dedicated and generous
community off supporters
s
who enabled Dana-Farber to raise an incredible $1
$1.18
1.
billion
illion and who
wh continue
i ue to make
ak ourr mission
mi
more
or possible.
ble
Chief Medical Officer; Senior Vice President, Medical Affairs; Chief, General Oncology, Medical
Production Coordinators Maria Cipicchio, Georgina Morales Hampe
Oncology Lawrence Shulman, MD
Photographers Lucien Capehart, Lisa Cohen, John Deputy, Driscoll Photography, Rebecca DuFault,
Senior Vice President, Communications Steven R. Singer
Steve Gilbert, Channing Johnson, Justin Knight, Aviran Levy, Steve McLaughlin, Jenny Nourse, Sam
Chief Surgical Officer Scott J. Swanson, MD
Chief of Radiology Annick D. Van den Abbeele, MD
Ogden, Len Rubenstein, Richard Schultz, Aaron Washington
Impact is a newsletter of Dana-Farber Cancer Institute published by the Division of Development
and the Jimmy Fund. To be removed from our mailing list, please contact:
Assistant Vice President, Development Marketing and Donor Relations Jan Lawlor
Impact Editor Brigham Fay
Contributors Amy Chambers, Brenda Chroniak, David Ferreira, Paul Goldsmith, Georgina Morales
Hampe, Daniel Morris, Liz Nelson, Beth Rossi, Diane Schmidt, Jackie Shydlowski, Lindsay Wilber,
DFCI Development Office
10 Brookline Place West, 6th Floor
Brookline, MA 02445-7226
617-632-3019 or 800-52-JIMMY
or visit jimmyfund.org/opt-out
Monica Zurlinden
Dana-Farber Cancer Institute provides expert, compassionate care to children and adults and is home
Art Director Alan Caplan
Designer Sharon Veino
to groundbreaking cancer discoveries. Since its founding in 1948, the Jimmy Fund has raised millions
of dollars through thousands of community efforts to advance Dana-Farber's lifesaving mission.
Impact
SPRING 2011
3
You, too, can be a part of the Yawkey Center for Cancer Care – Visit dana-farber.org/yccc
Generosity on Display: Donor Ribbon-Cuttings at the Yawkey Center
F
ollowing the January dedication of the Yawkey Center for Cancer Care building,
din donors continued to ga
gatherr ttogether
er with family,
ly, friends,
end and faculty
ult for
ceremonial ribbon-cuttings from March through early June. Plaques throughout the welcoming,
g st
state-of-the-art
e-o e-a facility
ciliity reflect the
h extraordinary
ryy commitment
c
men
and generosity of these Dana-Farber supporters.
A faculty
t conference room was made possible through the generosity of
Richard Sergel and Susan Baggett.
An elevator lobby wa
was named
ed bby Ralph E. Bates, celebrating here with
Debbie Pratt.
DFCI Board of Trustees Chairman and Mission Possible Campaign CoChair Josh Bekenstein and his wife, Anita, celebrated the dedication of the
Bekenstein Family Atrium Lobby with Dana-Farber President andd CCEO
Edward J. Benz Jr., MD.
Marjorie Blum and Trusteee Be
BBettyy A
Ann Blum cutt
the ribbon on the
he Blum Faculty
acu Co
Commons March
7. A giftt fro
from
om the Blum fam
family also established
the Eleanor
leanorr aand Maxwellll BBlum Patient Family
Resource
our e CCenter.
Institute Trustee Alice Cutler and her husband,
Stephen named the Alice and Stephen D. Cutler
Art Gallery.
The Infantino family gathered
ath
around the Beam of Hope Bench, named in
honor of Robert Infantino
tino by the Clark Companies.
Cutting the ribbon on the infusion suite named in honor of Daryl Elizabeth
Layzer are (from left) Rich Sherwood, Emily Layzer Sherwood, Ned Sherwood,
and Rosemary Kotkowski.
4
Impact
SPRING 2011
A faculty conference roo
room was made possible
by Institute Trustee Michael Eisenson and his
wife, Barbara.
J ferr aand
Jennifer
nd JJames
es Ro
RRosenberg
enbberg commemorated
omm
om
ed
the elevator
ato made possiblee by the
he W
William
RRosenberg
nbeerg Family Foundation.
Institute Tru
Trustees
uste
tee Ba
Barbara
rba and
nd James
mes Sadowsky (center andd rig
riright) cel
celebratedd
their ribbon-cutting
bon cutt with
i Stephen
ephen Sa
Sallan,
allaan, MD
MD, Dana-Farber
a-Fa
chieff of staff. Th
The
Barbara and James Sadowsky
ky Brid
BBridge
ge co
connects
nect the YYawkey Cen
Center with the
Smith
th Research Laboratories.
es.
DFCI Senior Vice Pres
Presidentt fo
for Development Susan Paresky, joined by her
husband, Joseph,
osep cut the rib
ribbon
ib
on their named laboratory servicess su
suite.
te.
The Richard K. and Nancy K. Lubin Lobby wa
was made ppossible
sible by the
ggenerosity of Institute Trustee Richard Lubin
in aand hiss wife
w
wife, Nancy.
Ed
Edward
J. Benz
enz Jr., MD, Dana-Farber
arbe president
id and CEO, and Billyy Sta
Starr, founder andd ex
executive director of
the Pan-Massachusetts
Massach
Challenge
eng (PMC)
MC)) an
and Institute Trustee, joined together to commemorate the PM
PMC
Plaza,
za, ssymbolizing the 31
31-year
1-yyea partnership
hhip tha
that has raised more than $300 million for Dana-Farber.
A vvitals
it bay was made
adee ppossible
ble byy a ggift ffrom
om
PPam
am
m aand Michael Ca
Carmen.
(From left) Sall
Sally Brandon
do Bemis,
don
s, G
Gordie
o Bemis, Liza Bemis, Robbie Be
Bemis, and Ellie Bemis gathered to
dedicate a creative arts room inn hhonor of Jane Marrow, Gordie's latee w
wife, Liza and Robbie's late mother,
and Ellie's late sister-in-law.
an
er-i
Inst
Institute
stit
titu Tru
Trustee
ee JJean
ean PPearlstein (right)
righ
ght and
nd hher
er ddaughter,
ugh er Ellen CCaliendo,
li
celebrateed
elebbrateeed at tthe third floor lounge named for Jean
an an
and Jerome
om Pearlstein.
Thee se
second floor information
form
desk was made possible by Institute Trustee Ted
Pasquarello
Pa
qua ello and his wife, Eileen.
Richard
ard and Claire Mors
Morse mar
marked the officiall op
opening
ng oof the Richard
rd PP. and
an
Claire
re W
W. Morse Conservatory
nse
serv ry A
April 23.
Katherine
h
her
and Steven Pinard celebrated the dedication
atio off th
the Katherine L.
and Steven
eve C. Pinard Exam Servicess an
and Exam Services Waiting Area and
the Katherine
ath
B. and Donald P. Loke
Loker Infu
Infusion
n sio Services and Infusion
nfu
Services
Waitingg A
Area, named in honor of Katherine's
h ne' parents.
her
heri
Anne an
and Cha
Ch
Chad Gifford cut the ribbon on an infusion suite made possible by
their gift.
Institute Trus
Trustee and Mission Po
Possiblee Cam
Campaign Co-Chair
Cha Larry
ryy LLu
Lucchino
uc
and his wife, Stacey, officially
ally opened an infusion suite that
bears theirir nnames.
D d aand RRandi
David
and Zussman
ussm
ma cut the ribbon on an infusion
o suite made
possible by their
h gift, joined by Philip Kan
Kantoff, MD, Dana-Farber's
ana
chief
clinical research officer (center).
Institute Trustee Judith Schlager, with her husband, Lawrence, cut the ribbon
on the Judith P. and S. Lawrence Schlager Information Desk.
A gif
gift from Institute Trustee Malcolm Salter
andd his wife, B.J., named the seventh floor
reception desk.
Karen and Thomas Trowbridge helped dedicate
a staff lounge, made possible by a gift from
her father, Jerome Porush, MD, in honor of her
mother, Ruth.
Impact
SPRING 2011
5
Dana-Farber Marathon Challenge team makes each mile matter
O
n April 18, more than 550 runners laced up their shoes and hit the pavement for Dana-Farber in the Boston Athletic Association's 115th Boston
Marathon®. Members of the 22nd annual Dana-Farber Marathon Challenge (DFMC) team traversed the historic 26.2-mile route from Hopkinton to
Boston, aiming to raise $4.5 million to support the Claudia Adams Barr Program
in Innovative Basic Cancer Research at DFCI.
Established in 1987 by Institute Trustees J. Wayne Weaver and Delores Barr
Weaver, the Barr Program grants funds collected by the DFMC team to the best
and brightest researchers investigating basic science who are leading the way
to novel therapies for all types of cancer. This type of support is critical to the
essential understanding of cancer.
"My husband, Wayne, and I are so proud of the dedicated athletes whose
fundraising supports the program named in honor of my mother," said Delores
Barr Weaver. "They are an inspiration to us, and we are encouraged that these
funds will lead to an even greater understanding of cancer and to new treatments."
A PERSONAL RACE
For Tom Zappala, running the DFMC started out as a challenge from a close
friend. Determined to honor the memory of his mother, a leukemia patient, and
run the Boston Marathon in less than four hours, Zappala's goals were not realized
when the weather on that race day in
1993 was less than ideal. Finishing in
four-and-a-half hours, he resolved to
beat his time and set a personal best
record. While training that next year,
Zappala was diagnosed with testicular
cancer. After completing treatment,
he fixated on running the following
year. That fall, however, Zappala's
disease returned.
"At that time, I had a wife, a fouryear-old daughter, and an infant son,
and I was worried about my family,"
said Zappala. "I was given a thenemerging treatment at Dana-Farber:
high-dose chemotherapy supported by
an autologous stem cell transplant, and
I was able to see firsthand a number
Cancer survivor Tom Zappala has been a part of
of important new protocols that came
the DFMC team for 16 years.
about through research funding."
Zappala is cancer-free and ran for
the 16th time this year with the DFMC
team. What started as a way to take on
a challenge has now become something
much more.
MOTIVATED MARATHONER
As a Boston Marathon time-qualifier,
six-time DFMC team member Matt
Whitcomb does not need to run for
a charity to receive a race entry—yet
he continues to do so. When he took
on the challenge of his first marathon
in 2006, he wanted to run for an
organization whose mission resonated
with him. Having a couple of close
friends with cancer, Whitcomb
applied to run for Dana-Farber and
was accepted.
Matt Whitcomb waved to the crowd en route to
his 14th marathon finish.
John Legere, the DFMC's all-time leading
fundraiser, reached the $1 million fundraising
mark this year.
"When I first started training
with the DFMC team, I was running
because I believed in what the
funding from the Barr Program was
supporting," explained Whitcomb.
"Through the help of the team's
training advisor Jack Fultz, a few years
later I qualified for my own number."
By that time, however, Whitcomb
had grown close to his fellow team
members. In addition, his stepfather
was diagnosed with Stage IV liver
cancer, yet another reason to keep
running with the DFMC team.
"This race was my 14th marathon,"
said Whitcomb. "When I am training,
I think of my stepfather and all the
people I know who have been affected
by this disease, and this is great
motivation to keep going." ■
Family joins forces to solve mystery of pancreatic cancer
T
homas Pappas and his brother, Judge John Pappas, were born in Greece at
the turn of the century. Their father, Constantine, brought them to America
in 1908 and started a food business from a push cart in Boston's North End.
Despite their humble beginnings, the two brothers rose to prominence in business and politics. Today, the two branches of the Pappas family—the descendents
of these two influential brothers—are working together with a new goal in mind:
finding a way to prevent and ultimately cure pancreatic cancer.
The Thomas Anthony Pappas Charitable Foundation, Inc., and the Judge John
C. and Katherine A. Pappas Family Charitable Foundation, Inc., joined together
to establish a $1million research fund known as the Pappas Family Research Fund
for Pancreatic Cancer at Dana-Farber.
Pancreatic cancer is the fourth leading cause of cancer-related death in men
and the fifth leading cause of cancer death in women in the United States. The
pancreas, a vital part of the digestive system, lies deep in the abdomen between
the stomach and the spine. Because of its location, when cancer strikes this deeply
buried structure, it often comes without warning.
"This disease is a silent killer," said John Pappas, spokesman for the Thomas
Anthony Pappas Charitable Foundation and grandson of Thomas Pappas. John's
father, Charles Pappas, died from pancreatic cancer in 2000. Because of the
difficulty detecting pancreatic cancer in its early stages, survival rates are low.
According to the American Cancer Society, only 20 percent of patients diagnosed
with the disease survive more than a year.
But Dana-Farber is leading the fight against this deadly disease. In recent
years, researchers lead by Charles Fuchs, MD, MPH, director of Dana-Farber's
Gastrointestinal Cancer Treatment Center, have found a link between diet and an
increased risk of developing the disease. In addition, in 2009, Fuchs performed the
first systematic scan of the human genome looking for inherited genetic markers
that could predict pancreatic cancer.
6
Impact
SPRING 2011
"The possibility that doctors
could identify people most at risk
for developing the disease was very
encouraging," said John Pappas.
Inspired by Fuchs' research, the two
branches of the Pappas family came
together to formulate a plan to join in
the fight.
"We had our whole family tested,
hoping we could help in the research
to find a common link to pancreatic
cancer, but they haven't found anything
yet," said Jim Pappas, spokesman for
the Judge John C. and Katherine A.
Pappas Family Charitable Foundation,
Inc., who lost his brother, Jack Pappas,
and sister, Sophia Martha Tsiros, to
the disease. "We are investing in cures,
A joint $1 million gift from the Pappas family
and Dana-Farber is equipped with
will help Charles Fuchs, MD, MPH, lead the
the best technology and research staff
fight against pancreatic cancer.
to someday win this fight." The joint
$1 million gift, given in memory of
Charles Pappas, Sophia Martha Tsiros, and John Pappas Jr., will support research
into the causes, prevention, and treatment of pancreatic cancer.
"Understanding and overcoming pancreatic cancer is a tremendous challenge,"
said Fuchs. "But thanks to the commitment and generosity of the Pappas family,
we're one step closer." ■
Impact is available online at JimmyFund.org/impact
Pew Charitable Trusts, a strong partner in biomedical research
T
o honor the entrepreneurial spirit of their parents, the sons and daughters of
Sun Oil Company founder Joseph N. Pew and his wife, Mary, established
the Pew Charitable Trusts. With a presence throughout the United States
and abroad, Pew is one of the nation's largest scientific advocacy organizations.
Early in 1948, Pew made a commitment to support cancer research, a focus that
remains a priority 63 years later. Continuing their tradition of supporting creative
approaches to research, Pew has named Dana-Farber's Alexander Gimelbrant,
PhD, a Pew Scholar in the Biomedical Sciences. Pew Scholars receive $240,000
over a period of four years.
"Motivating scientists is essential to advancing discovery and innovation,
and Pew is honored to continue its commitment to this cadre of high-quality
researchers," said Rebecca Rimel, president and CEO of the Pew Charitable Trusts.
"There are many advantages to being an award recipient of the Pew Trusts, but
perhaps the most important benefit is the interaction with other Scholars," said
Gimelbrant. "Some of our best, most creative thinking is motivated and energized
by spontaneous friendly discussions, and this is a great group of scientists with
varied perspectives and insights."
The award allows Gimelbrant to expand his research into how cells acquire
distinct identities during development, even though they are genetically
indistinguishable. Given that the majority of human cell-types have two copies
Johnson & Johnson
support allows new
look at multiple myeloma
M
ultiple myeloma, an incurable form of cancer typically found in the
bone marrow, is managed through a combination of therapies, and
thanks to great advances in treatments, patients are living longer. But,
as a result of this longevity, the disease is manifesting in other areas of the body
where it has not been before, including the
lungs and their pleural space—the cavity that
surrounds them. Because of this, Johnson
& Johnson has made a gift to Dana-Farber
investigators Paul G. Richardson, MD, clinical
director, Jerome Lipper Multiple Myeloma
Center, and Constantine Mitsiades, MD,
PhD, working with Kenneth C. Anderson,
MD, director of the Jerome Lipper Multiple Myeloma Center and the LeBow
Institute for Myeloma Therapeutics and the Kraft Family Professor of Medicine
at Harvard Medical School, and other members of their team, to further research
into the disease.
"We have worked with Dana-Farber Cancer Institute for many years and are
again pleased to be part of their important research," said Robert Zivin, PhD,
senior director of the Corporate Office of Science and Technology at Johnson &
Johnson. "We have enjoyed our collaborations with Dana-Farber, and have found
them to be open and exciting allies in the fight against cancer."
This support will help Richardson and Mitsiades, together with their teams, to
develop new models for treatment outside the bone marrow, which could lead to
breakthroughs in therapies for other forms of cancer, as well.
"Johnson & Johnson was extremely forward thinking and generous in recognizing that this disease may be better controlled with existing therapeutics in certain
areas of the body, such as the bone marrow, but that it can recur later in the course
of the disease in other tissues. Currently available therapeutics in many cases do not
offer optimal control of the disease in those sites," said Mitsiades. "We've learned
over the last 10 to 15 years that investigation of these patterns of relapses can lead
to the development of key strategies to target resistance and so prevent treatment
failure not only in multiple myeloma but in other malignancies as well." ■
Visit participating Taco Bell, Pizza Hut, KFC and The Paper Store locations in New England.
of each chromosome, a maternal
copy and a paternal copy, and
thus two alternative forms of each
gene, Gimelbrant is interested
in understanding why some cells
consistently favor the expression of
DNA from one parent over another.
Because the perpetual inactivation of
one parental copy of a gene can lead
to the progression of cancer in some
cases, further understanding such
cellular choices can help us determine
the molecular bases of cancer and other
diseases.
"The Pew Trusts award allowed us
to go in a new, challenging direction
and aim to develop a new technological
approach for detection of genomewide allele-specific expression," said
Gimelbrant. ■
Recognizing his creative approach to research,
the Pew Charitable Trusts named Alexander
Gimelbrant, PhD, a Pew Scholar in the
Biomedical Sciences.
Mathers Charitable
Foundation grant advances
human genome research
E
stablished in 1975, the G. Harold and Leila Y. Mathers Charitable
Foundation supports basic, fundamental research in the life sciences,
providing funding for the most cutting-edge projects.
Recently, the foundation awarded David Pellman, MD, the Margaret M.
Dyson Professor of Pediatric Oncology and professor of Cell Biology at Harvard
Medical School and Dana-Farber,
a $540,000 grant to further his
investigation into polyploidy, a
condition that takes place during
evolution where whole genomes
have been found to double.
"We study genome doubling
because it happens during the
development of multi-cellular
organisms, and there is evidence
from my laboratory that it can
accelerate the development of
cancer," said Pellman. "There
are many reasons to think that
polyploidy is detrimental—
tumor development being one
example—but the repeated
A grant from the Mathers Charitable Foundation will
use of genome doublings in
allow David Pellman, MD, to further his investigations
evolution suggests that in
into genome doubling.
certain circumstances it can be
advantageous. This is what we are
trying to understand."
Pellman is leveraging past funding from the foundation and this new grant
to support a direct and quantitative test to measure the speed of evolutionary
adaptation in Baker's yeast cells, which share many characteristics with human
cells. Much evolutionary theory has suggested common principles between
the evolution of micro-organisms such as yeast and the development of cancer.
What have been missing are experimental systems where the speed of adaptation
can be measured as well as the ability to go back into the evolutionary history
and find mutations. Pellman feels that it is a propitious time to undertake these
experiments.
"Our initial results have been exciting and show that the evolution of
polyploidy cells in yeast is rapid," said Pellman. "Now we are reconstructing the
evolutionary history by sequencing the evolved strains." Pellman hopes this will
reveal general principles about the role of genome doublings in evolution.
"The Mathers Foundation, and James Handelman in particular, has been one of
the biggest supporters of my lab," said Pellman. "Their funding has come at critical
junctures, enabling us to pursue ambitious projects that might not have been possible
without their grants." ■
Impact
SPRING 2011
7
Get the latest information on Jimmy Fund events, plus offers and contests, at JimmyFund.org/mobile
Celebrating 20 Years of Palm Beach Philanthropy:
Community raises $2.2 million
F
or 20 years, Dana-Farber's numerous friends and supporters in Palm Beach,
Fla., have united to show their deep and passionate dedication to conquering
cancer through a series of benefit events. The community marked this milestone year at the 20th Anniversary Discovery Celebration with an announcement
that more than $2.2 million had been rasied toward the Institute's cancer care and
research initiatives.
"In an extraordinary show of generosity, the Palm Beach community once again
demonstrated what can be accomplished when we all share the common goal of
conquering cancer," said Institute President and CEO Edward J. Benz Jr., MD.
"The funds raised from these events not only advance vital cancer research and
treatment at the Institute, but, equally as important, offer tremendous hope to
cancer patients and their families across the globe."
This very special anniversary year was celebrated in style Feb. 19 when more
than 600 guests were welcomed to Donald Trump's exclusive Mar-a-Lago Club by
Chairs Phyllis and Paul Fireman for a spectacular party. Attendees enjoyed gourmet
cuisine in the Trump Tent and proceeded to the ballroom for a specialty dessert
parade. Guests were then treated to an intimate concert by Academy and Grammy
Award-winning actress and recording artist Jennifer Hudson, who delivered an
outstanding performance. Later, guests gathered poolside for an after party and
danced the night away. Beautiful mini-vases, compliments of Jay Strongwater and
the Weingeroff family, were presented to guests as a remembrance of the evening.
The season officially began one month before with a Jan. 19 Kick-off Party,
hosted and underwritten by Discovery Celebration Vice Chairs and Grand
Academy Award-winning actress and recording artist Jennifer Hudson
(center), with Discovery Celebration Chairs Paul and Phyllis Fireman, treated
guests to a special performance.
Donald Trump, shown with his wife, Melania, welcomed guests to his
exclusive Mar-a-Lago Club.
Institute Trustee Robert Kraft and his wife, Myra, attended the 20th
anniversary Discovery Celebration.
8
Impact
SPRING 2011
Benefactors Patrick Park and Nathalie Fernandez and held at the Mar-a-Lago
Club. The evening featured cocktails and cuisine, including caviar and vodka
stations, as well as an informal show of fashion designer Carolina Herrera's Spring
2011 collection, presented by Neiman Marcus Palm Beach.
Discovery Celebration weekend commenced Feb. 17 with a pre-celebration
dinner at the Mar-a-Lago Club hosted by Institute Trustee Phyllis Krock and her
husband, Richard, and another pre-celebration dinner at the Palm Beach Country
Club, hosted by Institute Trustee Judie Schlager and her husband, Larry, Institute
Trustee Donald Dwares and his wife, Bonnie, Institute Trustee Sandy Krakoff, and
Marty Phillips.
On Feb. 18, the 10th annual Breakfast with the Doctors event, hosted and
underwritten by Institute Trustee Judie Schlager and her husband, Larry, and Vicki
and Arthur Loring, was held at the Palm Beach Country Club. Guests had the
opportunity to pose questions to a panel of top Dana-Farber physician-scientists,
who shared the latest research and news from the Institute.
That evening, the Firemans greeted guests at the Platinum level of $25,000
aboard their yacht, Solemates. On a picture-perfect moonlit night, they enjoyed
sushi and a raw bar surrounded by ocean waves. Gifts were provided by Lead
Corporate Sponsor David Yurman.
The series of events culminated March 1 at the Major Donor Dinner, hosted
by Institute Trustee Michele Kessler and her husband, Howard, in their stunning
home. Sponsors, chairs, and major donors at the Silver level of $10,000 gathered
to celebrate the end of a very special—and successful—fundraising season. ■
Suzanne and Robert Tomsich celebrated 20 years of Palm Beach philanthropy.
Patrick Park and Nathalie Fernandez served
as Discovery Celebration Vice Chairs and
Grand Benefactors.
Institute Trustee Robert Belfer enjoyed the
culmination of another successful season with
his wife, Renee.
Robert Korff and Nina Stuart supported Dana-Farber in style.
The celebration brought together (left to right) Nancy Brinker, founder and
CEO of Susan G. Komen for the Cure, with Howard Kessler and Institute
Trustee Michele Kessler, who hosted the Major Donor Dinner.
Sybil and David Yurman of the David Yurman
Company, Lead Corporate Sponsor.
A pre-celebration dinner was hosted by (from left) Institute Trustee Judie Schlager and her husband, Larry; Institute Trustee Sandy Krakoff and Marty Phillips; and
Bonnie Dwares and her husband, Donald, an Institute Trustee.
NFL linebacker Jason Taylor attended the
celebration with his wife, Katina.
Anna Burns and New England Patriots wide receiver Wes Welker enjoyed
the festivities.
The 10th annual Breakfast with the Doctors was hosted and underwritten by
(from left) Arthur and Vicki Loring and Institute Trustee Judie Schlager and her
husband, Larry.
Institute Trustee Phyllis Krock and her husband,
Richard, hosted a pre-celebration dinner at the
Mar-a-Lago Club.
Mayer Foundation continues
steadfast support
Epstein gift targets tumors'
resistance to drugs
T
E
he Louis B. Mayer Foundation, a longtime supporter of Dana-Farber, recently gave $125,000 to support research into prostate and bladder cancers
under the direction of Philip Kantoff, MD, chief clinical research officer
and director of the Lank Center for Genitourinary Oncology.
"We are pleased to fund DanaFarber's cutting-edge research and are
confident it will advance knowledge of
these diseases and improve treatment
in the future," said Mayer Foundation
Trustee Carol Farkas. "As a small
foundation, we are able to fund
innovative projects that might not
otherwise receive support."
Kantoff and his colleagues will
use the grant to explore whether
intake of the supplements vitamin
E and selenium affect one's risk
of developing prostate cancer and
whether particular genetic variants
may influence such risk. In addition,
the Mayer Foundation's grant will
Support from the Mayer Foundation will
enable Jonathan Rosenberg, MD, an
enable Jonathan Rosenberg, MD, to continue
investigator at Dana-Farber, to validate
a promising investigation into bladder cancer.
an exciting new finding that may lead
to a better understanding of why some
bladder cancers develop a more aggressive behavior pattern.
"The Mayer Foundation has been a loyal supporter of our work. Their support
has enabled us to make major strides in the arena of prostate cancer and will now
allow us to develop a better understanding of bladder cancer," said Kantoff. "We
are extremely grateful to the Mayer Foundation for their partnership in the fight
against cancer." ■
ven before Eileen Epstein was
diagnosed with breast cancer,
she and her husband, Mark,
had generously supported research
at Dana-Farber. Her treatment at
the Breast Oncology Center further
deepened the commitment.
"My experience at Dana-Farber
was the best possible. I felt embraced
when I walked through the door,
treated with such compassion," said
Eileen, who is now cancer-free and
Grateful for the compassionate care she received
serves on the Visiting Committee
at Dana-Farber, Eileen Epstein, together with her
for the Susan F. Smith Center for
husband, Mark, made a gift to support research to
benefit other patients.
Women's Cancers. "People have
many choices for philanthropic gifts,
and we believe Dana-Farber is the number one choice."
Keenly aware that, for many patients, the cancer journey can be tremendously
difficult, the Epsteins have continued their steadfast support with a gift of $100,000
to Dana-Farber's Susan Smith Center, under the direction of J. Dirk Iglehart, MD,
chief of Surgical Oncology, director of the Susan Smith Center, and Anne E. Dyson
Professor in Women's Cancer and Surgery and the Charles A. Dana Senior Investigator
in Cancer Genetics, Harvard Medical School.
The Epsteins' generosity enables researchers Debajit Biswas, DSc, and post-doctoral
fellow Bose Kochuparakkal, PhD, to examine whether the nuclear factor kappa B (NFkB) pathway is activated in breast cancer cells that no longer respond to chemotherapy.
Thanks to the pioneering work of breast cancer oncologist Ian Krop, MD, PhD, who
sought to minimize biopsies for patients, Biswas and Kochuparakkal will be able to use
circulating cancer cells extracted from the blood of patients with metastatic disease.
"This research could lead us to identifying cell elements in the NF-kB pathway
that we can disable with a targeted therapy," explained Iglehart. "Since NF-kB
appears to be involved in several cancers, Eileen and Mark's gift could potentially
help a great many patients." ■
Impact
SPRING 2011
9
Herzsteins' gift helps close
the gap between discovery
and care
Gratitude for Golfers
A
cornerstone of Dana-Farber's mission is the rapid application of laboratory breakthroughs to patient care. This process can often be expedited
through partnerships with biotechnology and pharmaceutical companies,
but time and funds are required to develop discoveries to a stage that justifies
investment from commercial partners.
Recognizing this need,
Barbara and Sigmund
"Bud" Herzstein, gave
$1 million to create the
Sigmund E. Herzstein
Accelerator Fund,
managed under the
direction of Barrett
Rollins, MD, PhD,
Dana-Farber's chief
scientific officer and the
Linde Family Professor
of Medicine at Harvard
Medical School, and
Giulio Draetta, MD,
PhD, Dana-Farber's
chief research business
development officer.
This gift also provided
A visionary gift from the late Barbara and Sigmund "Bud"
Herzstein will help investigators take ideas to the next level.
vital support for the
technology priority of
Mission Possible: The Dana-Farber Campaign to Conquer Cancer.
Before she passed away in May, Barbara Herzstein said, "Bud saw the Fund
as an extension of his work in venture capital. Whereas in venture capital, Bud
enabled a business to move from one stage to another, with the Accelerator Fund,
he hoped to create a mechanism for researchers to take an idea to the next stage of
commercialization and direct patient benefit."
Sadly, Bud lost his battle with cancer shortly after facilitating this far-reaching
gift, but the Herzsteins' legacy lives on with this fund.
"Our scientists are eager to see their discoveries directly impact patients
with cancer. Sometimes the fastest route to this kind of application is through
partnering with a commercial developer," said Rollins. "The Herzstein Accelerator
Fund is designed to help investigators advance their research to the degree
necessary to make it attractive to a commercial partner. Barbara and Bud Herzstein
had the remarkable vision to see how necessary this kind of fund is at Dana-Farber
and how its support will lead to improving the lives of our patients."
"Barbara and Bud Herzstein had the remarkable
vision to see how necessary this kind of fund is
at Dana-Farber and how its support will lead to
improving the lives of our patients."
— Barrett Rollins, MD, PhD
Dana-Farber's James Bradner, MD, whose laboratory focuses on discovery
chemistry, often the initial step in drug development, is one of the first recipients
of a grant from the Accelerator Fund. Bradner and his team previously identified
that disabling the function of a specific protein can essentially make specific
types of cancer cells "forget" they are cancerous and revert to normal. He and
his colleagues then created the first molecule to target this protein, and through
laboratory studies, proved that this molecule was effective and had the potential to
be a potent therapy for cancers such as NUT midline carcinoma (NMC).
In order for this new prototype molecule to make it to the clinic as a drug, it
needs to be optimized to improve activity and avoid toxicity. As these experiments
require a great deal of time and funds, Bradner will utilize the Herzsteins' support
to move ahead with his plans to complete the later stages of drug development,
known as medicinal chemistry, at Dana-Farber. To date, Bradner and his team are
currently working on these studies and have made great progress.
"I am honored to receive this special and unprecedented type of funding for
our lab," said Bradner. "This project demonstrates Dana-Farber's capability to
perform extremely important and creative drug discovery that has the potential to
bring new therapeutics into existence." ■
10
Impact
SPRING 2011
Members of the Jimmy Fund Golf community were recognized for their exceptional
commitment during the annual Jimmy Fund Golf Appreciation Night held at Gillette
Stadium Feb. 9. The evening recognized an outstanding 2010 fundraising season,
which welcomed 14 new tournaments, celebrated 22 tournament anniversaries,
and raised more than $6.45 million for the Jimmy Fund.
Named in honor of the former Boston Red Sox sportscaster, the Ken Coleman Extra
Mile Award is presented annually to outstanding tournament volunteers. This year's
award recipients were (left to right) Brian, Kevin, and Rick Thomas of the Closed
Open tournament, which, over the past 25 years, has raised more than $450,000 in
memory of their brother, Gary Thomas.
The evening included remarks by Tym Rourke, a member of Dana-Farber's Pediatric
Patient and Family Advisory Council, and a surprise guest appearance by Robert
Kraft, Institute Trustee and owner of the New England Patriots.
MAKE YOUR
MEAN
RUNNING
MORE
Register for ANY race and raise
funds to help Dana-Farber and
the Jimmy Fund save lives
LEARN MORE AT
/start
RunDanaFarber.org
Follow us on Facebook.com and Twitter.com
Nuclea Biotechnologies continues to power innovative
translational research at Dana-Farber
haritable support from Nuclea Biotechnologies, LLC, over the past several
years has enabled Massimo Loda, MD, director of the Center for Molecular
Oncologic Pathology (CMOP) at Dana-Farber, to embark on numerous
high-risk, high-reward projects leading to significant advances in translational
cancer research.
Most recently, Nuclea made two gifts to Dana-Farber: $250,000 to fuel ongoing
research at CMOP, and $300,000 to help drive prostate cancer investigations in
Loda's laboratory. Both gifts will allow Loda to conduct innovative experiments
that would otherwise be difficult to fund.
The monies awarded to CMOP will support unfolding research efforts such
as the development of immunohistochemical (IHC) assays, a staining technique
that will help research scientists to visualize antibody-antigen interactions and
diagnose cancerous cells. Investigations of this class are vital to CMOP's objective
to advance the Institute's goal of personalized medicine.
Funding for Loda's laboratory will be used to support prostate cancer research,
including enabling postdoctoral researchers to study microRNA (miRNA)
signatures in prostate cancer. These miRNAs, or small RNA molecules, regulate
gene expression and are known to aid in processes such as cell growth.
"At Nuclea Biomarkers we feel confident that our gift will help bolster Dr.
Loda's ongoing work in identifying cancer promoting molecules," said Patrick
Muraca, president and CEO of the biotechnology services company. "Funding
C
such as this is critical as it furthers
discoveries that later on can
be applied to all cancers on a
personalized basis."
Under Loda's direction, CMOP
has created a successful network
throughout the Institute, where
molecular pathology forms an
integral part of research offering
the ability to advance different
types of studies.
"A better understanding of
cancer will be achieved through
biochemical profiling, paving the
way for the discovery of biomarkers
Patrick Muraca of Nuclea Biotechnologies, LLC,
(right) is supporting Massimo Loda, MD, in his
and pathways associated with
continuing pursuit to understand cancer through
this disease," said Loda. "Thanks
biochemical profiling.
to Nuclea's gift, my laboratory
is exploring new cancer research
approaches in ways that would not be possible otherwise." ■
Susan and Alan Miller
create a "trust" fund
Terri Brodeur Foundation
supports future targeted
breast cancer therapies
W
hen Susan Miller was diagnosed with breast cancer in 2002, she told
Dana-Farber's Eric Winer, MD, director of the Breast Oncology Center
at the Susan F. Smith Center for Women's Cancers, that her priority was
staying healthy for the two things that bring her the most joy: her family and her
career as an independent scholar. After meeting Winer, Susan knew that he would
be the one to help her meet this goal.
The Millers were referred to DanaFarber by Institute President and CEO
Edward J. Benz Jr., MD, who is vice
chairman of the Board of Trustees at
the Mount Desert Island Biological
Research Laboratory, of which Susan's
husband Alan is secretary and also a
trustee. To honor their trust in both
Benz and Winer, and Dana-Farber's
dedicated staff, the couple recently
A gift from Alan and Susan Miller honors Danamade a $150,000 gift to the Institute,
Farber's Edward J. Benz Jr., MD, and Eric Winer, MD.
creating the Susan and Alan Miller
Fund for Breast Cancer Research.
"We wanted to recognize Dr. Benz's excellence in leadership and the efforts
that Eric Winer and his team are making to treat and conquer breast cancer," said
Susan Miller. "There are no words sufficient to describe my confidence in Eric. He
is an incredible combination of compassionate human being and superbly talented
physician-scientist. He's really so rare."
Winer and his team will use the Millers' generous gift to support clinical
research in estrogen receptor-positive breast cancer. "I want to honor Susan's
zeal for life and Alan's dedication to the Institute by identifying ways to reduce
mortality in patients with this type of breast cancer," Winer said. ■
T
he Terri Brodeur Breast Cancer Foundation was created in 2005 to honor
the memory of its namesake, who lost her battle with breast cancer. Established by two of Brodeur's close friends, the foundation directs 100 percent
of funds raised to breast cancer research, through two-year scientific grants.
The grant program supports
physician-scientists at early stages
in their careers, enabling them to
advance their research at critical
juntures. This year, Dana-Farber's
Yang Li, PhD, received a $100,000
grant from the foundation.
"The proposals are reviewed by a
team of outstanding scientists, and, after review, Li's quickly rose to the top," said
John LaMattina, president of the board of directors of the Terri Brodeur Breast
Cancer Foundation. "He's really on to something."
Li's research, based on a specific genetic signature, aims to identify breast
cancer patients who have a high risk of cancer recurrence after being treated with
chemotherapy. These findings could lead to a test that would help physicians
choose the best initial treatment for each patient or a drug that would block tumor
resistance.
"I have dedicated my life to combating breast cancer, and this grant will give
me the time I need to focus on growing my career," said Li. "I hope to someday
have my own lab, where I can explore ways to maximize the benefits of cancer
therapy, reduce its complications, and find ways to abrogate its resistance." ■
Culinary acrobats soar at Chefs for Jimmy
Philanthropists and food lovers gathered Jan. 21 at Chez Josef in Agawam, Mass., for the
21st annual Chefs for Jimmy event, presented by Winer Levsky Group of UBS Financial
Services Inc., and held in honor of Neal Webber, a longtime supporter of the Jimmy Fund.
The evening, hosted by the Jimmy Fund Council of Western Mass., featured an "Under the
Big Top" theme of delicious small plates prepared by 29 of western New England's leading
chefs, restauranteurs, and caterers performing their best high wire act and cooking without
a net for a room of hungry and eager palates.
Event Co-Chairs (left to right) Erin Sade, Michael Katz, Andrew Cohen, and Michelle
Corriveau present a check for $107,000 to Jimmy Fund Director Suzanne Fountain, Institute
Trustee and Event Co-Chair Barbara Sadowsky, and Jimmy Fund Special Events Development
Officer Kelly See.
Impact
SPRING 2011
11
Get involved, have fun, and beat cancer — visit JimmyFund.org today
Kraft continued from page 1
In addition, the gift from the Kraft family will support women's cancers
research and care, including personalized medicine, under the direction of Ursula
Matulonis, MD, director of Medical Gynecologic Oncology at Dana-Farber.
The Krafts' support will enable Dana-Farber to advance its goal of delivering
personalized medicine—the right drug to the right patient at the right time—
to gynecologic cancer patients. This gift will also allow Matulonis and her team
of physician-scientists to conduct cutting-edge research to better understand
gynecologic cancers and to create new tools for early diagnosis and novel targeted
"There are far too many people without access to
the life-changing, lifesaving care of the world's
best medical professionals."
— Robert Kraft
therapies. It will be an integral component of Dana-Farber's commitment to
advancing the delivery of personalized cancer care for all patients.
"I am tremendously grateful to the Kraft family for their generous and
thoughtful support, which will allow us to bring our services directly into our
neighborhoods and to continue leading the way in fighting women's cancers,"
said Benz. "The Kraft family's support of these important initiatives will have a
long-lasting and far-reaching effect on the future of cancer care. I thank them for
partnering with us in our mission to conquer cancer." ■
American Lung Association
helps fulfill research need
T
he American Lung Association (ALA) has long been committed to preventing
lung cancer and raising awareness of lung cancer risk factors, such as
smoking. In recent years, the organization has also identified a need for more
research and resources to be put into the detection and treatment of lung cancer.
To meet this need, the ALA recently made two important grants totaling
$350,000 to support the research
projects of Dana-Farber's Matthew
Meyerson, MD, PhD, co-director
of the Center for Cancer Genome
Discovery, and Kwok-Kin Wong,
MD, PhD, of Dana-Farber's Thoracic
Oncology department.
"When we ask researchers to submit grant applications, we ask them to think
outside the box. We are looking for novel and creative ideas that will help treat
lung cancer," said Norman Edelman, MD, chief medical officer of the ALA.
"These two projects are excellent examples of that."
Meyerson's Diane Emdin Sachs Lung Cancer Award, made possible with
the support of the Emdin Sachs family and the ALA of New York, supports
Meyerson's research to uncover and validate the key genes that promote the growth
of small cell lung cancer.
"Small cell lung cancer is one of the very deadliest of all cancers and one of the
most difficult to study," said Meyerson. "The ALA makes it possible for us to study
this challenging disease."
Wong, who received the Lung Cancer Discovery Award co-funded by the
ALA and the ALA of New England, is working to better understand the processes
involved in lung cancer progression and metastasis using animal models.
"The grant from ALA allows me to perform pilot studies," said Wong.
"These resources are absolutely essential to generating preliminary data that can
be leveraged down the line for federal funding for this research, which I hope will
subsequently make an impact in the lives of lung cancer patients." ■
Breast Cancer Research
Foundation supports multiple
genetic studies
C
ontinuing its longstanding support of research at Dana-Farber, The Breast
Cancer Research Foundation awarded a group of physician-scientists at
the Institute's Susan F. Smith Center for Women's Cancers $1.5 million
to advance understanding of the genetic factors involved in breast cancer.
"The diverse portfolio of investigators at Dana-Farber is representative of
what we and our supporters believe
will ultimately lead to prevention and
cures for breast cancer," explained
Margaret Mastrianni, deputy director
of The Breast Cancer Research
Foundation (BCRF).
The foundation traces its
beginnings to the early 1990s, when
Evelyn Lauder, senior corporate
vice president of The Estée Lauder
Companies, Inc., sought to right two intertwined wrongs: the lack of breast
cancer awareness and insufficient funding for breast cancer research. Lauder and
Alexandra Penney, then editor of Self magazine, developed "the pink ribbon."
Their design has become an international symbol of breast health, focusing
attention on a disease that takes the lives of approximately 400,000 women
around the world every year.
Then, in 1993, Lauder founded BCRF, an organization that has raised more
than $300 million to support innovative clinical and translational research at
leading cancer institutions around the world. Having awarded a total of more
than $8 million to Dana-Farber scientists to date, the foundation has made a
remarkable impact on advances in breast cancer research at the Institute.
"BCRF's steadfast generosity has enabled our scientists to pursue multi-year,
complex investigations, helping elucidate the factors that increase the risk of
developing breast cancer, that drive the growth and proliferation of disease, and
that are involved in tumors' resistance to standard treatments, among others,"
explained J. Dirk Iglehart, MD, director of the Susan Smith Center.
One of the research initiatives BCRF supported led to the dramatic discovery
that the over-expression of a particular gene identifies tumors that are likely to be
resistant to a widely-used class of chemotherapy drugs. This finding by Iglehart
and Dana-Farber's Andrea Richardson, MD, PhD, and Charles Wang, MD,
PhD, will ensure that, from the outset, physicians will be able to use an alternate
drug to treat patients whose tumors have this signature.
The foundation continues its support of the work of Iglehart, Richardson,
and Wang as they turn their attention to identifying which microRNAs—
cellular components that regulate gene expression—are involved in drug
resistance and cancer metastasis. The BCRF grant also enables additional
investigations into how localized tumors transform into metastatic disease by
David Livingston, MD, chair of the Dana-Farber Executive Committee for
Research and deputy director of Dana-Farber/Harvard Cancer Center; William
Kaelin Jr., MD; and Kornelia Polyak, MD, PhD. It supports the efforts of
Nancy Lin, MD, to find the optimal combination of drugs to treat cancer
that has metastasized to the brain and the research of Ursula Matulonis, MD,
medical director of the Gynecologic Oncology Program, and Charles Wang
into the implications of the genetic similarities between an aggressive subtype of
breast cancer and ovarian cancer.
"The value of BCRF's partnership in our studies is so important to the
progress we're seeing," said Judy Garber, MD, MPH, director of Dana-Farber's
Cancer Genetics and Prevention Center, whose research also receives funding
from the foundation. "It allows us to develop creative and novel projects—high
risk, but potentially high yield—that bring us ever closer to matching the best
treatment option to the characteristics of a patient's tumor—truly personalized
cancer medicine." ■
LEARN HOW YOU CAN SUPPORT THE JIMMY FUND THROUGH GOLF
GET ON THE
RIGHT COURSE
TO FIGHT CANCER®
JimmyFund.org/golf
12
Impact
SPRING 2011
Legacy of courage paves
the way for research funding
Why Every Step Counts
A
sports fan from Greensboro, N.C., Neil Maddux loved college basketball
and football, in her spare time learned to play golf, and also volunteered
with the Junior League to help underprivileged youth. After marrying
William Miller, her law school sweetheart, she created a life surrounded by her
best friends, her mother Carolyn, sister Meriwether, and brother-in-law Tanner.
Life seemed perfect for the 26-year-old aspiring lawyer.
In June 2007 Neil Maddux Miller was diagnosed with human epidermal growth
factor receptor 2 (HER2)-positive breast cancer, but Miller took this in stride. She
continued working full-time, finished law school, and passed the bar exam, all
while she was undergoing therapy. By late 2008 her cancer had reappeared.
Then the Millers met Eric Winer,
MD, director of Dana-Farber's
Breast Oncology Center at the
Susan F. Smith Center for Women's
Cancers, and Rachel Freedman,
MD, MPH, who was a fellow in
the Dana-Farber medical oncology
program at the time. The bond
between Miller and her providers at
Dana-Farber was immediate. From
that point forward she considered
Winer and Freedman her primary
The late Neil Maddux Miller, with her husband,
oncologists.
William Miller, inspired a gift that will propel breast
Despite everyone's best efforts,
cancer research in young women.
Miller passed away in August 2010.
To honor the fighting inspiration
she left behind, her family established the Neil Maddux Miller Breast Cancer
Research Fund with a gift of $100,000, managed under Winer.
"Neil was an amazing woman, determined to live as long as possible, and
equally committed to living each day as well as she could," said Winer.
"She had a great relationship with Drs. Winer and Freedman and trusted them
completely," said William Miller. "We consider it a blessing that Neil was in the
care of such wonderful people during her final days." ■
The Boston Marathon® Jimmy Fund Walk presented by Hyundai held its annual Extra
Mile Brunch, with nearly 700 attending. It was a morning of celebration where
Pacesetters (walkers who individually raised $1,000 or more), sponsors, top Team
Captains, and Walk Heroes were honored for their unwavering commitment to the
2010 Walk. The combined efforts of 8,400 walkers contributed to a record-setting
$6.5 million to benefit Dana-Farber.
Held at the Boston Marriott Copley Place Hotel March 27, the event featured remarks
by Stephen Sallan, MD, chief of staff at Dana-Farber and dedicated walker, who
described the breakthroughs made possible by walkers going the extra mile.
Sarah McHugh (above), captain of Team EmmaBelle, shared the inspiring story of her
4-year-old niece whose battle with neuroblastoma did not stop her from lacing up
her sneakers to join Sarah in the Walk last fall. Team EmmaBelle's 71 members raised
more than $40,000 in their inaugural year and plan to hit the pavement again this
year. To join them and register for the Sept. 18 Walk, visit JimmyFundWalk.org.
Uniting Against Lung Cancer
joins forces with Dana-Farber
researchers
L
1
3
&
0
3
AUGUST IDNIGHT
!
N
I
E
TUN
OM
6 A.M. T
R
E
C
N
UT CA
O
E
K
I
STR
CALL 877-738-1234 TO HELP STRIKE OUT CANCER
OR VISIT
JimmyFundRadioTelethon.org
ung cancer is the leading cause of cancer death worldwide. Millions of dollars
have been spent developing therapies that increase patient survival, yet even
the most successful have translated to extended survival of only a few months.
Uniting Against Lung Cancer (UALC), which aims to change these odds by
funding innovative and collaborative research and supporting promising young
investigators, recently awarded Dana-Farber's Heidi Greulich, PhD, and KwokKin Wong, MD, PhD, grants of $100,000 each to further their investigations of
therapies to battle this disease.
"Both are outstanding scientists, working on critical projects in lung cancer
research," said foundation Scientific Program Director Holli Kawadler. "Dr.
Greulich is finding new genes that cause non-small cell lung cancer to add to
our arsenal of targeted therapies against the disease, which is understudied and
underfunded. Dr. Wong will help us understand what causes the disease and lay
groundwork for new treatments. We are excited to see the results of their work
hopefully translate to the clinic."
"The grant will enable us to indentify novel oncogenes and therapeutic targets
for lung cancer through systematic experimental evaluation of genomic alterations
found by sequencing DNA from cancer patients," said Greulich. "I'm honored
that they have chosen to fund our work."
This funding from UALC, which has supported Wong's research in the past,
will allow his lab to build upon previous results.
"I am deeply appreciative of the UALC funding," said Wong. "It allows my lab
to study the mechanisms of pathogenesis in small cell lung cancer, an area which is
poorly understood." ■
Impact
SPRING 2011
13
Lupron Settlement continued from page 1
Lupron has proven effective, such as early-onset puberty. DF/HCC and PCF will
each administer research funds through their respective competitive grant programs.
PCF will steward $5 million of the funding to support, on a national basis, the best
scientific ideas for fast-forwarding new treatments and cures for prostate cancer.
"This was an historic decision and represents strategic use of these unclaimed
funds," said Jonathan Simons, MD, president and CEO of the Prostate Cancer
Foundation. "The court's decision as well as our partnership with DF/HCC will
benefit millions of American families for years to come."
The Prostate Cancer Foundation is the largest source of philanthropic support
for accelerating the world's most promising research for discovering better
treatments and cures for prostate cancer. Founded in 1993, the PCF has raised
more than $400 million and provided funding to more than 1,500 researchers at
nearly 200 institutions worldwide. Dana-Farber/Harvard Cancer Center is the
largest comprehensive cancer center in the world, bringing together the cancer
research efforts of our seven member institutions: Beth Israel Deaconess Medical
Center, Brigham and Women's Hospital, Children's Hospital Boston, Dana-Farber
Cancer Institute, Harvard Medical School, Harvard School of Public Health, and
Massachusetts General Hospital. ■
V Foundation funding shoots
for success
I
t was college basketball coaching legend Jim Valvano who said "Don't give up …
Don't ever give up!" Valvano was not only talking about the long odds he and
North Carolina State overcame to win the 1983 NCAA Basketball Championship, but also his personal battle against cancer. In 1993, Valvano, then an awardwinning broadcaster, teamed with
the cable television network ESPN to
establish The V Foundation for Cancer
Research with the hopes of eradicating cancer, the disease that ultimately
claimed Valvano's life. Since then, The
V Foundation has raised more than $100 million and awarded cancer research
grants in 38 states and the District of Columbia.
Today, The V Foundation assists promising cancer researchers with critical-stage
funding support and has recently awarded grants totaling $1.6 million to three
of Dana-Farber's most innovative investigators. Pediatric Oncology's A. Thomas
Look, MD, was awarded $1 million from The V Foundation's Designated Grants
program for his multidisciplinary and cross-institutional work in leukemia. The
grant was funded by the foundation's Wine Celebration event, inspired by, and in
honor of, leukemia survivor and V Foundation supporter Teri Kuhn, acclaimed
vintner of Pillar Rock Vineyards in Napa Valley. A Translational Grant of $600,000
was also given to DFCI's Nancy Lin, MD, and Kornelia Polyak, MD, PhD, a 2001
V Scholar grant recipient, for their pioneering research into breast cancer pathways.
"Since 1997, when the first V Foundation grant was presented to Dana-Farber, we
have awarded 15 grants to this outstanding institution," said V Foundation CEO Nick
Valvano. "We continue to be impressed by the dedication and high quality of research
conducted at DFCI. The V Foundation funding not only advances the careers of these
fine scientists, but it also accelerates findings to help patients more quickly."
TAKING AN IDEA "FROM BENCH TO BEDSIDE"
The Designated Grants program provides gifts to cancer facilities throughout the
country, with a flexibility that allows The V Foundation donors, along with guidance
from the foundation's Scientific Advisory Board, to choose the particular institutions
and types of research to fund. Look was awarded this grant for his research in acute
myeloid leukemia (AML) and acute promyelocytic leukemia (APL) in a project that
has the potential to revolutionize treatment of patients with these diseases. Together
with his colleagues, Look is poised to leverage a recent discovery that 40 percent
of patients with AML and APL have an aberrant activation of the MET receptor.
MET receptor activation leads to increased growth and survival of AML cells, and
this activity can be blocked using MET inhibitors, leading to AML cell death. Using
this funding, they are studying the mechanisms underlying clinical response to MET
inhibition to overcome drug resistance, while also investigating the combined use of
MET inhibitors with other promising AML therapies.
The V Foundation Translational Grant is designed to accelerate laboratory
findings, with the goal of getting treatments to patients faster. Lin and Polyak are
focusing on an insidious form of stem cell-like cancer cells across all breast cancer
subtypes, which have been shown to contribute to aggressive and invasive breast
cancer, breast cancer recurrence, and therapeutic resistance.
"A better understanding of this cell population and the molecular pathways
that drive and sustain it may help explain our inability to cure many patients
with conventional treatments," said Lin. "We are enormously grateful to
The V Foundation for its tireless support of Dana-Farber and its unwavering
commitment to defeating all forms of cancer." ■
14
Impact
SPRING 2011
Honoring birthdays with
a gift to help families
facing cancer
W
hen Paul Milbury was approaching a special birthday in 2008, his wife,
Heidi Lehner, honored him by establishing a fund through her family's
foundation to support Dana-Farber's Betty Ann Blum and Marjorie
Blum Pediatric Resource Room. This year, when a notable birthday came up for
Heidi, Paul continued their support by creating another fund, the Paul Milbury and
Heidi Lehner Endowed Fund for Pediatric Support Services, with a gift of $250,000.
The Blum Pediatric Resource Room provides young patients with the opportunity to take part in fun
activities with their peers and family members.
"We wanted to do something that would be impactful for people today,"
the couple said. "After visiting Dana-Farber and witnessing all of the wonderful
things the Institute is doing for patients and families, we are pleased to be able to
help, whether it is by providing something fun for kids or by easing the burden
of cancer for a family."
Building on their earlier support, this fund will aid Dana-Farber's pediatric
patients and their families in two important ways. First, it will provide monies
for the Blum Pediatric Resource Room, an exceptional place where patients and
families can participate in fun, educational programs such as cooking classes and
art activities. This fund will also provide support services, such as toiletries or
coupons to local restaurants, to parents of patients who have to stay longer than
expected for treatment.
"Paul and Heidi's generosity has already brought hundreds of smiles to
our very special children in the Jimmy Fund Clinic and to their parents," says
Martha Young, MS, CCLS, patient family education program manager. "Parents
are able to watch their children participate in fun activities, discover new talents,
and make new friends." ■
ER
B
M
E
T
EP
18
S
!
ODAY
T
R
E
T
REGIS
lk.org
a
W
d
Fun
Jimmy
To include Dana-Farber in your estate plans, contact us at 617-632-3756
Investing in cures for
a lifetime and beyond
L
ongtime Dana-Farber donor Marvin Fried truly understands what is valuable
in life—helping children and animals, rooting for the Boston Celtics, and the
pleasure of giving to others. The Boston native became particularly dedicated
to the Jimmy Fund in the late 1960s, when his only son, Scott, required brain
surgery for a tumor. Sadly, Scott ultimately passed away because of complications
from the operation.
In 2002, Fried took advantage of an opportunity that allowed him to combine
his passion for children with a commitment to giving; he established a charitable
gift annuity (CGA) at Dana-Farber.
Fried discovered that establishing
a CGA with Dana-Farber provided
him with a fixed income and tax
benefits, while also supporting
cancer research and patient care.
For Fried, this translated to
more than financial security; it
was assisting one of his favorite
charities. "I don't have any heirs,
so I want to leave what I have to
others," said Fried, a business owner
who retired 12 years ago.
Since then, Fried has been so
pleased with the gift vehicle that
he established five more CGAs
benefiting Dana-Farber, his sixth
was completed in November 2010.
"I'm truly a CGA man," said Fried.
"Charitable gift annuities are made
for me, because they allow me to
enjoy the sense of giving while I'm
Marvin Fried, dedicated to the Jimmy Fund for
alive, and I want to relish it while
decades, enjoys the satisfaction of giving through
I can." ■
charitable gift annuities.
Family hopes Magic Wand
Fund grants clinicians' wish
for new treatments
I
n the fall of 2009, Molly McKenna, a pretty, smart child, full of life and
curious about the world and its inhabitants, began experiencing weakness on
her left side. One month before her fifth birthday, Molly was diagnosed with
a low-grade glioma in her thalamus, the part of the brain that controls sensory
perception and regulation of motor
functions. Within a year, her tumor
revealed itself to be a glioblastoma—a
highly aggressive and deadly form of
brain cancer—and Molly lost her battle
shortly thereafter.
To honor Molly's memory and
to help find a cure for pediatric
glioblastoma, her parents, Mary Ellen
and Timothy McKenna, pledged
$100,000 to establish the Molly
McKenna Magic Wand Fund to support
Mary Ellen and Timothy McKenna honor the
Mark Kieran, MD, PhD, medical
memory of their daughter, Molly, with a gift to
director of Dana-Farber's Pediatric
advance research into pediatric brain tumors.
Medical Neuro-Oncology department.
"This fund is about hope," said
Mary Ellen McKenna. "We hope this support is Dr. Kieran's magic wand to find a
cure to prevent another child from experiencing what Molly did and another set of
parents from having to lose a child."
Pediatric brain tumors remain significantly under-researched compared to other
forms of cancer. This is largely due to the small population of patients, resulting
in a lack of testable tissue samples, coupled with resistance by drug companies to
launch studies involving children.
"Much of the progress we have achieved to date in pediatric brain tumor
research is because of parents like the McKennas taking up the cause," said Kieran.
"Molly was a brave and wonderful child, and her legacy brings us closer to lesstoxic, more effective treatments for all types of gliomas." ■
Pleasing Palates with Helpings of Hope
More than 350 local epicureans and members of the Dana-Farber community joined
together March 3 to indulge in delicacies at the 13th annual Chefs Cooking for Hope
event. Hosted by Friends of Dana-Farber Cancer Institute, the evening raised nearly
$50,000 to support innovative research and expert, compassionate care at DFCI.
Friends' Board Members and Chefs Cooking for Hope Co-chairs (from left) Lesley Prowda,
Nikki Lank Bialow, and Lisa London were pleased to welcome Mary Dumont of Harvard
Square's Harvest as the evening's Honorary Chef. A participant on the Food Network's
Iron Chef America and The Next Iron Chef, Dumont charmed the crowd with her maple
bacon cotton candy.
From lobster bisque and truffled cheeses to lamb chops and a smorgasbord of cupcakes,
the atrium at 125 High Street in downtown Boston was filled with the finest of fare
and libations, all generously prepared and provided by 50 of Boston's top caterers and
restaurants, including Rialto, Mooo, and Woodward.
Join our fight
against cancer.
Establish a Charitable Gift Annuity (CGA) at Dana-Farber Cancer
Institute. In return, Dana-Farber will pay you a fixed income for
life, a portion of which is tax-free. Your gift of cash or securities
creates an opportunity like no other: to aid in our lifesaving
mission while receiving a guaranteed rate of return for the rest
of your life.
To learn more, please contact Alice Tobin Zaff at
800-535-5577 or e-mail Alice_Zaff@dfci.harvard.edu
Impact
SPRING 2011
15
Impact
SPRING 2011
Dana-Farber Cancer Institute
Division of Development & The Jimmy Fund
10 Brookline Place West, 6th Floor
Brookline, MA 02445-7226
dana-farber.org and jimmyfund.org
Non-profit Org.
U.S. Postage
PAID
Dana-Farber
THANKING THOSE WHO MAKE A DIFFERENCE.
ELECTRONIC SERVICE REQUESTED
Boston Red Sox shortstop Jed Lowrie had fun with
Jessica Crane during a visit to the Jimmy Fund Clinic
in May.
JULY
15-16
Swim Across America
Dive in and support the David
B. Perini, Jr. Quality of Life
Clinic at Dana-Farber. The
Boston Harbor Island Swim is
a 22-mile, relay event on July
15. Swimmers age 12 and
older can come to Nantasket Beach for a half-mile
recreational swim or one-mile
competitive swim July 16. Visit swimacrossamerica.org or
contact Dana Kelly at dana_kelly@dfci.harvard.edu.
16-17
Mass Dash
Lace up your sneakers and create a team of six to 36 runners
to embark on this 200-mile, non-stop relay across the state
of Massachusetts. Beginning in the Berkshires and ending in
Boston, this second annual event was established in memory
of Dana-Farber patient Neal Webber. To learn about the
relay route and start a team, visit massdashrelay.org.
6-7
Join more than 5,000 cyclists as they
race across the Commonwealth in
support of the fight against cancer.
This 32nd annual bike-a-thon has
raised an amazing $303 million
for the Jimmy Fund. To learn more
about registering or supporting a
rider, visit pmc.org.
14
AUGUST
5
Joe Cronin Memorial
Fishing Tournament
Cast a line for the heaviest bluefish off Nauticus Marina in
Osterville, Mass., and help the Jimmy Fund reel in funds
for cancer research and care. This 18th annual tournament
honors the life of Joe Cronin, former Boston Red Sox great
and American League president. For more information, visit
joecroninfishing.com.
18
WEEI/NESN Jimmy Fund
Radio-Telethon
Tune in to WEEI Sports
Radio Network and New
England Sports Network
(NESN) for this 36-hour
broadcast live from Fenway
Park. Listen along with
Red Sox Nation as DanaFarber patients, doctors,
and staff, as well as celebrity guests and Red Sox players,
share inspiring stories. To learn more or volunteer, visit
JimmyFundRadioTelethon.org.
Boston Marathon® Jimmy Fund Walk
presented by Hyundai
Join thousands of walkers and go
the extra mile to conquer cancer
at this 23rd annual event. Choose
from four routes, from the 26.2mile Boston Marathon course
to a three-mile walk. Register,
volunteer, or support a walker at
JimmyFundWalk.org.
Falmouth Road Race
Runner's World, Fitness, Life, and Sports Illustrated have
all called it one of the best races in the country. Join DanaFarber's official team for this seven-mile race that stretches
from Woods Hole, alongside Martha's Vineyard Sound, to
the beach in Falmouth Heights. To learn more or join our
team, visit RunDanaFarber.org/Falmouth.
30-31
SEPTEMBER
Pan-Massachusetts Challenge (PMC)
OCTOBER
9
Catamount Classic –
Lacrosse for a Cure
Lacrosse teams from the Northeast will compete at
this fourth annual tournament, which raises vital funds
for cancer research at Dana-Farber. To learn more, visit
catamountclassic.com.
9
B.A.A. Half Marathon®
Race through the parks of Boston's Emerald Necklace toward
the ultimate finish line: a world without cancer. To learn more,
visit RunDanaFarber.org/baahalf.
15-16 An Evening with Champions
The Jimmy Fund partners with Harvard University to
bring world-class ice skaters to express their artistry
and athletic ability before an audience of all ages. Visit
aneveningwithchampions.org to learn more.
For more information on all Jimmy Fund and Dana-Farber events, go to jimmyfund.org or dana-farber.org.