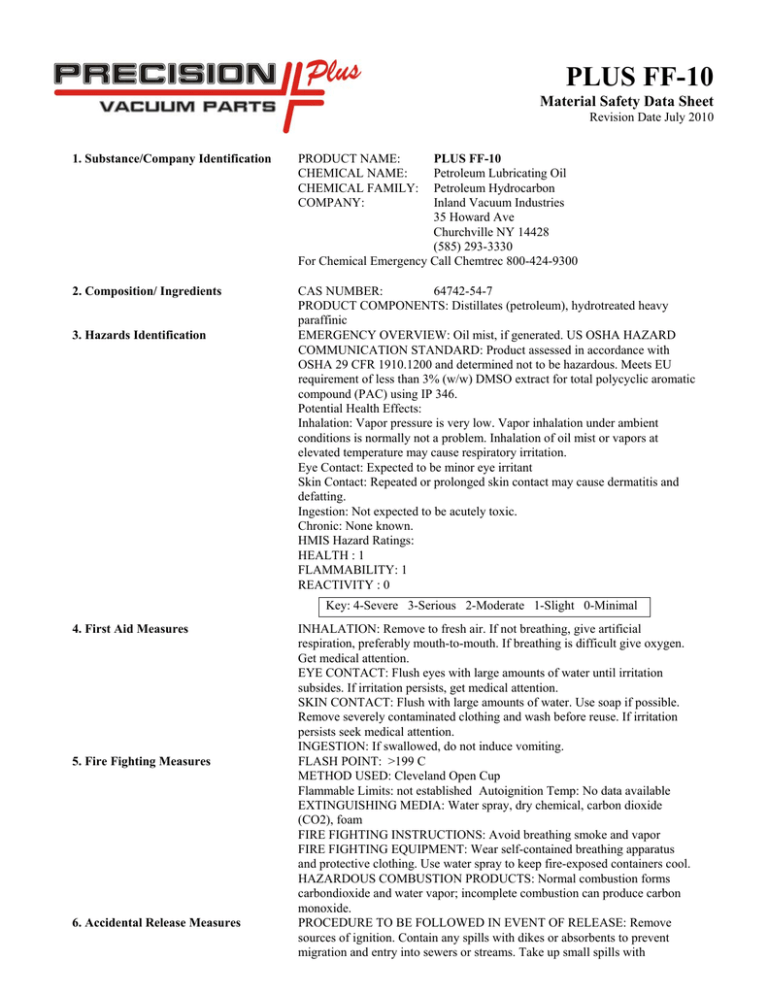 PLUS FF-10
Material Safety Data Sheet
Revision Date July 2010
1. Substance/Company Identification
PRODUCT NAME:
CHEMICAL NAME:
CHEMICAL FAMILY:
COMPANY:
2. Composition/ Ingredients
CAS NUMBER:
64742-54-7
PRODUCT COMPONENTS: Distillates (petroleum), hydrotreated heavy
paraffinic
EMERGENCY OVERVIEW: Oil mist, if generated. US OSHA HAZARD
COMMUNICATION STANDARD: Product assessed in accordance with
OSHA 29 CFR 1910.1200 and determined not to be hazardous. Meets EU
requirement of less than 3% (w/w) DMSO extract for total polycyclic aromatic
compound (PAC) using IP 346.
Potential Health Effects:
Inhalation: Vapor pressure is very low. Vapor inhalation under ambient
conditions is normally not a problem. Inhalation of oil mist or vapors at
elevated temperature may cause respiratory irritation.
Eye Contact: Expected to be minor eye irritant
Skin Contact: Repeated or prolonged skin contact may cause dermatitis and
defatting.
Ingestion: Not expected to be acutely toxic.
Chronic: None known.
HMIS Hazard Ratings:
HEALTH : 1
FLAMMABILITY: 1
REACTIVITY : 0
3. Hazards Identification
PLUS FF-10
Petroleum Lubricating Oil
Petroleum Hydrocarbon
Inland Vacuum Industries
35 Howard Ave
Churchville NY 14428
(585) 293-3330
For Chemical Emergency Call Chemtrec 800-424-9300
Key: 4-Severe 3-Serious 2-Moderate 1-Slight 0-Minimal
4. First Aid Measures
5. Fire Fighting Measures
6. Accidental Release Measures
INHALATION: Remove to fresh air. If not breathing, give artificial
respiration, preferably mouth-to-mouth. If breathing is difficult give oxygen.
Get medical attention.
EYE CONTACT: Flush eyes with large amounts of water until irritation
subsides. If irritation persists, get medical attention.
SKIN CONTACT: Flush with large amounts of water. Use soap if possible.
Remove severely contaminated clothing and wash before reuse. If irritation
persists seek medical attention.
INGESTION: If swallowed, do not induce vomiting.
FLASH POINT: >199 C
METHOD USED: Cleveland Open Cup
Flammable Limits: not established Autoignition Temp: No data available
EXTINGUISHING MEDIA: Water spray, dry chemical, carbon dioxide
(CO2), foam
FIRE FIGHTING INSTRUCTIONS: Avoid breathing smoke and vapor
FIRE FIGHTING EQUIPMENT: Wear self-contained breathing apparatus
and protective clothing. Use water spray to keep fire-exposed containers cool.
HAZARDOUS COMBUSTION PRODUCTS: Normal combustion forms
carbondioxide and water vapor; incomplete combustion can produce carbon
monoxide.
PROCEDURE TO BE FOLLOWED IN EVENT OF RELEASE: Remove
sources of ignition. Contain any spills with dikes or absorbents to prevent
migration and entry into sewers or streams. Take up small spills with
PLUS FF-10
Page 2
absorbent pads. Large spills may be taken up with pump or vacuum.
7. Handling and Storage
GENERAL: Keep container closed. Store in a cool, well ventilated place.
Keep away from heat, sparks and flame. Empty containers may contain
residues.
STORAGE TEMPERATURE: Ambient
STORAGE PRESSURE: Atmospheric
8. Exposure Controls/Personal Protection EXPOSURE LIMITS: Oil mist if generated: TLV (ACGIH) 5mg/m3-8hr
TWA, STEL (ACGIH) 10mg/m3, PEL (OSHA) 5 mg/m3-8hr TWA
VENTILATION: Good ventilation at source of vapor
PERSONAL PROTECTION: For open systems where contact is likely, wear
safety glasses with side shields, long sleeves and chemical resistant gloves.
9. Physical & Chemical Properties
PHYSICAL STATE: Liquid
VAPOR PRESSURE: < .0001 Torr @ 25C
BOILING POINT: 112 C @ .01 torr
EVAPORATION RATE (n-Bu Acetate = 1): Nil
VAPOR DENSITY: approximately 14
VOC: NA
SPECIFIC GRAVITY: 0.85
VISCOSITY: 28cst @ 40 C
SOLUBILITY IN WATER: Nil
APPEARANCE: Reddish tint viscous liquid with a faint
petroleum odor.
10. Stability & Reactivity
11. Toxicological Information
12. Ecological Information
13. Disposal Considerations
14. Transport Classification
STABILITY: Stable under normal temperatures and pressures
CONDITIONS TO AVOID: None known
INCOMPATIBILITY (MATERIALS TO AVOID): Strong oxidizing agents
HAZARDOUS POLYMERIZATION: Will not occur
HAZARDOUS DECOMPOSITION: None
Oral Toxicity (rats): Practically non-toxic (LD50: greater than 2000 mg/kg)
Dermal Toxicity (rabbits): Practically non-toxic (LD50: greater than 2000
mg/kg)
Inhalation Toxicity (rats): Practically non-toxic (LC50: greater than 5 mg/l)
Eye Irritation (rabbits): Practically non-irritating. (Draize score: greater than 6
but 15 or less)
Skin Irritation (rabbits): Practically non-irritating. (Primary Irritation Index: >
than 0.5 but less than 3)
Chronic Toxicology: Product not classified as a carcinogen. It contains less
than .3% w/w DMSO extract as measured by IP-346.
Ecotoxicity: No data available
Environmental Fate: This material is not expected to present any
environmental problems other than those associated with oil spills.
This product is not regulated by CERCLA/RCRA as a hazardous waste or
material. Therefore, it may be disposed of as an industrial waste in a manner
acceptable to good waste management practice and in compliance with
applicable local, state and federal regulations.
Product and packaging must be disposed of in accordance with Federal,
State and local regulations.
DOT:
Description Proper Shipping Name: Not regulated
Hazard class: Not regulated
ID Number: Not Regulated
Packing Group: Not regulated
Special Information: Not Applicable.
IMO:
Proper Shipping Name: Not regulated
Hazard Class: Not regulated
Packing Group: Not Applicable
Special Information: Not applicable
IMO Label: Not applicable
Shipping Containers: Not applicable
PLUS FF-10
15. Regulatory Information
16. Other Information
Page3
TSCA: This material is in compliance with the TOXIC SUBSTANCE
CONTROL ACT (15 USC 2601-2629) and is listed in the TSCA Inventory.
HAZARD CATEGORIES FOR SARA 311/312 REPORTING
HEALTH
Immediate (Acute)
No
HEALTH
Delayed (Chronic)
No
PHYSICAL
Fire
No
PHYSICAL
Sudden release of pressure
No
PHYSICAL
Reactive
No
PHYSICAL
Nuisance Mist/ Dust Only
No
01=SARA 313
11=NJRTK
21=TSCA Sect 5(a)(2)
02=MASS RTK
12=CERCLA 302.4
22=TSCA Sect 6
03=NTP Carcinogen
13=MN RTK
23=TSCA Sect 12(b)
04=CA Prop 65-Carcin 14=ACGIM TWA
24=TSCA Sect 8(a)
05=CAProp65-ReproTox 15=ACGIH STEL
25=TSCA Sect 8(d)
06=IARC Group 1
16=ACGIH Calc TLV
26=TSCA Sect 4(a)
07=IARC Group 2A
17=OSHA PEL
27=Canadian WHMIS
08=IARC Group 2B
18=DOT Marine Pollutant 28=OSHA CEILING
09=SARA 302/304
20=EPA Carcinogen
10=PA RTK
The following components of this material are found on the regulatory lists
indicated.
DISTILLATES, HYDROTREATED HEAVY PARAFFINIC
Is found on lists: 14,15,17
NEW JERSEY RTK CLASSIFICATION:
Under the New Jersey Right-to-Know Act L. 1983 Chapter 315 N.J.S.A.
34:5A-1 et.seq., the product is to be identified as follows:
PETROLEUM OIL
The information on this form is furnished solely for the purpose of compliance
with the OSHA Act, and shall not be used for any other purpose. The
information herein is given in good faith and is based on data considered
accurate. However, no warranty, expressed or implied, is made regarding the
accuracy of these data or the results to be obtained from the use thereof.