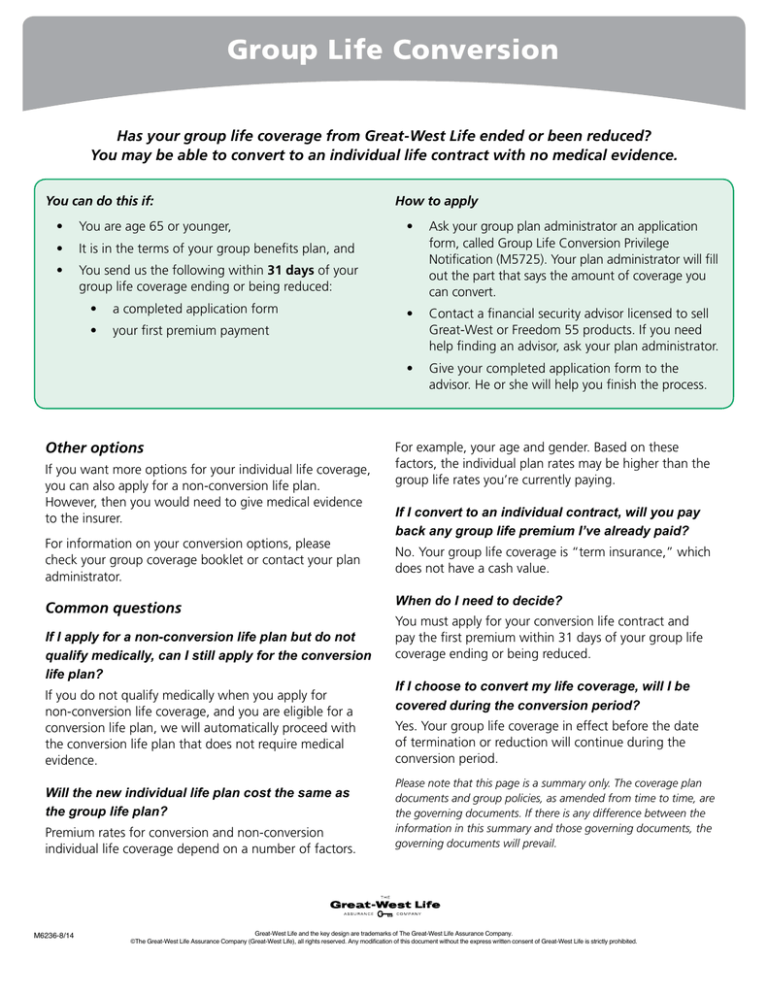 Group Life Conversion
Has your group life coverage from Great-West Life ended or been reduced?
You may be able to convert to an individual life contract with no medical evidence.
You can do this if:
• You are age 65 or younger,
• It is in the terms of your group benefits plan, and
• You send us the following within 31 days of your
group life coverage ending or being reduced:
• a completed application form
• your first premium payment
How to apply
• Ask your group plan administrator an application
form, called Group Life Conversion Privilege
Notification (M5725). Your plan administrator will fill
out the part that says the amount of coverage you
can convert.
• Contact a financial security advisor licensed to sell
Great-West or Freedom 55 products. If you need
help finding an advisor, ask your plan administrator.
• Give your completed application form to the
advisor. He or she will help you finish the process.
Other options
If you want more options for your individual life coverage,
you can also apply for a non-conversion life plan.
However, then you would need to give medical evidence
to the insurer.
For information on your conversion options, please
check your group coverage booklet or contact your plan
administrator.
Common questions
If I apply for a non-conversion life plan but do not
qualify medically, can I still apply for the conversion
life plan?
If you do not qualify medically when you apply for
non-conversion life coverage, and you are eligible for a
conversion life plan, we will automatically proceed with
the conversion life plan that does not require medical
evidence.
Will the new individual life plan cost the same as
the group life plan?
Premium rates for conversion and non-conversion
individual life coverage depend on a number of factors.
M6236-8/14
For example, your age and gender. Based on these
factors, the individual plan rates may be higher than the
group life rates you're currently paying.
If I convert to an individual contract, will you pay
back any group life premium I've already paid?
No. Your group life coverage is "term insurance," which
does not have a cash value.
When do I need to decide?
You must apply for your conversion life contract and
pay the first premium within 31 days of your group life
coverage ending or being reduced.
If I choose to convert my life coverage, will I be
covered during the conversion period?
Yes. Your group life coverage in effect before the date
of termination or reduction will continue during the
conversion period.
Please note that this page is a summary only. The coverage plan
documents and group policies, as amended from time to time, are
the governing documents. If there is any difference between the
information in this summary and those governing documents, the
governing documents will prevail.
Great-West Life and the key design are trademarks of The Great-West Life Assurance Company.
©The Great-West Life Assurance Company (Great-West Life), all rights reserved. Any modification of this document without the express written consent of Great-West Life is strictly prohibited.