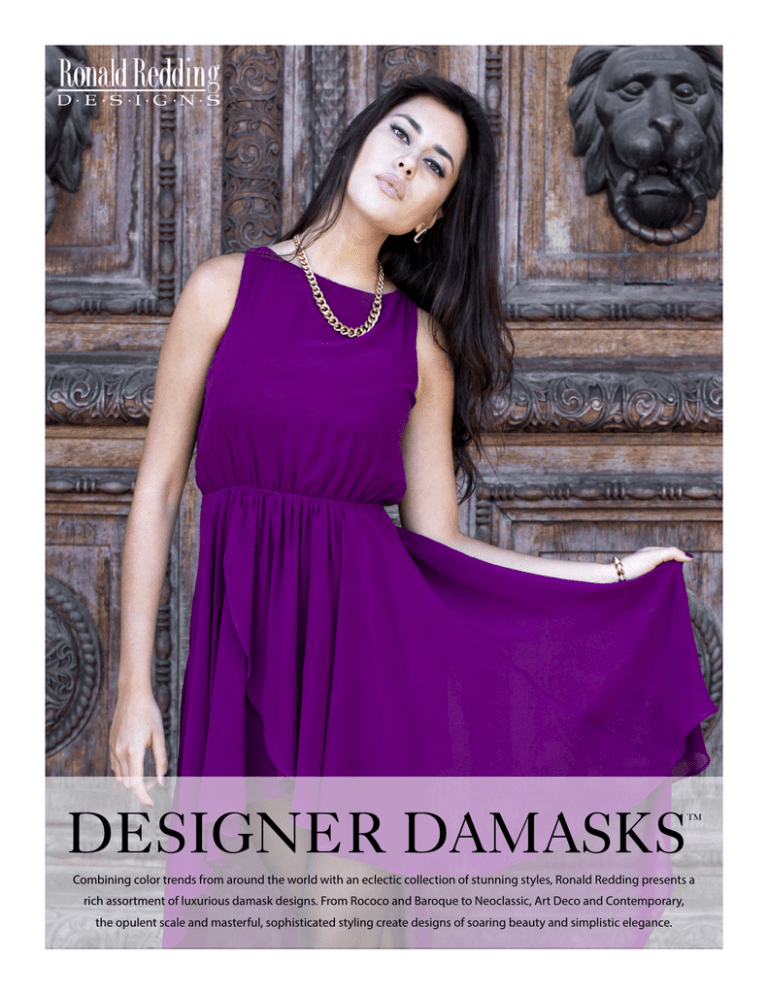 DESIGNER DAMASKS
TM
Combining color trends from around the world with an eclectic collection of stunning styles, Ronald Redding presents a
rich assortment of luxurious damask designs. From Rococo and Baroque to Neoclassic, Art Deco and Contemporary,
the opulent scale and masterful, sophisticated styling create designs of soaring beauty and simplistic elegance.
ANDALUCÍA
Spectacular design, visual texture, and metallic elements make this large
damask print a beauty inspired by the many cultures of Southern Spain.
The ground looks woven, like an aged textile, and the medallions, fleurde-lis, and scrollwork are brightened with flecks of metallic ink. Rich
enough for a palace, this wallpaper would make an amazing statement
in a present day home. The assortment of five includes beige with
orchid, cream with gold, and the riveting gold with turquoise. Combine
with Whitaker for a complete decorator project.
PARCHMENT
Heavily textured with a crosshatch pattern and mottled clouds of hazy
color this design is printed on a softly glowing field. The wallpaper
pattern could be taken for a wood grain or a fibrous woven design and
thus has an organic appeal. The three possible color combinations are
taupe, beige, or grey… each with the soft sheen of silver. Use it with
Monte Christo for maximum effect.
GRAND PALAIS
Magnifique…with a Parisienne accent! Suitable for a palace, this damask
is a modified ogee design in an imposing format. Within the capacious
urn-shaped frames, composed of curling leaves, are stunningly ornate
floral medallions. Of the five distressed palettes four feature a metallic
sheen on the pattern, while the sixth has a chalk white design on a field
of pearlescent gold. Some of the selections are sea glass blue with
gold, mink with silver, and red with gold. The handsome companion
wallpaper is Wembly, in similar glowing colors.
WEMBLY
Rich simplicity; it's not a contradiction. The term applies to this
handsome wallpaper wherein constraint of design and the glow of
metallic inks combine in a pattern with the appearance of an antique
textile or aged castle wall. The assortment of six refined color ways
includes light caramel with gold, mustard, or glint, a taupe and gold
mélange. Each has a lovely counterpart in Grand Palais.
CHALFONT
Is it an imposter or the real thing? It looks like a heavy fabric or grass
cloth. It feels like a heavy fabric or grass cloth. But it is not an imposter.
It's a beautifully textured wallpaper to bring the look of textile to your
walls. In addition to the appearance of woven fibers, there is a gentle
sheen to some of the colors. It can be used alone, of course, but the
quartet of neutral shades work beautifully with more prominent designs
like Escala or Granville. Select from gold, beige, khaki, or cream.
MONTE CRISTO
An elongated quatrefoil is graced with an elaborate design like filigree
on a precious piece of jewelry. The intricate center of the frame is
embossed with metallic glitter. Large in scale, with open spaces
and a pronounced wood-like texture, the pattern could have been
hand painted on an aged wall. An assortment of six captivating color
combinations include off white with ribbons of sheen and silver glitter
or rich cream with glimmering gold and aquamarine. Its intended
partner is Woodgrain Texture in suitable hues.
OASIS
Like an oasis in the heat of an unforgiving desert, this soothing design
offers a respite for the eye. Delicate texture with the inclusion of tiny
fibers give this pattern the look of hand-crafted paper. The assortment
of five hues is subtle yet achieves a subdued richness in shades such as
cool glacier blue or deep dark platinum. With the same lovely fibrous
treatment and compatible colors as Mikado, these wallpapers were born
to be together.
MIKADO
"The sun, whose rays are all ablaze…" This lyric from the Gilbert and
Sullivan opera, Mikado, could describe this delightful wallcovering ablaze
with glass beads. The delicate and lacy ogee pattern, in a medium scale,
is set upon a field with the fibrous look of handmade paper. This lovely
pattern is also available without the beads but with glowing metallic or
matte inks on a cross hatched ground with the look of fabric. To complete
the project use Oasis in made-to-match colors.
MARQUETTE
Large, lovely filigree circles roll across a solid background with horizontal
streaks adding additional texture to this unique design. Twenty inches
in diameter, on some of the five selections the wheels of lacy fretwork
are printed in metallic inks while on all five the irregular banding has a
glimmering finish and a muted vertical ombre stripe. Select from pale
blue with cream and silver or lavender with silver and soft gold. The
companion wallpaper is Prado.
PRADO
Richly textured, entrancing coloration, intriguing design, this wallpaper
has irregular horizontal ribbons with a glimmer of precious metal to catch
the light and the eye. The raised streaks float across a solid field and are
highlighted by the reflective embellishment. As a result the paper has a
soft vertical ombre stripe. There are six palettes including pale fog grey
with dove grey and silver sheen or rich cream with medium grey and
golden glow. For a marvelous combination, use with Marquette.
ESCALA
Viva Escala! Large and lovely, this pattern is in a celebratory mood.
Sixteen inches tall, the strawberry shaped medallions look a bit like
fireworks bursting in the sky and cascading to earth. A bit whimsical and
a touch lighthearted, this delightful flower centered design would be
an exciting addition to most any décor. The design is composed of dots
and tear drops on a lightly textured field resembling cloth, some with
metallic ink. Among the six palettes you'll find sea glass blue or lime
green with chalk white or citron with bright silver. Use in tandem with
Chalfont in appropriate hues.
CASABLANCA
Inspired by Aubrey Beardsley and the innovators of the Art Nouveau
movement, this large scale curvilinear design features oversized
lotus blossoms with stylized tulips and sinuous reaching limbs. The
background comes in a myriad of breath-taking colors. The fantastic
plant life is done in gleaming metallic inks; the overall finish, a look of
finest woven nearly-sheer linen. Among the assortment of seven is
elegant lavender with soft gold, deep aubergine with bright gold, or
an ethereal grey/green base with a green/gold pattern. This wallpaper
works beautifully with Cinnabar Stripe in similar hues.
BOXHILL STRIPE
Meticulous, tailored, regimented… this disciplined stripe pattern is
quietly elegant and refined. The vertical bands range from pinstripes
to more than three inches in width, sometimes grouped and sometimes
single. The tonal artistry and slubbed background lend an appearance
of texture and occasional metallic inks lend a touch of sheen. The four
available color ways include your choice of pearl, beiges, khaki, or taupe
each with gold and each compatible with Granville.
CINNABAR STRIPE
One of the loveliest stripes ever, this wallpaper makes one think of
overlapping layers of the finest semi-sheer linen possible. The subtle
shading and intermittent sheen in color of stripes, ranging from nearly
a foot to several inches in width, gives an ombre appearance and depth
reminiscent of the Art Deco period or the 1920's; eras for exciting new
design ventures. This handsome wallpaper is elegant in a tailored mode
and quite appropriate for contemporary décor. There are six palettes
including gold with lavender, rust with gold, or soft gold with grey/
green. Use it along with Casablanca.
CHARLESTON
As gracious as its namesake, Charleston possesses the rich elegance
of the Grande Dame of the American South. Massive intricate urn
medallions run vertically and alternate horizontally with lush bouquets
of fruit and flowers. The background appears to be time-worn antique
velvet with a soft reflective sheen while the intricate raised ogee
and floral spray design resembles flocking. Exquisite precious metal
backgrounds shimmer softly with one exception, a remarkably vivid
matte pink with an overlay of creamy beige, also matte. Marry this
wallpaper with Whitaker in compatible hues for a beautiful pairing.
WHITAKER
With the warmth and grace of time-worn velvet, this wallpaper appears
to retain a touch of sheen from yesteryear. In actuality this is a current
artistic endeavor that only appears to be a rich textile from the past.
There are five glowing shades with clouds of matte inks to add that look
of antiquity and depth of design. The hues include silver, dark mustard,
or new gold and two more, all of which mix and match with the lovely
Charleston or Andalucía.
GRANVILLE
A mesmerizing design, this dazzling damask is an artistic triumph. The
masterful artwork takes a large scale ogee pattern and elaborates on it
with intricate stylized botanical elements incorporating metallic gleam
on a lightly speckled ground. There is nothing spare about this pattern.
It is an overall modern interpretation of the rococo period of France that
is available in both neutral and arresting colors. The six selections offer
dark blue with teal and gold, vivid red with gold, or grey/green with gold
and three more. This ornate wallcovering has a flattering companion in
Boxhill Stripe or Chalfont.