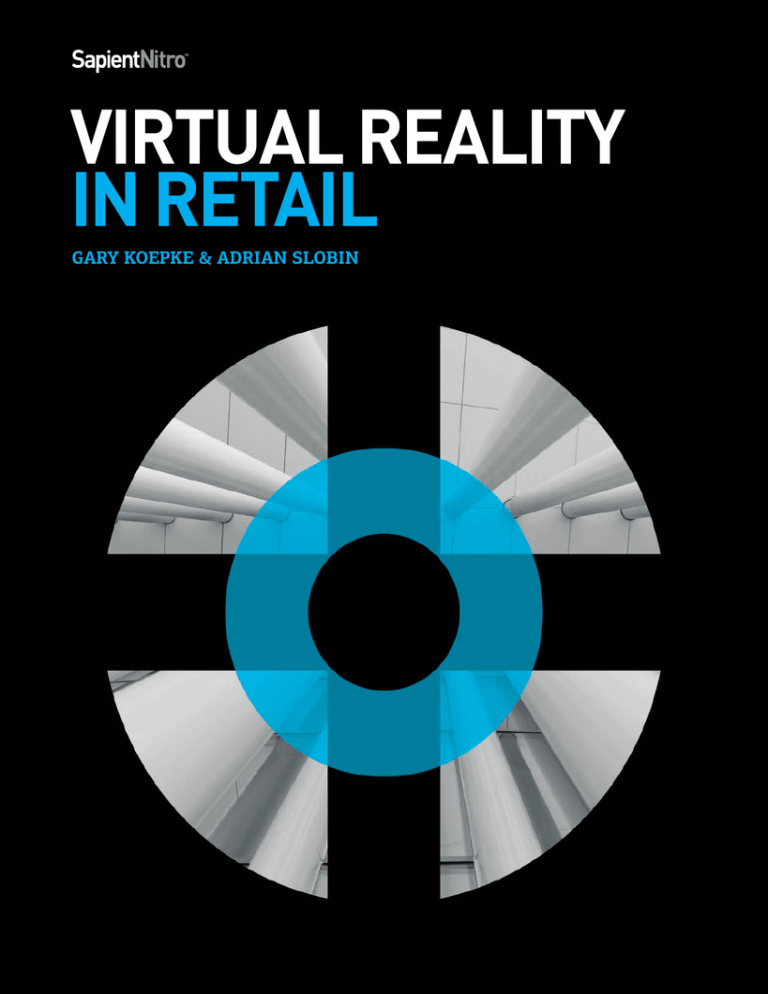 VIRTUAL REALITY
IN RETAIL
GARY KOEPKE & ADRIAN SLOBIN
Virtual reality (VR) is in the midst of a
rebirth. A new set of enabling technologies – including faster processor
speeds and higher-resolution graphics
– are driving a second wave of adoption
and experimentation. The result will
be a transformative technology that
reaches far beyond gaming to reshape
multiple industries, from retail to travel
to hospitality.
One of the most significant opportunities, we believe, is in the retail space.
When Retail Meets VR
We believe virtual reality is going to
fundamentally transform the human
experience of shopping and, in doing
so, lift sales for those retailers who get
ahead of the curve.
Brands have an opportunity to stake
out an innovation leadership position by
building custom virtual reality experiences
that engage customers beyond physical
and digital brand experiences. We call
this v-commerce. V-commerce will be
the next evolution of e-commerce,
as retailers and brands create fully
immersive, contextual shopping
experiences that go beyond the flat
world of 2-D e-commerce.
Along with the inherent excitement it
fosters, virtual reality adds an enticing
layer of information and comfort to the
e-commerce experience. Consumers
can be presented with a range of data
regarding the products or services they
are about to purchase, complemented
by their ability to step into the future
– into their future selves with said
products and services.
With virtual reality removing the barrier
of too little information or interaction,
consumers are likely to develop a
confidence in their purchases that then
translates into increased comfort with
(and affinity toward) the brand providing such distinct experiences. They
are more likely to reach the renowned
euphoric state of discovering a great
buy, one that they not only wish to
brag about, but will also remember and
come back for.
Facebook. "Mark Zuckerberg Post." https://www.facebook.com/zuck/posts/10101319050523971.
1
TRENDS AT THE INTERSECTION OF TECHNOLOGY & STORY
One day, we
believe this kind
of immersive,
augmented reality
will become a part
of daily life for
billions of people.
- Mark Zuckerberg
Announcing his $2B, 2014
acquisition of Oculus Rift.1
Potential applications
Even though widespread mobile adoption still feels a bit distant (see Figure
1), we're already seeing opportunity
areas for major brands in v-commerce.
By building a customized virtual reality
show world, sports apparel and equipment brands like Nike, Adidas, or New
Balance have the potential to show
their consumers how workout apparel
moves on an athlete's body, or how a
famous golfer tests out clubs. In the
world of VR, consumers can immerse
themselves into the story of a sports
product, discover where the leather
from a basketball is made, or learn
how to use a specific piece of workout
equipment from a top athlete.
Home improvement retailers such as
Home Depot or Ace Hardware can
create experiences that allow consumers to try power tools, experience
different lighting and landscapes, or
even see how their kitchen will look
after a $20,000 renovation versus a
$50,000 renovation.
Outdoor gear retailers such as REI,
North Face, or L.L. Bean can create a
show world that allows consumers to
see what that new tent looks like all set
up on a camping excursion. They can
climb inside, manipulate the weather
conditions, and test the gear with
other products.
FIGURE01
The future of VR adoption
Within the next 12 months, VR enabled mobile devices will be announced by every major smartphone manufacturer.
In 3 to 5 years, we anticipate full adoption.
WE ARE HERE
TODAY
1-2 YEARS OUT
VR ADOPTION
FULL MOBILE ADOPTION
IN-HOME AND MOBILE ADOPTION
Sixense VR
Sixense VR
Sixense VR
Mobile Phones
Samsung Gear VR
Google Cardboard
Valve/HTC Vive Dev Kits
Facebook/Oculus Rift Dev Kits
Sony Morpheus Dev Kits
All Smartphones
Samsung Gear VR
Google Cardboard
Oculus Crescent Bay
Valve/HTC Vive
Sony Morpheus
Razer OSVR
All Smartphones
Samsung Gear VR
Google Cardboard
Oculus Crescent Bay
Valve/HTC Vive
Sony Morpheus
Razer OSVR
Microsoft Hololens
Magic Leap
Apple VR
Samsung Milk VR
Facebook 3600
YouTube 3600
Samsung Milk VR
Facebook 3600
YouTube 3600
3-5 YEARS OUT
Samsung Milk VR
Facebook 3600
YouTube 3600
TRENDS AT THE INTERSECTION OF TECHNOLOGY & STORY
Toy retailers such as American Girl can
transport their consumers to the civil
war era when their American Girl doll
lived, while Disney can send consumers to the ice wonderland of the
popular animated movie, Frozen.
In the future of mass virtual reality
adoption, mobile-heavy flash retailers
like Gilt Group or Groupon can prompt
users to grab their headsets and enter
an immersive experience to purchase
limited edition products, swipe through
options, see how items fit on a mannequin, see how products complement
each other, or learn details about
designers. For services, consumers can
step into a show world that simulates
what a spa may look like before they
decide to purchase the experience.
The opportunities are there for anyone
looking to tell their story in a more
intimate and personal way. From travel
to automotive, real estate to sporting
events, the potential is nearly limitless.
Other interesting developments
There have been a number of other
recent developments enabling the
development of v-commerce at scale.
Facebook and YouTube are
now supporting 360 video
Facebook and YouTube have opened their platforms to 360-degree
video, and consumers now have
access to affordable 360 cameras
such as the Ricoh Theta and Kodak
SP360. Furthermore, widespread
drone usage enables soaring vistas.
the next eighteen months, expect
to see an explosion of 360 content
of widely varying quality – with creators now having a place to put it.
Further investments in mixed
reality platforms
With the launch of Microsoft's HoloLens, mixed reality or augmented
reality platforms are showing some
signs of life, even with the shutdown of Google Glass.
Creation of developer ecosystems
We're already seeing signs that VR
companies are investing in developer ecosystems. Oculus, among
others, has a robust developer
program. Look for continued investment from Samsung, Google, and
Facebook into nurturing the VR
developer ecosystem. Perhaps
more than any other factor, the
success of VR will depend on its
developers and world creators.
FIGURE02
Merrell ran a VR experience at the Sundance Film Festival to highlight the
traction of Merrell's new Capra hiking boot. The experience took visitors to the
Dolomites, a mountainous region in Italy, and allowed them to walk through the
region, cross a rope bridge over a chasm, and walk along a rock wall.2
For agencies and brands already
shooting TV and digital content, it
is a small step to 360 degree and
then into VR. The bottom line: Over
Merrell. "Inspiring Awesome Experiences in Park City at Sundance." http://blog.merrell.com/us/en/events/inspiring-awesome-experiences-park-city-sundance/.
2
TRENDS AT THE INTERSECTION OF TECHNOLOGY & STORY
Actions to be taken now
For retailers looking to stay ahead of
the curve, there are three actions they
should take soon.
Start testing − and playing
For most retailers, the appropriate
focus in VR is on testing and learning how to create great, original
experiences in these new worlds.
Apart from maintaining a purview
over notable use cases, retailers
should look toward their consumers
and identify ways in which their
shopping experiences could benefit
from VR. The next step is finding
the appropriate partners for testing
those hypotheses, assessing the
results, and iterating along the way.
Leading retail brands should be in
the test-and-learn phase now, so
that when full adoption arrives in
three to five years, they will already
have this platform in place (for both
in-store and v-commerce).
A focus on mobile adoption
The immediate opportunity in VR
is mobile adoption, so place VR on
your mobile roadmaps.
Evaluate your technology
integration points
Just like with web and mobile, VR
must integrate with your backend
technology. From a technology
perspective, planning for integration
will be essential, so that consumers
get a rich, personalized experience
enabled with current inventory
and pricing. If there is one thing
we learned from the latest mobile
disruption, it is that integration
must be accounted for early in the
design process.
Conclusions
Virtual reality is a transformational medium. It also allows for creating entirely
new types of experiences and the use
of our Storyscaping approach to fully
immerse consumers in virtual worlds
that are "real" to them emotionally and
psychologically, the impact of which we
are just starting to explore.
But the mass adoption of virtual reality
is coming. Within the next twelve
months, VR enabled mobile devices
will be announced by every major
smartphone manufacturer. In twelve to
twenty-four months, we will start to see
more experiences built for mobile VR
usage. Then in three to five years, we
expect to see full adoption.
Brands should start getting ready now.
TRENDS AT THE INTERSECTION OF TECHNOLOGY & STORY
Gary Koepke
Vice President, Chief Creative Officer,
SapientNitro North America
[email protected]
Gary is an internationally acclaimed designer, creative
director, and marketing executive who is bringing to life
our vision of redefining storytelling for an always-on world.
Adrian Slobin
Managing Director and Digital Strategist,
SapientNitro Minneapolis
[email protected]
Adrian heads up SapientNitro's innovation offering, which
includes a lab, an investment arm, and formal relationships
with university innovation centers. Broadly speaking, he
is focused on the continued evolution of both mature and
emerging digital experiences.
INSIGHTS WHERE TECHNOLOGY & STORY MEET
The Insights publication features the marketing intelligence, trend forecasts,
and innovative recommendations of boundary-breaking thought leaders. The
SapientNitro Insights app brings that provocative collection – now in its digital
form – to your on-the-go fingertips.
Download the full report at sapientnitro.com/insights and, for additional
interactive and related content, download the SapientNitro Insights app.
SapientNitro®, part of Publicis.Sapient, is a new breed of agency redefining storytelling for an always-on world. We're changing the way our clients engage today's
connected consumers by uniquely creating integrated, immersive stories across brand communications, digital engagement, and omnichannel commerce. We call
it our Storyscaping® approach, where art and imagination meet the power and scale of systems thinking. SapientNitro's unique combination of creative, brand, and
technology expertise results in one global team collaborating across disciplines, perspectives, and continents to create game-changing success for our Global
1000 clients, such as Chrysler, Citi, The Coca-Cola Company, Lufthansa, Target, and Vodafone, in thirty-one cities across The Americas, Europe, and Asia-Pacific.
For more information, visit www.sapientnitro.com.
SapientNitro and Storyscaping are registered service marks of Sapient Corporation.
COPYRIGHT 2015 SAPIENT CORPORATION. ALL RIGHTS RESERVED.