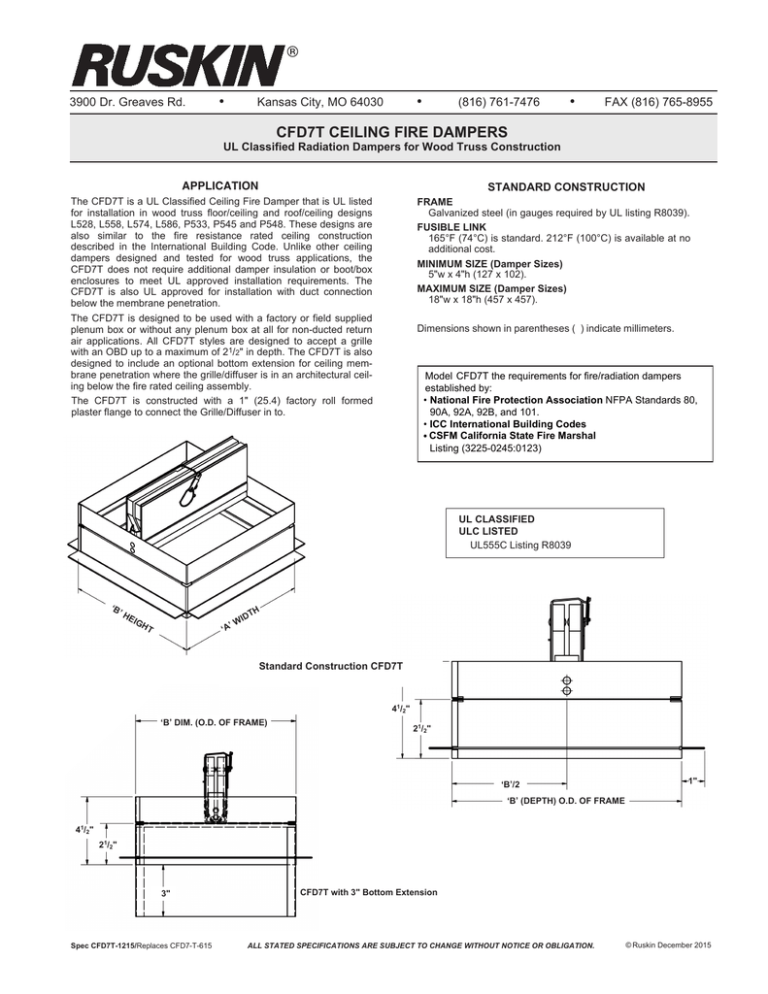 3900 Dr. Greaves Rd.
Kansas City, MO 64030
•
(816) 761-7476
•
•
FAX (816) 765-8955
CFD7T CEILING FIRE DAMPERS
UL Classified Radiation Dampers for Wood Truss Construction
APPLICATION
STANDARD CONSTRUCTION
The CFD7T is a UL Classified Ceiling Fire Damper that is UL listed
for installation in wood truss floor/ceiling and roof/ceiling designs
L528, L558, L574, L586, P533, P545 and P548. These designs are
also similar to the fire resistance rated ceiling construction
described in the International Building Code. Unlike other ceiling
dampers designed and tested for wood truss applications, the
CFD7T does not require additional damper insulation or boot/box
enclosures to meet UL approved installation requirements. The
CFD7T is also UL approved for installation with duct connection
below the membrane penetration.
The CFD7T is designed to be used with a factory or field supplied
plenum box or without any plenum box at all for non-ducted return
air applications. All CFD7T styles are designed to accept a grille
with an OBD up to a maximum of 21/2" in depth. The CFD7T is also
designed to include an optional bottom extension for ceiling membrane penetration where the grille/diffuser is in an architectural ceiling below the fire rated ceiling assembly.
The CFD7T is constructed with a 1" (25.4) factory roll formed
plaster flange to connect the Grille/Diffuser in to.
FRAME
Galvanized steel (in gauges required by UL listing R8039).
FUSIBLE LINK
165°F (74°C) is standard. 212°F (100°C) is available at no
additional cost.
MINIMUM SIZE (Damper Sizes)
5"w x 4"h (127 x 102).
MAXIMUM SIZE (Damper Sizes)
18"w x 18"h (457 x 457).
Dimensions shown in parentheses ( ) indicate millimeters.
Model CFD7T the requirements for fire/radiation dampers
established by:
• National Fire Protection Association NFPA Standards 80,
90A, 92A, 92B, and 101.
• ICC International Building Codes
• CSFM California State Fire Marshal
Listing (3225-0245:0123)
UL CLASSIFIED
ULC LISTED
UL555C Listing R8039
'B
'H
EIG
HT
'
'A
H
DT
WI
Standard Construction CFD7T
41/2"
'B' DIM. (O.D. OF FRAME)
21/2"
'B'/2
1"
'B' (DEPTH) O.D. OF FRAME
41/2"
21/2"
3"
Spec CFD7T-1215/Replaces CFD7-T-615
CFD7T with 3" Bottom Extension
ALL STATED SPECIFICATIONS ARE SUBJECT TO CHANGE WITHOUT NOTICE OR OBLIGATION.
© Ruskin December 2015
The CFD7T damper can be supplied with a factory installed Steel or R6 duct board plenum box or 90 deg., end or top boot. These boots/boxes
also can be field supplied and installed onto the standard CFD7T without voiding the UL listing. The only requirement is that any plenum or boot
may not exceed 10 lb in weight.
BOX HEIGHT
'B' (O.D. OF FRAME)
'H
EIG
HT
TH
ID
'W
'A
2.50
'B
The CFD7T with Optional Steel Plenum box.
Box Height
'B
'H
2.50
EIG
HT
TH
ID
'W
'A
The CFD7T with Optional R6 Duct Board Plenum box.
DIA.
'A
'W
ID
TH
'B
2 1/2
T
IGH
E
'H
CFD7T with Optional Boot
End Boots, Top Boots and 90 Deg. Boots Available
SUGGESTED SPECIFICATION
Furnish and install, at locations shown on the plans, ceiling fire
dampers tested and listed for wood truss construction including UL
ceiling designs L528, L558, L574, L586, P533, P545 and P548.
Ceiling fire dampers shall be produced in an ISO 9001 certified
factory. All installations shall be in accordance with manufacturer's
published installation instructions and do not require additional field
installed insulated boots, boxes or plenums to meet the UL listing.
3900 Dr. Greaves Rd.
Kansas City, MO 64030
(816) 761-7476
FAX (816) 765-8955
www.ruskin.com
Ceiling penetrations should be located between adjacent truss and
RC or Furring channels. The entire system shall be UL classified
and ULC Listed for use in wood truss applications. System
proposed for installation must be equivalent in all respect to Ruskin
Model CFD7T or CFDR7T.