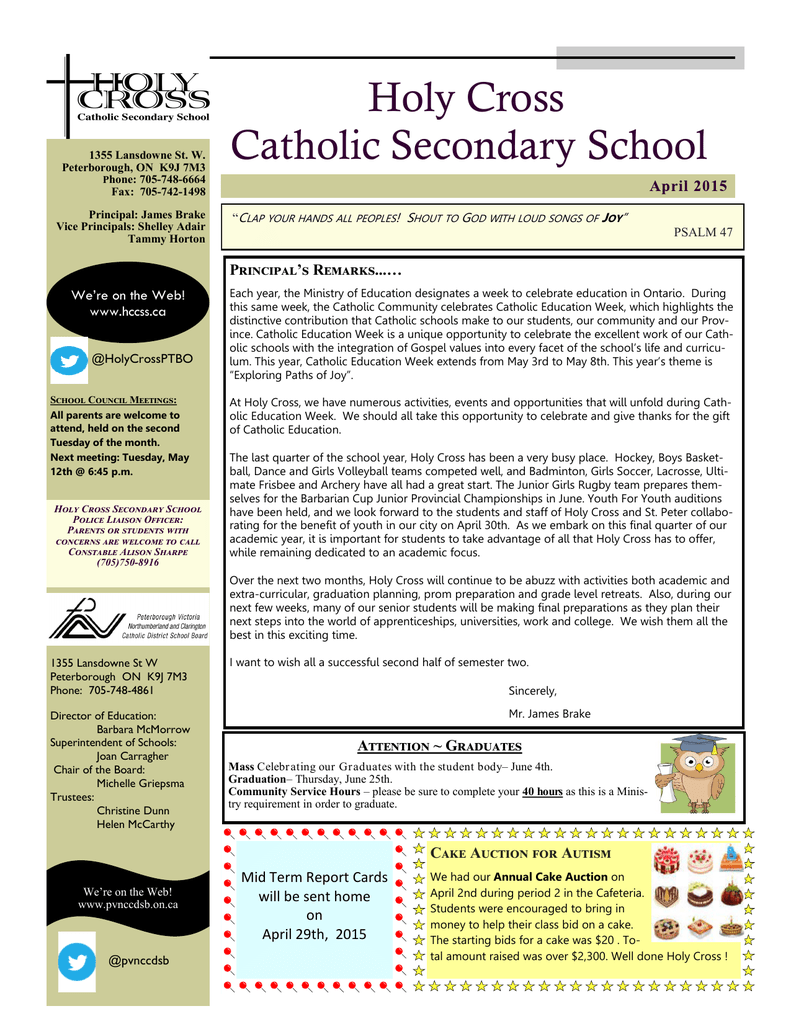 1355 Lansdowne St. W.
Peterborough, ON K9J 7M3
Phone: 705-748-6664
Fax: 705-742-1498
Principal: James Brake
Vice Principals: Shelley Adair
Tammy Horton
Holy Cross
Catholic Secondary School
"CLAP YOUR HANDS ALL PEOPLES! SHOUT TO GOD WITH LOUD SONGS OF JOY"
PSALM 47
Principal's Remarks...…
We're on the Web!
www.hccss.ca
@HolyCrossPTBO
School Council Meetings:
All parents are welcome to
attend, held on the second
Tuesday of the month.
Next meeting: Tuesday, May
12th @ 6:45 p.m.
Holy Cross Secondary School
Police Liaison Officer:
Parents or students with
concerns are welcome to call
Constable Alison Sharpe
(705)750-8916
Each year, the Ministry of Education designates a week to celebrate education in Ontario. During
this same week, the Catholic Community celebrates Catholic Education Week, which highlights the
distinctive contribution that Catholic schools make to our students, our community and our Province. Catholic Education Week is a unique opportunity to celebrate the excellent work of our Catholic schools with the integration of Gospel values into every facet of the school's life and curriculum. This year, Catholic Education Week extends from May 3rd to May 8th. This year's theme is
"Exploring Paths of Joy".
At Holy Cross, we have numerous activities, events and opportunities that will unfold during Catholic Education Week. We should all take this opportunity to celebrate and give thanks for the gift
of Catholic Education.
The last quarter of the school year, Holy Cross has been a very busy place. Hockey, Boys Basketball, Dance and Girls Volleyball teams competed well, and Badminton, Girls Soccer, Lacrosse, Ultimate Frisbee and Archery have all had a great start. The Junior Girls Rugby team prepares themselves for the Barbarian Cup Junior Provincial Championships in June. Youth For Youth auditions
have been held, and we look forward to the students and staff of Holy Cross and St. Peter collaborating for the benefit of youth in our city on April 30th. As we embark on this final quarter of our
academic year, it is important for students to take advantage of all that Holy Cross has to offer,
while remaining dedicated to an academic focus.
Over the next two months, Holy Cross will continue to be abuzz with activities both academic and
extra-curricular, graduation planning, prom preparation and grade level retreats. Also, during our
next few weeks, many of our senior students will be making final preparations as they plan their
next steps into the world of apprenticeships, universities, work and college. We wish them all the
best in this exciting time.
1355 Lansdowne St W
Peterborough ON K9J 7M3
Phone: 705-748-4861
Director of Education:
Barbara McMorrow
Superintendent of Schools:
Joan Carragher
Chair of the Board:
Michelle Griepsma
Trustees:
Christine Dunn
Helen McCarthy
I want to wish all a successful second half of semester two.
Sincerely,
Mr. James Brake
Attention ~ Graduates
Mass Celebr ating our Gr aduates with the student body– June 4th.
Graduation– Thursday, June 25th.
Community Service Hours – please be sure to complete your 40 hours as this is a Ministry requirement in order to graduate.
Cake Auction for Autism
We're on the Web!
www.pvnccdsb.on.ca
@pvnccdsb
Mid Term Report Cards
will be sent home
on
April 29th, 2015
We had our Annual Cake Auction on
April 2nd during period 2 in the Cafeteria.
Students were encouraged to bring in
money to help their class bid on a cake.
The starting bids for a cake was $20 . Total amount raised was over $2,300. Well done Holy Cross !
Dates to Remember
Apr 15-25 Honduras Trip
Apr 17 PA Day
Apr 24 Great Gatsby Party
Apr 28 Spring Concert 7 pm
Apr 29 Mid-Term Report Cards
sent home
May 3-9 Catholic Education Week
May 6 Catholic Leadership Awards
Ceremony – 7 pm
May 7 Ontario Catholic Youth Day –
Province-Wide Mass
May 8 Wonderland
May
12 Catholic
School Council
Principal:
Tim Ball
Meeting 6:45 pm
Vice
Principal:
Catherine Trip
Byrne
May 13-19
Quebec/Halifax
May 18 Victoria Day
May
21 Honduras
Prayer Service
Director:
John Mackle
May 29 PROM // Dress Down Day
Superintendent:
Thomas
Jun 4 Grad MassDeirdre
// Retreat
//
the Sun Lorne
Trustees: Fun
Joe inWhibbs,
Jun
9 Catholic
School
Council
Corkery,
Christine
Dunn
Meeting 6:45 pm
Jun 10-11 Gd 9 EQAO Math
Jun 12 Dress Down Day
Jun 18 Centre for Success Ceremony 3 pm
Jun 19-24 Exams Scheduled
Jun 25 Graduation
Jun 26 PA Day
Jun 26 Final Report Cards
mailed home
Community Service
Hours
Students can hand in their completed volunteer hours as soon
as the task is completed. They
do not have to wait until they
have accumulated 40 hours or
more. Extra forms are available
in the Main Office and GuidR.J. McCarthy's Store
ance.
461 George St. N.
Please encourage your
student
Peterborough,
to hand in their form. 741-0306
BUSSING INFORMATION &
CANCELLATIONS can be found
on the Transportation website:
www.stsco.ca
From the Music
Room…….
Spring Concert.
Tuesday, April 28th
7 pm in the Cafeteria
As usual, things have been busy. At the beginning of Semester two, students from the grade 11/12
music class went into Toronto to see a performance of Mozart's opera, Don Giovanni a the Four Seasons Centre for the Performing Arts. It featured two of Canada's top tenors, Russell Braun and Michael Schade. It was a very interesting production with lots for us to talk about afterwards. With the
beginning of March came our production of Anne of Green Gables. We filled the house three nights
in a row and amazed our audiences. They couldn't get over how much talent we had. There were
many memorable moments. One couple commented on what our students brought to their characters. They had seen the Charlottetown production several times but really loved what we did with
our production.
We are so proud of all the students that were involved (over 80) on stage, back stage, in the pit, doing
hair and make-up, set building and painting, costumes and front of house. A special thanks to Mrs.
Finan and her foods classes for preparing two wonderful meals for the cast and crew and the other
staff members who helped with costumes and front of house. It takes a village to do a production
such as this.
The week after Anne, the music department went into full swing preparation for our Spring Concert. It will be on Tuesday, April 28 at 7 pm in the Cafeteria. Tickets available at the door -$5
for adults and $2 for students. Some of our students will be participating in the Youth for Youth
concert at Market Hall on April 30. This is our joint talent show with St. Pete's to raise money for the
Youth Emergency Shelter. On Friday, May 8, as part of Education Week, the Concert and Jazz
bands with be performing at the Canada's Wonderland Music Festival. Details and permission forms
will be coming home soon. Hope to see many of you April 28th!
News from HC Ecoclub…..
PROM News……..
'
April is a busy
month for our
Eco school
group. We will
be wrapping up
our portfolio in the hopes of earning
Platinum certification this year. We
have our upcoming rain barrel sale
on Earth Day April 22nd. Barrels
must be ordered in advance online
through the following link
http://
rainbarrelcanada.com/2015/04/
hcss/ and pick up will be from 1-4
pm in the Holy Cross school parking lot. $10 from each barrel supports our eco-school initiatives.
Our major spring project is a joint
Community Garden with Calvary
Church next door. Other earth week
activities will include a guest speaker on the importance of local pollinators, a Skype presentation with an
astronaut and school/neighborhood
clean up. New members are always
encouraged and welcomed!
A Red Carpet Affair'
Ticket sales now online- www.hccss.ca - until May
10th. Please submit signed permission forms to
Mrs. Jacobs by May 10th.
From the Guidance Department……
Considering Financial Aspects of Post-Secondary:
OSAP Presentation--April 27, 2015 Noon HCCSS Library
Grade 12's and any interested parents are invited to attend the OSAP Presentation by Trent University Financial Aid. The
universities and colleges in our community administrate the loans and as such, the presentation will include the most upto-date details of applications for the 2015-2016 loans. This presentation often includes budgeting information for postsecondary and alternatives to OSAP.
Local Scholarships and Bursaries
Local Scholarships and Bursaries are now starting to arrive in the Guidance Office. All opportunities (with specific details)
will be announced on the announcements and then posted on the Guidance Bulletin Board. A list of awards that are usually available, visit our website! Some local awards are moving to online applications, but the majority are still mail-in paper applications. Ms. Hickey will have the paper applications (where applicable) of any posted application.
Attention Grade 10 Students:
Currently Accepting Applications to our Aviation SHSM (@ the Peterborough Airport) for the 2015-2016 School
Year
Students interested in applying to the Aviation and Aerospace SHSM should submit their applications as soon as possible.
This two semester program (over two years--grades 11 and 12) is an excellent opportunity to master skills in this job sector
that is projected to grow--both locally and internationally! The program includes a Dual Credit with Seneca College's
School of Flight and cooperative educational opportunities in the field. See Guidance for more information.
NEWS FROM THE LIBRARY……
Follow us on Twitter HC Library Ptbo @HCptbo
Lots of diverse new books have been arriving in the library. Stop by and see some of our great titles or check out
the catalog on line. To view the library page, visit http://destiny.pvnccdsb.on.ca and choose Holy Cross Catholic
Secondary School. You can also access it through the school website www.hccss.ca.
The White Pine Reading Program is heading to the finish line as spring tries to arrive. Students who have read at
least 5 of this year's titles will be invited to cast an official vote for their favourite towards the winning book. Voting dates and times will be announced shortly so listen carefully to morning announcements for further details. There may even be a
read-a-thon happening soon!
A number of items are left in the library, mainly memory sticks and pencil cases. Please check with Ms. Steele or Ms. Fletcher if you
are missing something. Flash drives that have the device name changed to reflect the owner are returned promptly.
We look forward to seeing you in the library.
Ms. K. Fletcher & Ms. C. Steele
Did you make the Honour Roll First Semester?
School Letter Award
A school letter award can be earned in Grade 10, Junior Letter, or Grade 12*, Senior Letter.
To qualify, a student must meet the following criteria:
~ Be on the honour roll at the end of semester 1 and at mid-term semester 2
~ Participate in 3 out-of-class activities
**These activities require at least 15 hours of participation and a staff member has to sign a form confirming your involvement. Sports
teams- playing or assisting, Eco Club, Social Justice, School Choir, White Pine Book Club, Link Crew and Tech Club are just a few of the
amazing groups Holy Cross offers whose membership could help a student earn this prestigious award.
*The Senior Letter Award is for students in their graduating year and enrolled in at least 5 credit courses.
The process happens in the spring but now is the time to push for the honour roll!
Please see Ms. Fletcher if you have any questions.
Good News from the PVNCCDSB Office of Faith Development…..
In the month of April, the Liturgical Season of the Church is usually Easter. This year, the Easter season begins on Sunday, April 5, 2015 and ends
on Pentecost Sunday, May 24, 2015. The Liturgical Colour is White. Every school in the Peterborough Victoria Northumberland and Clarington
Catholic District School Board will be learning, praying and talking about the Fruit of the Holy Spirit called Joy. Faith-filled joy thrives in Christ's
resurrection and this joy enlivens our daily lives to live life in abundance. Joy is given to us through intercession of the Holy Spirit so that the
heartfelt joy that we experience in Christ's resurrection may animate our lives with praise, gratitude and peace. In our homes, parishes and
schools, let us together pray for, support and encourage our students so that they will experience the joy of Christ's resurrection. Happy Easter! Alleluia!
April Feast Days, Solemnities, Memorials for whom our schools are named
·
April 2
Holy Thursday
·
April 3
Good Friday
·
April 4
Easter Vigil
·
April 5
EASTER SUNDAY – Alleluia!
·
April 18
Blessed Marie-Anne Blondin (Esther Blondin)
·
April 29
St. Catherine of Siena Memorial
·
April 30
Blessed Marie of the Incarnation
EASTER INFORMATION
·
Holy Week commemorates the Passion of Christ. Holy Week begins on Palm Sunday and ends on Holy Saturday.
·
Easter Triduum (sometimes also referred to as the Paschal Triduum) is the proper name for the liturgical season that concludes Lent and introduces us to the joy of the Easter season. Starting with the Mass of the Lord's Supper on the evening of Holy
Thursday, continuing through the Good Friday service and Holy Saturday, and concluding with vespers (evening prayer) on Easter Sunday, the Easter Triduum marks the most significant events of Holy Week (also known as Passiontide).
·
Good Friday is a universal day of fasting and abstinence from meat. A special collection is collected at Good Friday services to
support Christians in the Holy Land.
Equity and Inclusive Education Dates
April is Autism Awareness month; and April 2 is World Autism Awareness Day.
From the Chaplain…….
Happy Easter!
Just some updates from the Chaplaincy dept…
On Holy Thursday, Holy Cross prayed the Solidarity Way of the Cross through our prayer service. To begin our Easter season, on April 9th we celebrated our Easter Mass. And now we continue joyously into our Easter season, with many events taking place at Holy Cross.
When you receive this newsletter, our Holy Cross 2015 Honduras Building Brigade will be in Honduras for our 10 th year,
helping to build a school. We have 17 students partaking in this event this year, with myself and Mr. Durst. Please keep the
team in your prayers. Thank you to everyone who supported our fundraising events for Honduras. Also a thank you to those
who brought in donations for Honduras.
Catholic Education Week " Exploring Paths of Joy" will be the first week in May— May 4-8. We will be having a Mass on
Thursday, May 7, at 9:30 am, to celebrate Catholic Education Week. Everyone is welcome to attend!
We will also be having our Grade 10 Religion Retreats in May. The students will be going to the New Canadian Centre to
learn about immigration and refugees, as well as visiting the Mount Housing Project, where they will Volunteer and learn about
the history of the old Mt. St. Joseph and how it is now being developed to affordable housing, through the Poverty Reduction
Network.
Our Grad Mass and Retreat for grade 12's will be on Thursday June 4 th. Once again, everyone is welcome to come to Mass at
9 am.
Teresa
FROM THE DANCE TEAM…….
The Holy Cross Dance Team has been very busy between Semester one and Semester
two. The season began with a workshop held in Toronto at the Shawn Byfield Dance studio. A team of girls also participated in Terry Fox. All members of the team performed
their first two group numbers in Musical Theatre and hip hop. The girls dazzled the audience with their diamonds.
The girls continued with many early morning practices and Tuesday after school practices and recently competed in the STRIVE Challenge Dance Competition on April 1,
2015. Each of the five dances received an EMERALD award. Katie and Libby Cymbaluk performed an acro duet, while the entire ensemble performed in 'Diamonds are a
Girls Best Friend' and their Niki-mix hip-hop song. The tap girls performed to Gwen
Stefani "Hollaback Girl" and the jazz ladies performed to Meghan Trainor's "Dear Future
Husband". All girls had a wonderful time. Listen for news on a possible Show Case night
in late May.
2015 SUMMER SCHOOL!
FROM THE RELIGION DEPT…….
REGISTRATION BEGINS MONDAY, APRIL 13, 2015
INTERMEDIATE SUMMER SCHOOL COURSES
Grade 7 and 8 students can attend Literacy and/or Numeracy Summer School at each of
the Summer School sites listed below. Dates: Monday, July 6 to Friday, July 17, 2015
Intermediate Summer School will run from 8:15 a.m. - 2:15 p.m. daily. Students attending
Intermediate Summer School will improve literacy and/or numeracy skills with reading, writing, and math remediation programs.
Registration deadline is Friday, June 19, 2015
Host schools for Intermediate Summer School 2015
 Holy Cross Catholic Secondary School, Peterborough
 St. Stephen Catholic Secondary School, Bowmanville
 St. Mary Catholic Secondary School, Cobourg
 St. Thomas Aquinas Catholic Secondary School, Lindsay
SECONDARY SUMMER SCHOOL COURSES
Grades 9-12
Co-op - Full Credit - E-Learning - Credit Remediation and Recovery - Upgrading
Registration deadline for Co-op is Friday, May 22, 2015 (students will attend Pre-Placement
classes in June)
Registration deadline for all full-credit courses (including Civics, Careers, and all e-learning
courses) - Friday, June 19, 2015
Registration deadline for Credit remediation, recovery, and upgrading – Friday, June 26, 2015
Session #1 - Monday, July 6 to Friday, July 17, 2015
Session #2 - Monday, July 20 to Friday, July 31, 2015
For Full credits, Secondary students must attend Sessions #1 and #2.
Time: 8:15 am—2:15 pm
Host Schools Secondary Summer School 2015
 Holy Cross Catholic Secondary School, Peterborough
 St. Mary Catholic Secondary School, Cobourg
 St. Stephen Catholic Secondary School, Bowmanville
 St. Thomas Aquinas Catholic Secondary School, Lindsay
Registration for Summer School is online at:
https://apps.pvnccdsb.on.ca/SummerSchoolRegistration/ beginning Monday, April 13, 2015
For further information, call the Catholic Education Centre at
(705)748-4861, ext. 233 - toll free at 1-800-461-8009, ext. 233, or
email [email protected]
Alleluia, Christ is Risen, Alleluia, Alleluia.
We have survived Lent (Winter) and have
made it to Easter (Spring). With a new season upon us and the promise of another,
we should take this opportunity to renew
our commitment to continue the work of
the Risen Lord; act for Justice, Peace and
Equality. A world of peace demands a continued effort on our part to rid the world
of poverty and inequality.
God of love, Creator of all, create in us a
clean spirit. Help us to allow the true spirit
of Christ to flow through us to create a
world of peace and love. Amen. Alleluia..