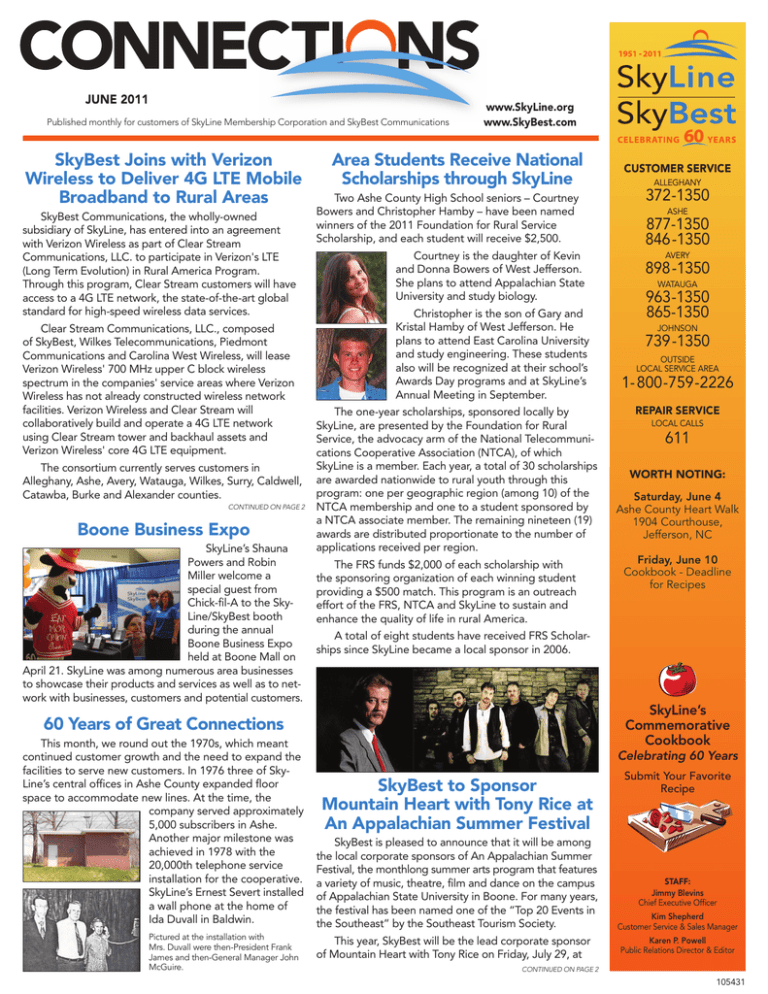 JUNE 2011
Published monthly for customers of SkyLine Membership Corporation and SkyBest Communications
SkyBest Joins with Verizon
Wireless to Deliver 4G LTE Mobile
Broadband to Rural Areas
SkyBest Communications, the wholly-owned
subsidiary of SkyLine, has entered into an agreement
with Verizon Wireless as part of Clear Stream
Communications, LLC. to participate in Verizon's LTE
(Long Term Evolution) in Rural America Program.
Through this program, Clear Stream customers will have
access to a 4G LTE network, the state-of-the-art global
standard for high-speed wireless data services.
Clear Stream Communications, LLC., composed
of SkyBest, Wilkes Telecommunications, Piedmont
Communications and Carolina West Wireless, will lease
Verizon Wireless' 700 MHz upper C block wireless
spectrum in the companies' service areas where Verizon
Wireless has not already constructed wireless network
facilities. Verizon Wireless and Clear Stream will
collaboratively build and operate a 4G LTE network
using Clear Stream tower and backhaul assets and
Verizon Wireless' core 4G LTE equipment.
The consortium currently serves customers in
Alleghany, Ashe, Avery, Watauga, Wilkes, Surry, Caldwell,
Catawba, Burke and Alexander counties.
CONTINUED ON PAGE 2
Boone Business Expo
SkyLine's Shauna
Powers and Robin
Miller welcome a
special guest from
Chick-fil-A to the SkyLine/SkyBest booth
during the annual
Boone Business Expo
held at Boone Mall on
April 21. SkyLine was among numerous area businesses
to showcase their products and services as well as to network with businesses, customers and potential customers.
www.SkyLine.org
www.SkyBest.com
Area Students Receive National
Scholarships through SkyLine
Two Ashe County High School seniors – Courtney
Bowers and Christopher Hamby – have been named
winners of the 2011 Foundation for Rural Service
Scholarship, and each student will receive $2,500.
Courtney is the daughter of Kevin
and Donna Bowers of West Jefferson.
She plans to attend Appalachian State
University and study biology.
Christopher is the son of Gary and
Kristal Hamby of West Jefferson. He
plans to attend East Carolina University
and study engineering. These students
also will be recognized at their school's
Awards Day programs and at SkyLine's
Annual Meeting in September.
The one-year scholarships, sponsored locally by
SkyLine, are presented by the Foundation for Rural
Service, the advocacy arm of the National Telecommunications Cooperative Association (NTCA), of which
SkyLine is a member. Each year, a total of 30 scholarships
are awarded nationwide to rural youth through this
program: one per geographic region (among 10) of the
NTCA membership and one to a student sponsored by
a NTCA associate member. The remaining nineteen (19)
awards are distributed proportionate to the number of
applications received per region.
The FRS funds $2,000 of each scholarship with
the sponsoring organization of each winning student
providing a $500 match. This program is an outreach
effort of the FRS, NTCA and SkyLine to sustain and
enhance the quality of life in rural America.
Pictured at the installation with
Mrs. Duvall were then-President Frank
James and then-General Manager John
McGuire.
ALLEGHANY
372-1350
ASHE
877-1350
846-1350
AVERY
898-1350
WATAUGA
963-1350
865-1350
JOHNSON
739-1350
OUTSIDE
LOCAL SERVICE AREA
1- 800-759-2226
REPAIR SERVICE
LOCAL CALLS
611
WORTH NOTING:
Saturday, June 4
Ashe County Heart Walk
1904 Courthouse,
Jefferson, NC
Friday, June 10
Cookbook - Deadline
for Recipes
A total of eight students have received FRS Scholarships since SkyLine became a local sponsor in 2006.
SkyLine's
Commemorative
Cookbook
60 Years of Great Connections
This month, we round out the 1970s, which meant
continued customer growth and the need to expand the
facilities to serve new customers. In 1976 three of SkyLine's central offices in Ashe County expanded floor
space to accommodate new lines. At the time, the
company served approximately
5,000 subscribers in Ashe.
Another major milestone was
achieved in 1978 with the
20,000th telephone service
installation for the cooperative.
SkyLine's Ernest Severt installed
a wall phone at the home of
Ida Duvall in Baldwin.
CUSTOMER SERVICE
Celebrating 60 Years
SkyBest to Sponsor
Mountain Heart with Tony Rice at
An Appalachian Summer Festival
SkyBest is pleased to announce that it will be among
the local corporate sponsors of An Appalachian Summer
Festival, the monthlong summer arts program that features
a variety of music, theatre, film and dance on the campus
of Appalachian State University in Boone. For many years,
the festival has been named one of the "Top 20 Events in
the Southeast" by the Southeast Tourism Society.
This year, SkyBest will be the lead corporate sponsor
of Mountain Heart with Tony Rice on Friday, July 29, at
Submit Your Favorite
Recipe
STAFF:
Jimmy Blevins
Chief Executive Officer
Kim Shepherd
Customer Service & Sales Manager
Karen P. Powell
Public Relations Director & Editor
CONTINUED ON PAGE 2
105431
SKYBEST JOINS VERIZON CONTINUED FROM PAGE 1
In addition to 4G LTE coverage in their local service area,
Clear Stream customers will have access to Verizon Wireless'
4G LTE network nationwide and those of other rural carriers
in the program. Verizon Wireless customers also will be able
to roam on 4G LTE networks built by program participants.
"Our mission at SkyBest has always been to bring the
latest in telecommunications technology to our customers,
and we're ready to take a giant leap forward to secure access
to 4G technology through this program," said SkyBest Chief
Executive Officer Jimmy Blevins.
"This consortium represents the latest in a series of productive endeavors we have forged with Wilkes and Piedmont
to deliver state-of-the-art services to the region. By working
with Verizon, we can accelerate the deployment of 4G and be
poised to address the future needs of our customers. We feel
this is a perfect complement to our fiber optic network and a
natural progression for our current service offering."
Construction of the 4G LTE network in northwestern North
Carolina will begin in 2012. Service will be widely available
throughout the consortium's footprint by the end of 2013.
The regional consortium represents one of a handful of
rural carriers who have announced their participation in the
LTE in Rural America Program. Other carriers--Bluegrass
Cellular, Cellcom, Cross Wireless, Pioneer Cellular, Strata
Networks and Thumb Wireless – have leased spectrum
covering, in total, more than 1.8 million people and nearly
58,000 square miles in Kentucky, Oklahoma, Michigan,
Wisconsin and Utah.
"We are extremely pleased to have Clear Stream join the
LTE in Rural America program. Together our companies will
be the first to offer a 4G LTE high speed mobile data network
in rural northwestern North Carolina," said Molly Feldman,
VP of Business Development for Verizon Wireless. Verizon
Wireless launched its 4G LTE network last December in 38
markets, covering one-third of all Americans, and in more
than 60 commercial airports. The company will expand its 4G
LTE network to an additional 140 markets by the end of 2011,
and plans to cover its entire 3G footprint with 4G LTE by the
end of 2013.
The 4G LTE network provides speeds up to 10 times
faster than current 3G networks, making it the fastest mobile
network in America for downloading songs and movies,
video conferencing, multiplayer gaming and more.
APPALACHIAN SUMMER FESTIVAL CONTINUED FROM PAGE 1
Farthing Auditorium, and here's a quick preview of these
two groundbreaking artists, as they share their innovative
ways of altering traditional acoustic music to make a sound
all their own.
Tony Rice spans the range of acoustic music, from bluegrass to jazz, to songwriter-oriented folk. He is one of the
greatest innovators in acoustic flat-picked guitar, and he has
collaborated and recorded albums with many bluegrass and
folk icons of this generation, including Joni Mitchell, Bobby
Hicks, Doyle Lawson and Todd Phillips. Rice remains one of
bluegrass' top instrumentalists and singers, bringing originality and vitality to everything he plays.
Mountain Heart has fearlessly revolutionized the way
acoustic music can be presented and played by combining
elements of rock, country, blues, jazz and bluegrass into an
unmistakable high-energy sound. The band has appeared on
the revered stage of the Grand Ole Opry more than 100
times and has shared the stage with acts ranging from
Lynyrd Skynyrd and Brad Paisley to Alison Krauss and Patty
Loveless.
To learn more about the Festival, visit www.appsummer.org,
and to order tickets, contact the ASU Farthing Auditorium
Box Office at 1-800-841-ARTS (2787).
Send Us Your Recipes!
If you've been meaning to send us
your favorite family recipe(s) but have
not yet done so, please take a few
minutes to enter your recipe online
(www.skyline60.com) or jot them down
on a piece of paper and mail them to
us at SkyLine Attn: Cookbook Project,
PO Box 759, West Jefferson, NC 28694.
Deadline is Friday, June 10.
Response to our cookbook project
has been tremendous! To the many
members and customers who have
already sent in your recipes, we thank
you! Our commemorative cookbook will
be a collection of family favorites from
across our service area and beyond
(those members and customers who
winter elsewhere and summer here–
thank you too!).
We plan to have the cookbooks
ready for purchase in September, and
we'll keep you posted on the size and
price of the cookbooks as we compile
the remaining recipes. All proceeds
from the sale of the cookbooks will
support food banks in our five-county
service area of Alleghany, Ashe, Avery,
Watauga and Johnson counties.
Support Relay for Life
Events in Your Area
Watauga County: June 17
Alleghany County: June 24
Ashe County: July 15
Johnson County: July 15
Avery County: August 5
Recipe of the Month
Old Fashioned
Caramel Cake
Cake:
1 stick of margarine
1 1/2 cups of sugar
2 eggs
2 cups flour
1 cup buttermilk
1 tablespoon of vinegar
1 teaspoon of baking soda
Caramel Frosting:
1 stick of margarine
1 box of light brown sugar
1/2 cup evaporated milk
1/2 teaspoon of baking powder
Instructions:
Cake: Cream margarine and sugar
together until light and fluffy. Add
eggs, one at a time and continue
beating. Add flour alternately with
buttermilk. Blend well. Stir in soda
which has been dissolved in vinegar.
Pour into two greased and floured
9-inch cake pans. Bake at 350º for
25 minutes. Cool and then frost.
Caramel Frosting: Melt margarine in
heavy saucepan. Add sugar and stir
to blend well. Add milk and cook to
soft ball stage. Remove from heat
and let stand five minutes. Add baking powder and beat until smooth
and creamy. The more you beat, the
creamier it will be. Frost cake.
Recipe submitted by SkyLine member
Edith Harless of Ashe County.