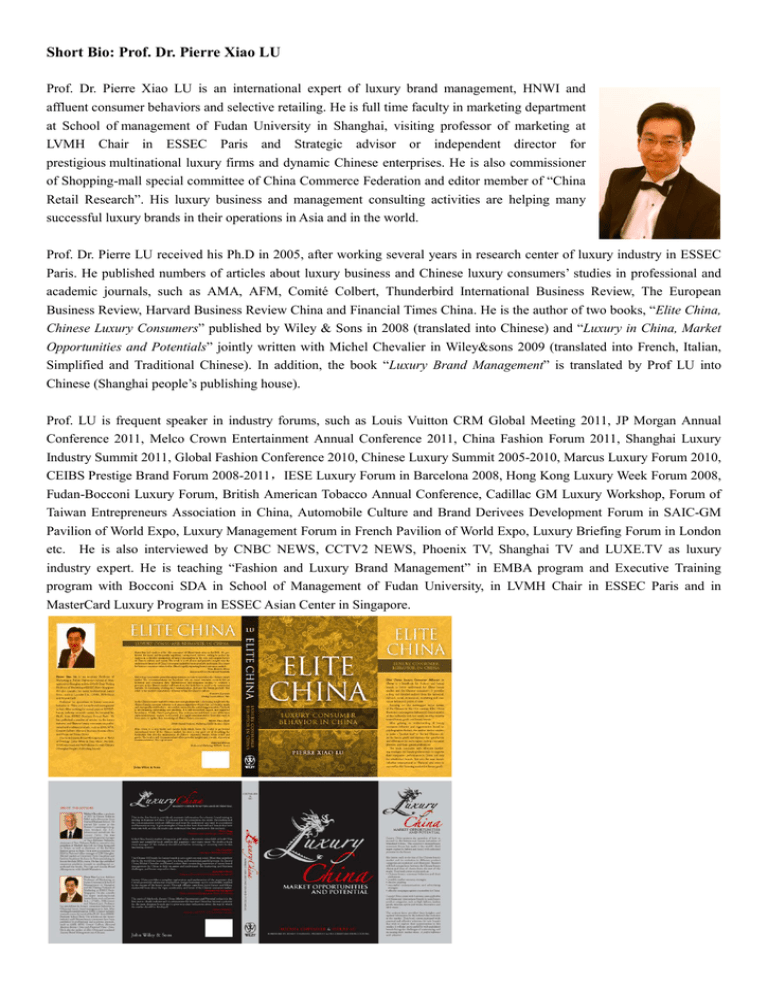 Short Bio: Prof. Dr. Pierre Xiao LU
Prof. Dr. Pierre Xiao LU is an international expert of luxury brand management, HNWI and
affluent consumer behaviors and selective retailing. He is full time faculty in marketing department
at School of management of Fudan University in Shanghai, visiting professor of marketing at
LVMH Chair in ESSEC Paris and Strategic advisor or independent director for
prestigious multinational luxury firms and dynamic Chinese enterprises. He is also commissioner
of Shopping-mall special committee of China Commerce Federation and editor member of "China
Retail Research". His luxury business and management consulting activities are helping many
successful luxury brands in their operations in Asia and in the world.
Prof. Dr. Pierre LU received his Ph.D in 2005, after working several years in research center of luxury industry in ESSEC
Paris. He published numbers of articles about luxury business and Chinese luxury consumers' studies in professional and
academic journals, such as AMA, AFM, Comité Colbert, Thunderbird International Business Review, The European
Business Review, Harvard Business Review China and Financial Times China. He is the author of two books, "Elite China,
Chinese Luxury Consumers" published by Wiley & Sons in 2008 (translated into Chinese) and "Luxury in China, Market
Opportunities and Potentials" jointly written with Michel Chevalier in Wiley&sons 2009 (translated into French, Italian,
Simplified and Traditional Chinese). In addition, the book "Luxury Brand Management" is translated by Prof LU into
Chinese (Shanghai people's publishing house).
Prof. LU is frequent speaker in industry forums, such as Louis Vuitton CRM Global Meeting 2011, JP Morgan Annual
Conference 2011, Melco Crown Entertainment Annual Conference 2011, China Fashion Forum 2011, Shanghai Luxury
Industry Summit 2011, Global Fashion Conference 2010, Chinese Luxury Summit 2005-2010, Marcus Luxury Forum 2010,
CEIBS Prestige Brand Forum 2008-2011,IESE Luxury Forum in Barcelona 2008, Hong Kong Luxury Week Forum 2008,
Fudan-Bocconi Luxury Forum, British American Tobacco Annual Conference, Cadillac GM Luxury Workshop, Forum of
Taiwan Entrepreneurs Association in China, Automobile Culture and Brand Derivees Development Forum in SAIC-GM
Pavilion of World Expo, Luxury Management Forum in French Pavilion of World Expo, Luxury Briefing Forum in London
etc. He is also interviewed by CNBC NEWS, CCTV2 NEWS, Phoenix TV, Shanghai TV and LUXE.TV as luxury
industry expert. He is teaching "Fashion and Luxury Brand Management" in EMBA program and Executive Training
program with Bocconi SDA in School of Management of Fudan University, in LVMH Chair in ESSEC Paris and in
MasterCard Luxury Program in ESSEC Asian Center in Singapore.