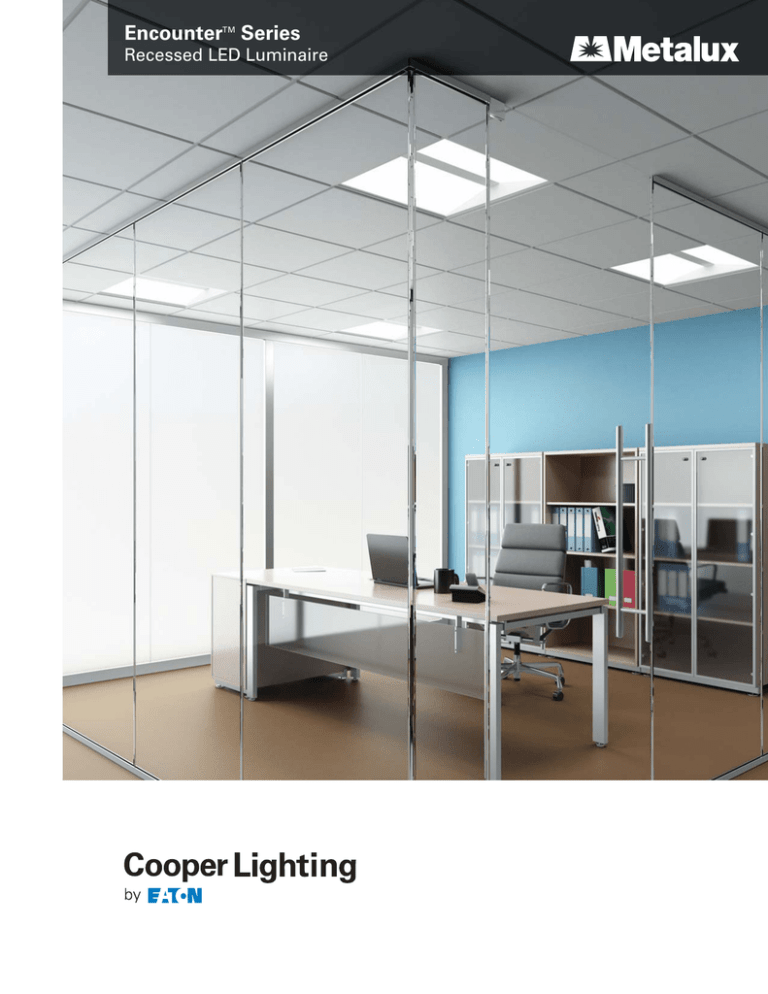 EncounterTM Series
Recessed LED Luminaire
The Encounter™ Series redefines ambient lighting by blending contemporary styling with innovative WaveStream™ LED technology.
The result is exceptional performance and superior energy savings – all at an affordable price. The highly efficient LED system with
advanced optical design delivers optimal light uniformity, resulting in soft, natural light for superior visual comfort. Encounter is a
perfect balance of form and function, making it an ideal choice for commercial interiors.
Construction
Options
• Recessed: 2' x 2', 2' x 4' (1' x 4' available early 2014)
• Five stocked lumen packages in two CCTs
- 2' x 2': 2500 and 3400; 2' x 4': 4500, 5400 and 6700
- Eleven additional lumen packages offered as MTO
• Depth: 3.25"
• Sustainable materials
• cULus damp location / IC Rated
• ROHS compliant
• Five-year warranty
Performance
• High-performance efficacy up to 104 lumens per watt
• Energy savings in excess of 45% compared to
traditional fluorescent troffers
• Three Correlated Color Temperatures (3000K, 3500K,
4000K) at typical 85 CRI
• 2' x 2': L85 @ 60,000 hrs.; 2' x 4': L78 @ 60,000 hrs.
• 3-step binning
• Universal (120V/277V) or 347V
• Emergency – 700 and 1400 lumen
• Flex wiring configurations
• Chicago plenum rated version
Controls
• Encounter includes 0-10V (analog) dimming for control using
Cooper Wiring Devices wall dimmers (5% - 100%), Cooper
Controls Greengate Room Controllers, occupancy and/or
daylight sensors, and lighting control panels.
• Encounter is available with native Fifth Light DALI drivers for
complete digital energy management using the capable and
scalable Fifth Light controllers and software.
For details on the Fifth Light solution,
please visit www.fifthlight.com
Refer to www.designlights.org Qualified Products List under Family Models for details.
Patented
Patent
ted AccuAimTM optics
Highly efficient
luminous panel
Precisely controlled
light output
Optimal LED coupling
oupling
A patented optical coupling process maximizes the amount of light injected into the WaveStream panel, dramatically improving
luminaire efficiency. Laser precise, patented AccuAimTM optics arranged in exacting patterns provide unrivaled brightness control
while delivering optimal distributions tailored to each fixture and application.
Ordering Information
Sample Number: 22EN-LD1-34-UNV-L835-CD1-U
Rating
Series 2
Lamp Type
LED Lumens Output
Optics
Voltage 5
[Blank]=Standard
ATW-SW4=Chicago Rated 1
22EN=2' x 2' Encounter Series
24EN=2' x 4' Encounter Series
LD1=LED 1.0
2' x 2'
Stock
25=2500 Lumens 3
34=3400 Lumens
[Blank]=Standard
347V=347 Volt 6
UNV=Universal Voltage
120-277
2' x 4'
Stock
45=4500 Lumens
54=5400 Lumens
67=6700 Lumens
MTO 4
19=1900 Lumens 3
30=3000 Lumens
39=3900 Lumens
43=4300 Lumens
Options
CCT
Emergency
EL=Emergency
Installed, 700
Lumens 7
EL14=Emergency
Installed, 1400
Lumens 7, 8
L830=3000K
L835=3500K
L840=4000K
Options
9
Flex
Flex=Multiple
Configurations
Available
MTO 4
30=3000 Lumens
34=3400 Lumens
40=4000 Lumens
49=4900 Lumens
58=5800 Lumens
70=7000 Lumens
74=7400 Lumens
Driver Type 10
Number of Drivers
Packaging
Accessories (Order Separately)
CD=0-10V
Dimming Driver
(Standard)
5LTD=Fifth Light
(DALI) Driver 11
1=1 Driver
U=Unit Pack
PALC=Job
Pack, in
Carton
T3A END E.Q. BRACKET PARTS BAG=(Standard with
Fixture)
DF-22-W=2' x 2' Drywall Frame Kit
DF-24-W=2' x 4' Drywall Frame Kit
NOTES: 1. Chicago rated version does not allow for row mounting. 2. DesignLights™ Consortium Qualified (all lumen packages). Refer to www.designlights.org Qualified Products List under Family Models
for details. 3. 1900 and 2500 lumen option is not available with Fifth Light (DALI) driver. 4. Made-to-order (MTO) requires four week lead time. 5. Products also available in non-US voltage and frequencies
for international markets. 6. 347V emergency option not available. 7. EL options are non-integral. 8. Must specify voltage (120V or 277V) when selecting EL option. 9. Flex does not include dimming leads.
Control leads provided by others. 10. Call factory for step-dimming options. 11. For a complete listing of Fifth Light Technology products and other solutions from Cooper Controls, visit www.coopercontrol.com.
Specifications & dimensions subject to change without notice. Consult your Cooper Lighting Representative for availability and ordering information.
2' x 4' LUMEN MAINTENANCE
2' x 2' LUMEN MAINTENANCE
Ambient Temperature
TM-21 Lumen Maintenance
(60,000 hours)
Theoretical
L70 (Hours)
Ambient Temperature
TM-21 Lumen Maintenance
(60,000 hours)
Theoretical
L70 (Hours)
25°C
> 78
> 92,000
25°C
> 85
> 163,000
CERTIFICATION DATA
cULus - Damp Location
CSA
IC Rated
LM79/LM80 Compliant
ROHS Compliant
NOM Compliant
DesignLightTM Consortium Qualified
CA Title 24
Eaton's Cooper Lighting Business
Headquarters
1121 Highway 74 South
Peachtree City, GA 30269
P: 770-486-4800
www.cooperlighting.com
Canada Sales
5925 McLaughlin Road
Mississauga, Ontario L5R 1B8
P: 905-501-3000
F: 905-501-3172
Our Lighting Product Brands
Halo
Halo Commercial
Portfolio
IRiS
RSA
Metalux
Corelite
Neo-Ray
Fail-Safe
MWS
Ametrix
Shaper
io
Lumark
McGraw-Edison
Invue
Lumière
Streetworks
AtLite
Sure-Lites
Our Controls Product Brands
Greengate
iLumin
Zero 88
Fifth Light Technology
iLight (International Only)
Eaton
1000 Eaton Boulevard
Cleveland, OH 44122
United States
Eaton.com
600 Travis, Ste. 5600
Houston, TX 77002-1001
P: 713-209-8400
www.cooperindustries.com
© 2013 Eaton
All Rights Reserved
Printed in USA
Publication No. ADF131307
August 2013
Eaton is a registered trademark.
All other trademarks are property
of their respective owners.