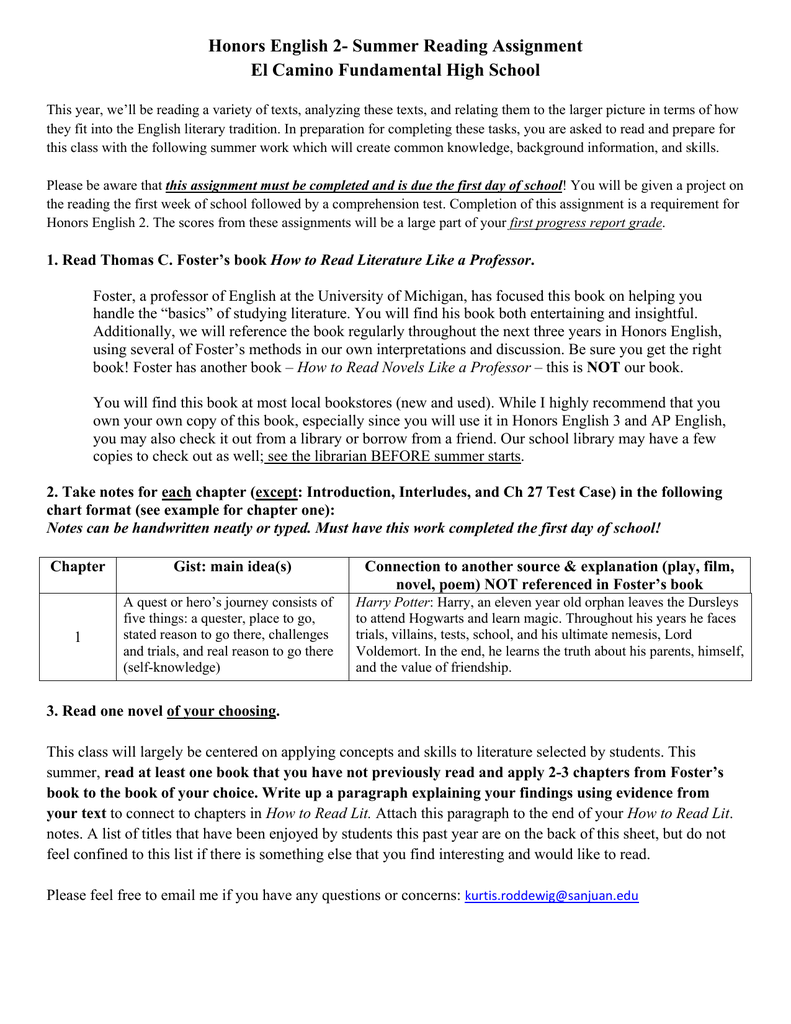 Honors English 2- Summer Reading Assignment
El Camino Fundamental High School
This year, we'll be reading a variety of texts, analyzing these texts, and relating them to the larger picture in terms of how
they fit into the English literary tradition. In preparation for completing these tasks, you are asked to read and prepare for
this class with the following summer work which will create common knowledge, background information, and skills.
Please be aware that this assignment must be completed and is due the first day of school! You will be given a project on
the reading the first week of school followed by a comprehension test. Completion of this assignment is a requirement for
Honors English 2. The scores from these assignments will be a large part of your first progress report grade.
1. Read Thomas C. Foster's book How to Read Literature Like a Professor.
Foster, a professor of English at the University of Michigan, has focused this book on helping you
handle the "basics" of studying literature. You will find his book both entertaining and insightful.
Additionally, we will reference the book regularly throughout the next three years in Honors English,
using several of Foster's methods in our own interpretations and discussion. Be sure you get the right
book! Foster has another book – How to Read Novels Like a Professor – this is NOT our book.
You will find this book at most local bookstores (new and used). While I highly recommend that you
own your own copy of this book, especially since you will use it in Honors English 3 and AP English,
you may also check it out from a library or borrow from a friend. Our school library may have a few
copies to check out as well; see the librarian BEFORE summer starts.
2. Take notes for each chapter (except: Introduction, Interludes, and Ch 27 Test Case) in the following
chart format (see example for chapter one):
Notes can be handwritten neatly or typed. Must have this work completed the first day of school!
Chapter
1
Gist: main idea(s)
A quest or hero's journey consists of
five things: a quester, place to go,
stated reason to go there, challenges
and trials, and real reason to go there
(self-knowledge)
Connection to another source & explanation (play, film,
novel, poem) NOT referenced in Foster's book
Harry Potter: Harry, an eleven year old orphan leaves the Dursleys
to attend Hogwarts and learn magic. Throughout his years he faces
trials, villains, tests, school, and his ultimate nemesis, Lord
Voldemort. In the end, he learns the truth about his parents, himself,
and the value of friendship.
3. Read one novel of your choosing.
This class will largely be centered on applying concepts and skills to literature selected by students. This
summer, read at least one book that you have not previously read and apply 2-3 chapters from Foster's
book to the book of your choice. Write up a paragraph explaining your findings using evidence from
your text to connect to chapters in How to Read Lit. Attach this paragraph to the end of your How to Read Lit.
notes. A list of titles that have been enjoyed by students this past year are on the back of this sheet, but do not
feel confined to this list if there is something else that you find interesting and would like to read.
Please feel free to email me if you have any questions or concerns: [email protected] Suggested Titles For Independent Reading: 1. If I Stay (Gayle Foreman)
2. 13 Reasons Why (Jay Asher)
3. Knights of Hill County (John Green)
4. The Maze Runner (James Dashner)
5. Eleanor and Park (Rainbow Rowell)
6. Looking for Alaska (John Green)
7. Code Name Verity (Elizabeth Wein)
8. Rose Under Fire (Elizabeth Wein)
9. Fangirl (Rainbow Rowell)
10. Paper Towns (John Green)
11. The Book Theif (Markus Zusak)
12. I Am Malala (Malala Yousafzai)
13. The Spectacular Now (Tim Tharp)
14. The Lovely Bones (Alice Sebold)
15. Matched (Ally Condie)
16. Gone Girl (Gillian Flynn)
17. Sharp Objects (Gillian Flynn)
18. Dark Places (Gillian Flynn)
19. The Perks of Being a Wallflower (Stephen Chbosky)
20. The Catcher in the Rye (J. D. Salinger)
21. The Secret Life of Bees (Sue Monk Kidd)
22. A Separate Peace (John Knowles)
23. The Bean Trees (Barbara Kingsolver)
24. Ender's Game (Orson Scott Card)
Check out display tables for suggested summer reading at your local bookstore or library.
www.goodreads.com has recommendations and lists of popular titles as well. Find
something you'll enjoy.