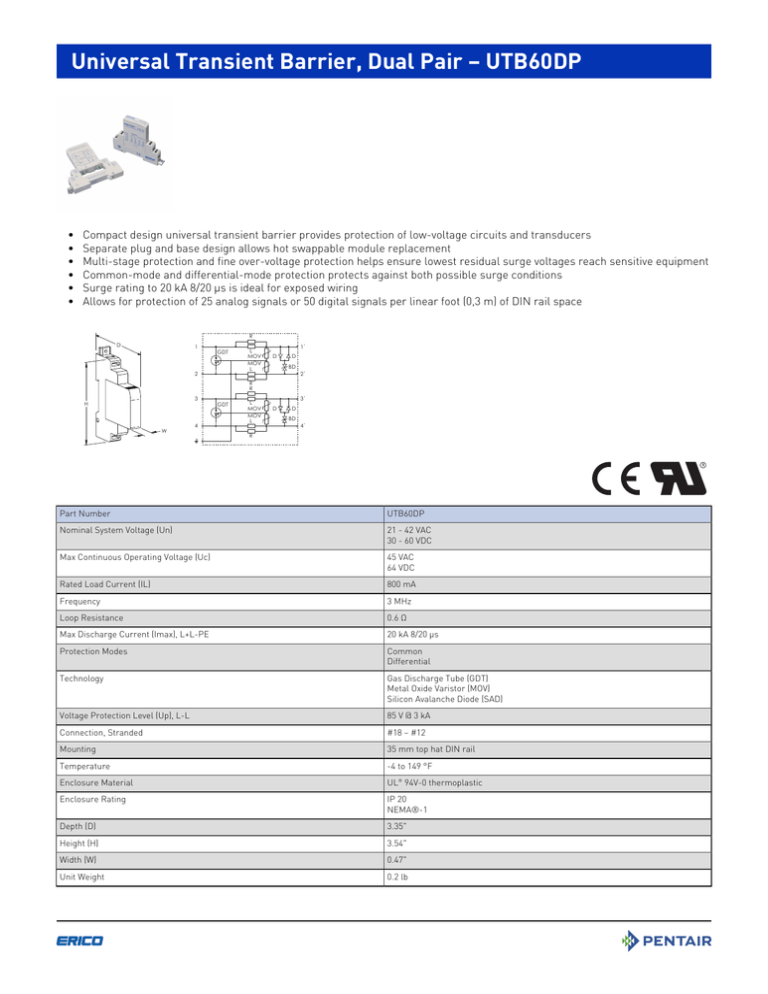 Universal Transient Barrier, Dual Pair – UTB60DP
•
•
•
•
•
•
Compact design universal transient barrier provides protection of low-voltage circuits and transducers
Separate plug and base design allows hot swappable module replacement
Multi-stage protection and fine over-voltage protection helps ensure lowest residual surge voltages reach sensitive equipment
Common-mode and differential-mode protection protects against both possible surge conditions
Surge rating to 20 kA 8/20 μs is ideal for exposed wiring
Allows for protection of 25 analog signals or 50 digital signals per linear foot (0,3 m) of DIN rail space
R
D
1
GDT
L
MOV
MOV
L
1΄
D
D
BD
2
2΄
R
R
3
H
GDT
L
MOV
MOV
L
4
W
3΄
D
D
BD
4΄
R
Part Number
UTB60DP
Nominal System Voltage (Un)
21 - 42 VAC
30 - 60 VDC
Max Continuous Operating Voltage (Uc)
45 VAC
64 VDC
Rated Load Current (IL)
800 mA
Frequency
3 MHz
Loop Resistance
0.6 Ω
Max Discharge Current (Imax), L+L-PE
20 kA 8/20 μs
Protection Modes
Common
Differential
Technology
Gas Discharge Tube (GDT)
Metal Oxide Varistor (MOV)
Silicon Avalanche Diode (SAD)
Voltage Protection Level (Up), L-L
85 V @ 3 kA
Connection, Stranded
#18 – #12
Mounting
35 mm top hat DIN rail
Temperature
-4 to 149 °F
Enclosure Material
UL® 94V-0 thermoplastic
Enclosure Rating
IP 20
NEMA®-1
Depth (D)
3.35"
Height (H)
3.54"
Width (W)
0.47"
Unit Weight
0.2 lb
Part Number
UTB60DP
Certification Details
UL® 497B
Complies With
ANSI®/IEEE® C62.41.2-2002 Cat A, Cat B, Cat C
Replacement Module
UTB60DPM
Certifications
CE
UR
Standard Packaging Quantity
1 pc
UPC
78285662220
EAN-13
8711893097405
ANSI is a registered trademark of American National Standards Institute. IEEE is a registered trademark of The Institute of Electrical and Electronics Engineers, Inc. NEMA is a
registered service mark of National Electrical Manufacturers Association. UL, UR, cUL, cUR, cULus and cURus are registered certification marks of UL LLC.
WARNING
Pentair products shall be installed and used only as indicated in Pentair's product instruction sheets and training materials. Instruction sheets are available at erico.pentair.com and
from your Pentair customer service representative. Improper installation, misuse, misapplication or other failure to completely follow Pentair's instructions and warnings may cause
product malfunction, property damage, serious bodily injury and death and/or void your warranty.
© 2016 Pentair All rights reserved
Pentair, CADDY, CADWELD, CRITEC, ERICO, ERIFLEX, ERITECH and LENTON are owned by Pentair or its global affiliates.
All other trademarks are the property of their respective owners. Pentair reserves the right to change specifications without prior notice.