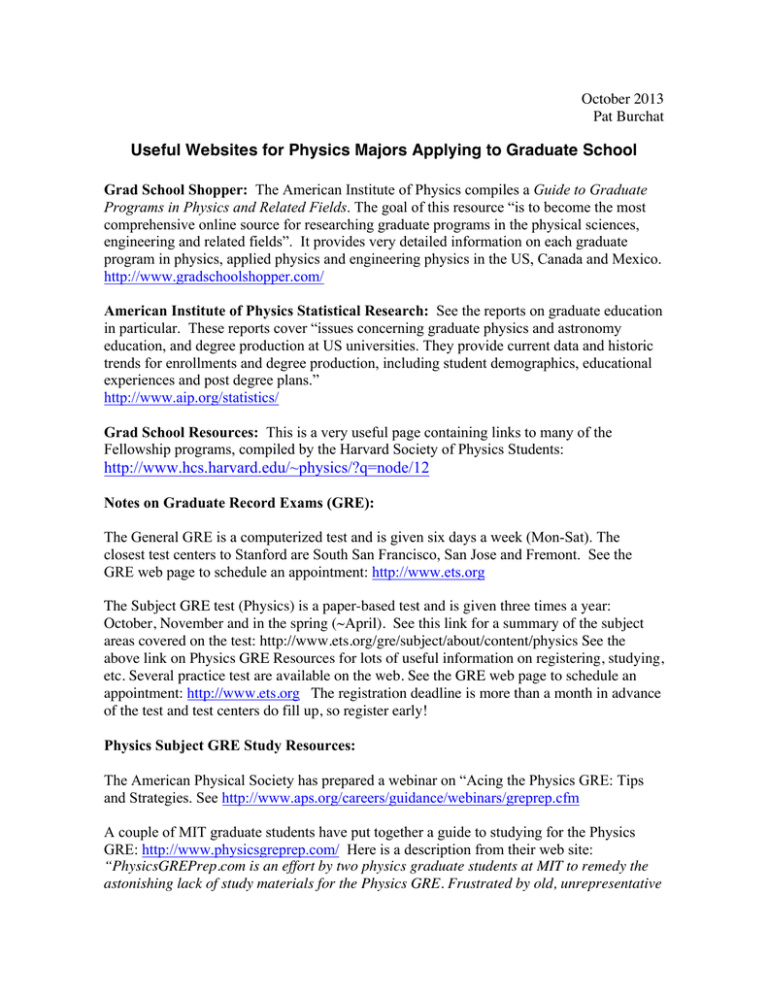 October 2013
Pat Burchat
Useful Websites for Physics Majors Applying to Graduate School
Grad School Shopper: The American Institute of Physics compiles a Guide to Graduate
Programs in Physics and Related Fields. The goal of this resource "is to become the most
comprehensive online source for researching graduate programs in the physical sciences,
engineering and related fields". It provides very detailed information on each graduate
program in physics, applied physics and engineering physics in the US, Canada and Mexico.
http://www.gradschoolshopper.com/
American Institute of Physics Statistical Research: See the reports on graduate education
in particular. These reports cover "issues concerning graduate physics and astronomy
education, and degree production at US universities. They provide current data and historic
trends for enrollments and degree production, including student demographics, educational
experiences and post degree plans."
http://www.aip.org/statistics/
Grad School Resources: This is a very useful page containing links to many of the
Fellowship programs, compiled by the Harvard Society of Physics Students:
http://www.hcs.harvard.edu/~physics/?q=node/12
Notes on Graduate Record Exams (GRE):
The General GRE is a computerized test and is given six days a week (Mon-Sat). The
closest test centers to Stanford are South San Francisco, San Jose and Fremont. See the
GRE web page to schedule an appointment: http://www.ets.org
The Subject GRE test (Physics) is a paper-based test and is given three times a year:
October, November and in the spring (~April). See this link for a summary of the subject
areas covered on the test: http://www.ets.org/gre/subject/about/content/physics See the
above link on Physics GRE Resources for lots of useful information on registering, studying,
etc. Several practice test are available on the web. See the GRE web page to schedule an
appointment: http://www.ets.org The registration deadline is more than a month in advance
of the test and test centers do fill up, so register early!
Physics Subject GRE Study Resources:
The American Physical Society has prepared a webinar on "Acing the Physics GRE: Tips
and Strategies. See http://www.aps.org/careers/guidance/webinars/greprep.cfm
A couple of MIT graduate students have put together a guide to studying for the Physics
GRE: http://www.physicsgreprep.com/ Here is a description from their web site:
"PhysicsGREPrep.com is an effort by two physics graduate students at MIT to remedy the
astonishing lack of study materials for the Physics GRE. Frustrated by old, unrepresentative
exams and a lack of comprehensive review material, we created a complete suite of study
materials to help students earn the highest score possible." The book is available for ~$50
online.
Here is a very useful Physics Subject GRE preparation web page put together by the Society
of Physics Students at Ohio State University:
http://www.physics.ohio-state.edu/undergrad/ugs_gre.php
They have grouped problems by topic (Mechanics, E&M, Quantum, etc.) and arranged them
into 18 "problem sets" to organize your studying. They have also written up solutions with
tips on how to most efficiently arrive at the correct answer (dimensional analysis,
symmetries, limiting cases, etc.). Of course, it is best not to look at the solutions until you
have thoroughly analyzed the problems yourself... The web site also contains links to
complete past exams and other resources.
And here is another useful web page with information and resources on preparing for the
Physics Subject GRE, compiled by the Harvard Society of Physics Students:
http://www.hcs.harvard.edu/~physics/?q=node/13
We recommend that you start by writing one practice exam in an "exam environment,"
grade the exam, and use it to identify areas in which you most need review. Also try to
reserve the questions from one complete exam to do a final practice exam in an exam
environment to work on strategies for when to skip a problem and move on to the next one.