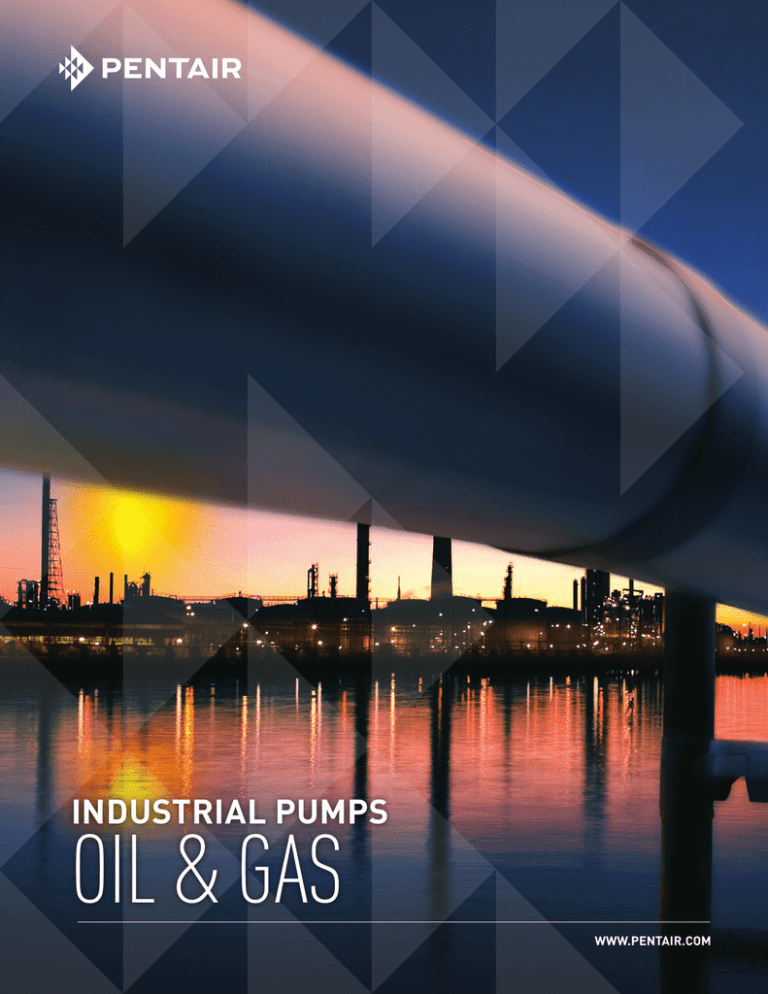 INDUSTRIAL PUMPS
OIL & GAS
WWW.PENTAIR.COM
INDUSTRIAL PUMPS – OIL & GAS
Onshore Applications
From discovery to delivery, Pentair® helps you make your processes safe,
efficient and environmentally friendly by providing a versatile line of pumps
for onshore applications, helping solve your onshore pumping needs. From
reciprocating pumps, horizontal split case and process pumps we have the
solutions to fit your needs.
Years of proven performance makes Pentair the clear choice for your
onshore oil and gas applications.
Pipe Line Booster and High Pressure Pumps
The Pentair family of reciprocating pumps comes in a variety of materials of
construction to handle the toughest of your high pressure applications.
Pentair's ANSI B73.1 standard dimensional process pump is a versatile workhorse.
This pump comes in a variety of materials of construction from 316 SST to titanium.
Capacities to 5,600 gpm with heads to 550 feet, this pump is also ideal for many chemical
and transfer fluid applications.
Pentair's horizontal
split case pumps have
capacities up to 75,000
gpm and heads to 1,200
feet. These pumps can
operate under a multitude
of services of general liquid
pumping applications.
Many models available that
meet API 610 standards.
Pentair's multistage
vertical turbine pump
is capable of handling
up to 40,000 gpm with
heads up to 1,500 feet.
With the flexibility of
various options to meet
your demands, this is an
excellent product for the
demanding environment
within the salt water
disposal process. Many
models available that
meet API 610 standards.
INDUSTRIAL PUMPS – OIL & GAS
Oil and Gas
The Pentair family of pump products has been serving the oil
and gas industry for well over 90 years. For difficult applications
such as salt water disposal, to transfer pumps used onboard oil
tankers, to fire pumps used within refineries, the Pentair family
of products are used in many various applications within the oil
and gas industry.
From onshore production to the deep waters of offshore
production and back, the Pentair family of brands is by your side
and can support the ever-growing needs of this exciting market.
The next time you're in need of a pump for your oil and gas
application, think of the Pentair family of products.
Offshore/Marine Applications
Offshore oil and gas production place full trust on quality pumps to
perform. Proven performance is what Pentair provides.
Our industrial vertical inline, horizontal split case, vertical split case and
vertical turbine pumps provide quality solutions for your needs.
Years of field proven performance can attribute to our continued success
and ability to provide the industry with some of the best pumps available
for use in the offshore applications. Feel safe and secure by putting your
trust in Pentair.
Fire Protection Pumps
For onshore, offshore and in-between shores, Pentair offers
a complete line of pumps to meet your fire protection needs:
end suction, vertical inline, horizontal and vertical split case,
vertical turbine, and foam and water mist pumps. Offering
both electric and diesel drives, we can also design and
manufacture complete packaged systems to custom fit your
requirements. For harsh environments and applications, in
addition to standard materials of construction, Pentair's split
case and vertical turbine pumps are available in 316 SST,
duplex and super-duplex, and Nickel Aluminum Bronze.
All fire pumps and packages are built to NFPA 20 and NEC
standards with UL Listed, FM Approved components.
WWW.PENTAIR.COM
INDUSTRIAL PUMPS – OIL & GAS
Production Applications
Pentair has a pump solution when it comes to your oil and gas
production needs. From lifting sea water, to utility functions,
to safety and fire protection we have you covered. Decades of
continuing quality form some of the most trusted brands in the
industrial pump industry.
Pentair provides a variety of performance proven pumps designed for oil field, upstream
and downstream facilities. These include high capacity vertical turbine and horizontal
split case pumps for transfer services, high pressure water injection services and all
miscellaneous production related services.
These services include the following areas:
Utility Water Pumps
Pentair's horizontal split case pumps
have capacities up to 75,000 gpm and
heads to 1,200 feet. These pumps can
operate under a multitude of services of
general liquid pumping applications.
Pentair horizontal multistage pumps are
available in pressures up to 2000 psi
(1400 mlc) and come in a variety
of materials. This pump is ideal for
surface pumping due to the smaller
footprint, improved efficiencies and
lower maintenance costs than other
competing systems.
Sea Water
Lift Pumps
Pentair's vertical
turbine pumps and
mixed flow models
are designed to meet
the unique needs of,
high flow capacity/
low head conditions.
Salt Water Injection Operations
Pentair reciprocating pumps are built to last, handling continuous
duty 24-hour operation. These units can handle up to 340 hp at 3600 psi.
Pentair brands have served this industry
throughout the years with reliability and confidence.
AURORA
AURORA EDWARDS SERIES
AURORA LAYNE/VERTI-LINE SERIES
FAIRBANKS NIJHUIS
MYERS APLEX SERIES
®
®
®
®
®
www.AuroraPump.com | www.FairbanksNijhuis.com | www.femyers.com
Pentair's
Global Solutions Areas
FILTRATION & PROCESSING SOLUTIONS
Our advanced filtration, separation, treatment and quality control of water
and other fluids provides solutions for restaurants and breweries, local
municipalities and corporate office buildings.
FLOW MANAGEMENT SOLUTIONS
We enable the control, isolation and movements of fluids, gases and other
media – solutions that help maintain crucial operations in industries as
diverse as refineries, agriculture and municipal infrastructure.
EQUIPMENT PROTECTION SOLUTIONS
We create solutions that enclose, protect and cool essential electrical and
electronic equipment to help keep vital systems running.
THERMAL MANAGEMENT SOLUTIONS
We help our customers manage heat requirements to maintain critical
processes and provide greater control over a full array of thermal
management demands.
NORTH AURORA FACILITY
KANSAS CITY FACILITY
ASHLAND FACILITY
THE NETHERLANDS
630-859-7000
FAX: 630-859-7060
913-371-5000
FAX: 913-748-4025
419-289-1144
FAX: 419-281-9980
T +31 (0)543 547474
800 AIRPORT ROAD
NORTH AURORA, ILLINOIS 60542
3601 FAIRBANKS AVENUE
KANSAS CITY, KANSAS 66106
1101 MYERS PARKWAY
ASHLAND, OHIO 44805
NIJHUIS POMPEN BV
PARALLELWEG 4
7102 DE WINTERSWIJK
Because we are continuously improving our products and services, Pentair reserves the right to change specifications without prior notice.
K4537 04/20/15 © 2015 Pentair Ltd. All Rights Reserved.