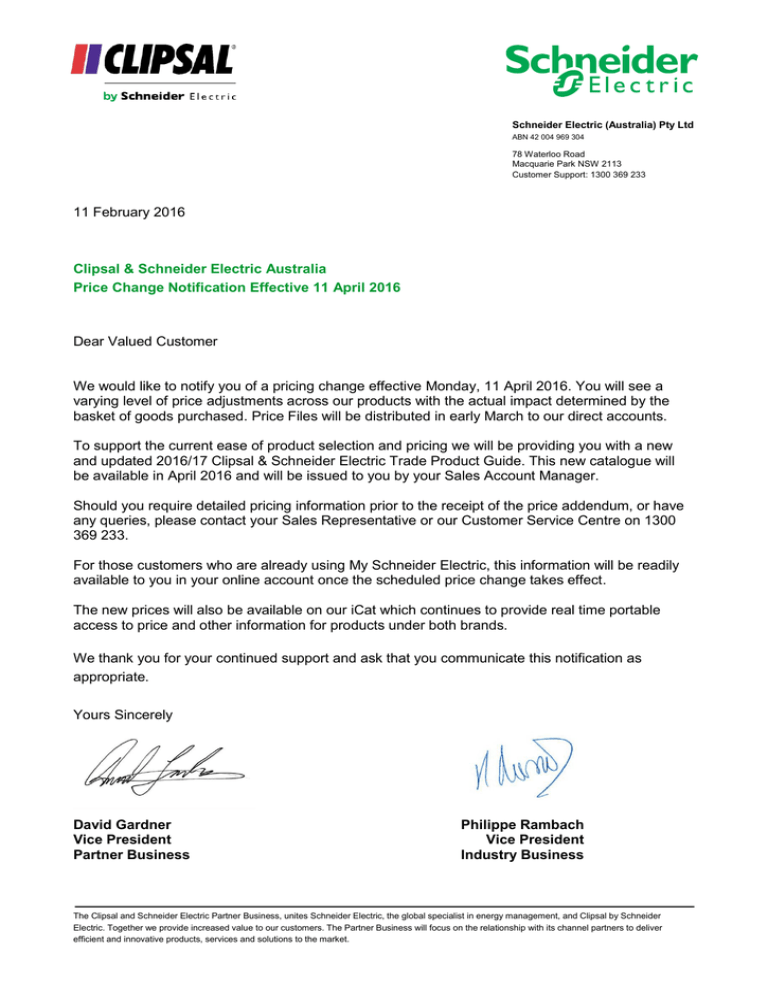 Schneider Electric (Australia) Pty Ltd
ABN 42 004 969 304
78 Waterloo Road
Macquarie Park NSW 2113
Customer Support: 1300 369 233
11 February 2016
Clipsal & Schneider Electric Australia
Price Change Notification Effective 11 April 2016
Dear Valued Customer
We would like to notify you of a pricing change effective Monday, 11 April 2016. You will see a
varying level of price adjustments across our products with the actual impact determined by the
basket of goods purchased. Price Files will be distributed in early March to our direct accounts.
To support the current ease of product selection and pricing we will be providing you with a new
and updated 2016/17 Clipsal & Schneider Electric Trade Product Guide. This new catalogue will
be available in April 2016 and will be issued to you by your Sales Account Manager.
Should you require detailed pricing information prior to the receipt of the price addendum, or have
any queries, please contact your Sales Representative or our Customer Service Centre on 1300
369 233.
For those customers who are already using My Schneider Electric, this information will be readily
available to you in your online account once the scheduled price change takes effect.
The new prices will also be available on our iCat which continues to provide real time portable
access to price and other information for products under both brands.
We thank you for your continued support and ask that you communicate this notification as
appropriate.
Yours Sincerely
David Gardner
Vice President
Partner Business
Philippe Rambach
Vice President
Industry Business
The Clipsal and Schneider Electric Partner Business, unites Schneider Electric, the global specialist in energy management, and Clipsal by Schneider
Electric. Together we provide increased value to our customers. The Partner Business will focus on the relationship with its channel partners to deliver
efficient and innovative products, services and solutions to the market.