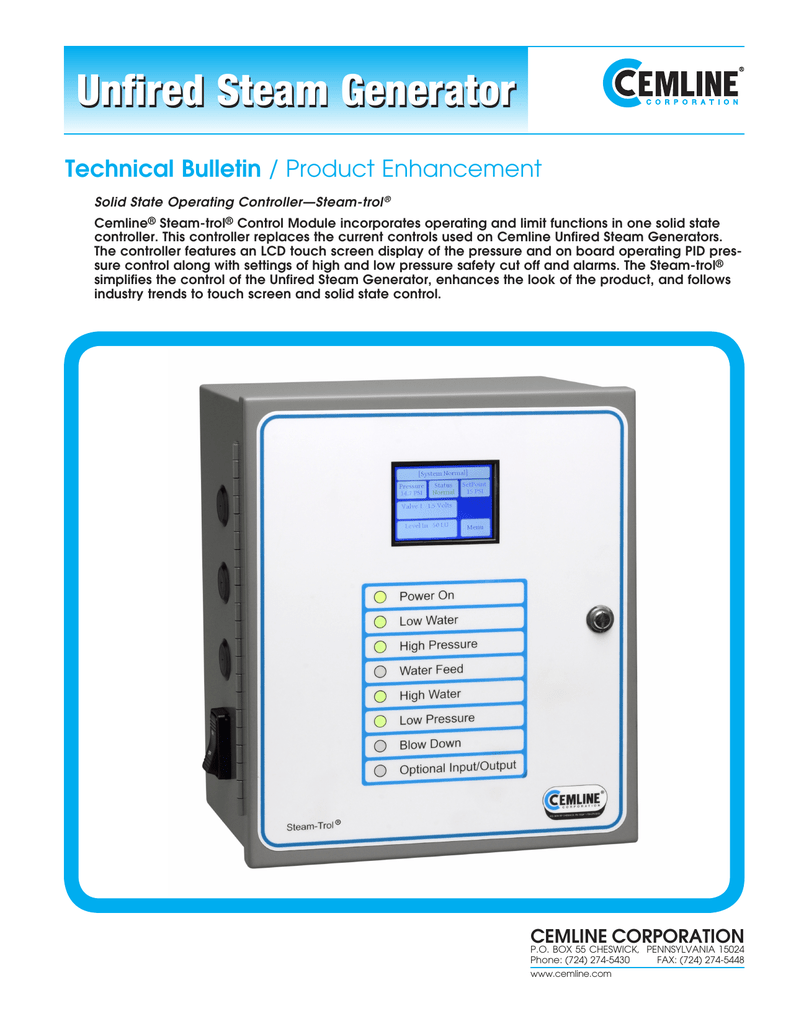 Unfired Steam Generator
Technical Bulletin / Product Enhancement
Solid State Operating Controller—Steam-trol ®
Cemline® Steam-trol® Control Module incorporates operating and limit functions in one solid state
controller. This controller replaces the current controls used on Cemline Unfired Steam Generators.
The controller features an LCD touch screen display of the pressure and on board operating PID pressure control along with settings of high and low pressure safety cut off and alarms. The Steam-trol®
simplifies the control of the Unfired Steam Generator, enhances the look of the product, and follows
industry trends to touch screen and solid state control.
CEMLINE CORPORATION
P.O. BOX 55 CHESWICK, PENNSYLVANIA 15024
Phone: (724) 274-5430
FAX: (724) 274-5448
www.cemline.com
Steam-trol
®
®
Cemline Steam-trol ® Steam Generator Control Module combines
all pressure controlling, limit, and control functions for the Cemline
Unfired Steam Generator into one simple to use and easy to understand control module.
Features:
PID Control Signal
High Water Cut Off
•Closes normally closed (power to open spring to close) ball valve in the feed water line to prevent over filling the Unfired Steam Generator and the system.
•PID Control Signal used to modulate an electronic control valve or to control I-P transducer modulating an air operated control valve. The PID controller allows for precise pressure control of the steam generator.
LCD Touch Screen Display
•Integrated automatic timed blow down allows for
•Display of operating pressure, set point pressure, control out
put signal along with user friendly interface of the controller.
Modulating Feed Water Control
•Allows for local on/off and is convenient for service in the unlikely event of service.
•Building Automation System can remotely set the pressure using a 4-20 mA signal.
Remote ON/OFF Control
•Building Automation System can remotely turn the unit
Modus Interface
•Building Automation System can remotely communicate with the Steam-trol™ via a RS-485 connection.
•Low Water
•High Pressure
•Water Feed
•Closes control valve in the event of a high pressure situation.
Low Water Cut Off
Remote Pressure Setting
•Power On
•The Steam-trol™ features an easy to read LCD digital read
out of the steam pressure.
High Pressure Set Point
pressure using a 4-20 mA signal.
LCD Display of Functions & Contacts to notify BAS
(Building Automation System) of functions
•Only one 120 VAC connection required to the unit.
Pressure Readout
Remote Pressure Readout
ON/OFF via a dry contact.
Single Point Wiring
setting the interval and duration of blow down.
•Building Automation System can remotely read the •Along with the current feed water controls, the Steam-trol™ has an option for modulating feed water control. The controller used in conjunction with a 4 – 20 mA level transmitter and a modulating feed water valve will provide modulating feed water to the Unfired Steam Generator. The benefit of supplying modulating feed water is to reduce suppression of steam production rate when water enters the Unfired Steam Generator.
On-Off Switch
Blow Down Control
•High Water
•Low Pressure
•Blow Down
•Closes control valve in the event of a low water situation.
•Optional Input/Output
Ratings:
Input: Selectable 120/220v AC - 50/60 Hz
Output Contacts: 1 amp at 24v AC
Building Automation outputs: Dry contacts, NO
0.5 amp maximum, non inductive
LCD display with resolution of 0.3% of scale
Operating water temperature range: 32°F - 200°F
Operating ambient temperature: Min 32°F max 140°F
Operating Humidity: 5% to 95% relative humidity
(RH) non-condensing
NEMA 4 enclosure
©2014 Cemline Corporation All Rights Reserved.
CEMLINE CORPORATION
All trademarks on this brochure are the property of Cemline
Corporation, unless otherwise noted or in any other way set forth as a
third party rights. Unauthorized use of these trademarks, as well as the
materials presented on this site, is expressly prohibited and constitutes
a violation of the intellectual property rights of Cemline Corporation.
Vol. 2
P.O. BOX 55 CHESWICK, PENNSYLVANIA 15024
Phone: (724) 274-5430
FAX: (724) 274-5448
www.cemline.com
Scan to view our mobile web link.