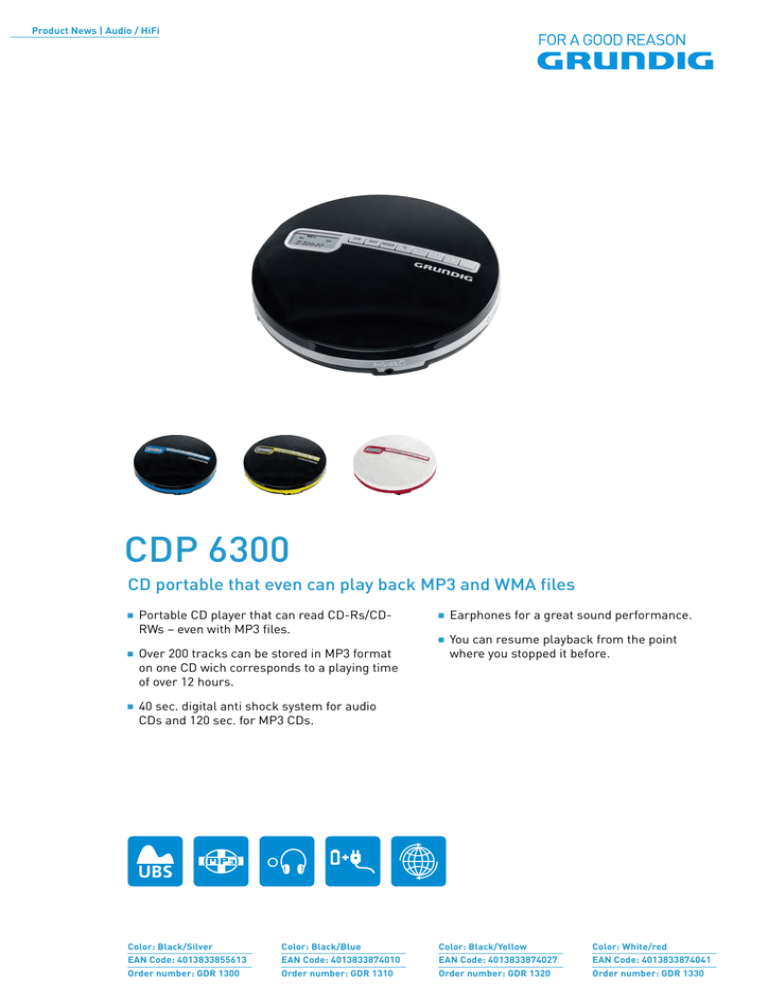 Product News | Audio / HiFi
CDP 6300
CD portable that even can play back MP3 and WMA files
■
Portable CD player that can read CD-Rs/CDRWs – even with MP3 files.
■
Over 200 tracks can be stored in MP3 format
on one CD wich corresponds to a playing time
of over 12 hours.
■
40 sec. digital anti shock system for audio
CDs and 120 sec. for MP3 CDs.
■
Earphones for a great sound performance.
■
You can resume playback from the point
where you stopped it before.
Color: Black/Silver
Color: Black/Blue
Color: Black/Yellow
Color: White/red
EAN Code: 4013833855613
EAN Code: 4013833874010
EAN Code: 4013833874027
EAN Code: 4013833874041
Order number: GDR 1300
Order number: GDR 1310
Order number: GDR 1320
Order number: GDR 1330
Technical data
Amplifer Part
Ultra Bass System (UBS): excellent bass sound reproduction
achieved by electronic amplification of the low frequencies,
6 fixed equalizer presets
CD Part
MP3 file system according ISO 9660 Level 1,
Disc formats possible: Audio CD / CD-R and CD-RW with
Audio, MP3 files or WMA-CD's,
1 bit DAC with 8 times oversampling,
Introscan: Each title on a CD is tuned in (played) for approx.
10 sec.,
Repeat function: All titels, or just one, or a pre-selected programme is repeated,
Digital Anti-Shock-System: (up to 40 seconds Audio CD),
Fast forward/rewind (search),
Skip forward and backward,
Resume Play for playback of e-books
Power Supply
Batteries: 2 x 1,5 V (AM 3, LR 6, AA)
Mains supply: 100 - 240 V~ via AC adapter,
Mains frequency: 50 Hz / 60 Hz
Display
LC display
Cabinet (Ø x H)
143 x 32 mm
Net weight
224 gr
General
Automatic switch off function to save energy and extend the
life time of the battery
Included in delivery
Warranty sheet,
AC-adapter,
Stereo earphones,
Instruction booklet
Color
Black/Silver,
Black/Blue,
Black/Yellow,
White/Red
www.grundig.de
g
g
Grundig
G
di IIntermedia
di G
GmbH,
bH D
D-90471
90471 Nü
Nürnberg.
b
Änderungen
Ä d
und
d Li
Liefermöglichkeiten
f
ö li hk i
vorbehalten.
b h l
Subject to modifcations and delivery possibilities. 23.01.2015. Printed in Germany.