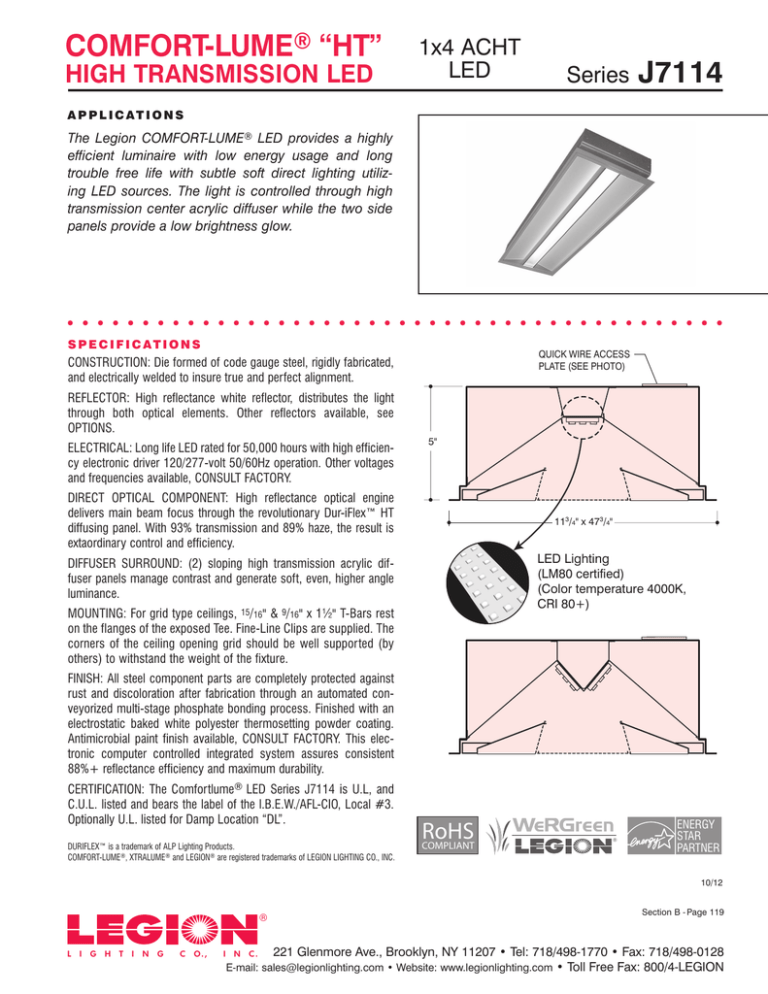 COMFORT-LUME® "HT"
HIGH TRANSMISSION LED
1x4 ACHT
LED
Series
J7114
A P P L I C AT I O N S
The Legion COMFORT-LUME® LED provides a highly
efficient luminaire with low energy usage and long
trouble free life with subtle soft direct lighting utilizing LED sources. The light is controlled through high
transmission center acrylic diffuser while the two side
panels provide a low brightness glow.
S P E C I F I C AT I O N S
QUICK WIRE ACCESS
PLATE (SEE PHOTO)
CONSTRUCTION: Die formed of code gauge steel, rigidly fabricated,
and electrically welded to insure true and perfect alignment.
REFLECTOR: High reflectance white reflector, distributes the light
through both optical elements. Other reflectors available, see
OPTIONS.
ELECTRICAL: Long life LED rated for 50,000 hours with high efficiency electronic driver 120/277-volt 50/60Hz operation. Other voltages
and frequencies available, CONSULT FACTORY.
5"
DIRECT OPTICAL COMPONENT: High reflectance optical engine
delivers main beam focus through the revolutionary Dur-iFlex™ HT
diffusing panel. With 93% transmission and 89% haze, the result is
extaordinary control and efficiency.
113/4" x 473/4"
LED Lighting
(LM80 certified)
(Color temperature 4000K,
CRI 80+)
DIFFUSER SURROUND: (2) sloping high transmission acrylic diffuser panels manage contrast and generate soft, even, higher angle
luminance.
MOUNTING: For grid type ceilings, 15/16" & 9/16" x 1½" T-Bars rest
on the flanges of the exposed Tee. Fine-Line Clips are supplied. The
corners of the ceiling opening grid should be well supported (by
others) to withstand the weight of the fixture.
FINISH: All steel component parts are completely protected against
rust and discoloration after fabrication through an automated conveyorized multi-stage phosphate bonding process. Finished with an
electrostatic baked white polyester thermosetting powder coating.
Antimicrobial paint finish available, CONSULT FACTORY. This electronic computer controlled integrated system assures consistent
88%+ reflectance efficiency and maximum durability.
CERTIFICATION: The Comfortlume® LED Series J7114 is U.L, and
C.U.L. listed and bears the label of the l.B.E.W./AFL-CIO, Local #3.
Optionally U.L. listed for Damp Location "DL".
DURIFLEX™ is a trademark of ALP Lighting Products.
COMFORT-LUME®, XTRALUME® and LEGION® are registered trademarks of LEGION LIGHTING CO., INC.
RoHS
COMPLIANT
®
ENERGY
STAR
PARTNER
10/12
®
L I G H T I N G
C O. ,
I N C.
Section B - Page 119
221 Glenmore Ave., Brooklyn, NY 11207 • Tel: 718/498-1770 • Fax: 718/498-0128
E-mail: sales@legionlighting.com • Website: www.legionlighting.com • Toll Free Fax: 800/4-LEGION
COMFORT-LUME® "HT"
1x4 ACHT
LED
Series J7114
HIGH TRANSMISSION LED
OPTIONS
Suffix "LT" after catalog no. for cold weather ballast.
Suffix "EM" after catalog no. for emergency battery pack, see price list
for types.
Suffix "DL" after catalog no. for damp location.
Suffix "DIM" after catalog no. for dimming ballast.
OPTIONAL REFLECTORS
Suffix "XTA" after cat. no. for XTRALUME® reflector standard with 85% reflectance,
for 95% reflectance specify your requirements and consult factory.
Suffix "XTALD" after cat. no. for linear ribbed matted diffuser, and consult factory.
Suffix "WO" after cat. no. for white optics, and consult factory.
QUICK WIRE ACCESS PLATE ON TOP OF
FIXTURE
FLANGE KIT
Suffix "FK1x4" after catalog no. for 1x4 fixture,
cut ceiling opening 12½"x48½".
ELECTRICAL LED DRIVER:
0-10V DIMMING
HIGH EFFICIENCY / HIGH POWER FACTOR
50,000 HRS LIFE TIME RATING
ROHS COMPLIANT, LEAD FREE
SHORT/OPEN CIRCUIT PROTECTION
INPUT VOLTAGE 120-277VAC 50/60Hz, MAX. INPUT CURRENT 550mA
OTHER DRIVERS AND LED BOARDS AVAILABLE, CONSULT FACTORY
FINE LINE CLIP (End detail)
CEILING END DETAILS
FINE LINE
Type "JS"
Slot T-Grid
EXPOSED
"T"GRID
Type "J"
Lay-In
ORDE R I N G I N F O R M AT I O N
Fill in ordering Information into empty boxes by choosing
the appropriate BOLD numbered items shown below.
CEILING
TYPE
NO. OF
LED BOARD/S
SERIES
–
–
7114 1 x 4
–
1LED
2LED
SWITCHING
OPTION
VOLTAGE
–
UNV 120-277V
120 120V
J 15/16" Exposed T-Grid
JS 9/16" Slot T-Grid
SHIELDING
OPTION
–
SI Single
EMERGENCY
BALLAST
–
EM Emergency Pack
ACHT High Transmission
Center & Diffusing
Side Panels
ORDERING EXAMPLE:
J7114-1LED-120-SI-ACHT-EM
NOTE: Consult factory for other Shielding Options.
PHOT O M E T R I C DATA - CONSULT FACTORY
®
Information supplied primarily for illustrative purposes, subject to change.
Consult factory for verification and minimum quantity orders. Photometrics and/or
performance summaries for your particular layout available, consult factory.
Section B - Page 120
L I G H T I N G
C O. ,
I N C.