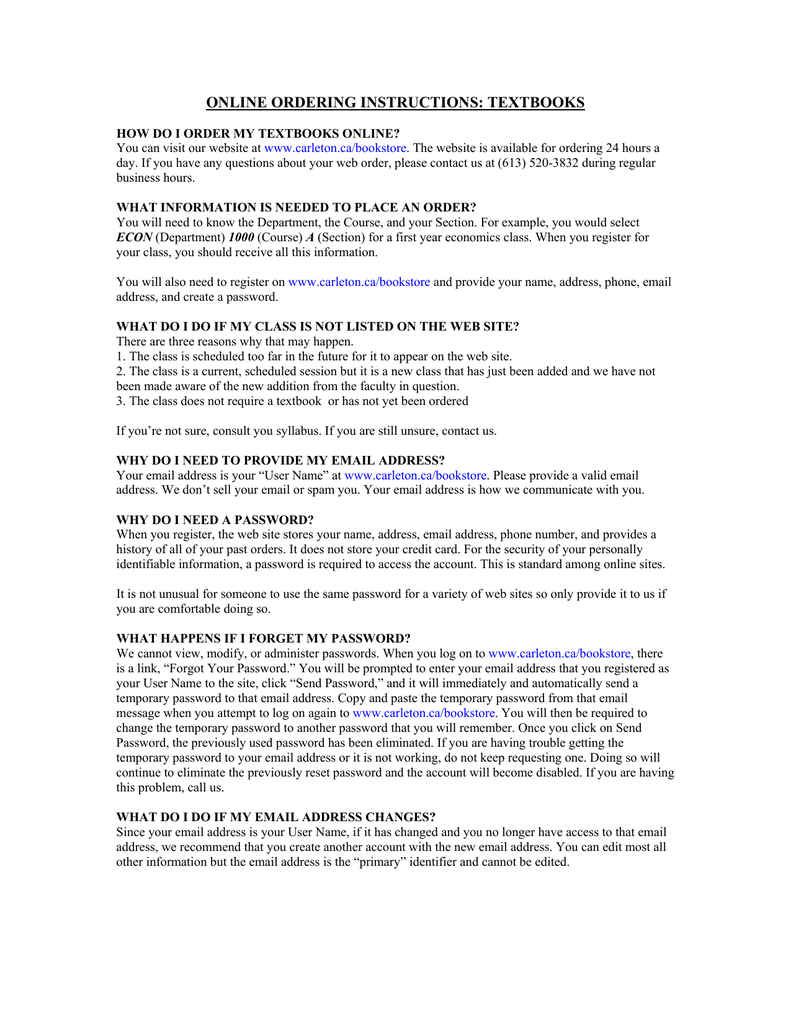 ONLINE ORDERING INSTRUCTIONS: TEXTBOOKS
HOW DO I ORDER MY TEXTBOOKS ONLINE?
You can visit our website at www.carleton.ca/bookstore. The website is available for ordering 24 hours a
day. If you have any questions about your web order, please contact us at (613) 520-3832 during regular
business hours.
WHAT INFORMATION IS NEEDED TO PLACE AN ORDER?
You will need to know the Department, the Course, and your Section. For example, you would select
ECON (Department) 1000 (Course) A (Section) for a first year economics class. When you register for
your class, you should receive all this information.
You will also need to register on www.carleton.ca/bookstore and provide your name, address, phone, email
address, and create a password.
WHAT DO I DO IF MY CLASS IS NOT LISTED ON THE WEB SITE?
There are three reasons why that may happen.
1. The class is scheduled too far in the future for it to appear on the web site.
2. The class is a current, scheduled session but it is a new class that has just been added and we have not
been made aware of the new addition from the faculty in question.
3. The class does not require a textbook or has not yet been ordered
If you're not sure, consult you syllabus. If you are still unsure, contact us.
WHY DO I NEED TO PROVIDE MY EMAIL ADDRESS?
Your email address is your "User Name" at www.carleton.ca/bookstore. Please provide a valid email
address. We don't sell your email or spam you. Your email address is how we communicate with you.
WHY DO I NEED A PASSWORD?
When you register, the web site stores your name, address, email address, phone number, and provides a
history of all of your past orders. It does not store your credit card. For the security of your personally
identifiable information, a password is required to access the account. This is standard among online sites.
It is not unusual for someone to use the same password for a variety of web sites so only provide it to us if
you are comfortable doing so.
WHAT HAPPENS IF I FORGET MY PASSWORD?
We cannot view, modify, or administer passwords. When you log on to www.carleton.ca/bookstore, there
is a link, "Forgot Your Password." You will be prompted to enter your email address that you registered as
your User Name to the site, click "Send Password," and it will immediately and automatically send a
temporary password to that email address. Copy and paste the temporary password from that email
message when you attempt to log on again to www.carleton.ca/bookstore. You will then be required to
change the temporary password to another password that you will remember. Once you click on Send
Password, the previously used password has been eliminated. If you are having trouble getting the
temporary password to your email address or it is not working, do not keep requesting one. Doing so will
continue to eliminate the previously reset password and the account will become disabled. If you are having
this problem, call us.
WHAT DO I DO IF MY EMAIL ADDRESS CHANGES?
Since your email address is your User Name, if it has changed and you no longer have access to that email
address, we recommend that you create another account with the new email address. You can edit most all
other information but the email address is the "primary" identifier and cannot be edited.
WHAT DO I DO IF MY MAILING ADDRESS CHANGED?
When you log on with your email address as your User Name and password, you are taken to a screen that
allows you to edit your address. If you are placing an order and the address has changed, please make the
address change BEFORE you place the order. If not, the order will be sent to the wrong address. Changing
an address does not retroactively change past or existing order information.
WHEN IS THE BEST TIME TO ORDER USED BOOKS?
We post upcoming terms approximately 3 weeks ahead of the first day of class. During that time, we are
acquiring Used books through buyback and other sources. Since Used books are sold for 25% less than the
retail price of New books, there is a much greater demand for Used books.
Supply and demand applies to Used books. The inventory level of Used books will peak about 3 weeks
prior to the first day of class since the supply of Used books is at its height while the number of orders for
them are lower than when class approaches. Historically, the bulk of the orders we receive from students
arrive two weeks prior to the beginning of class. During that time, the supply of Used books rapidly sell
through while the demand for them is at its highest.
We recommend that you order early to take advantage of the greater availability of Used books, their lower
price. Our refund policy allows for 100% full refund for up to 10 days after the start of class and it was
designed for you to order early to take advantage of the Used book savings.
WHY MUST I SELECT A TEXTBOOK CONDITION PREFERENCE?
Even though we update the site frequently, we cannot guarantee that the Used or New book that you
selected is still available as "In Stock" when we process your order. Orders placed close to the beginning of
a class can arrive at the rate of 1 every 100 seconds and we may have sold out of the New or Used copy
from an order that was placed moments before yours. We strongly recommend that you select "If my
New/Used condition selected is unavailable, please replace with the new/used condition that is in stock.
This may affect my order total." By making that decision, we can send you the book although it may be a
New book instead of a Used book. If you made the decision to disallow us to replace the book, we will
cancel that title from the order since we cannot complete it even though we may be in stock on the title.
Substituting a book does not mean that we will send you a completely different book. It only means that we
can send you either a Used or New book of the same title depending upon what is physically on hand when
we process your order. Of course, if we are in stock on what you ordered, that is what you will get.
PICK-UP/SHIPPING
We can either set the book aside for you to pick up at the store or have it shipped to your home. Please see
shipping instructions at the bottom of the website for more shipping information. Please allow for 2-3 days
during the regular season and 3-5 days during the rush season regardless of method chosen. If you are
coming on campus from out of town, it is often best to request the "pick-up" option as we can not guarantee
that your books will be shipped before move-in weekend.
HOW DO I PAY FOR MY ORDER?
We accept Campus Cards (we require the student number), Visa, MasterCard, and American Express.
Orders are shipped immediately upon authorization by the cardholder's bank for the purchase.
DO YOU KEEP MY CREDIT CARD ON FILE?
No. Credit card expiration dates expire and many customers use different cards with different orders placed
over time. When you order online, the credit card is not stored on the web site and you will need to provide
the card number, expiration date, and credit card security code number with each order.
HOW DO I KNOW MY ORDER WENT THROUGH OK?
When you complete your order online, you will receive a confirmation number as the last step of the
ordering process. The number will begin as "93600000….." If you do not have that confirmation, the order
did not go through. Most often, the problem is that you still have one more page to go and have clicked out
of the site before finishing the order completely. You can also know that the order went through by
checking your email that you used as your User Name. Immediately upon confirmation of your order, an
email is automatically sent containing the confirmation number and the details of your order.
HOW CAN I TRACK THE PROGESS OF MY ORDER?
There are 3 emails that you will receive letting you know of your order's progress.
1. "Your Carleton University Bookstore Order" The order has been "received." This means the order has
been accepted by the web site and is confirmed as a successfully placed order and will have a web order
number in the content of the email.
2. The order has been "fulfilled," backordered," or "cancelled." Shipped means we have completed the
order and it is on its way to you.
3. You will also receive and email to let you know when your order is ready to be picked up or shipped.
When an order is shipped, the tracking number will be provided.
All of these emails are automatically generated and are sent to the email address that you used as your User
Name.
WHY WAS MY ORDER CANCELLED?
There are two reasons:
1. We were unsuccessful in obtaining authorization for your credit card from your bank. If we cannot
obtain authorization from your bank, we cannot complete the order and we will notify you via email
immediately.
2. You selected as your Textbook New/Used Condition Preference: "If my new/used condition selected is
unavailable, DO NOT replace the item(s). I understand that the unavailable item(s) will be CANCELLED
from my order." No charges are incurred when items are cancelled.
DO I GET A RECEIPT FOR MY ORDER?
Yes. When your order is shipped, inside each package is a receipt with a bar code. The receipt will show
the books purchased as a line item and the cost of each. The receipt does not have the credit card number
on it as it is embedded in the bar code so no need to be concerned if you are buying it for someone else and
having it shipped to them directly.
WHAT IF I HAVE OTHER QUESTIONS?
You may contact us by email at [email protected] or by calling us at (613) 520-3832.