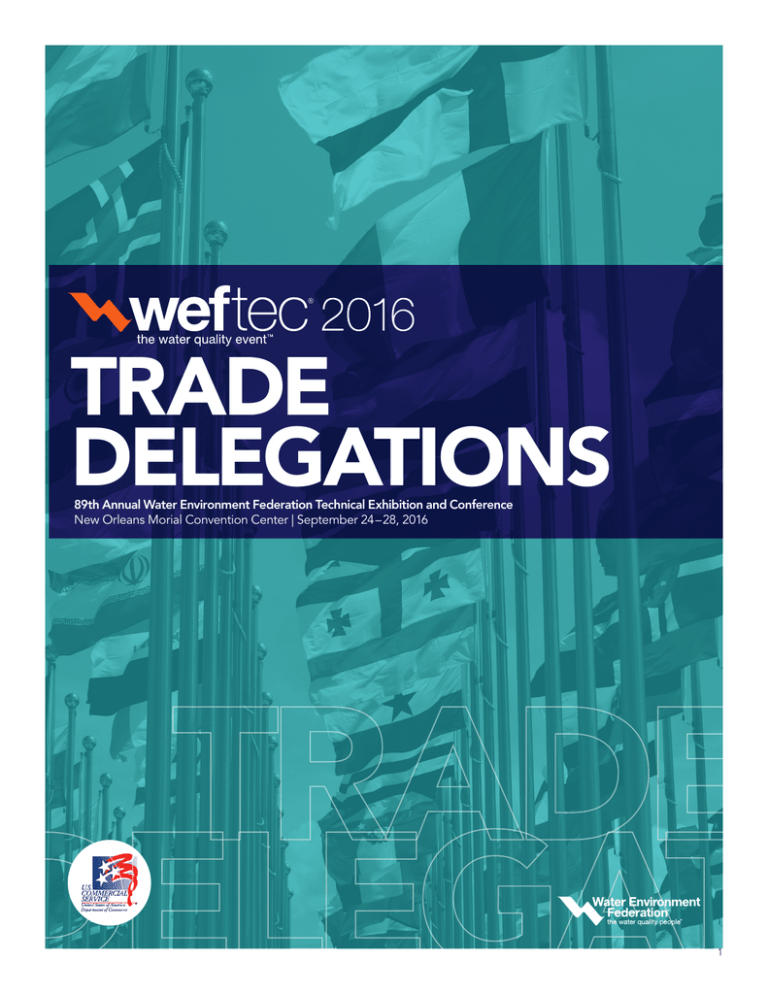 TRADE
DELEGATIONS
89th Annual Water Environment Federation Technical Exhibition and Conference
New Orleans Morial Convention Center | September 24 – 28, 2016
1
CREATING THE
FUTURE OF WATER
WEFTEC is the water event of choice for thousands of global water
professionals looking for solutions to global water challenges.
In 2015, WEFTEC included 3, 196 global attendees from 84 countries.
Canada
1 102
China
282
South Korea
179
Mexico
165
Taiwan
145
PARTICIPATE IN A TRADE
DELEGATION AT WEFTEC.
WEF's trade delegation program is designed to support the
increasing number of international buyers who visit WEFTEC. The
program offers delegates the chance to network with others in
the water quality industry from the U.S. and all over the globe,
establish business contacts, create partnerships, and share the
latest technologies and innovations available to global water
professionals. U.S. trade agencies, consulates, embassies and
independent delegation organizers work with WEF staff and
water and wastewater professionals to coordinate meetings for
international delegates interested in gaining greater access to
international markets.
Germany
117
Japan
96
United Kingdom
71
Brazil
68
PART OF THE U.S. DEPARTMENT
OF COMMERCE INTERNATIONAL
BUYER PROGRAM
International Trade Specialists from the
U.S. Department of Commerce are available
in the Global Center to provide matchmaking
assistance and export trade counseling to
international attendees and exhibitors.
Contact the Commercial Service Specialist at your local
United States Embassy or Consulate to discuss participation.
COUNTRY PAVILIONS AT WEFTEC
WEFTEC 2016 already has ten Country Pavilions from Canada,
China, Denmark, France, Italy, Japan, South Korea, Spain, The
Netherlands, and Taiwan.
Contact Nic Christy at [email protected] to learn more
about this program.
2
India
67
WEFTEC TRADE DELEGATIONS
WEFTEC MEANS BUSINESS
The water and wastewater industry's leading companies come together at WEFTEC to
make international contacts, and to keep global water professionals like you informed
and offer you the latest products, services, and technologies. WEFTEC is your key to the
multi-billion municipal and industrial wastewater treatment and water quality market.
MORE BUYERS
WEFTEC 2015 was attended by 25,000 registrants, providing our
exhibitors access to more buyers than any other water exhibition.
QUALIFIED BUYERS WITH PROVEN
PROFIT POTENTIAL
The water and wastewater industry's leading companies come
together at WEFTEC to make international contacts, and to keep
global water professionals like you informed and offer you the latest
products, services, and technologies. WEFTEC is your key to the
multi-billion municipal and industrial wastewater treatment and
water quality market.
WEFTEC attendees have multi-million dollar budgets and the
authority to make purchasing decisions. 90% of attendees are the
final decision-makers for purchases.
WEFTEC 2015 Exhibitor Product
Categories on Display
Process Treatment & Equipment
310
WEFTEC DELIVERS IN CHALLENGING TIMES
Residuals & Biosolids
161
Conveyance Systems
132
Monitoring, Sampling, & Analysis
128
Flow Control
121
THE MOST INTERNATIONAL BUYERS
Chemicals
110
WEFTEC 2014 was attended by 3, 196 international attendees
from 84 countries. International water quality buyers consider
WEFTEC to be the one must-attend water event in the world..
Utilities & Facilities
107
Stormwater
97
Environmental Consulting Services & Organizationals
89
WEFTEC continues to provide exceptional results for exhibitors.
It was again recognized as the leading water and wastewater
exhibition with over 1,000 exhibitors, 30,000 square meters of
exhibits, and 25,000 registrants.
WEFTEC KEEPS THEM COMING
WEFTEC is known for providing exhibitors with strong booth
traffic that lasts. We keep buyers coming to you until the lights go
out in the exhibit hall.
Number of
Companies
*based on latest available data
1
THE HUB OF GLOBAL BUSINESS
NETWORKING OPPORTUNITIES
As international attendance at WEFTEC continues to grow, the Global Center is the
place for networking and worldwide business opportunities. In addition to providing
registration and logistical assistance for international trade delegations, the Global Center
has all the resources needed to match international trade delegates to exhibitors with an
eye on global markets. WEFTEC's Global Center is where you come to make important
contacts and gain valuable information by interacting with leading manufacturers and
representatives in the water and wastewater industry.
Global Center Services
■■
Multilanguage translation
■■
Presentations of global interest
■■
■■
Trade delegate product interest
information, lists of exhibiting
companies desiring to do business
in specific areas of the world and
rosters of WEFTEC registrants sorted
by state/ province and countries
International reception
Sponsored by
■■
Complimentary Wi-Fi
For more information, please visit
www.weftec.org or contact:
Laila Sukkariyyah
E-mail: [email protected]
Phone: +1-703-684-2458
Mobile: +1-703-650-8516
2
WEFTEC TRADE DELEGATIONS
PICK YOUR EDUCATIONAL
EXPERIENCE AT WEFTEC
1000
>
EXHIBITORS
129
&WORKSHOPS
29
17
9
TECHNICAL
SESSIONS
MOBILE SESSIONS
FACILITY
TOURS
WEFTEC TECHNICAL SESSION TRACKS
AND WORKSHOPS INCLUDE:
Collection Systems
Disinfection and
Public Health
Facility Operations
GIS and Computer
Applications,
Instrumentation
and Automation
Regulations and Public
Communications
Residuals and Biosolids
Small Communities and
Decentralized Systems
Stormwater Management
Global Perspectives
Sustainability, Climate
Change, and Energy
Management
Industrial Issues
Urban Systems
Leading-Edge Research
and Innovation
Utility Management
and EMS
Membrane Technologies
Water Quality,
Groundwater, and
Watershed Management
Microconstituents
Modeling
Nutrients
Odors and Air Emissions
Water Recycling and Reuse
Water Supply and
Management
Visit www.weftec.org for the detailed conference program and exhibition information.
3
The Exhibitors
THE EXHIBITORS
As of June 20, 2016
3M Membranes Business Unit
AA Thread Seal
ABBA Pump Parts & Service
ABB Inc.
ABEL Pumps LP
Abtech Industries Inc
Abutec Industries
ACME Engineering Products Inc.
Acrison Inc
Active Water Solutions, LLC
Adaptor Inc.
Adedge Water Technologies LLC
ADI Systems
ADI Water Solutions, LTD
ADS Environmental Services
Advanced Cooling Technologies
Advanced Drainage Systems, Inc.
Advance Products & Systems Inc
Advantage Sales & Supply
Aegion
Aeration Industries International
Aerator Solutions
Aerisa
Aero-Mod Inc
Aerovent
Aerzen
AFL Industries
Agru America, Inc.
Airsep Corp. – A Chart
Industries Company
AK Industries, Inc.
Akron Electric, Inc.
Albin Pump
Alfa Laval Inc
Algal Scientific Corp.
Allied Moulded Products Inc
AllMax Software Inc
ALL-TEST Pro, LLC
A-LOK Products, Inc.
Alpine Technology Inc
American Academy of
Environmental Engrs. & Sc
American Academy of Water
Resources Engineers AAWRE
American Aerators Inc
American Cast Iron Pipe Company
American-Marsh Pumps
American Process Group
– Tervita DDS
American Structures Inc
American Water Works Association
AmeriMex Motor & Controls, LLC
4
Amex 10 Service Gmbh
Amiad Water Systems
Amphenol Sine Systems
Analytical Sensors &
Instruments, Ltd.
Analytical Technology Inc
Andritz Separation Inc.
Anua
Anuvia Plant Nutrients
Apg-Neuros
AP/M Permaform/
ConShield Technologies
Applied Felts, Inc.
Applied Material Solutions, Inc
AppliTek NV
Aqua-Aerobic Systems Inc
Aqualabo Group
Aqualitec – EMO
Aqua Metrology Systems
Aquanox Water Control Products
Aquarius Technologies Inc
Aquaturbo Systems, Inc.
Aquionics Inc
Archer Western / Walsh
Construction
ARCOM
ARI USA Inc
Arizona Instrument
Arkon Flow Systems, S.R.O
ARVIA Technology
ASA Analytics
Asahi/America Inc
ASCO Power Technologies
Ashcroft Inc.
Ashland
Ashland Pump
Assmann Corporation of America
Association of Boards
of Certification
ASUNG Clean Flow-Tech
ATC--Diversified Electronics
atech innovations gmbh
Atlas Copco Compressors LLC
Augusta Fiberglass
AUMA Actuators, Inc.
Automatic Filters, Inc. – Tekleen
Automation Products Group Inc.
Avanti International
Avanti International
AW Chesterton Company
AWI
AXEON Water Technologies
Axiall Corporation
Badger Meter
BakerCorp
Baldor Electric Company
Balfour Beatty Infrastructure Inc.
Barmesa Pumps LLC
BBA Pumps
BDP EnviroTech LLC
BDP Industries Inc
Beck, Harold & Sons Inc
Bedford Reinforced Plastics
Beijing Cycle Columbus
Environmental Science
& Technology Co
Benjamin Media Inc
Bentley Systems
Berghof Membrane Technology
Bernard Controls
Beyond Components
Bilfinger Water
Technologies – AIRVAC
Bingham and Taylor Corporation
BinMaster
Bioair Solutions LLC
Biochem Technology Inc
Bio Clean & Modular Wetlands
Biodome Gas Holders
BioGill Operations Pty Ltd
Biolynceus Biological Solutions
Bio-Microbics Inc
Biorem Technologies Inc
Bioscience Inc
Biowish Technologies
Bioworks North America Inc
BJM Pumps
BKT
Blacoh Fluid Control Inc
BlueInGreen LLC
Blue I USA, LLC
Blue Planet Environmental
Systems Inc
Blue Ribbon Corp
Blue Water Technologies Inc
Blue-White Industries
BMR USA
BNW Valve Manufacturing Limited
Boerger, LLC
Bohn Biofilter
BOS Solutions, Inc.
Bousquet Technologies
Brandt Manufacturing
Brasfield & Gorrie
Brentwood Industries
Brentwood Industries
Bright Technologies, Specialty
Division of Sebright Products
Broadley-James Corporation
Brown Bear Corporation
Burkert Fluid Control Systems
Business France, French
Trade Commission
Cabot Norit Activated Carbon
Calgon Carbon Corporation
California Motor Controls
CAMBI, Inc
Campbell Scientific
Can-Am Chains
Canary Labs Inc.
Carboline Company
Carbon Activated Corp.
Carylon Corporation
CB&I
CCI Pipeline Systems
CECO Environmental Corporation
Centrisys Corporation
Cerlic Environmental Controls
CFturbo Software &
Engineering Gmbh
Channeline International Ltd.
Charlatte America
Charter Machine Company
Chemical Engineering
Chemical Injection
Technologies Inc
Chemical Processing
Chemkimia SDN. RHD
Chemline Plastics Limited
Chemtrol, A Brand of NIBCO INC.
Cherne Underground
C.I.M. Industries Inc
CIPP Corporation
Ciqada
Cityworks/ Azteca Systems, Inc
Claro Environmental Technologies
Cla-Val
Cleantek Water Solutions
Clean Water Services
Clean Water Technology
CleanWay Environmental
Partners, Inc.
Clearas Water Recovery
ClearBlu Environmental
ClearStream Environmental Inc
Clearwater Controls
The Exhibitors
Cline Aluminum Doors Inc
Cole Publishing
Composite Access Products
Concord Screen
Concrete Sealants, Inc.
CONERY MFG INC
Containment Solutions
Contech Engineered Solutions
Contech Engineered Solutions
Continental Blower LLC
Control Devices, LLC
Control Panels USA Inc.
Convergent Water
Technologies, Inc
Cornell Pump Company
Cox Research & Technology Inc.
Crane Pumps & Systems
Cretex Specialty Products
Crispin Valve
CROM LLC.
CST Industries
Cues Inc
Custom Conveyor Corporation
DAB Pumps, Inc
Dais Analytic Corporation
Dakota Pump Inc
Dallai
Daniel Company
Danish Water Technology
Group / Denmark Pavilion
Darhor Technology Co., Ltd
Data Flow Systems, Inc.
DECAST
Deep Trekker Inc
DEHN, Inc.
DEL Tank & Filtration Systems
Delta-Phase Electronics, Inc.
Delta Screens
De Nora Water Technologies, Inc
Denso
Design Ready Controls
Detection Instruments Corporation
DeZurik/APCO/Hilton
D-Flow Technology AB
DHI Water & Environment, Inc.
Diamond Fiberglass
Diamond Plastics Corporation
Discflo Corporation
DLM Plastics
DN Tanks
Doetsch Environmental Services Inc
Dorot Control Valves, Inc.
Douglas Products and
Packaging Company
Dow Water & Process Solutions
Draeger Safety, Inc.
D.R. Cordell & Associates, Inc.
DTEnvironmental
Duke's Root Control Inc
Duperon Corporation
Dura-Cast Products Inc
Dwyer Instruments, Inc.
Dynamatic / Drive Source
International, Inc.
Dynamix Agitators, Inc.
Eagle Microsystems, Inc.
Eaton
EBAA Iron Inc
Ebara Fluid Handling
ECHO Process Instrumentation Inc
ECO2
ECS Environmental Solution
ECS House Industries Inc
Egger Turo Pumps North America
Eijkelkamp North America, Inc.
EJ
Ekoton Industrial Group
Ekoval Valve Company
Ekowodrol Ltd
Electrolytic Technologies LLC
Electronic Data, Inc.
Electro Scan Inc.
Elemech Inc – Portalogic
Elite Valve Inc.
Ellicott Dredge Technology
elobau sensor technology
EMEC
EMEFCY Ltd
Emerson
Empowering Pumps, LLC
Enaqua
Enchlor, Inc.
Endress & Hauser
Enduro Composites, Inc.
ENEXIO US LLC
Engineering Ministries International
ENMET
Entex Technologies Inc
Enviro-Care Company
EnviroMix
Environetics Inc
Environment 21, LLC
Environmental Dynamics
International (EDI)
Environmental Express
Environmental Operating
Solutions Inc
Environmental Products
& Services Ltd.
Environmental Science &
Engineering Publications
Environment One Corporation
Envirosight LLC
EnviroSuite
Enviro Tech Chemical Services, Inc.
Equipump Inc.
Eramosa
ESRI
Evoqua Water Technologies
eWON
Exosite
Fairfield Service Company
of Indiana LLC
FB Procedes
Federal Screen Products Inc.
Fehr Bros. Industries
FESTO
Fiberglass Fabricators
Fiberglass Tank Solutions, LLC
Fibergrate Composite Structures
Fibox Enclosure
Fibracast Ltd
FilterONE USA LLC
Finder Relays
Five Star Filtration LLC
Five Star Products, Inc.
FKC Co., Ltd.
Flomatic Corporation
Flomotion Systems Inc
Flo Pro Products
Florida Gateway College
Flo Trend Systems, Inc.
Flottweg Separation
Technology, Inc.
FloWav, Inc
Flowrox Inc.
Flow Science Inc
Flowworks Inc
Fluid Dynamics
Fluid Metering, Inc.
Fluidra USA
Fluidyne Corporation
Fluke Corporation
FM Approvals
Force Flow
Ford Hall Company
Forester Media, Inc.
Forestry Suppliers, Inc.
Forterra
Fournier Industries Inc
F & Q Pumps, Inc.
Franklin Electric
Franklin Miller Inc
Gardner Denver Inc
G. Bopp USA Inc.
GEA Group
Gemu Valves
General Carbon Corporation
Geoflow Inc
Geomembrane Technologies Inc
Geotech Environmental Equipment
GE Power, Water &
Process Technologies
GF Piping Systems
GKD-USA Inc.
Glasco Ultraviolet
Global Pump
Global Water Intelligence
GNA LTD
Golden Harvest, Inc.
Gorman-Rupp Pumps
Graco Inc
Grande Water
Management Systems
Grand View Media Group
Greener Planet Systems
Greyline Instruments
Griffco Valve Inc
Groth Corporation
Grundfos Water Utility Inc
Gryphon Environmental
GSM Filtration Inc.
Gulf Coast Tank & Construction
H2o Innovation Inc
Hach
Haigh Engineering
Halliday Products Inc
Hallsten Corporation
Halogen Valve Systems, Inc.
Ham Baker Group
Hanna Instruments, Inc.
Hardy Pro-Air Systems & Service
HARMSCO Filtration Products
Harrington Industrial Plastics, Inc.
Haycarb USA, Inc.
Hayward Flow Control
Hayward Gordon
HCP Pumps America
Headworks International Inc
Heliopure
Hellan Strainer Company
Hendrick Screen Co
Henriques & Henriques S.A
Henry Pratt / Mueller Co.
Heritage Manufacturing Co., Inc.
Hidrostal Pumps
High Tide Technologies, LLC
Hiller Separation & Process, LLC
Hitachi Maxco Ltd
Hobas Pipe USA
Hoffman & Lamson By
Gardner Denver
Homa Pump Technology
Honeywell Analytics
Howden Roots
HRS Heat Exchangers
H-Tec
5
The Exhibitors
Hubbell Power Systems
Huber Technology Inc
HYDAC Technology Corporation/
Schroeder Industries
Hydra-Shield Mfg.
Hydra-Stop
Hydro-Dyne Engineering
Hydroflo Pumps USA, Inc.
Hydro Instruments
Hydro International
Hydro International
Hydromantis ESS, Inc.
HydroVision GmbH
Hydroxyl Environmental
IBOCO Corporation
Ice Qube Inc
ICS Blount Inc
IDEX Corporation
IE Expo
Induron Coatings Inc.
Industrial Control Links, Inc.
Industrial & Environmental
Concepts, Incorporated
Industrial Municipal Supply Co Inc
Industrial Test Systems, Inc
IN-EKO Team S.V.O
Infiltrator Water Technologies
InfoSense Inc
Inland Pipe Rehabilitation
Innova Public Utility Products Inc.
Innovyze
Inovair
In-Pipe Technology Company Inc
Integrity Municipal Systems
INTERECO S.n.c. Di Boaglio F&C
International Erosion
Control Association
International Ultraviolet Association
International Valve Marketing LLC
Interwrap
INVENT Environmental
Technologies Inc
IPEP Institute of Professional
Environmental Practice
IPEX – Industrial
IPEX – Municipal
IPM Systems, LLC
ISCO Industries
Ishigaki USA Ltd
Isle Utilities
Iwaki America and Walchem
Ixom Watercare
Jack Doheny Supplies Inc
Jacobi Carbons, Inc.
Japan External Trade
Organization (JETRO)
JASH Engineering Ltd. SEZ Unit
JCS Industries Inc.
JD7
JDV Equipment Corp.
Jiashan Huanqiu Mechanical
Seal Factory
Jin Luo Water Co, Ltd
J.L. Wingert Company
Joints
J & S Valve, Inc.
JWC Environmental
Kaeser Compressors Inc
KCH Engineered Systems
Keen Pump Company Inc
EXHIBIT FLOORPLAN
NEW ORLEANS MORIAL CONVENTION CENTER
Exhibitor Lounge
Exhibitor Service Desk
Operations C
162
163 262
664
464
165
363 462
263
563
463
161
158
662
763
253 352
857
151
251 350
145
245 344
653
353
451
1365
1465
1565 1664
1263
1362
1363 1462
1463 1562
1563 1662
Concession
Seating
1459 1558
144
551
751
545
745
1056
1057
1356
1157
955
1255
1354
953 1052
1253
1352
851
1051
1151
1045
1145
1656
1657
345
445 544
1451
1651
1346
441 540
140
841
541
1239
335
131
231
2063 2162
635
735
629
729
1034
1134
1235
1028
1128
1229
1957 2056
1643 1742
1541 1640
1641 1740
2059
2864
2563
2663
2763 2862
3164
2863
1953 2052
2152
1951 2050
2051 2150
2055 2154
2157
2153
2256
2257
2357
2556
2557
829
HALL B1
1845
1945
3063
2961 3060
3061
2959 3058
3059
2857
2657
3055
2252
2453 2552
2753
2251
2351
2551 2650
2651
2245 2344
2345
2545
2645
2241 2340
2341
2539
2639
3053
2142
2041
1837
1737
1937 2036
2140
2037 2136
1335
2143
2242
2139
2238
1429
1529
HALL B2
519
619
719
1828
1629
1929
1320
1318
1319 1418
1217
1316
1317
713
1213
1013
710
911
1111
809
706
ENTRANCE
707
907 1006
1007
1312
1306
ENTRANCE
801
901 1000
1613
2234
2235
2228
2229
1101
2429
2529
1201
1300
2119
2218
2117
2216
2939
2839
2729
3959
3257 3356
3457
3155
3153
3353
3251
3557
3857 3956
3957 4056
3853
3953 4052
1713
3653
3451 3550
3551
1811
3145
3245
3445
3545
3439
3539
4042
3641
3138
3035
3134
3031
3130
3029
3128
3945 4044
3745
3343
3142
INNOVATION
PAVILION
3941
2107
2105
1502
1301 1400
1401 1500
1801
1501
3019
3017
2717
3429
3734
3835
3935 4034
3728
3829
3929 4028
1901
2001
2409
2101
2206
2207
2609
2201
2301
2401 2500
2501
2601
2701
3011
3110
3009
3108
3005
3104
3001
3100
2906
2707
2405
2204
2200
2509 2608
2307
4020
3217
3317
3516
3917 4016
3616
2801
2901
4017
4117
3814
4012
3211 3310
3911
3611
3308
3708
3107
3207 3306
3507
3101
3201
3501
4011
3909 4008
3709
3607 3706
3605
TECHNICAL
SESSION ROOM
ENTRANCE
4029
3919
3119
3116
3714
2513
2109
4041
3939 4038
3335
3329
3841
3741
HALL E
2210
1907
4157
3851 3950
3751
2615
2113
1506
4057
3554
3453
TROLLEY STOP
2918
2417
2215
2009
1307 1406
1302
1001
3661
3041
2739
3037
2014
1405
903 1002
701
3763 3862
3563
3461
HALL D
1817
1313 1412
1004
702
2129
1719
1510
1308
1207
3363
3120
1619
1516
1211
1209
3263
3260
3159 3258
TROLLEY STOP
1414
712
3152
3144
3043
HALL C
1219
3156
3163 3262
3151 3250
2945
2441
TROLLEY STOP
1221
3158
2951
2851
2137
2135
1329
3162
3165
3047
2145
2045
1943 2042
1939 2038
TROLLEY STOP
817
4107
3807
4007
3702
3601 3700
3803
3701
3801 3900
3901 4000
4001
4101
TECHNICAL
SESSION ROOM
ENTRANCE
EN
ENTRANCE
Lobby C Atrium Cafe & Starbucks
WEFTEC 2016 Exhibition Hours
6
2963 3062
2047
Theater
1439 1538
1637 1736
2156
1955
2759 2858
2258
2131
429
TROLLEY STOP
319
Concession
Seating
2163
2159
1853 1952
STORMWATER PAVILION
1645
1642
1537 1636
1334
2058
331 430
329 428
TROLLEY
TURNAROUND
AREA
1341
1338
1237
137
134
130
1545 1644
1342
1340
941
239
136
1963 2062
1855 1954
1751
1746
1445
1245
1243
643
443 542
142
1757
1553 1652
1351
546
346
2065
1859
148
146
1965 2064
2161
757 856
457
257
1364
1058
154
152
1163
1265
661 760
559 658
359 458
159 258
Concession
Seating
665 764
Exhibition Hours
Exhibitor Hospitality Hours
Monday, September 26
8:30 am – 5:00 pm
5:00 pm – 6:00 pm
Tuesday, September 27
8:30 am – 5:00 pm
5:00 pm – 6:00 pm
Wednesday, September 28
8:30 am – 5:00 pm
SHUTTLE BUS DROP #2
ENTRANCE
The Exhibitors
KEITI (Korea Environmental
Industry Technology Institute)
Keller America Inc
Kemira
Kenco Engineering
Kenco Plastics Company Inc
Kennedy Valve Plant &
Industrial Group
Kerneos Inc
Kinetrol USA Inc
Koch Membrane Systems, Inc.
Komax Systems Inc
Komline-Sanderson
Kooltronic, Inc.
Korea Water and Wastewater
Works Association
KORE Infrastructure
KPD Consulting Ltd.
KRAUSZ USA, Inc.
Krohne Inc
KSB Inc
Kubota Membrane
USA Corporation
Kuntze Instruments
Kupferle Foundry Co.
Kusters Water
KZValve
Lakeside Equipment Corporation
Lamor Corporation
LaMotte Company
Landia, Inc.
Lansas Products Manufactured
By Vanderlans & Sons
Lantec Products Inc.
Layne
Lemna Environmental
Technologies, Inc.
L.F. Manufacturing Inc.
LG Nanoh2o, Inc.
Liquid Analytical Resource LLC
Liquiflo
Living Waters for the World
LMK Technologies
Lobepro Rotary Pumps
LOC Pump & Equipment / Tuff Skid
Logiball Inc.
Lone Star Blower
Lonza Water Treatment
Lord and Company
Lubrizol
Lucity, Inc.
LUDECA, INC.
LuminUltra Technologies Ltd
Lutz – JESCO America Corporation
Marine & Industrial Hydraulics, Inc.
Mar Mac Construction Products
Mass Transfer Systems
Mazzei Injector Company, LLC
McCrometer, Inc.
Measurement Specialties Inc.
Mechanical Associates
Mediapoint &
Communications SRL
Medora Corp. (Solarbee/GridBee)
Meiden America Inc
Membrane Solutions, LLC
Mercer Rubber Company
Merrell Bros Inc
Merrick Industries, Inc.
Meurer Research Inc.
MFG Water Treatment Products Co
Operations
Challenge
Team Seating
Challenge
4759
4257
4557
4657
4757
4755
4251
4351
4551
4451
4751
4649
4749
4855
4955
5055
Concessio
n
Seating
5254
5557
5153
4239
4339
4439
4639
5046
5047
5147 5246
4633
4229
4528
4629
6157
5349
5247
5647
4839
5238
5439
5539
4516
TROLLEY
4929
4617
4209
4409
4307
4713
4509 4608
4915
4503
4201
4301
4401
5121
4919
4407 4506
4913 5012
4501
5531 5630
5327
5116
5013 5112
5221
5422
5321
5319 5418
5117
5423 5522
5419 5518
6253
6151 6250
5948
5847 5946
6149
5939
6045
6147 6246
6139
6353
6451
6249
6247 6346
6239
6555 6654
6453 6552
6347 6446
6548
6447 6546
6438
TROLLEY
6655
6757 6856
6755 6854
6957
6855
6648
6547 6646
6951
6647
6639
6846
5213 5312
TECHNICAL
SESSION ROOM
5313
5413
5523
5521 5620
6939
7139
7447 7546
7239
7339
5623
7651
7648
7848
7029
6922
5815
6920
5813
6916
REGISTRA
TION
6914
7129
7229 7328
7329
7024
7020
7016
7014
6912
TROLLEY
7330
7739
7012
7017
7013
7223
7119
7113
7320
7219 7318
7213
7323 7422
7321 7420
7529
7421
7313
7629
7729 7828
7514
7413 7512
7725 7824
7521
7621
ENTRAN
CE
7723 7822
7719 7818
7515
7513
8444
8343 8442
8443
7613
7825
7821
7819 7918
TROLLEY
TURNAROUN
D
AREA
7813
8025
7923
8020
7919 8018
7715
7713 7812
STOP
7931
7927
7913
8125 8224
8021 8120
8019 8118
8123 8222
8121 8220
8119 8218
8427 8526
8225 8324
8425 8524
8223 8322
8013 8112
8421 8520
8219 8318
8419 8518
8417 8516
8113
8213
8525
8423 8522
8221 8320
8114
ENTRAN
CE
Lobby F Food Court
8347 8446
8243 8342
7939
7524
7423 7522
7419 7518
8143 8242
8349 8448
8247
HALL I2
TROLLEY
7429
7324
7023
7839
STOP
8459 8558
8457 8556
8351 8450
8149 8248
8147 8246
8145 8244
8359 8458
8357 8456
8353 8452
8151 8250
8049
7947
8043
7639
8358
8356
7953
7849 7948
7747 7846
7538
Floor Ma
Office nager
Huddle
Room
7853 7952
7751
7547 7646
HALL I1
5817
5613
7551
7449 7548
7247
7857
7755
7652
7451 7550
7147
7039
6929
5513
7355
6943
6838
STOP
6918
NTRANCE
7255 7354
5624
5314
5113 5212
7047 7146
Concessio
n
Seating
7257
7155 7254
7153 7252
7150
6947 7046
7259 7358
7157 7256
7055
6551 6650
6539
HALL H
5529 5628
5427
5023
4511 4610
5851
5839
STOP
5229
5127
4613 4712
4510
5747 5846
5738
HALL G
4719
4317
5848
5945
5339 5438
TROLLEY STOP
6658
5853
5751
5447
5343
HALL F
Concessio
n
Seating
5655
5151 5250
4847
8313
8415 8514
8413 8512
8523
8521
8519
8517
8515
8513
ENTRAN
CE
SHUTTLE
BUS DROP
ENTRAN
#1
CE
ENTRAN
CE
7
The Exhibitors
MICRODYN-NADIR Gmbh
Micro Sensor Co., Ltd
Mid-West Instrument
Miller-Leaman Inc.
Miller Plastics Products
Milton Roy
Ministry of Citizenship, Immigration
and International Trade
Ministry of Citizenship, Immigration
and International Trade
Minnesota Rubber & Plastics
MISSION Communications
Mitsubishi Electric Power
Products Inc.
Modern Pumping Today
Modern Water Inc
Mody Pumps Inc
Monroe Environmental Corp
Motor Controls Inc
MSA, The Safety Company
MTA Messtechnik Gmbh
MTE Corporation
MTH Pumps
Municipal Sales Inc
Myron L Company
NACE International
Nanonord a/s
NASSCO, Inc.
National Environmental
Services Center
National Liner LLC
National Science Foundation
Nationwide Tank and Pipe, LLC
NEFCO, Incorporated
Nelson Environmental Inc.
NeoLogic Solutions –
Filtration Division
Netherlands Consulate General
NETZSCH Pumps North
America, LLC
Newark Wire Cloth Company
New England Braiding
Company, Inc
NEWMAR
Newterra
Nidec Motor Company
Nijhuis Water Technology Inc.
Noren Products, Inc.
North American Electric, Inc.
North American Pipe Corporation
North American Sensors Corp
Nova Water Technologies, LLC
Novozymes
NSF International
Nukote Coating Systems
International, LLC
OCV Control Valves
Oldcastle Precast
8
Olin Corporation
OMI Industries
Ondavia, Inc.
Onyx Valve Company
Opti
OptikTechnik LLC
OpWorks
Orbijet Technologies, Inc.
Orbinox
Oregon Best
Orenco Systems Inc
Orival Water Filters
OR-TEC INC.
Orthos Liquid Systems, Inc.
Ostara Nutrient Recovery
Technologies
OTT North America, LLC
Ovivo USA LLC
Oxbow Activated Carbon
Ozone Water Systems
Pacifica Power Sdn. Bhd
(KTS Turbobillet X)
Pall Corporation
Paques bv
Park Process
Parkson Corporation
PB Equipment Inc.
PCI Gases
Peabody Engineering
and Supply Inc
Penn Valley Pump Co Inc
Pentair Flow Technologies
Perma-Liner Industries, Inc
Permastore Ltd
PeroxyChem
Petersen Products Co
Peterson Power Systems
PHG Energy
Philadelphia Gear, A Timken Brand
Philadelphia Mixing Solutions, Ltd.
Phoenix Contact
PHOENIX Process Equipment Co.
P & H Senesac, Inc.
Pillaerator
PinnacleART
Pinnacle-Flo, Inc
Pioneer Air Systems
Pipeline Pigging Products Inc.
Pittsburg Tank & Tower
Maintenance Co.
PKG Equipment Inc.
PLASSON USA
Plas-Tanks Industries Inc
Plastica Alfa Srl
Plast O Matic Valves Inc
PMC Engineering, LLC
Pollardwater
POLLUTION EQUIPMENT
NEWS / Rimbach Publishing
Polston Applied Technologies, LLC
Poly Processing Company
Porex Filtration
PPG Protective & Marine Coatings
PPI Pyungwha Co. Ltd.
Praxair Inc
PRD Tech Inc
Predl Systems North America Inc
Preload
Press Technology & Mfg., Inc
Prime Solution Inc
Primex
Probiotic Solutions
Process Engineered Water
Equipment, LLC
Process Wastewater
Technologies LLC
Proco Products Inc
ProMinent Fluid Controls, Inc
Prominent Systems, Inc
PROTE Technologies For
Our Environment, JS
PRUFTECHNIK Inc.
Pulsafeeder, Inc.
Pulsar Process Measurement Inc
Pulsco, Inc.
Pulsed Hydraulics Inc
PumpCon
Pumping Solutions, Inc.
Pumps & Systems Magazine
Purafil Inc
PureAir Filtration
Pure Technologies US, Inc.
Putzmeister America, Inc.
QCEC
Quartz Lamps Inc.
Quasar Energy Group
Q-VAC Priming Systems
RACO Manufacturing and
Engineering Co Inc
Ragazzini/Keco
RainHarvest Systems
Ramboll Environ
Rapid View IBAK North America
Raschig USA Inc.
Rausch Electronics USA LLC
Raven Lining Systems
RDP Technologies Inc
Real Tech Inc
Red Flint Sand & Gravel
Red Valve Company Inc.
RedZone Robotics, Inc
Reliant Water Technologies
Reline America
Renewable Nutrients, LLC
ResinTech, Inc.
Resource West, Inc.
Respirometer Systems
and Applications, LLC
REXA
RF System Lab
RJN Group Inc
RKI Instruments, Inc.
Robar Ind Ltd
Rockwell Automation
Roebic Laboratories Inc
Romac Industries
Rootx
Rosedale Products, Inc.
Rossi North America
Ross Valve Mfg Co Inc
Rotork Controls Inc
RP Adams
RPS Engineering Inc.
R S Technical Services Inc
Ruhrpumpen
Rural Community
Assistance Partnership
Ruthman Companies
RWL Water
SAB Georg Schunemann GmbH
Saf-T-Flo Chemical Injection
Sage Environmental Consulting
Saint-Gobain Canalizacao
Samuel Pressure Vessel Group
Sauereisen, Inc
Scadata Inc
Scaletron Industries Ltd
s::can Measuring Systems LLC
Schneider Electric
Schneider Electric Software
Schreiber LLC
Schwartz Technical Plastics, Inc.
Schweitzer Engineering
Laboratories, Inc.
Schwing Bioset, Inc.
Scott Safety
Sealing Systems, Inc
Seametrics
Seepex Inc
See Water Inc
SENSAPHONE
Sensidyne
Sensorex
Serpac Electronic Enclosures
Serpentix Conveyor Corporation
Sewer Equipment
Company of America
Sewer History Exhibit
Sewer & Water Insurance
Plans (SWIP)
The Exhibitors
Shand & Jurs An L&J
Technologies Company
Shanghai Shantin Mechanical
& Electrical Inc.
Shanghai SINAP Membrane
Tech Co., Ltd
Shanley Pump and Equipment Inc
Sherwin-Williams Co.
Shimadzu Scientific Instr., Inc.
ShinMaywa America Ltd
Siemens Corp
Silcarbon Activated Carbon LLC
Sims Pump Valve Co Inc
Singer Valve Inc
Skimpak LLC
Smartcover Systems
Smith-Blair Inc
Smith & Loveless Inc
S & N Airoflo Inc
SNF Polydyne
Solinst Canada Ltd
Solvay Chemicals, Inc.
SonicSolutions Algae Control
Sorensen Systems
Spaans Babcock Inc
Spears Manufacturing Company
Specification Rubber Products, Inc.
Spectrashield Liner Systems
Spectrum Water Technology
Spencer Turbine Company
S & P Environmental
Technology Co, Ltd.
SPIRAC (USA) INC.
SPP Pumps, Inc.
Sprayroq Inc
SPXFLOW, Inc
SRS Crisafulli, Inc. (also Known
As Crisafulli Pump Company)
SSPC: The Society for
Protective Coatings
Stainless Fabrication Inc
Stainless Piping Specialists
Stamford Scientific
International, Inc. (SSI)
Statiflo Corp
Stenner Pump Company
StoneAge, Inc.
StormTrap
Stormwater Equipment
Manufacturers Association
STULZ Air TechnologyCosmotec USA
Submersible Wastewater
Pump Association SWPA
SubSurface Leak Detection Inc
SUEZ
Sulzer Pumps Solutions Inc.
Sunbelt Rentals
Suncoast Electric Manufacturing
Superior Signal Company LLC
Superior Tank Co., Inc.
Swaby Lobeline Pump Co
Swan Analytical USA Inc.
Swiss Pump Company AG
Synagro Technologies
Tank Connection Affiliate Group
Tarsco Bolted Tank
Team Industrial Services, Inc.
Tech 3 Solutions Inc
Teco-Westinghouse
Teekay Couplings Ltd./
Taylor Kerr Couplings
Teledyne Isco
Telog, A Trimble Company
Terre Hill Composites
Tetra Tech Inc
Texel – Seikow U.S.A., Inc.
TG Water Additives LLC
The Ford Meter Box Company, Inc.
The Kerry Company
The MASTRRR Company
Therma-Flite, Inc.
Thermal Edge Inc
Thermal Process Systems
Thermo Scientific
Thern Inc
Thompson Pipe Group – Flowtite
Thompson Pump and
Manufacturing Co., Inc.
Thordon Bearings Inc.
Tigerflow Systems LLC
Tintometer Inc.
TKM LLC
Tnemec Company, Inc.
TOMCO2 Systems Company
Tonka Water
Topp Industries Inc
Toray Membrane USA, Inc.
Toro Equipment
Toshiba International Corporation
Toshniwal Instruments
Manufacturing PVT. LTD
Total Piping Solutions Inc
Triple Crown Products, Inc.
Triplepoint Water Technologies
Trislot Nv
TrojanUV
Troy Valve
Trumbull Industries
Tsurumi Pump
Tulsar Canada Ltd.
UGSI Chemical Feed/
Process Solutions
UGSI Chemical Feed/
Process Solutions
UL
Ultraflote Corporation
Unison Solutions, Inc.
United Blower Inc
United Rentals
Universal Flow Monitors, Inc.
Universal Polymer & Rubber
Universal Tank & Fabrication
Uponor Infra Ltd
USABlueBook
USDA Rural Utilities Service
U.S. Environmental
Protection Agency
USF Fabrication Inc
U.S. Geological Survey
USP Technologies
US SAWS
US Synthetic Bearings
Utility Systems Science
& Software Inc
Utility Systems Science
& Software Inc
UV Doctor LLC
UV Pure Technologies Inc.
uv-technik Speziallampen GmbH
VAC CON INC
Vactor Manufacturing Inc
Vacuvent – Air Release and
Vacuum Break Valves
Val-Matic Valve & Mfg. Corp.
Valmet
Valve and Gate Group
VanAire, Inc.
Van London Co.
Vanton Pump & Equipment Corp.
Varec Biogas
Vaughan Company, Inc.
VBT
VEGA Americas, Inc.
Velocity Dynamics Inc – Velodyne
Veolia Water Technologies
Verder Inc
Vfold Inc
Victaulic
Viking Chains Enviro Division a
Division of Connexus Ind Inc
Viscotherm AG
Vogelsang
VTScada By Trihedral
Vulcan Industries Inc
Wachs Utility Products
WACO Products Inc
Wager Company
Walker Process Equip
Div of McNish Corp
Walrus America, Inc
Wangen America Inc.
Wapro Inc
Warminster Fiberglass
Warren Environmental
Wastecorp Pumps
Wastewater Diversion Systems, Inc.
Water Analytics, Inc.
Water Environment
Research Foundation
Water for People
Waterleau
Waterman Industries
Water Online
Water Quality Association
Water Research Foundation
Watertrax / Linko Technology
Water & Wastes Digest
Water & Wastewater Equipment
Manufacturers Association, Inc.
Waterworld / Pennwell Corp
Watson-Marlow Fluid
Technology Group
Watts Water Technologies
Weber Industries
WEF Innovation Pavilion
WEG Electric Corp.
Weir Specialty Pumps
Weir Washer Automated
Cleaning Systems
Weld-On Adhesives, Inc.
Wessels Company
WesTech Engineering Inc
Westfall Manufacturing Co.
Wey Valve Inc.
Whipps Inc
Wilo USA LLC
Wine To Water
Wisconsin Economic
Development Corporation
World Water Works Inc
WorldWide Electric Corporation
Worthington Industries
WSG & Solutions Inc
W.S. Tyler
WTP Equipment Corp
Xerxes Corporation
Xylem
Yao Ling Co., Ltd / Acevision
(Beijing) Exhibition
Yardney Water Filtration Systems
ZAPS Technologies, Inc.
Zenner
ZL (CANADA) FLUID
TECHNOLOGY
DEVELOPMENTS CO., LTD
Zoeller Engineered Products
9
Resources
OFFICIAL CONFERENCE HOTELS
#
Hotel Name
Hotel Address
Rates
1
2
3
4
5
6
7
8
AC Hotel by Marriott Bourbon/French Quarter
Aloft Downtown
Astor Crowne Plaza
The Blake Hotel
Courtyard by Marriott Convention Center
Courtyard by Marriott Downtown
Doubletree New Orleans
Embassy Suites New Orleans
221 Carondelet St.
225 Baronne St.
739 Canal at Bourbon St.
500 St. Charles Ave.
300 Julia St.
124 St. Charles Ave.
300 Canal St.
315 Julia St.
9
Hampton Inn & Suites Convention Center
1201 Convention Center Blvd
10
11
Hampton Inn & Suites Downtown
Hilton Garden Inn Convention Center
226 Carondelet St.
1001 S. Peters St.
$189
$189
$217
$179
$199
$187
$216
$220
Standard$185
Junior Suites $220
$164
$195
12
Hilton Garden Inn French Quarter
821 Gravier St.
$189
Standard$259
13
Hilton New Orleans Riverside (Headquarter Hotel)
2 Poydras St.
View$269
Executive$299
14
15
Hilton New Orleans St. Charles Avenue
Hotel Monteleone
333 St. Charles Ave.
214 Royal St.
$217
$219
16
17
Hyatt French Quarter
Hyatt Place Convention Center
800 Iberville St.
881 Convention Center Blvd
$219
$219
18
19
InterContinental New Orleans
International House Hotel
444 St. Charles Ave.
221 Camp St.
$233
$219
20
21
JW Marriott New Orleans
La Quinta Inn & Suites Downtown
614 Canal St.
301 Camp St.
$244
$159
22
23
Le Meridien New Orleans (formerly W )
Loews New Orleans
333 Poydras St.
300 Poydras St.
$239
$239
24
25
Marriott Convention Center
New Orleans Marriott
859 Convention Center Blvd
555 Canal St.
$265
$239
26
27
28
29
30
31
32
33
34
35
Omni Riverfront New Orleans (formerly Wyndham)
Omni Royal Crescent
Q & C Hotel
Renaissance Arts Hotel
Renaissance Pere Marquette
Residence Inn Convention Center
Royal Sonesta
Sheraton New Orleans
Springhill Suites Convention Center
The St. James Hotel
Staybridge Suites New Orleans
Westin New Orleans Canal Place
701 Convention Center Blvd
535 Gravier St.
344 Camp St.
700 Tchoupitoulas St.
817 Common St.
345 St. Joseph St.
300 Bourbon St.
500 Canal St.
301 St. Joseph St.
330 Magazine St.
501 Tchoupitoulas St.
100 Iberville St.
$205
$209
$209
$255
$229
$220
$209
$239
$220
$185
$194
$229
135 St. Charles Ave.
$179
36
37
38 Royal St. Charles Hotel
Convention Management Resources, Inc. (CMR) is the only official housing agency for WEFTEC. Reservations at the negotiated WEFTEC rates can only
be made through WEFTEC Housing/CMR. Reservations at the WEFTEC rates will not be accepted directly by our New Orleans hotel partners.
For more information and to make reservations visit www.weftec.org/hotel-reservations
Rates listed are for standard rooms occupied by one or two adults (usually age 17+), unless otherwise indicated.
Rates may increase if a third or fourth adult is added to a reservation.
10
SUPE
S. R
RET
FRE
S. LIBERTY
LE
AL
AS
L
MARAIS
ELAND
LEANS
NEW ORARENA
SPORTS
TREME
Resources
SARATOGA
CITY
HALL
CROZAT
ELK PLACE
BASIN
S
EAN
ORL
NEWCENTRE
N. RAMPART
UNIVE
YD
RAS
NAT
N
22
RAS
YD
PO
T
AYE
LAF
ME
37
S S
H' N
RA LEA
R
R
HA O AZZ O
W J IN
S
NE
CA
E
AC
M
K
T
N
O
R
.F
V
N
CO
N
O
TI
EN
AR
N
CE
RW
AL
17
KE
TP
L
R
TE
.
VD
BL
VE
S.
F
S
ER
T
PE
RI
34
13
N 26
TO
UL
F
O S
A
UMRIC
I
R E
UA AM
AQHE
T
D
RL
O DE R
W RA TE
T N
H
CE
IS
ANAZA
P
S PL
TE
ND
MO
D
DIA
ON
N.
IAM
S. D
.
AVE
M
M
CO
CANAL
PLACE
S
ULA
8
5
S
ETER
N. P
Z
OD
CE
ER
24
TRIANGLE
DECATUR
7
23
29
DA
H
TC
25
CHE
RI
LLE
GIR
SEP
RD
WA
E
33
CLINTO
TO
PI
OU
TCH
L
OU
U
HO
11
PO
ON
COMM
IER
CHARTRES
28
EVI
TRE
AS
EXCHANGE ALLEY
20
PIT
JO
HO
RRE
A
EYF
PO
NECTION
N
TIO
NEC
CON
CITY CON
T CITY
CRESCEN
CRESCENT
9
36
ROYAL
15
PD
C
IA
ST.
31
N
STA
ON
NO
JUL
CE
19
27
CE
G
N
STA
6
35
NE
AZI
MA
E
21
CA
MP
CA
N
TIO
CIA
N
NU
AN
JO
H
N
CH
UR
CH
G
AI
IL
L
EN
CH
N
AS
IE
GRAV
O
18
TRI
C
N
CO
14
EST
AES
H
RC
HU
LEE
CIRCLE
4
MA
S. M
S
RLE
A
CH
ST.
N.
TE
PO
T
AYE
LAF
OD
N
RO
CA
32
38
ION
UN
DID
PER
GIR
IA
JUL
T
E
DEL
3
10
E
N
ON
ST. LOUIS
BOURBON
OLL
RR
CA
BAR
16
1
O'
DAUPHINE
30
12
N
PEN
FE
KEE
CONTI
A
S. R
BURGUNDY
BIENVILLE
2
ART
MP
CANAL
OL
LOY
ION
UN TION
STA
L.
IBERVILLE
RSITY P
VE.
AA
S
NEW ORLEANS
MORIAL
CONVENTION
CENTER
Mississippi River
11
Resources
REGISTRATION
INFORMATION
TRAVEL
INFORMATION
REGISTRATION DEADLINE: FRIDAY, 31 AUGUST 2016
TRAVEL TO THE UNITED STATES
REGISTER ONLINE
Registering online is easier than ever.
1. Go to: http://www.weftec.org/registration/
2. Set up an account with all of your information.
3. Use the promotion code DELEGATE16 to receive complimentary exhibit hall registration or
discounted Full Conference and Expo registration. After completion of registration, additional
delegates can be registered on the last online screen of the account.
All visa applicants are advised to apply for
their visa as soon as travel to the United
States is contemplated, and not later than
three to four months in advance. This means
that international travelers should begin the
visa process no later than July 2016. For
information about visas and to apply for one,
visit: https://travel.state.gov/content/visas/en/
visit/visitor.html#overview
4. Confirmation registration letters are available for download after completion and a
confirmation letter will also be e-mailed to the address associated with the account.
5. In the confirmation screen you will also see a button for a visa letter. When registering online,
you may request a Letter of Invitation to WEFTEC. Approved requests will be processed within
two weeks of receipt of your qualified registration. A letter will be e-mailed to the address
associated with the account.
To Register by FAX or Mail
Complete registration forms with payment information and mail or fax to:
WEFTEC 2016 Trade Delegations
Water Environment Federation
601 Wythe Street
Alexandria, Virginia 22314 USA
Fax: +1-703-229-6499
Payment: Payment in full must accompany
your registration form. Your registration can
only be processed if payment is received
with the registration form.
Confirmations: All registrations received by
Friday, 31 August 2016 will be confirmed
in writing by e-mail, fax, or mail within two
weeks of receipt.
Credentials (Badges): Trade delegates
will not receive their conference
badge by mail. Badges may be picked
up at the Global Center beginning
Sunday, 25 September 2016. Please
bring photo identification to receive your
registration credentials.
12
An official invitation letter is available for
water quality professionals who require a visa
in order to attend WEFTEC in New Orleans,
Louisiana. An official invitation will be
sent only after your registration form and
payment are received. If you require a letter
of invitation please send your request in
writing to:
WEFTEC 2016 Trade Delegations
Fax: +1-703-229-6499
E-mail: [email protected]
Delegation leaders please e-mail [email protected] for more details.
Member Rates: Be sure to provide your
WEF membership number in order to
receive the discounted rate.
OFFICIAL INVITATION LETTER
Cancellation Policy: Written cancellation
notice is required and must be received
by Friday, 31 August 2016 and include a
detailed description. If approved, a refund
less a 25% administrative fee will be issued.
No refunds will be given for registration
cancellations or modifications received after
31 August 2016.
Substitute registrants are welcome:
Please submit the replacement name using
the original registrant's confirmation letter
by 31 August 2016. Please mail or fax
cancellation/replacement letters to:
WEFTEC 2016 Trade Delegations
Water Environment Federation
601 Wythe Street
Alexandria, Virginia 22314 USA
Fax: +1-703-229-6499
Wire Transfer/Purchase Order:
WEF charges a US$25 non-refundable
application fee per registrant to process
wire transfers or purchase orders.
For more travel information, visit:
www.weftec.org/hotels_travel/default.aspx
900 Convention Center Blvd,
New Orleans, LA 70130
FOR CUSTOMER SERVICE
Call +1-703-684-2441 or visit the WEFTEC
website for the latest information at
www.weftec.org.
FOR MORE INFORMATION
Conference+1-703-684-2441
Exhibiting
+1-703-684-2443
WEF Membership
+1-571-830-1545
New Orleans Morial Convention Center
September 24 – 28, 2016
2016 TRADE DELEGATE REGISTRATION FORM
Side 1
To register online, please visit www.weftec.org
Two-page form, please submit both pages.
➊ MEMBERSHIP TYPE
 WEF Member ID#  Nonmember (N)
 Professional  PWO  Young Professional  Academic  Student  Executive  Corporate  Global  Retired  Life  Honorary
*NOTE Membership will be verified and is not transferable. Only the official contact person for Executive and Corporate Membership categories is eligible to receive member rates.
➋ BADGE INFORMATION
This form is not valid for onsite registration. If you are registering as an exhibitor, speaker, alternate or poster speaker, please do not use this form.
Promo Code: (if applicable)
First Name
Middle Name
Company or Organization
Last Name
Title
Street or P.O. Box
City
State
Zip
Phone
Mobile
Country
Fax
E-mail Address
Age group:  18 – 34  35 – 50  51–69  70–85
Gender:  Male  Female
DEMOGRAPHICS This information must be provided to process your registration
1. What is the nature of your ORGANIZATION? (ORG)
(circle one only)
2. What is your Primary JOB FUNCTION? (JOB)
(circle one only)
3. What are your KEY FOCUS
AREAS? (FOC) (circle all that apply)
01 Public/Private, Wastewater and/or Drinking Water and/
or Stormwater (e.g. municipality, utility, authority)
02 Public/Private Wastewater only (e.g. municipality, utility, authority)
03 Public/Private Drinking Water only (e.g. municipality, utility, authority)
04 Industrial Systems/Plants (Manufacturing, Processing, Extraction)
(please specify) ________________________________________
05 Consulting or Contracting Firm (e.g., Engineering,
Contracting, Environmental, Landscape Architecture)
06 State, Federal, Regional Government Agency
(e.g., U.S. EPA, State Agency, etc.)
07 Research or Analytical Laboratories
08 Educational Institution (Colleges, & Universities, Libraries,
Non-profits, & other related organizations)
09 Manufacturer of Water/Wastewater/
Stormwater Equipment or Products
10 Water/Wastewater/Stormwater Product
Distributor or Manufacturer's Rep.
11 Public/Private Stormwater (MS4) ProgramOnly
12 Public Finance, Investment, and Banking
13 Non-profits (e.g., Trade association, NGO, Advocacy, etc.)
99 Other (please specify) __________________________________
_____________________________________________________
01 Management: Upper or Senior (e.g., President, Vice President,
Owner, Executive Director, Director, General Manager, etc.)
02 Management: Engineering, Laboratory, Operations,
Inspection, Maintenance (e.g., Superintendent,
Manager, Section Head, Department Head, Chief
Engineer, Division Head, Landscape Architect, etc.)
03 Engineering & Design Staff (e.g., Consulting Engineer,
Civil Engineer, Mechanical Engineer, Chemical Engineer,
Landscape Architect, Environmental/Wetland Scientist, etc.)
04 Scientific & Research Staff (e.g., Chemist, Biologist, Analyst,
Lab Technician, Environmental/Wetland Scientist, etc.)
05 Operations/Inspection & Maintenance (e.g., Shift Supervisor,
Foreman, Plant Operator, Service Representative, Collection
Systems Operator, BMP Inspector/maintenance, etc.)
06 Purchasing/Marketing/Sales (e.g., Purchasing, Sales
Person, Market Representative, Market Analyst, etc.)
07 Educator (e.g., Professor, Teacher, etc.)
08 Student
09 Elected or Appointed Public Official (Mayor, Commissioner,
Board or Council Member, etc.)
10 Other (please specify)___________________________________
_____________________________________________________
01Collection Systems
02Drinking Water
03Industrial Water/Wastewater/Process Water
04Groundwater
05Odor/Air Emissions
06Land and Soil Systems
07Legislation (Policy, Legislation, Regulation)
08Public Education/Information
09Residuals/Sludge/Biosolids/Solid Waste
10Stormwater Management/Floodplain
Management/Wet Weather
11Toxic and Hazardous Material
12Utility Management and Environmental
13Wastewater
14Water Reuse and/or Recycle
15Watershed/Surface Water Systems
16Water/Wastewater Analysis and Health/
Safety Water Systems
17Other_____________________________________________
_________________________________________________
that you plan to buy or recommend to buy or would like to represent, license, or distribute.
01 Chemicals and chemical handling
02 Contract operations
03 Drinking water treatment
equipment/ processes
04 Engineering & consulting services
05 Industrial & hazardous waste management
06 Instrumentation, controls, and automation
07 Pipes and collection systems
08 Pumps, valves and motors
09 Safety equipment
10 Sampling and laboratory equipment/services
11 Solids processing/ biosolids management
12 Wastewater treatment equipment/services
13 Other_____________________________________________
_________________________________________________
`
8. Business Arrangement Please circle your primary business arrangement interest.
01 Direct purchase of equipment/services
02 Importing Equipment
03 Exporting Equipment
04 Representation/Distribution Agreements
05 Licensing Agreements
Are you a first time WEFTEC attendee?
06 Joint Ventures
07 Providing Technical or Engineering Services
08 Finding Agents
09 Serving as Agents
 Yes |  No
TWO-PAGE FORM Submit both pages.
Forms without payment cannot be processed.
Do not fax or mail this form after August 31, 2016
CREDIT CARD ONLY
4. Product Interest Circle the products and services in which you are interested. Also circle those products and services
FAX No cover pages
1-888-772-1888 (toll free)
+1-301-694-5124 (global)
Phone
M – F 9:00 am – 6:00 pm ET
1-800-462-9420 (toll free)
+1-240-439-2954 (global)
Mail and Express Mail*
WEFTEC 2016, c/o Experient
5202 President's Court, Suite 310, Frederick, MD 21703
*Use express mail for overnight deliveries to meet
registration cut-off dates when applicable. Express mail
only ensures postmark date for registration fees. Please
allow 5 business days for processing and confirmations.
New Orleans Morial Convention Center
September 24 – 28, 2016
2016 TRADE DELEGATE REGISTRATION FORM
Side 2
Name: ____________________________________________________________________________________ ➍ REGISTRATION AND PRICING OPTIONS
Conference Registration
What's Included
Exhibition
Proceedings
Stormwater
Congress
✓
✓
✓
✓
✓
 Full Conference Attendee
 Technical Exhibition Only Registration
Saturday 9/24
W01 WEF/WERF Knowledge Development
Forum: Aerobic Granular Sludge
Nutrient Removal Fundamentals: Relating the Science
of BNR to the Design of BNR for Municipal WRRFs
The Difference Between Energy and Cost:
W03
Understanding and Curbing Your Energy Bill
WEF/WERF Who Moved My Carbon? The
W04
Competition for Carbon at WRRF of the Future
W02
W05 Wastewater Treatment Microbiology
Bacteriophage Analyses in Wastewater, Ambient Water,
and for Biosolids Quality Compliance Measurements
W07 Cutting-Edge Advancements in Odor Control
W08
State of Preliminary Treatment Technology:
Screening and Grit Removal
W09 Biosolids Master Planning: A Holistic Approach
Private Property I/I Reduction: Challenges,
Solutions, and Vision Forward
Improve Your Facilities Management Toolkit: From
W11
Flow Monitoring to Modeling and Forecasting Tools
Planning a Distributed Neighborhood Green
W12
Infrastructure System: Hands-On Modeling and Design
WEF/WERF Moving from Conventional Wastewater
W13
Treatment to Planned Potable Water Reuse
W10
Wastewater Treatment Fundamentals
for Petroleum Refineries
W15 Water Reuse in the Food and Beverage Industry
W16
Energy Use at Municipal Resource Recovery Facilities:
Fundamentals, Conservation, and Recovery
W17 Wastewater Treatment Microbiology
W18
W19
W20
W21
W22
W23
W24
W25
W26
W27
Activated Sludge and BNR Process
Control: Hands-On in the Real World
Using On-Line Analyzers to Meet
Stringent Nutrient Requirements
Computational Fluid Dynamics: Hands-On CFD
Modeling for Water Resource Recovery Facilities
Fundamentals of Land Application
and Certification of Personnel
High-Performance Anaerobic
Digestion: Can You Handle It?
Priming the Pumps and Exercising the Force Mains:
The Basics and Beyond of Pumping Systems
Tree Hydro: An Accessible Tool for Modeling the
Hydrological Benefits of Trees and Green Infrastructure
DPR Risk Reduction and Critical Control
Point Monitoring for Public Health
Fostering Public Acceptance of Potable
Reuse Projects: How Can We Get Even Better
at Communicating Purified Water?
Improving Communication, Creativity, and
Collaboration Through Improvisational Techniques
Member (M)/
Student Nonmember
N
Practical Operation and Maintenance of
Pumps: Portable Self-Priming Pumps
Cogeneration System Operation:
W29
Solutions from the Real World
Student
Member
Nonmember (N)
$199 $229
Saturday Workshop No.`
$
 Comp
$
$229 $259
Sunday Workshop No.
$
 Comp
$
$229 $259
$199 $229
Networking Events
A WEF Community Service Project
C WEFTEC Pedal with Purpose Bike Ride
WEFTEC Pedal with Purpose Bike Ride
D
(inc. bicycle and helmet rental)
E AAEES/AIDIS/WEF Breakfast
F Stormwater Congress Luncheon
G AEESP/WEF Scientists Luncheon
H Industrial Networking Reception
I Water For People Bash
J Collection Systems Luncheon
K Women in Water Breakfast
$229 $259
Facility Tours
$199 $229
$199 $229
$229 $259
$199 $229
$199 $229
$199 $229
$199 $229
$199 $229
$229 $259
$229 $259
$199 $229
$229 $259
$37
Mon
Mon
$20
$40
Mon
Mon
$15
$40
Tue
Wed
$20
$37
Qty
Rate
Mon
$40
Deadline Aug 31
Mon
$40
T4 St. Tammany Parish & Del Sol
Tue
$40
T5 Abita Brewing Company
Tue
$45
T6 GroundWork New Orleans
Tue
$40
T7 Ascension Parish Marvin Braud Pump Station
Wed
$40
T8 Sustainable Design Tour: Lower 9th Ward
Wed
$55
Wed
$40
T9
Collection Systems Tour:
S&WB of New Orleans
Deadline Aug 31
TOTAL
TOTAL
TOTAL
Visit www.weftec.org/Program for more information. Registration is required and includes transportation between the
convention center and the tour site. Some facility tours have security clearance requirements.
➎ PAYMENT
Federal Tax ID #: 53-0225129
Forms received without payment will not be processed
 Government Purchase Order/Wire Transfer*
P.O. No.: (must accompany reg. form)
 Check
 Personal Check |  Company Check
 Credit Card
 American Express |  MasterCard |  VISA
Card Number
$229 $259
Name on Card
$199 $229
Billing Address
Check No.
Exp.
CVV
City
State/Prov.
$99 $129
$75
Deadline Aug 31
Collection Systems Tour:
S&WB of New Orleans $199 $229
$229 $259
Sun
Mon
$40
$229 $259
$229 $259
Deadline Aug 31
Rate
$0
$50
Day
T3
$199 $229
Deadline Aug 31
Qty
Sat
Sun
Mon
T2 Gentilly Resilience District $199 $229
Day
T1 St. Bernard Parish Munster WTP
$229 $259
Wednesday 9/28
W28
 $575
SPACE IS EXTREMELY LIMITED – Workshop registration is on a first-come, first-served basis!
M
Sunday 9/25
W14
TOTAL
 Complimentary
Conference Workshops W06
Registration Fees
Technical Sessions
Zip/Post Code
Signature
I authorize WEF to charge my credit card for the amount indicated.
$99 $129
$149 $179
Please add a $25 processing fee for Purchase Order or Wire Transfer.
*
GRAND TOTAL
$
Forms received without payment will not be processed $
WEFTEC POLICIES
CANCELLATIONS Written cancellation notice is required and must be received by Friday, 31 August 2016, and include a detailed description. If approved, a refund less a 25% administrative fee will be issued.
No refunds will be given for registration cancellations or modifications received after 31 August 2016; however, substitute registrants are welcomed.
RELEASE AND ASSUMPTION OF RISK By registering for WEFTEC, attendees attest that they are aware of the common dangers of travel and participating in the meeting/events and will assume all personal liability
for their participation in WEFTEC.