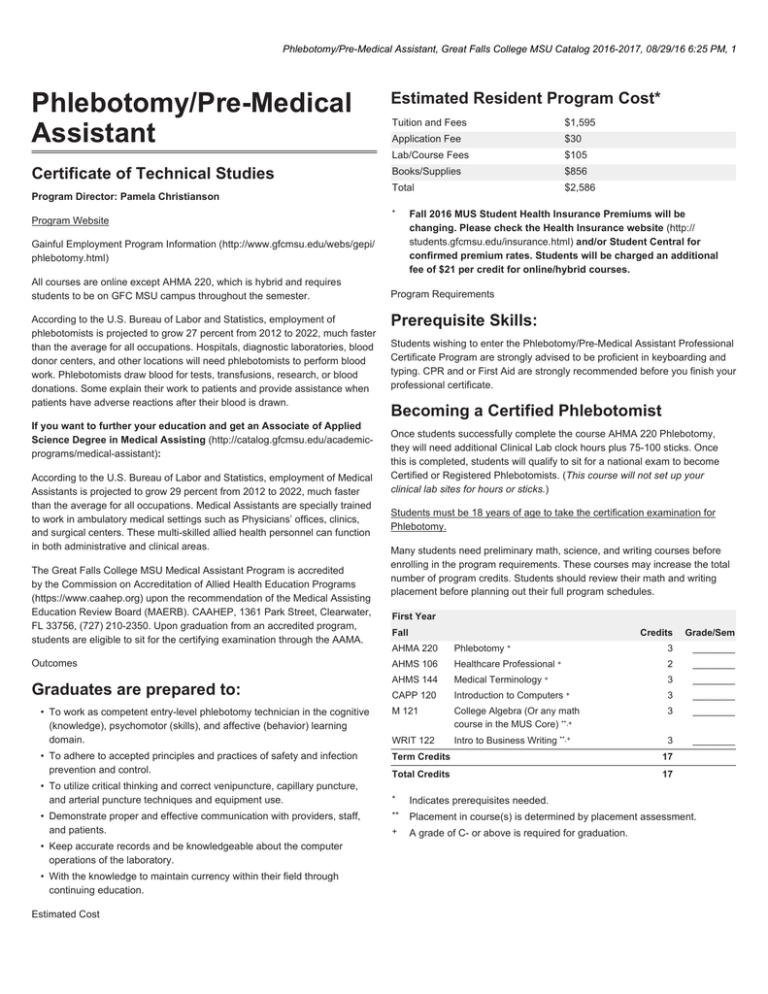 Phlebotomy/Pre-Medical Assistant, Great Falls College MSU Catalog 2016-2017, 08/29/16 6:25 PM, 1
Phlebotomy/Pre-Medical
Assistant
Certificate of Technical Studies
Program Director: Pamela Christianson
Program Website
Estimated Resident Program Cost*
Tuition and Fees
$1,595
Application Fee
$30
Lab/Course Fees
$105
Books/Supplies
$856
Total
$2,586
*
Gainful Employment Program Information (http://www.gfcmsu.edu/webs/gepi/
phlebotomy.html)
All courses are online except AHMA 220, which is hybrid and requires
students to be on GFC MSU campus throughout the semester.
According to the U.S. Bureau of Labor and Statistics, employment of
phlebotomists is projected to grow 27 percent from 2012 to 2022, much faster
than the average for all occupations. Hospitals, diagnostic laboratories, blood
donor centers, and other locations will need phlebotomists to perform blood
work. Phlebotomists draw blood for tests, transfusions, research, or blood
donations. Some explain their work to patients and provide assistance when
patients have adverse reactions after their blood is drawn.
If you want to further your education and get an Associate of Applied
Science Degree in Medical Assisting (http://catalog.gfcmsu.edu/academicprograms/medical-assistant):
According to the U.S. Bureau of Labor and Statistics, employment of Medical
Assistants is projected to grow 29 percent from 2012 to 2022, much faster
than the average for all occupations. Medical Assistants are specially trained
to work in ambulatory medical settings such as Physicians' offices, clinics,
and surgical centers. These multi-skilled allied health personnel can function
in both administrative and clinical areas.
The Great Falls College MSU Medical Assistant Program is accredited
by the Commission on Accreditation of Allied Health Education Programs
(https://www.caahep.org) upon the recommendation of the Medical Assisting
Education Review Board (MAERB). CAAHEP, 1361 Park Street, Clearwater,
FL 33756, (727) 210-2350. Upon graduation from an accredited program,
students are eligible to sit for the certifying examination through the AAMA.
Outcomes
Fall 2016 MUS Student Health Insurance Premiums will be
changing. Please check the Health Insurance website (http://
students.gfcmsu.edu/insurance.html) and/or Student Central for
confirmed premium rates. Students will be charged an additional
fee of $21 per credit for online/hybrid courses.
Program Requirements
Prerequisite Skills:
Students wishing to enter the Phlebotomy/Pre-Medical Assistant Professional
Certificate Program are strongly advised to be proficient in keyboarding and
typing. CPR and or First Aid are strongly recommended before you finish your
professional certificate.
Becoming a Certified Phlebotomist
Once students successfully complete the course AHMA 220 Phlebotomy,
they will need additional Clinical Lab clock hours plus 75-100 sticks. Once
this is completed, students will qualify to sit for a national exam to become
Certified or Registered Phlebotomists. (This course will not set up your
clinical lab sites for hours or sticks.)
Students must be 18 years of age to take the certification examination for
Phlebotomy.
Many students need preliminary math, science, and writing courses before
enrolling in the program requirements. These courses may increase the total
number of program credits. Students should review their math and writing
placement before planning out their full program schedules.
First Year
Fall
AHMA 220
Phlebotomy +
+
Credits
Grade/Sem
3
________
AHMS 106
Healthcare Professional
2
________
AHMS 144
Medical Terminology +
3
________
CAPP 120
Introduction to Computers +
3
________
• To work as competent entry-level phlebotomy technician in the cognitive
(knowledge), psychomotor (skills), and affective (behavior) learning
domain.
M 121
College Algebra (Or any math
course in the MUS Core) **,+
3
________
WRIT 122
Intro to Business Writing **,+
3
________
• To adhere to accepted principles and practices of safety and infection
prevention and control.
Term Credits
17
Total Credits
17
Graduates are prepared to:
• To utilize critical thinking and correct venipuncture, capillary puncture,
and arterial puncture techniques and equipment use.
• Demonstrate proper and effective communication with providers, staff,
and patients.
• Keep accurate records and be knowledgeable about the computer
operations of the laboratory.
• With the knowledge to maintain currency within their field through
continuing education.
Estimated Cost
*
Indicates prerequisites needed.
**
Placement in course(s) is determined by placement assessment.
+
A grade of C- or above is required for graduation.