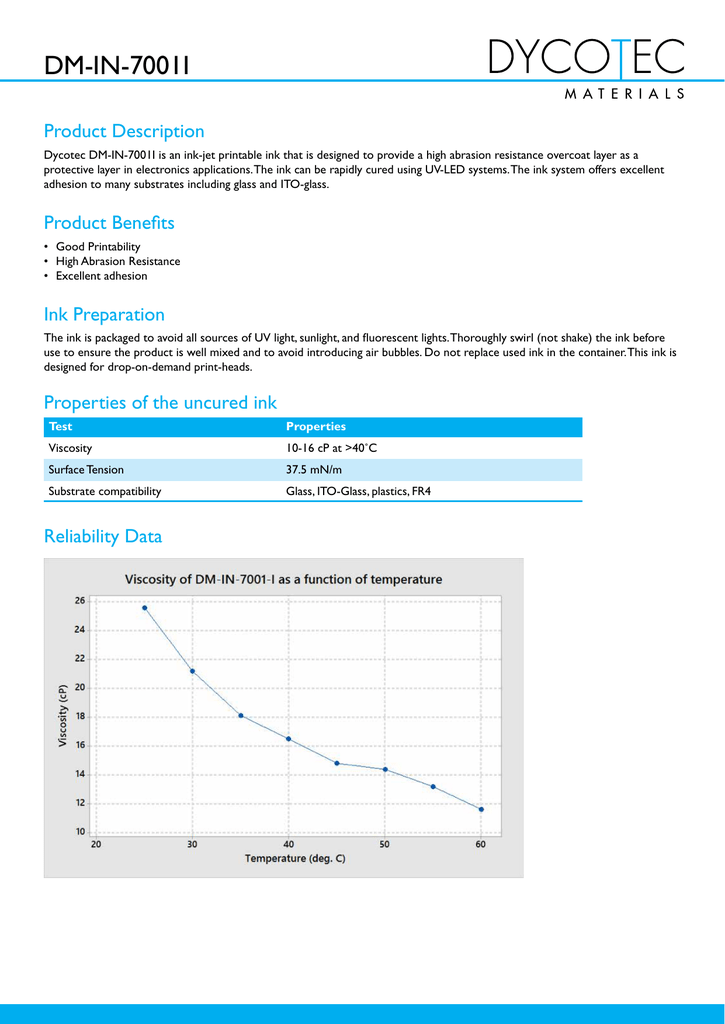 DM-IN-7001I
Product Description
Dycotec DM-IN-7001I is an ink-jet printable ink that is designed to provide a high abrasion resistance overcoat layer as a
protective layer in electronics applications. The ink can be rapidly cured using UV-LED systems. The ink system offers excellent
adhesion to many substrates including glass and ITO-glass.
Product Benefits
• Good Printability
• High Abrasion Resistance
• Excellent adhesion
Ink Preparation
The ink is packaged to avoid all sources of UV light, sunlight, and fluorescent lights. Thoroughly swirl (not shake) the ink before
use to ensure the product is well mixed and to avoid introducing air bubbles. Do not replace used ink in the container. This ink is
designed for drop-on-demand print-heads.
Properties of the uncured ink
TestProperties
Viscosity
10-16 cP at >40˚C
Surface Tension
37.5 mN/m
Substrate compatibility
Glass, ITO-Glass, plastics, FR4
Reliability Data
DM-IN-7001I
Ink Curing Conditions
TestProperties
UV LED Wavelength
380 - 390 nm
UV Curing Energy
500 - 1000 mJ/cm2
LED-UV development curing systems can be supplied by DML. For further information, please contact [email protected]
Properties of the Cured Ink
TestProperties
Cured Visible Transmittance > 95% at 550 nm
Pencil hardness scale
> 4H
Adhesion
5B
Storage and shelf-life
Containers should be stored as specified with lids tightly sealed. We cannot assume responsibility for an ink that has not been
stored in appropriate conditions or where the ink has been contaminated following use. Equipment can be cleaned using alcohols
such as propanol.
Safety and Handling
For safe use of this product, please review relevant material safety and datasheet (MSDS).
For more information, please contact:
Dycotec Materials Ltd
Unit 12, Star West
Westmead Industrial Estate
Swindon, Wiltshire UK
Email: [email protected]
Tel: +44 (0)1793 422598
www.dycotecmaterials.com
All information reported in the datasheet is for experimental work undertaken in our laboratories and illustrates typical values only. Processing conditions may vary depending on customers' experience and their
application requirements and manufacturing process equipment set-up.
Note: The data contained herein are furnished for information only and are believed to be reliable. We cannot assume responsibility for the results obtained by others over whose methods we have no control.
It is the user's responsibility for the results obtained by others over whose methods we have no control. It is the user's responsibility to determine suitability for the user's purpose of any production methods
mentioned herein and to adopt such precautions as may be advisable for the protection of property and of persons against any hazards that may be involved in the handling and use thereof. In light of the foregoing,
Dycotec Materials specifically disclaims all warranties expressed or implied, including warranties of merchantability or fitness for a particular purpose, arising from sale of use of Dycotec Material's products. Dycotec Materials specifically disclaims any liability for consequential or incidental damages of any kind, including lost profits. The discussion herein of various processes or compositions is not to be interpreted
as representation that they are free from domination of patents owned by others or as a license under any Dycotec Material patents that may cover such processes or compositions. We recommend that each
prospective user test his proposed application before repetitive use, using this data as a guide. This product may be covered by one of or more UK or foreign patents or patent applications.