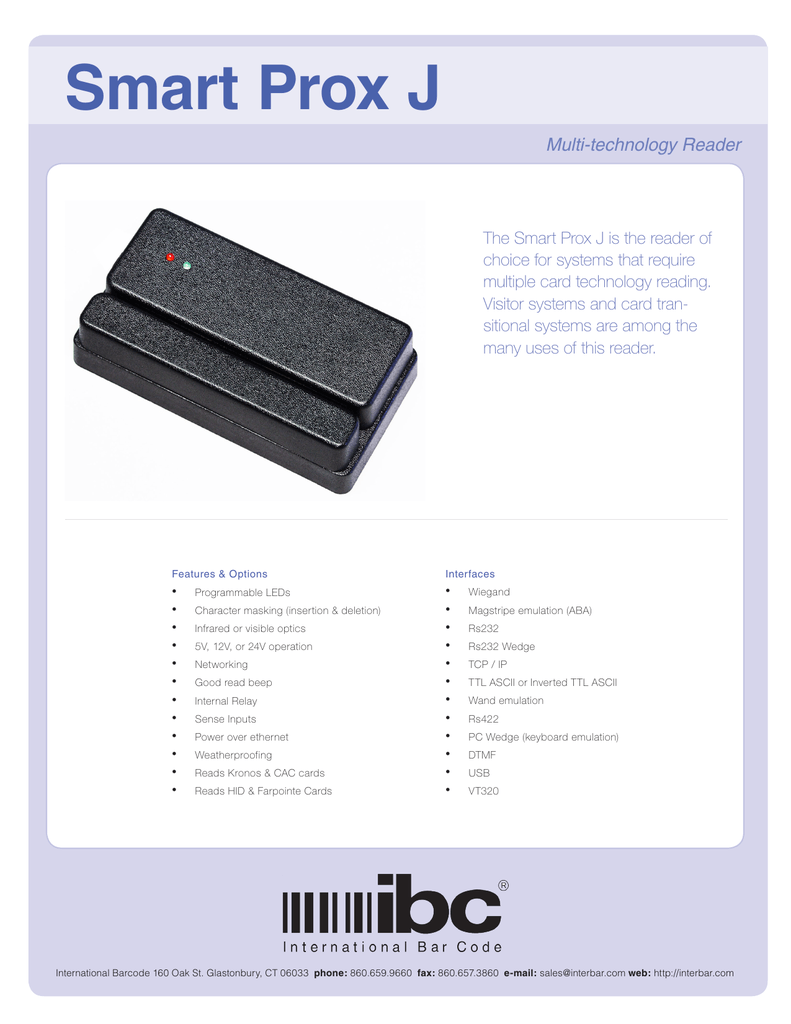 Smart Prox J
Multi-technology Reader
The Smart Prox J is the reader of
choice for systems that require
multiple card technology reading.
Visitor systems and card transitional systems are among the
many uses of this reader.
Features & Options
Interfaces
•
•
•
•
•
•
•
•
•
•
•
•
•
•
•
•
•
•
•
•
•
•
•
•
Programmable LEDs
Character masking (insertion & deletion)
Infrared or visible optics
5V, 12V, or 24V operation
Networking
Good read beep
Internal Relay
Sense Inputs
Power over ethernet
Weatherproofing
Reads Kronos & CAC cards
Reads HID & Farpointe Cards
Wiegand
Magstripe emulation (ABA)
Rs232
Rs232 Wedge
TCP / IP
TTL ASCII or Inverted TTL ASCII
Wand emulation
Rs422
PC Wedge (keyboard emulation)
DTMF
USB
VT320
International Barcode 160 Oak St. Glastonbury, CT 06033 phone: 860.659.9660 fax: 860.657.3860 e-mail: [email protected] web: http://interbar.com
Specifications
Barcode Scanning Speed: 3"-30" per second (7.62cm–76.2cm/sec)
Reading Direction:
Symbologies:
Magstripe Track:
Interfaces:
Resolution:
Good Read Beep:
Slot Width:
Bidirectional
Code 39, I 2 of 5, 2 of 5, IND 2 of 5, Code 128, Codabar, EAN13, UPCA
Tracks 1, 2 or 3 (high or low density / high or low coercivity)
Wiegand, Rs232, Rs232 Wedge, Rs422/485, TCP / IP, TTL ASCII, INV TTL ASCII, Magstripe Emulation,
Wand Emulation, PC Wedge XT / AT, PC Wedge PS2, VT320 Wedge, USB
5 mil
Programmable
0.060" (1.52mm)
Sense Inputs: 2 TTL sense inputs (optional)
Power Consumption1: 5V 160mA typical 250 max / 12V 100mA typical 140 max / 24V 50mA typical 80 max / POE 90mA
Material:
Dimensions:
Black polycarbonate / Noryl (chemical resistant case) (optional)
4.6" L x 2.4" W x 1.4" H (11.68cm L x 6.10cm W x 3.56cm H)
Weight 7oz
Read Height: .4" standard (1.02cm) / .465 (1.19cm) (optional)
Indicators
Relay
2
2 programmable LEDs (optional)
30V DC 500mA Isolated form C relay (optional)
Trigger Output:
5V TTL trigger output (optional)
Light Source:
630nm visible / 940nm infrared
Temperature
-40°C to +85°C
Standard Wiring: 3ft (91.5cm) cable, flying leads or connectors depending on interface
External Prox. Interface:
Wiegand / ABA
Internal Prox. Capability: Pyramid / HID
1
Maximum power consumption does not include alphanumeric displays. 5V DC readers have a voltage tolerance of +/-5%.
12V DC readers may be operated from 8VDC–15VDC. 24V DC readers may be operated from 15V DC–30V DC.
2
POE readers can also be ordered with a 12V switched relay 500mA directly connected to POE (non-Isolated form C)
Wiring
Rs232 Interface
Wiring Connections for various Interfaces.
ABA Interface (Gray cable)
Wiegand
Externally Controlled LED
Red
+VDC
Red
+8-15VDC
Red
+VDC
Wiring (All J Readers, wiegand or
Blue
GND
Blue
GND
Blue
GND
mag emulation)
Green
Reader Transmit
White
Clock
Green
Data 0
Yellow
Yellow
Reader Receive
Green
Media
White
Data 1
Orange Green LED (black Rs422 Interface
Orange Data
Red
+VDC
ABA Interface (Black cable)
Blue
GND
Red
Green
Reader Transmit +
White
Reader Transmit -
Yellow
Reader Receive +
Orange Reader Receive -
Sense Input Wiring
Black
Sense Input 1
+VDC
Brown
Sense Input 2
Blue
GND
Green
Media (card present)
Relay Wiring (All Readers)1
White
Clock
Orange Data
Yellow
Normally Closed
Green
Normally Open
Red
Common
Red LED
wire only)
Brown
Green LED (gray wire only)
Please note that magstripe emulation readers which use black cables may have only one externally controlled LED (in which case the
wire used is the orange wire.)
1
For POE (power over ethernet) readers, without an isolated relay, the green wire (normally open) will have 12V DC available when the
relay is ON. The yellow wire (normally closed) will have 12V DC power when the relay is OFF.
How to Order
*
Options at additional cost
Order Smart Prox J with a code to indicate options required.
1
USB, TCP, DTMF & VT320 additional cost
OPTICS
2
12V, 24V & POE additional cost
INTERFACE (Continued)
Visible – V
Infrared – I
None – 0
RESOLUTION
High – H
None – 0
MAGSTRIPE TRACK
Track 2 – 2
Track 1 – 1
Track 3 – 3
None – 0
Rs232 Wedge – A
TCP / IP – C
TTL ASCII – T
INV TTL ASCII – I
Magstripe Emulation – M 5
(Continued in next column)
Noryl additional cost
SENSE INPUTS
Wand Emulation – W5
Rs422 – 24
PC Wedge XT/AT – P
PC Wedge PS2 – 1
Wiegand – G 5
VT320 Wedge – V
DTMF – D
USB – U
No sense inputs – 0
Sense inputs – S
5V DC – 5
12V DC – 2
24V DC – 4
POE – P
No external keypad – 0
Ext. keypad support – K
WEATHERPROOFING
No weatherproofing – 0
Weatherproofing – W
No relay – 0
Relay – R
Trigger Output – T
MOUNTING
LEDs
WIRING
ADDITIONAL OPTIONS
Noryl (chemical resistant
case) – N
Isolated Relay – IR
External Interface – E
HID Compatible – H
#6 – 6
3mm – M
Rear – R
Side – S
6-pin rear mod. jack – 6
None – 0
Both LEDs – L
Red LED – R
Green LED – G
4
Serial units may be reprogrammed for
network / protocol mode.
5
Units may be specially ordered to
support all three emulation modes.
DISPLAY
No display – 0
Examples
Wiegand Interface
Specify one letter for
each additional option.
Leave blank if no
additional options are
desired.
VOLTAGE
EXTERNAL KEYPAD
RELAY
INTERFACE
Rs232 – S 4
3
Examples of ordering codes for Smart Prox J in popular interfaces.
Rs232 Interface
TCP / IP Interface
SProxJ–IHG0L000W6R2-H
SProxJ–IH2S0L00006R5
SProxJ–IHCRL000W6RP
Smart Prox J with:
Smart Prox J with:
Smart Prox J with:
Infrared Optics – I
Infrared Optics – I
Infrared Optics – I
High Resolution – H
High Resolution – H
High Resolution – H
No Magstripe – 0
Magstripe Track – 2
No Magstripe – 0
Wiegand – G
Rs232 Interface – S
TCP / IP – C
2 LEDs – L
Relay – R
Relay – R
Weatherproofing – W
2 LEDs – L
2 LEDs – L
#6 Mounting – 6
#6 Mounting – 6
Weatherproofing – W
Rear wire exit – R
Rear wire exit – R
#6 Mounting – 6
12V DC supply – 2
12V DC supply – 2
Rear wire exit – R
HID Compatible – H
POE – P
International Barcode 160 Oak St. Glastonbury, CT 06033 phone: 860.659.9660 fax: 860.657.3860 e-mail: [email protected] web: http://interbar.com
Dimensional Diagrams
Dimensional Measurements for the Smart Prox J.
0.614
1.366
2.370
(Rear exit wire)
4.655
3.540
0.558
0.558
TRUE R0.190
1.205
TRUE R0.190
0.135
0.135
1.240
2.445
0.450
2.328
4.655
TRUE R0.190
TRUE R0.190
Notes for Ordering Smart Prox J
POWER
a RJ45 coupler. Standard wiring for usb
LEDs
Standard J Series readers are powered
readers is a 6' cable with a USB type A
Readers can be ordered with 1 green LED,
with 5V DC. 12V DC and 24V DC are
plug for direct connection to a PC.
1 red LED, or red and green LEDs.
Readers with sense inputs contain a sepa-
MOUNTING
rate wire for the 2 sense inputs. Readers
The reader mounts from behind and is
WIRING
with an external keypad interface con-
available with a 3mm screw insert or a
Readers can be ordered with a side
tain a separate wire for connection to an
6-32 screw insert. The reader may be
wire exit, rear wire exit, or RJ12 rear jack,
external keypad. Power pigtails and an AC
mounted from the front using the IBC
depending on the interface. Standard wir-
adaptor can be provided for all 12V and
Mounting Kit (Part No. MK-L).
ing for 5V Rs232 and all Rs422 readers
24V readers that are ordered with flying
is a 3' cable with flying leads. 5V Rs232
leads. Custom wiring is available for most
readers can be ordered with a DB9 con-
configurations.
optional. 12V DC is recommended when
connecting to panels.
nector and power wired to one of the pins.
12V and 24V Rs232 readers contain a 3'
RELAY
cable with a DB9 female connector, and
R eaders with a relay contain a separate
a power pigtail for connection to an AC
wire with flying leads for the relay con-
adaptor; which is included.
nections. The relay is isolated for all
configurations except POE. POE readers
Standard wiring for all emulation outputs
supply power directly to the relay, unless
(wand, magstripe, wiegand) is a 3' cable
an isolated relay option is specified. The
with flying leads. Standard wiring for TCP
relay option is not available with readers
readers is a 5' cable with a RJ45 jack and
ordered with an RJ12 jack.
For custom wiring or firmware contact IBC.