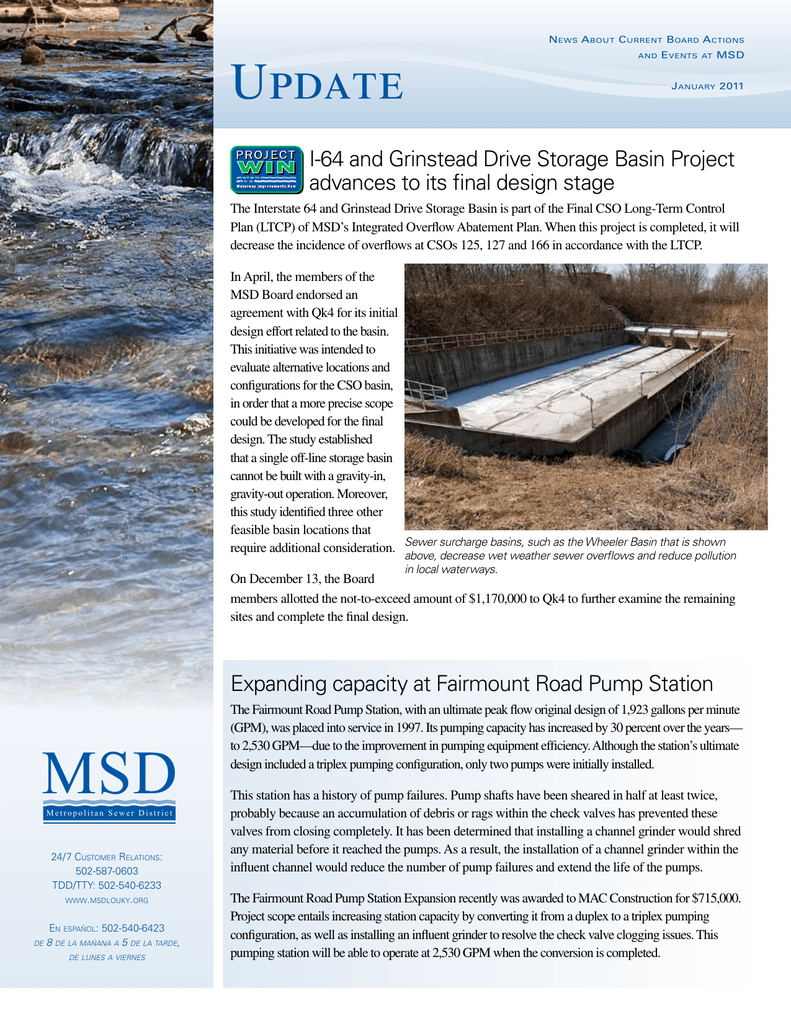 N ews A bout C urrent B oard A ctions
Update
and
E vents
at
MSD
J anuary 2011
I-64 and Grinstead Drive Storage Basin Project
advances to its final design stage
The Interstate 64 and Grinstead Drive Storage Basin is part of the Final CSO Long-Term Control
Plan (LTCP) of MSD's Integrated Overflow Abatement Plan. When this project is completed, it will
decrease the incidence of overflows at CSOs 125, 127 and 166 in accordance with the LTCP.
In April, the members of the
MSD Board endorsed an
agreement with Qk4 for its initial
design effort related to the basin.
This initiative was intended to
evaluate alternative locations and
configurations for the CSO basin,
in order that a more precise scope
could be developed for the final
design. The study established
that a single off-line storage basin
cannot be built with a gravity-in,
gravity-out operation. Moreover,
this study identified three other
feasible basin locations that
require additional consideration. Sewer surcharge basins, such as the Wheeler Basin that is shown
above, decrease wet weather sewer overflows and reduce pollution
in local waterways.
On December 13, the Board
members allotted the not-to-exceed amount of $1,170,000 to Qk4 to further examine the remaining
sites and complete the final design.
Expanding capacity at Fairmount Road Pump Station
MSD
Metropolitan Sewer District
24/7 Customer Relations:
502-587-0603
TDD/TTY: 502-540-6233
www.msdlouky.org
de
En español: 502-540-6423
8 de la mañana a 5 de la tarde,
de lunes a viernes
The Fairmount Road Pump Station, with an ultimate peak flow original design of 1,923 gallons per minute
(GPM), was placed into service in 1997. Its pumping capacity has increased by 30 percent over the years—
to 2,530 GPM—due to the improvement in pumping equipment efficiency. Although the station's ultimate
design included a triplex pumping configuration, only two pumps were initially installed.
This station has a history of pump failures. Pump shafts have been sheared in half at least twice,
probably because an accumulation of debris or rags within the check valves has prevented these
valves from closing completely. It has been determined that installing a channel grinder would shred
any material before it reached the pumps. As a result, the installation of a channel grinder within the
influent channel would reduce the number of pump failures and extend the life of the pumps.
The Fairmount Road Pump Station Expansion recently was awarded to MAC Construction for $715,000.
Project scope entails increasing station capacity by converting it from a duplex to a triplex pumping
configuration, as well as installing an influent grinder to resolve the check valve clogging issues. This
pumping station will be able to operate at 2,530 GPM when the conversion is completed.
Project DRI progress
Floyds Fork/North County Area
Drainage Response Initiative projects
Project DRI now is in the process of resolving
drainage issues throughout the community.
The following projects are ready for construction:
Upcoming Events
Beargrass Creek Area
3
2
1
Brokers Tip Lane
This project is required to resolve drainage service
requests along the 5500 and 5600 blocks of
Brokers Tip Lane in District 14.
2
Olive Road
This District 24 project is needed to resolve drainage service requests along the 3400 and 3500 blocks
of Olive Road, the 6900 block of Charmon Avenue and part of the 1000 block of Minor Lane.
3
Thalia Avenue
This project will resolve drainage service requests due to inadequate drainage facilities in the rear
of properties on Carolyn Road in District 21.
1
Pond Creek/
Mill Creek Area
January 10
MSD Board Meeting
10 a.m., 700 West Liberty Street
You can help to protect your neighborhood
from stormwater flooding
January 17
MSD Offices closed
For emergency service anytime,
phone MSD's Customer Relations
Department at 502-587-0603.
Catch basins and street gutter drains carry stormwater away from homes and streets when it rains.
They cannot function properly when their grates are clogged with leaves, twigs, grass clippings and
other debris. Covered or clogged drains add to street and yard flooding.
January 24
MSD Board Meeting
10 a.m., 700 West Liberty Street
MSD Milestones
Welcome to MSD:
Jesse Schulz,
Maintenance Electrician
Happy service anniversary:
20 years Allen Adams
Joseph Falleri
5 years David Ehman
Chiffon Vaughn
Please take time to rake away leaves and other
debris from catch basin grates. Just a few minutes
of your time could prevent street flooding in
your neighborhood during heavy rains.
A basin may be stopped up even when the
grates are clean. If the drain still does not carry
water away, call MSD Customer Relations,
at 587-0603, to receive assistance.
Remember:
lDo not remove the grate from a catch basin or from a drain. The area located beneath them can be deep and dangerous!
lIf a catch basin grate or manhole cover
is missing, immediately contact MSD
Customer Relations at 587-0603.
Stormwater flooding can be prevented
by keeping catch basins free from leaves
and debris.
Do not pour oil, paint thinner, gasoline,
or other petroleum-based chemicals or products into drains. Contaminating streams is a very dangerous practice, which also
violates the Louisville and Jefferson County
Hazardous Materials Ordinances.
Stormwater flooding can be prevented by keeping
l
catch basins free from leaves and debris.
PAGE 2
Replacing channel grinders
The Shively Pump Station, which is located in southwest Jefferson County, pumps 11,500 gallons
per minute (GPM). When this pumping station was built in 1977, it was designed with two influent
channels that lead to three dry pit submersible pumps. In 1995, two grinders—with a combined
capacity of 11,500 GPM—were installed in the two channels. One of these grinders was removed
from service in 2009 because it failed beyond repair.
On December 13, the MSD Board designated $322,000 for Pace Contracting to increase station
efficiency by replacing the smaller existing channel grinder with two 11,500-GPM ones, each of which
will be sized to handle the flows from the interceptor entering the pumping station. They will be sized
to manage maximum wet weather flows to this station, thus preventing flooding concerns due to lack
of operating capacity. The two new units will allow each influent channel to operate independently
and provide staff members with full site flexibility for operation and maintenance purposes. Metro
Operations employees will refurbish the existing grinder, which then will become an on-site backup unit.
MSD exchanges property with Metro Government
For some time, MSD has been involved in discussions with Louisville Metro Government to acquire
multiple Louisville Metro properties for constructing detention basins, enlarging MSD's Central
Maintenance Facility (CMF) and providing property for various sewer projects. MSD simultaneously
was negotiating to buy easements across property at 3515 Newburg Road for the Southeastern Interceptor
Relief Sewer, while Louisville Metro wished to purchase this same Manheim property for its fleet
operations base. It has been determined to be financially beneficial for MSD to buy the Manheim
property and exchange it with Louisville Metro for the multiple properties that MSD requires.
Properties to be transferred to MSD include:
912 East Breckinridge Street, and 917 and 935 East Logan Street
(the most feasible location for the Logan Street CSO Basin);
l
a proposed 2-acre tract at 2601 Millers Lane
(this property, which is adjacent to the Central Maintenance Facility, will offer additional access to
CMF and be used to build a new facility for disposing of debris and waste from MSD's vactor and
catch basin cleaning operations);
a proposed 5.25-acre tract at 1388 Lexington Road
(to be utilized as a CSO basin); and
l
several Petersburg Road properties
(will be crossed by the Southeastern Interceptor Relief Sewer and be rendered unmarketable
because of the size of the needed easements).
performed a ditch regrade on my
property. Nathaniel Elliott,
Nelson Little and Justin Martin
were not only courteous, but the
work that they did was excellent.
I am very impressed.
—Kathy Ray
When I arrived home, I noticed what
a good job William Baskette,
Robinson and Derek Shields
had done of clearing the alleyway
and drain system at the rear of my
home. I know how important it is
to praise such a wonderful job done
is supervisory. Good job!
—Christopher Lyons
I want to compliment Leila
Employee Spotlight
Cunningham and Yozette
The Instrumentation Testing Association (ITA) honored Saeed Assef, Director of Infrastructure and Flood Protection, with an award for his continued participation
and volunteer support. Assef has served on the ITA Board of Directors since
2002 and as president of the organization since 2009.
l
TheTri-State Minority Supplier Development Council recognized MSD as the 2010
Corporation of theYear (Public Sector) at its recent Annual Agave' Awards ceremony. MSD was recognized for a program that demonstrates a strong
commitment to diversity in business and procurement activities.
MSD crew members who have
by a very nice crew because my job
l
l
I would like to compliment the
Keith Brooks, Rashawnda
l
lThe Kentucky Society of Professional Engineers named Anthony "Tony"
Marconi, Infrastructure and Flood Protection Preventive Maintenance and
Support Manager, as the 2010-11 Young Engineer of the Year.
Customers First
Gaither, both of whom talked
with me regarding my sewer bill.
I have never been treated so nicely.
I would offer both of them jobs if
there were any openings at my
Tori Coward enjoyed the
snowman display at the
Annual Holiday Celebration,
held at CMF on December 3,
with the daughter of her
co-worker Celethia Neal.
business. They could not have been
more helpful or polite.
—Diana Polsgrove
PAGE 3
MSD
Metropolitan Sewer District
700 West Liberty Street
Louisville, KY 40203-1911
Printed on 30% post-consumer
content paper.
© COPYRIGHT 2011
LOJIC map data copyrighted by the Louisville and Jefferson County
Metropolitan Sewer District, Louisville Water Company, Louisville
Metro Government and Jefferson County Property Valuation
Administrator. All rights reserved.
Board Actions
In May, Phase 6 of the Floodwall Concrete
l
Joint Repair Project—which is located
between the closures at Shelby and Buchanan
Being part of the solution
streets—was awarded to Larry W. Doyle &
Associates. The members of the Board in
December approved a change order for
$53,713 that will allow MSD to take advantage
of established procedures and unit prices
for extending joint repairs with maximum
cost effectiveness.
The Morris Forman Water Quality
l
Treatment Center Final Effluent Pump
Station (FEPS) Electrical Modifications
contract was awarded to Eaton Electrical
Corporation in November 2008. MSD's Board
recently authorized an $86,045 change order
with Eaton to provide extended crane rental,
rigging crews and mechanics for reinstalling
Pump B-4; relocate the existing seal water
piping system; and install a pump and motor
grounding system for connection with the
FEPS Electrical Substation.
PAGE 4
You can improve the quality of Louisville
Metro's waterways! The conditions of our
streams, creeks and the Ohio River affect
our quality of life in many ways. When
it rains, stormwater carries pollutants to
catch basins and drainage ditches, which
then flow into creeks or into the Ohio
River. Leaving pet waste in your yard,
dropping litter in the street, or treating
your yard or lawn with chemicals before
a rainstorm is equivalent to placing
those materials directly into a creek.
Sump pumps, washing machines and
dishwashers fill sanitary sewers and
contribute to sewer overflows during rain
events. When such overflows happen,
streams become loaded with pollutants
that can cause sickness with human
contact.