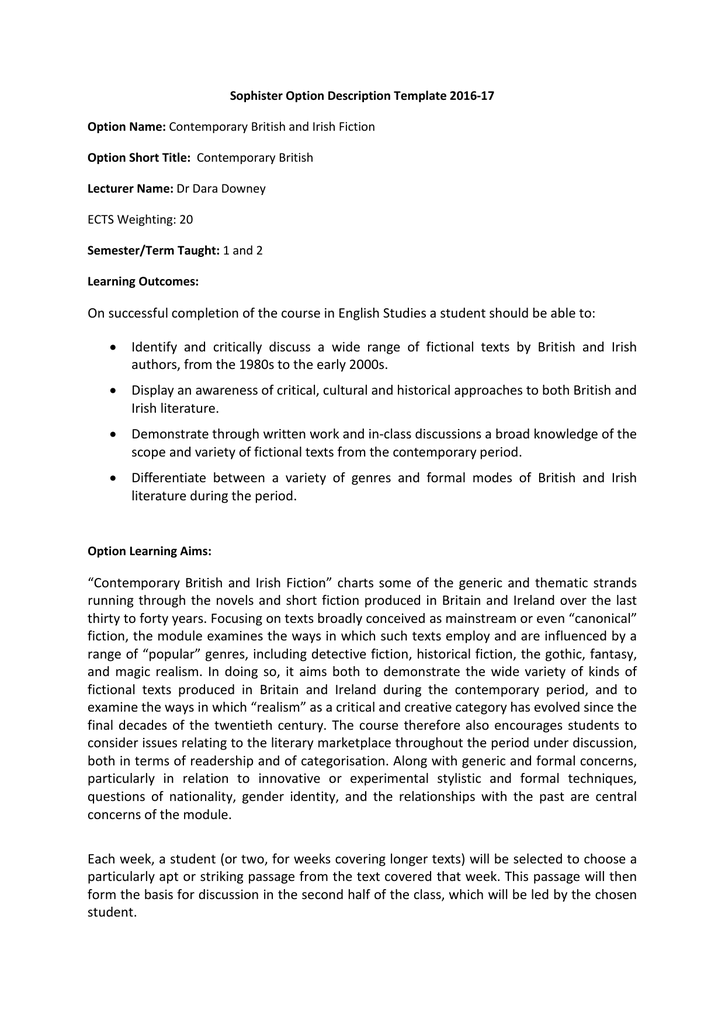 Sophister Option Description Template 2016-17
Option Name: Contemporary British and Irish Fiction
Option Short Title: Contemporary British
Lecturer Name: Dr Dara Downey
ECTS Weighting: 20
Semester/Term Taught: 1 and 2
Learning Outcomes:
On successful completion of the course in English Studies a student should be able to:
•
Identify and critically discuss a wide range of fictional texts by British and Irish
authors, from the 1980s to the early 2000s.
•
Display an awareness of critical, cultural and historical approaches to both British and
Irish literature.
•
Demonstrate through written work and in-class discussions a broad knowledge of the
scope and variety of fictional texts from the contemporary period.
•
Differentiate between a variety of genres and formal modes of British and Irish
literature during the period.
Option Learning Aims:
"Contemporary British and Irish Fiction" charts some of the generic and thematic strands
running through the novels and short fiction produced in Britain and Ireland over the last
thirty to forty years. Focusing on texts broadly conceived as mainstream or even "canonical"
fiction, the module examines the ways in which such texts employ and are influenced by a
range of "popular" genres, including detective fiction, historical fiction, the gothic, fantasy,
and magic realism. In doing so, it aims both to demonstrate the wide variety of kinds of
fictional texts produced in Britain and Ireland during the contemporary period, and to
examine the ways in which "realism" as a critical and creative category has evolved since the
final decades of the twentieth century. The course therefore also encourages students to
consider issues relating to the literary marketplace throughout the period under discussion,
both in terms of readership and of categorisation. Along with generic and formal concerns,
particularly in relation to innovative or experimental stylistic and formal techniques,
questions of nationality, gender identity, and the relationships with the past are central
concerns of the module.
Each week, a student (or two, for weeks covering longer texts) will be selected to choose a
particularly apt or striking passage from the text covered that week. This passage will then
form the basis for discussion in the second half of the class, which will be led by the chosen
student.
Option Content:
John Banville, The Book of Evidence
David Peace, Nineteen Seventy-Four
Martin Amis, Money
Ali Smith, The Accidental
Colm Tobin, The Master
Hilary Mantel, Wolf Hall
Kazuo Ishiguro, The Remains of the Day
Ian McEwan, selected short stories
Angela Carter, selected stories from The Bloody Chamber
Alasdair Gray, Poor Things
Iain Banks, The Wasp Factory
Graham Swift, Last Orders
Kevin Power, Bad Day at Blackrock
Susanna Clarke, Jonathan Strange and Mr Norrell
Zadie Smith, White Teeth
Helen Oyeyemi, The Opposite House
Salman Rushdie, selected stories from East/West
Conor McPherson, The Weir
Kevin Barry, selected short stories
Assessment Details:
The module will be assessed through one end-of-semester essay (5-6000 words), to be
submitted at the end of Semester 1, and an examination at the end of Semester 2.