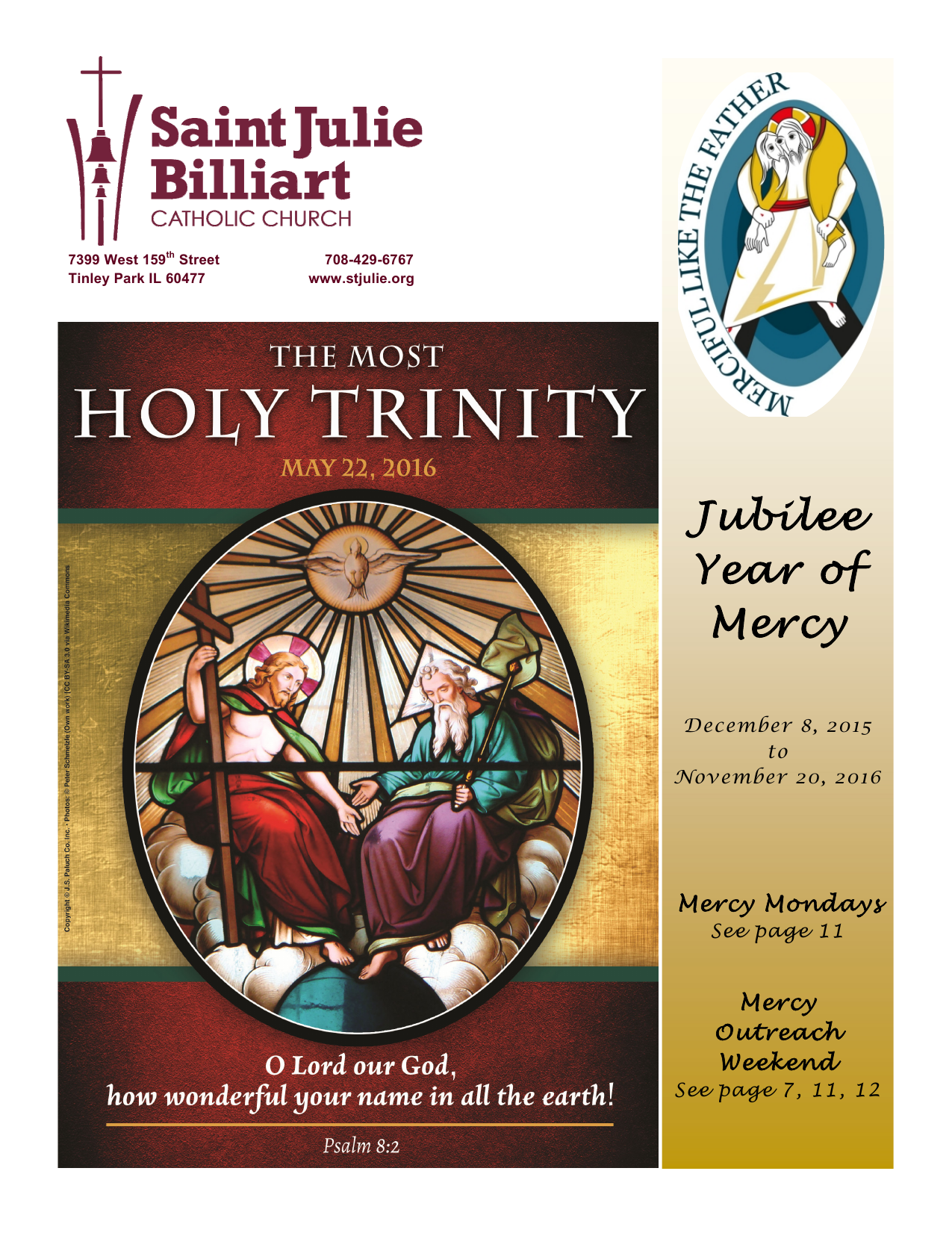 7399 West 159th Street
Tinley Park IL 60477
708-429-6767
www.stjulie.org
MAY 22
Jubilee
Year of
Mercy
December 8, 2015
to
November 20, 2016
Mercy Mondays
See page 11
Mercy
Outreach
Weekend
See page 7, 11, 12
Page 2
Inside this Issue
2
Fr. Lou's Line
3
Parish Happenings
and Highlights
4
Parish Calendar
Sacrificial Giving
5
Minister's Schedules
Mass Intentions
FR. LOU'S LINE...
TRINITY SUNDAY…
ORDINATIONS…
As we return to Ordinary Time in the liturgical
calendar, the first two Sundays after Pentecost
are Solemnities: The Most Holy Trinity followed
by The Most Holy Body and Blood of Christ.
Today, we contemplate the mystery of God as
a trinity of persons in one God. God has
revealed Gods'-self to us as Father, Son and
Holy Spirit. This image of God helps us to be in
relationship with God who is beyond all understanding.
This weekend, five priests were ordained to
serve in the Archdiocese of Chicago. This class
has the distinction of being the smallest class in
the history of the Archdiocese! Unfortunately,
their record will only stand for one year as the
Class of 2017 has only four candidates! This
prompts three thoughts:
1. Please pray for our newly ordained as they
begin their service to the Church as priests.
May they transition well into parish ministry
and find inspiration to be good and faithful
priests.
Because God's desire is that we be close, the
revelation of God as Father, Son and Spirit
invites us into an intimacy with God. Our expe2. Pray for and encourage vocations! God has
6
rience in life helps us to see the relationship: a
a calling to each and every one of us: to
In Our Prayers
father and a child, a brother and a close lover.
married life, to the single life, to ordained
The fact remains that God is 'bigger' than any
7
priesthood or to Religious life. We need to
of our insights of God's revelation. We only
Reflections
promote vocations to young people.
glimpse the greatness of God. Nevertheless, we
Year of Mercy
Consider God's calling and answer yes!
are one with God, not because of anything we
8
3. We have heard that there is a priests
do, but because God wants to be close to us.
Liturgy & Music
shortage and yet for most people they have
"The Holy Trinity is bound together in a
not experienced any shortage of priests.
9
relationship of love, and that love also
The effort of Renew My Church in the ArchHuman Concerns
binds us to the Trinity. Our mission is to
diocese of Chicago is very much concerned
let that love be the bond of relationship
10
with the issue of fewer priests for the
we have with one another."
Formation
future. Who will serve at our altars? Who
- From Living the Word
Religious Education
will Baptize, Marry and Bury our family? I
am confident that God will help us, but we
11
will need to seek new ways for us to be a
Community Life
RETIREMENT(S)...
vibrant Church with fewer priests.
Today at the 12:00 Noon Mass we will bid fare12
Youth & Young Adults
well to Deanne Tumpich. Deanne has served as
Director of Music for twenty-five years, and for ROOF FEST and RAFFLE…
13
the last couple of years, the added responsibility
Our Parish School
On June 24th from 7:30-10:30pm, St. Julie will
of Liturgy Director. On behalf of all of us at
host ROOF FEST. This is a fundraiser sponsored
14
St. Julie, I extend our heartfelt gratitude for
Bulletin Board
Deanne's ministry and our best wishes in retire- by the four parishes that are sponsors to CardiParish Contacts
ment! Please join us for a reception in Deanne's nal Bernardin School. You may recall that last
year significant work was needed to address
honor after the Noon Mass in the Parish Hall.
issues with the roof and wall of the school. A
As we prepared for Deanne's departure
loan was necessary for us to get the work done
Letters from St. Julie~
from our staff, I recently learned of another and the parishes committed themselves to holdstaff members' intention to retire. Cindy
ing a fundraiser each year to repay the loan.
The Sisters of Notre Dame Conachen has been a part of the staff of
are the 'Company of Mary'. St. Julie for nearly three decades! She began As part of the effort we are raffling off a car!
working here with her father before she was You too could ride around town in the same
In each one ought
type of car Pope Francis uses in the Vatican - a
'officially' hired. Cindy will step down from
to be found
Ford Focus! A mailing is going out to all families
her position on June 16th. Cindy has cared
the spirit of Mary,
with information on the event and raffle. Raffle
for St. Julie as her 'second home' and given
the virtue of Mary,
much of her self to keep our parish facilities tickets are available at the Parish Office. ($50
clean, working and useful. She will be missed each or 3 for $100). Help us raise the roof and
the strength and
but we wish her well too, in her retirement. have a fun evening!
power of Mary.
We will plan a chance to say thank you to
Peace & Prayers,
~Julie, Themes Cindy before she departs our staff.
PARISH HAPPENINGS & HIGHLIGHTS
TO
TEACH
Page 3
Who
Christ Is
A campaign for strong parishes, Catholic education and faith formation in the Archdiocese of Chicago
NOW is the time for your commitment!
Over the course of the last few weeks, many families have received their information detailing the To Teach Who Christ Is campaign either through a fellow parishioner, at the April 28th event,
or the mail. Now is the time to return your decision and join together in support of the efforts of St. Julie Billiart Parish & the
Archdiocese of Chicago!
Let's all make a difference
and come together as a parish.
Commitment Weekend will be
June 4th & 5th at all Masses.
Campaign Update
We have raised more than $ 882,845
thanks to the early commitments
from 155 families!
Thank you for your enthusiasm, generosity, and prayers. As the
To Teach Who Christ Is Team concludes, we hope for full parish
participation. Your gift will ensure a vibrant future for our parish,
and Catholic education across Chicago.
For more information about To Teach Who Christ Is, please visit www.toteachwhochristis.org.
You may also contact the parish office or the To Teach Who Christ Is office at 312-534-8500.
Page 4
PARISH CALENDAR May 23 - 29
Devine Center except where noted.
Monday,
May 23
Autumn Leaves Rosary - Away
St. Peregrine Novena - Chapel
SVDP Meeting - Staff Conference Room
AA
Tuesday,
May 24
Feed My Sheep - Away
Adult Choir - Parish Hall
10:00 a.m.
7:00 p.m.
7:00 p.m.
8:00 p.m.
5:00 p.m.
7:00 p.m.
10:30 a.m.
7:00 p.m.
Wednesday,
May 25
Thursday,
May 26
Friday,
May 27
Saturday,
May 28
Sunday,
May 29
Adoration of the Blessed Sacrament - Chapel
Bible Study - Great Room
Mercy Monday Committee Meeting - Great Room
Holy Hour of Reparation - Chapel
TTWCI Meeting - Great Room
8:30 a.m.
9:30 a.m.
12:30 p.m.
4:00 p.m.
7:00 p.m.
Mary Chapel Open
8:30 a.m.
Wedding of O'Reilly & Bramson - Church
AA
2:00 p.m.
7:30 p.m.
Parish Office
Regular Hours
Monday thru Thursday
8:30am - 8:00pm
Closed for lunch
12-1pm
Saturday
9:00am - 1:00pm
Friday* and Sunday
Closed
* On Fridays
the Mary Chapel
will be open from
8:30am - 4:00pm
Access only thru doors
by the Parish Office.
The Body & Blood of Christ
Sacrificial Giving for July 1, 2015 thru June 30, 2016
May 15
Needed
$20,400.00
Collected
$13,269.48
Under Budget
($ 7,130.52)
Children's Envelopes
Children's Amount
GiveCentral
April 2016
Year to Date
$938,400.00
$16,065.50
$881.140.96
($ 57,259.04)
7
500 Club Winners:
May 13, 2016
Feast of St. Julie
1st Prize ~ $1,000
#144 Kathy Supple
2nd Prize ~ $500
#438 John Brennan
$7.00
May 15, 2016
Memorial Day Weekend Parish Office Hours
Closed Friday, May 27
Open Saturday, May 28 from 9:00am to 1:00pm
1st Prize ~ $100
#391 Peggy Fashingbauer
2nd Prize ~ $25
#489 Sue Clemons
Closed Sunday, May 29
Closed Memorial Day, Monday, May 30
Facebook
St Julie Billiart Parish
Twitter
@SJB_Tinley
YouTube
www.youtube.com
MINISTERS AND MASS INTENTIONS
Liturgical Ministers
May 28/29
(subject to change without notice)
Saturday
4:30 p.m.
Fr. Lou Tylka
Sunday
7:30 a.m.
Sunday
9:00 a.m.
Page 5
Sunday
10:30 a.m.
Sunday
12:00 Noon
Sunday
6:00 p.m.
Fr. Lou Tylka
Fr. Lou Tylka
Fr. Bob Regan
Fr. Bob Regan
Ed Pluchar
Ed Pluchar
Bill Lubben
Bill Lubben
B. Rheinheimer
S. Rheinheimer
C. Hohner
J. Hohner
C. Setiz
E. Hohner
C. Scallon
J. Haines
M. Halicki
M. Cothern
J. Tuzik
N. Gorman
C. Nied
P. Bedell
N. Padgett
L. Ignacio
J. Benz
E. Eubank
SERVERS
A. Flanagan
K. Flanagan
T. Scallon
J. Burns
M. Burns
R. Hill
R. Connors
S. Connors
J. Donohoe
H. O'Brien
J. Prepura
N. Todd
F. Duncan
T. Siebenaler
Z. Siebenaler
A. Anchinges
M. Madden
M. Peca
EUCHARISTIC
MINISTERS
R. Bracken
C. Conachen
M. Grzeslo
A. Hayes
E. Helmold
P. Helmold
M. Hernaez
K. Keane
B. Kmak
J. McErlean
M. Modjeski
J. Neven
J. O'Connor
M. Ryan
T. Scallon
B. Twardy
B. Weglarz
P. Wyrick
M. Burmeister
B. Daum
D. Gallagher
M. Geary
G. Gestaut
M. Jarosch
P. Marrs
J. Matz
J. McMillian
S. McMillian
M. Murphy
M. Norris
L. Palmer
N. Rosian
R. Siepka
P. Tunney
J. Cavanaugh
E. Collins
S. Connors
R. Espinos
M. Estandarte
J. Gill
J. Hannigan
M. Hannigan
K. Keller
R. Kuta
E. Kuta
M. Kuta
G. Leone
D. Mazzuca
M. McCarthy
D. McClintock
M. Mull
C. Murray
E. Day
J. De Vivo
P. Fashingbauer
P. Flynn
M. Keifer
T. Keifer
P. Kmak
C. Kokaska
B. Kokaska
C. Nied
N. Pfieffer
C. Prepura
Jeff Prepura
M. Rubino
D. Stanula
J. Taylor
A. Todd
S. Wasinski
S. Biel
B. Cuba
P. Daly
D. Dobrzynski
L. Freundt
K. Intrieri
D. Jozwiak
J. Kilanowski
P. Laspesa
T. Lavan
M. Marchbanks
L. Maurer *
P. Moskal
M. Pratt
P. Siebenaler
E. Sniegowski
S. Becvar
J. Benz
D. Buckley
T. Corcuera
K. Duffy
V. Fultz
J. Lucas
M. O'Donnell
T. O'Donnell
J. Rickey
G. Rimkunas *
Not Filled
Hot Filled
Not Filled
Not Filled
C. Minatto
V. Isherwood
M. Plys
J. Nels
PRESIDER
DEACON
CANTOR
LECTORS
1st
2nd
(* denotes sub has been
requested and is needed)
CHILDREN'S
LITURGY
Leader
Assistant
Mass Intentions for Daily Masses Monday - Friday at 8:00 a.m.
Monday
Tuesday
Wednesday
Thursday
May 23
May 24
May 25
May 26
+Jesse Lopez
+Lillian & Zygmunt
Gasiorowski
+Rita Zicarelli
Deceased members of:
Morrissey & Leonard families
Brementowne Manor
Beloved Deceased of
St. Julie Billiart
+Alphonse & Jean Michelon
+Janina Carrig
+Luna Elizabeth Entsminger
Deceased members of the Consolo & Ferrara families
+Leighton Stone
+Mary Stone
+Robert J. Jorfe
+Jean Sommerfield
Fr. Bob Regan
Friday
May 27
+Matthew E. Szwed
+Al Roth
+Charles Gniadek
+Lorraine Licastro
Mass Intentions for the Christian Sabbath, the Lord's Day
Saturday,
Sunday, May 29
May 28
4:30 p.m.
+Terry & Richard Sharp
+David Hillebold
+William Kaucky
+James Battaglia
+Phyllis Tumpich
+Val & Petronella Kach
+Roman Lukasick
50th Wedding Anniversary
Joseph & Helen Considine
7:30 a.m.
+Loretta Marth
+Mary Ann Boyle
+Ann Weston
9:00 a.m.
For All Mothers
+Pasquale Giampietro
+Patricia Cerny
+Joseph Cirillo
+David Porcaro
10:30 a.m.
St. Julie
Parishioners
+Elmer Korhorn
+Phyllis Tumpich
+Wayne Jozsa
+Peter Komar
Evangeline Juvida
Most needing souls in
purgatory
12:00 p.m.
+Doris Jacobs
+Orlando David
+Michael Presbitero
+Emma Pillas
+Clarita Generao
+Elizabeth Infante
Vergilio Angga
Individual deceased names will be preceded by the cross (+) sign .
6:00 p.m.
+Matthew J. Cadore, Jr.
.
Page 6
IN OUR PRAYERS
OUR BELOVED DEAD
NEWLY BAPTIZED
Eternal rest grant to them, O Lord.
Philippians 1:21
One Lord, one faith, one baptism.
Edward Bautista
(father of Kathleen Mendoza)
Saturday, May 14, 2016
Martha Ecklund
(mother of Janis Winters)
Grace Catherine,
daughter of Christina & Patrick Fulton
Thomas McLean
(husband of Jacqueline)
Rick Roman
NEEDING GOOD HEALTH
Joseph V. Frencl
Cindy Prepura
Mike Jordan
Janet Coluzzi
Susan Mojderik
Robert Purcell
Pat Johnson
Sarah Lillie
Joe McCorry
Liz Frankenbach
Bill Lubben, Sr.
Lee Dobbs
Dan Lyons
John McLean
Vivian DeGidio
Lawrence Lonero
Bill Busby
Ephesians 4:5
Sunday, May 15, 2016
Kyrin Storm
son of Celina & Enrico Da Valle
Ava James,
daughter of Adriana & David Dougherty
Maximilan Fredrick
son of Jamie & Kurt Fryzek
Chelsea Diane
daughter of Mary & Peter Moritz
Griffin Daniel
son of Nicole & Daniel Woods
ANNIVERSARIES
May 22, 2016
50th Wedding Anniversary
James and Margaret Catania
May Marriage Prep
Please keep the following couples
in your prayers,
as they prepare for marriage.
Kaitlin Brennan and Joel Truffa
Laura Siamis and Chad Stolzenbach
Kendra Anderson and Eric Meyers
Jenna Pyznarski and Kevin Rudolph
Rachel Dobersztyn and Max Leuter
Nicholas James
son of Julia Gordon & Kevin Von Borries
SERVING OUR COUNTRY *
Thomas Ryan, USMC
Major Jim Hannigan, US Army
1st Lt. Brian Sutor, USAF
Lt. Col. Tom Vogel, US Army
Lt. Col. Dan Vogel, US Army
Paul Evans SSG, US Army
Joseph Lyon PFC
Alex Bubis PFC, US Army
Raul Torres, US Army
Sgt. Jason L. O'Brien, US Army
Timothy J. Avolio, US Navy
Master Sgt. Michael LaGiglia
1st Lt. Mario LaGiglia
Sr. Airman Dominic LaGiglia
Sr. Airman Brandon LaGiglia
Private Geno LaGiglia
Sgt. John Thomas LaGiglia
Capt. Kelly Pajak Johnson
Capt. Matthew Johnson
US Army National Guard
Private Salvatore Chavez, US Army
Capt. Katherine Maglia, USAF
Michael J. Yucuis, Jr., USAF
Lt. Col. Kimberly (Nyderek) Schmidt, USAF
Nick Merda, U.S. Marines
Lt. Charles S. Novak, US Coast Guard
John T. Hannigan
PFC John Riordan, US Army
Tanya Ayon, USAF
Private Juan Carlos Chavez, US Army
AFC Tanya Rhude, USAF
Capt. Michael J. VanWyk, USMC
Lt. Cmdr. Michael P. Schnolis, US Navy
Sgt. 1st Class Daniel Whitney
Airman Richard P. Scherl
Matt West, US Army
2nd Lt. David Pierce, US Army
Staff Sgt. Carmen Consolino, USMC
Sgt. Timothy Gena, USMC
Airman Michael R. Sarniak, Jr., US Coast Guard
Kimberly Rodriguez, US Marines
Matt Brophy, US Army
Capt. Michael Wieland, US Marines
Capt. John S. Dabrowski, US Army
Capt. Brian Dommer, US Army
Sgt. Robert Sterling, US Army
Timothy Driscoll, US Army
Cpl. Joseph G. Kowalczyk, USMC
Bryan Holubik, US Navy
PVT Matthew Ryan, US Army
Lt. Cmdr. Michael W. Meno, Jr., US Navy
2nd Lt. Andrew Reno
1st Lt John H. Weiss
John Scope, US Army
AFC Alex Barrett, USAF
Sgt. Daniel Patrick Ryan, US Army
PFC Joe Louis Siebenaler, US Army
PFC Daniel Wiatrowski, US Army
Tyler Novak, US Army
PV2 Eric Holubik, US Army
PVI/PFC Abel Santillan, US Marines
Capt. Brandon Schmidt, USAF
2nd Lt. Tom Ortega, US Army
Staff Sgt. Richard Vicere, USMC
Lance Corp. Patrick Kinnerk, USMC
Lance Corp. Mathew Kots, USMC
* To add your military family member who is currently serving our country to the prayer list, please call the parish office.
When he/she is released from their service, please let us know so we can keep this list current.
Thank you ~ God Bless America and all those who serve.
YEAR OF MERCY
Page 7
Parish Prayer
Intentions
May 19-25: For those being ordained to the priest-
hood for the Archdiocese of Chicago, and for all
priests who are celebrating ordination anniversaries
this year, that they are renewed in the Holy Spirit
to preach the Good News of Salvation; and for an
increase in vocations to the priesthood and religious
life.
May 26-June 1: For all our students who are cele-
brating a graduation, that the love of learning may
continue and that their summer months be restful
and safe. Also, for all men and women who gave
their lives in military service for their country, that
they may know the eternal glory of God.
Pope Francis' Prayer Intention for May
Universal: That in every country of the world,
women may be honored and respected and that
their essential contribution to society may be highly
esteemed.
Mercy Outreach Weekend
The weekend of June 11 – 13 (Saturday -Monday) will include a variety of 'mercy'
activities for the whole family, including:
June 11 Saturday - Community Clean-Up Day Options:
•
Hopkins Park work day with Sister Maribeth (all day event)
•
Spend an hour or two picking-up trash at a park, in your neighborhood, at the church
(call the parish to let us know what you have done)
June 12 Sunday 2 - 4 -Cookie Sharing at St. Julie for First Responders:
•
Bring cookie dough and cookie sheet to bake cookies
•
Bring homemade cookies to St. Julie (Devine Center)
•
Make thank-you notes for First Responders
•
Divide the cookies into 8x11 foil pans for delivery to various First Responder locations
June 13 Monday 2 - 4 pm at St. Julie, Parish Hall:
Port lunches
♦
Bring one of the needed items (lunch meat, cheese, fruit, small bags of chips, snack items, granola bars, etc.)
♦
Decorate the bags
♦
Make the lunches
♦
Anthony from The Port will be here with The Bread Truck to talk about the mission of the Port
•
Soles for Hope – a project to provide 'shoes' for the people of Uganda
♦
Bring old jeans and a good scissors
♦
Use the provided patterns for the Sole Hope project
♦
Send as many "soles" as possible to Uganda (money has already been collected for the postage)
•
Page 8
LITURGY & MUSIC
Next week's readings for the
Most Holy
Body & Blood
of Christ
Reading I : Genesis 14:18-20
Blessed by God most High!
The first reading describes Melchizedek,
king and priest in what would later be
called Jerusalem. Melchizedek blessed
Abraham and offered him bread and
wine. The offering of bread and wine to
Abraham relates to the Eucharistic
sacrifice of the Mass.
Reading II : 1 Corinthians 11:23-26
Each time you eat this bread and drink
from this cup, you proclaim the death of
the Lord.
In the passage from 1 Corinthians, Paul
is scolding the wealthy members of the
community for having special dinners
and excluding the poor. The Corinthians
misunderstood that their sharing in the
Eucharistic meal made them one body
with each other, the Body of Christ.
Paul reminded the Corinthians that
Jesus was present whenever they told
the story and shared the meal.
Gospel : Luke 9:11b-17
Christ feeds us.
Luke's version of the multiplication of
the loaves and fishes has been
influenced by the liturgical practices of
the Christians.
The words describing Jesus' actions
reflect the telling of the Eucharistic
story. Jesus does not feed the crowd
but instructs the disciples to do so. This
suggests the ministries in the Church of
distributing the Eucharistic food and
sharing meals with the hungry.
Questions
For Children: How can you share what
you have received from Jesus with
others this week?
For Youth: Each week, when we
celebrate the Holy Eucharist we are
asked to "do this in remembrance of
me". How else do you acknowledge the
importance of Jesus in your life?
Through prayer? Through the ways that
you treat others?
For Adults: How can you prepare
yourself to be nourished by Jesus in the
Eucharist this week?
St. Peregrine Novena
Monday, May 23 at 7pm in the
Chapel is the fifth evening of the
9-week Novena. Please note
that the Novena will take 10
calendar weeks to complete,
due to skipping the Memorial
Day holiday on May 30.
Challenge
How can I make my summer
spiritually and personally more
significant? Consider attending
Morning Mass or a Holy Hour
on Thursdays or praying the
Rosary at Autumn Leaves. Or
perhaps performing Works of
Mercy for those in need.
Worship Office
(708) 429-6906
Lector, Greeter, Usher, Cantor
or Choir Member, should
demonstrate your appreciation
of how your role fits with the
worship experience. Does your
attire express respect and
reverence for the sacred
mysteries that are being
celebrated? Would you
consider wearing your church
clothes to a job interview? All
ministries, in actuality, are much
more important than any
interview. They require a
reverent demeanor and
appropriate clothing.
Inquiry
Any adult
interested in
becoming Catholic
is invited to Inquiry.
It is a time to gather in prayer
and reflection. It offers an
opportunity to ask questions
and concerns you have about
the process, the sacraments or
the Church itself.
If you, or someone you know,
would like to attend a session,
they are held on Tuesday
Warm Weather Attire for evenings from 6:30-7:30pm in
Liturgical Ministers
the Parish Office. It is a relaxed
As the temperatures change for atmosphere of seekers and
spring and summer, so too, our those who can guide them. If
church wardrobe. Keep in mind, you have questions, you are
welcome to call Sr. Gael.
the church is air-conditioned.
You can always change your
clothing after Mass for your next
event! A liturgical minister's
attire, whether a member of the
Assembly, Eucharistic Minister,
HUMAN CONCERNS
Page 9
Immigration
"The horrors of the Syrian war are
heart-rending. More than 250,000
people have perished. Half of
Syria's population has been forced
from their homes. Our brothers
The blood supply is in a world of
hurt right now. Many of the blood and sisters' suffering is terrible.
types are in very short supply. The It compels us, as Catholics, to dig
situation is in desperate need now! deeply into the foundation of our
In order to stop the plummet, we beliefs and our Church's teaching and to respond."
URGE you to donate blood at one
Source: Catholic Relief Services
of our 13 convenient donation
centers.
Action: Ask Congress to provide
While walk-ins are welcome;
funding for poverty-focused interyou can call to schedule your
national humanitarian assistance
convenient appointment!
and fulfill our nation's commitment
Call: 1-800-7TO-GIVE
to help Syrian and other refugees.
(1-800-786-4483)
Call your members of Congress
using this toll free number: 888Food Collection
562-8232. Visit
Don't forget to pick up some non- www.ConfrontGlobalPoverty.org.
perishable food, or paper products
when you shop this week. Laundry Office for Immigrant Affairs and
Immigration Education
detergent and diapers are also
Elena Segura (312) 534-5333
needed.
[email protected]
Help Us to Support the
Church's Initiative on Marriage
Joyful Again!
Today we celebrate the feast
Program for
of Pentecost – the sending of the
Widowed Men
Holy Spirit, the Advocate, the
and Women
Comforter to come and dwell in
Today, as we celebrate
Pentecost, the Holy Spirit
wants to make us advocates
of God's presence to bring
new life to others, especially
those who do not know the
love of God in their lives.
Your gift in the St. Vincent de
Paul Poor Box will help the poor
to believe in the mystery of
God's love for them.
What: Workshop/retreat
Where: St. Julie Church
When: July 9 & 10, 2016
For information or to register
contact:
Joyful Again Widowed Ministry
Phone: 1-708-354-7211
Email: [email protected]
us, God's children. Open your
heart wide and invite the Holy
Spirit to dive even deeper into
your relationship with God and
your spouse.
Are you widowed? Have you
reached a crossroads? Are you at
a turning point? Do you want to
move forward in your life, while
still treasuring your memories?
The next Worldwide Marriage
Encounter Weekends are June 1012, August 12-14 and October 7-9,
all at Elk Grove Village, IL. Early
registration is recommended.
The Joyful Again program brings
hope and understanding to help
you in your life's new journey.
Being widowed is a special loss,
and this program is designed
especially to help the widowed find Annulments
hope and joy again.
Annulment support is available by
calling the Parish Office: 429-6767.
Space limited so register early.
For reservations/information,
call Jim & Kris at 630-577-0778
or contact us through
http://wwme-chicagoland.org.
Food Collection
Don't forget to pick up some nonperishable food, or paper products
when you shop this week. Laundry
detergent and diapers are also
needed.
Page 10
Religious Education
Office (708) 429-1044
FORMATION
Thank You,
Volunteer
Catechists!
Pay your
tuition with
SCRIP!
Earn Religious Education
Tuition Rebates
As we celebrate
the end of our
Religious Education
year, we thank all
of our Catechists,
our Coordinators, our Office Assistants and all who contributed their
time and talents in any way to make
our faith formation program effective.
A very special "thank you" to all of the
parents / guardians of our children
who faithfully "drop them off" and
"pick them up" from their sessions.
Confirmations, Communions,
Mother's Day, proms, showers,
weddings, proms, summer vacation planning, spring sports, and
end of the year coach and teacher
gifts are all perfect opportunities Catechists Needed
to use Scrip gift cards and earn
Can You Help?
valuable rebates for your family.
Catechists are still needed both for
Please see page 13 for the many
the Summer Intensive and our regular
ways you can earn rebates.
classes. If, you feel that you can be
involved in the faith formation of our
Need More Information?
young people, please call the Religious
Please visit the CJB web site and
Education Office, 708/429-1044 or
click on GIVING, then SCRIP or
708/429-6767 x227.
contact one of our CJB Scrip Team
members:
Corinna Pytel 708-478-0710
Karen Calcagno 708-226-1213
Colleen Harris 708-429-4190
Parish Couriers
All four of our sponsoring
parishes now provide a weekly
courier for filling Scrip orders.
St. Julie's courier picks up on
Monday mornings!
Cash and Carry Sales
at CJB
 Wednesday evenings
6:00-7:00pm
 Friday mornings
7:30-8:15am
2016-17
Updated
Registration
Information
Our Summer Intensive Program
enrollment is now full so registration
for Summer Intensive has closed.
There is a waiting list; however,
there is a need for more teachers.
If you are registering for the upcoming 2016-17 school year, summer
intensive tuition must be paid in full
at the time of registration. For the
Fall classes, you may pay half the
tuition now, with the balance due
in January, 2017.
Register before June 1st to take
advantage of our "Early Bird" tuition
rate. When you register after June
1st, the tuition rate increases by $50.
Monday Night Medley
The Southwest Suburban Cluster of parishes will, once
again, sponsor Monday Night Medley, the Summer Faith
Formation Series. All sessions are held in the Devine
Center from 7:00-8:45p.m. The schedule with speakers
and topics is as follows:
Date
June 13
June 20
June 27
July 11
July 18
July 25
Speaker
Felicia Wolf
Rev. Bill Stenzel
Rev. Ed Upton
Dr. Jenny De Vivo
Sharon Allison
Dr. Elizabeth Jeep
Title
Overview of the Creed
God the Father
God the Son
God the Holy Spirit and Mercy
Mary and the Communion of Saints
Catechesis and the Creed
This is another opportunity to continue our growth in an understanding
of our Catholic faith.
COMMUNITY LIFE
Page 11
Thank you Deanne ~
In your faithful service,
you have helped us to pray well.
PLANET
GREEN
RECYCLE
Young At Heart Lunch June7
Annual Birthday Celebration
Devine Center doors open 11:15am
with Lunch At Noon.
Cost: $7 members; $10 for others.
Our menu is Hamburger, Cheeseburger or Hot Dog, salad, Frank's
beans, the trimmings, Ice Cream and
Cake and Prizes!
Upcoming Bus Trip
Chicago Botanic Gardens, Glencoe
Tuesday, June 28, 2016
Depart St. Julie at 10:00am
Return approx. 4:00 pm
Cost: $62. All inclusive (bus, tram
tour, buffet lunch, gratuities)
June 1
Beautiful Mercy
Bring your e-waste items
by Matthew Kelly
(empty ink cartridges,
old cell phones, hand held computers, July 6
flashlights, & other gadgets); also
The Art of Hearing Heartbeats
writing materials (pens, markers,
by Jan-Philipp Sendker
caps, highlighters, etc.) that you'd like
to get rid of and place in the container in the circle area near the library.
We just received a check for $46!
Thank you for helping your parish
and keeping our planet green.
Thursday Mornings
ST. JULIE
GOLF OUTING
Friday, August 26th
Silver Lake South
Course
St. Julie
Water Bottles
On sale now
in the Parish Office
only $5
Blue, Green & Red
This fund raising event includes
greens fee, cart, lunch and barbeque!
Cost: $100 - 18 holes; $75 - 9 holes.
If want to join us for the barbeque
only, the tickets are $50.
There are several levels of sponsorship:
♦
♦
Bingo
returns
in
July!
The St. Julie
Book Club
meets the first
Wednesday of
every month at
1:00 p.m. in the Great Room.
♦
Gold Sponsorship - $600
(includes 4 tickets for Golf,
2 extra dinner tickets and a sign
on a Tee box)
Silver Sponsorship - $500
(includes 4 tickets for Golf and
a sign on a Tee box)
Hole Sponsorship - $100 per hole
(sign on a Tee box)
Pinochle Club will
resume in August!
May 26 at 9:30am in Great Room.
We use At Home with the Word.
Mercy Outreach
Weekend
The weekend of June 11 – 13
(Saturday -Monday) will include
a variety of 'mercy' activities
for the whole family, including:
 Park Clean-up
 Baking for First Responders
 Lunches for the Port
 Sole Hope Party.
Start now by saving your worn
jeans – all sizes can be used!
Please go to page 7 for a
complete, detailed list of activities.
Page 12
(708) 429-7377
[email protected]
YOUTH & YOUNG ADULTS
How do you say Thank You?
Need Service Hours?
Or want to help?
Help Wanted: Busy People!
We currently need a couple
more Daybreak Breakfast
Teams to fill in for our retiring
groups. Can you help? It's 4
hours per year! It's perfect for
a busy family, group of friends,
coworkers, etc. Give us a call
at 708-429-7377 or
[email protected] Thank you!
Daybreak is year round
Thank you for your
continued donations of
breakfast items. Donations
can be dropped off at the
parish office during normal
business hours the week
before the first Sunday of
any month.
Next date: June 3
Donuts Sunday
We are always looking for
help at Donut Sunday from
8:00 a.m. until Noon. See
Mr. Rubino in the Parish
Hall and he will put you
to work.
Next date: June 12
Did You Know? We post
service opportunities,
TNT, RE and parish events
on Facebook.
St Julie Billiart Parish
St Julie Billiart Parent Group
St Julie TNT
Follow the parish on Twitter
@SJB_Tinley
As you know, Deanne Tumpich, our Director of Music and Liturgy will be retiring at
the end of May. There will be a special
Mass for her at Noon this weekend to offer
her our gratitude for all that she has given
to St. Julie and blessings for a fruitful and
well-deserved retirement.
The name Deanne means…
You are determined and stubborn.
No one can argue with that!
You are a good worker, steady and practical, a builder who takes responsibility well.
Yes!
You are very intuitive. You have a reservoir
of inspired wisdom combined with inherited
analytical ability, which could reward you
through expressions of spiritual leadership
and artistic visions.
Our choir is the best!
Operating on spiritual side of your individuality can bring you to the great heights.
You want to grow wise and to understand
people and things. You need privacy to
replenish your energy.
No one deserves to enjoy her retirement more!
Also means divine : )
Thank you, Deanne, for sharing all of your
gifts with us as a parish, as a staff and as
individuals. We are a more joyful and a
more faith-filled community because of you.
God bless you!
"Hey, hey, what do you say?"
Softball forms are available right outside the
parish office doors on the wall. Grab some
forms and pass them out to your friends!
It's going to be a great summer! All current
8th graders thru current seniors are eligible
to play. All are welcome!
Car Wash!
Saturday, June 4th
9:00am-1:00pm
Come get your cars, trucks and vans
washed! All proceeds help us pay for our
mission vans and for the gas for our mission trip! Tell all of your friends and family!
Thank you for your support!
June 11-12-13 is
Mercy Weekend!
Saturday - we are asking
everyone to be part of a
clean up effort here in
town.
Sunday - is baking cookies
day! Yum!
Monday we will be making Lunches for the
Port, cutting out patterns for shoes (save
your old jeans!) and if we have enough time
and hands, making greeting cards!
Come join in the fun! Bring your family and
friends! See page 7 for a complete listing of
Mercy Weekend details!
"Come, follow me…"
Saturday, May 28
4:00-6:00pm
St. Peter's in the Loop
110 W. Madison St., Chicago
th
Join us for Eucharistic Procession,
starting at 4pm, at St. Peter's in the
Loop Parish. We will travel by foot
to Daley Plaza, Millennium Park and
DePaul University's Downtown Campus. Each location will be a station
done in one of three languages
(Polish, Spanish and English) that will
reflect on a scripture passage, a
Eucharistic Miracle and a moment
of prayer. The Procession will end
with a blessing at St. Peter's Parish.
OUR PARISH SCHOOL
Page 13
Cardinal Joseph Bernardin School Preschool Summer Camp
Open to all three and four year olds. Must be potty trained.
July 11 - 15
Farmer's Garden
August 1 - 5
Under the Big Top
Take a closer look and see what's growing in the
farmer's garden. Use your senses to learn about different
types of vegetables, see who helps keep the farmer's
garden safe, and grow your own vegetable!
Step right up and get your ticket to go "Under the Big
Top". Take a look at all the circus animals, practice your
circus act skills, and play some fun side show games.
Maybe even meet a clown!
Camp meets Monday thru Friday from 9:30 - 11:30 a.m. and include story time, crafts, and hands-on learning activities.
Spaces subject to availability. Minimum of ten students needed to hold session.
For more information call 708-403-6525 ext. 150 or mail the registration form below.
Registration Information
Please return this form, with your check payable to Cardinal Joseph Bernardin School by June 1.
Child's name__________________________ Age ____ Date of Birth _____________
Parent's name ________________________________________________________
Address ____________________________________________________________
City ___________________________________________ Zip code ____________
Home number _______________________Cell number _______________________
SA
VE
TH
E
DA
TE
!
Please indicate your camp choices. Select one or both camps for a summer of fun!
Each camp is $55 or attend both for $100
_____ July
_____ August
Attn: Preschool Summer Camp, Cardinal Bernardin School; 9250 West 167th Street, Orland Hills, Il, 60487
CA
R
RA
FF
LE
!
Bulletin Board
Page 14
43rd Annual
Senior Unity Mass
and Luncheon
Thursday, June 2, 2016 at 10:00am
Holy Family Church
1080 W. Roosevelt Road
Chicago
There are 350 luncheon spots available
RSVP: Mandy Hamilton at 312/655-7425
or [email protected]
VETERANS
Honor flights are now being extended to Korean War
Veterans as well as WWII Vets who have not made the
trip. Flight dates for 2016 are June 8, July 13, August 10,
September 7 and October 8. Applications for the Honor
Flights to Washington DC can be obtained at the information rack in the Tinley Park Library entryway.
Pastoral Staff
Rev. Louis Tylka, Pastor - [email protected]
Rev. Robert Regan, Associate Pastor - [email protected]
Edward (& Sheila) Pluchar, Deacon
William (& Joan) Lubben, Deacon
Nancy Pfieffer, Business Manager - [email protected]
Sr. Gael Gensler, Pastoral Associate - [email protected]
Patricia Kmak, Director of Religious Education - [email protected]
Deanne M. Tumpich, Director of Liturgy & Music - [email protected]
Sheila Pluchar, Youth Ministry Coordinator - [email protected]
Mary Alice Roth, Director of Human Concerns - [email protected]
Support Staff
Marianne Mueller, Sacramental Coordinator
Laura Frencl, Administrative Assistant
Jean Aiello and Peg Siebenaler, Administrative Assistants
Barb Theis, Liturgy and Technology Assistant
Cindy Conachen, Facilities Coordinator
Parish Office
708-429-6767 * Fax 708-429-6788
Hours: Monday - Thursday 8:30 a.m. - 8:00 p.m.
(M-Th 12:00-1:00pm Closed for lunch)
Saturday 9:00 a.m. - 1:00 p.m.
Closed on Fridays and Sundays
Office of Worship & Music - 708-429-6906
Office of Religious Education - 708-429-1044
Youth Office - 708-429-7377
Visit us on the Web: http://www.stjulie.org
Golden Wedding
Anniversary
Mass
Were you married in 1966 ?
Golden Wedding Anniversary Mass
to be held on
Sunday, September 18, 2016 at 2:45pm
Holy Name Cathedral
735 North State Street, Chicago
Couples married in 1966, who are interested in
attending this celebration, should contact the parish
during regular office hours by June 13 to register.
For further information, call the Marriage and Family
Ministries Office at 312.534.8351 or visit the website:
www.marriageandfamilyministries.org
Parish Pastoral Council
Rev. Louis Tylka, Pastor
and the Pastoral Staff
Scott Becvar, Chair
Ruth Enyart (Liturgy Bd.)
Dan Sniegowski (Liturgy Bd.)
Kathy Reilly (Formation Bd.)
Tom Sherry (Formation Bd.)
John Benz (Youth Bd.)
Merilee Andreasen (Youth Bd.)
Mary McCarthy (Community Life Bd.)
Mike Rubino (Community Life Bd.)
Karen Keller (Human Concerns Bd.)
Judi Haines (Human Concerns Bd.)
Chris Conneely (Pastor's Appointee)
Cheryl Scallon (Pastor's Appointee)
Finance Council
Bill Hackett, Chair
Carl Evans*John Thomas*Patrick Flynn*Nate Lindstrom*Kay Kempke
Reconciliation: Saturday from 3:30 to 4:00 p.m. or anytime in
the parish office by appointment.
Registration: Please call Sr. Gael in the parish office weekdays
between the hours of 8:30 a.m. and 4:00 p.m. for information on
registration.
Baptism: Please call the parish office to make arrangements for
your child to be baptized and to attend a preparation class.
Marriage: Please call the parish office at least six months in
advance to secure a wedding date and to begin the pre-marriage
preparations.
Masses: Monday-Friday at 8:00 a.m. / Saturday at 4:30 p.m.
Sunday at 7:30, 9:00, 10:30 a.m., 12:00 noon & 6:00 p.m.
Cardinal Joseph Bernardin School
9250 W. 167th St., Orland Hills * 708-403-6525 * Fax 708-403-8621 * Ms. Mary Iannucilli, Principal
Our Soldiers
Greatest Need: white, army green or black t-shirts (L or XL), letters to soldiers, Pringle chips snack pack (8 pk), snack packs
of raisins, Kraft handi snack packs (6 ea), bags of individual wrapped candy, granola bars, Rice Krispy treats (individually
wrapped), crossword puzzle/game books and insect repellent with deet (pump style).
Also Need: toilet paper, shaving cream, eye drops, disposable razors (10 pk), AA batteries (8 pk), lotion, white sox, band-aids
(one size), heavy duty wet wipes, Tampax Super Plus 46, Always Ultra Thin Pads 28, travel size Kleenex, combs, brushes,
hair clips & bands, disposable cameras, beef jerky, powdered lemonade (12 quart), powdered Gatorade (2 gal), 12 oz. bags of
ground coffee, mouthwash, regular size shampoo and conditioner, International phone cards. And we always need money for
postage.
This bulletin is made possible by the following advertisers. Please patronize them when possible.