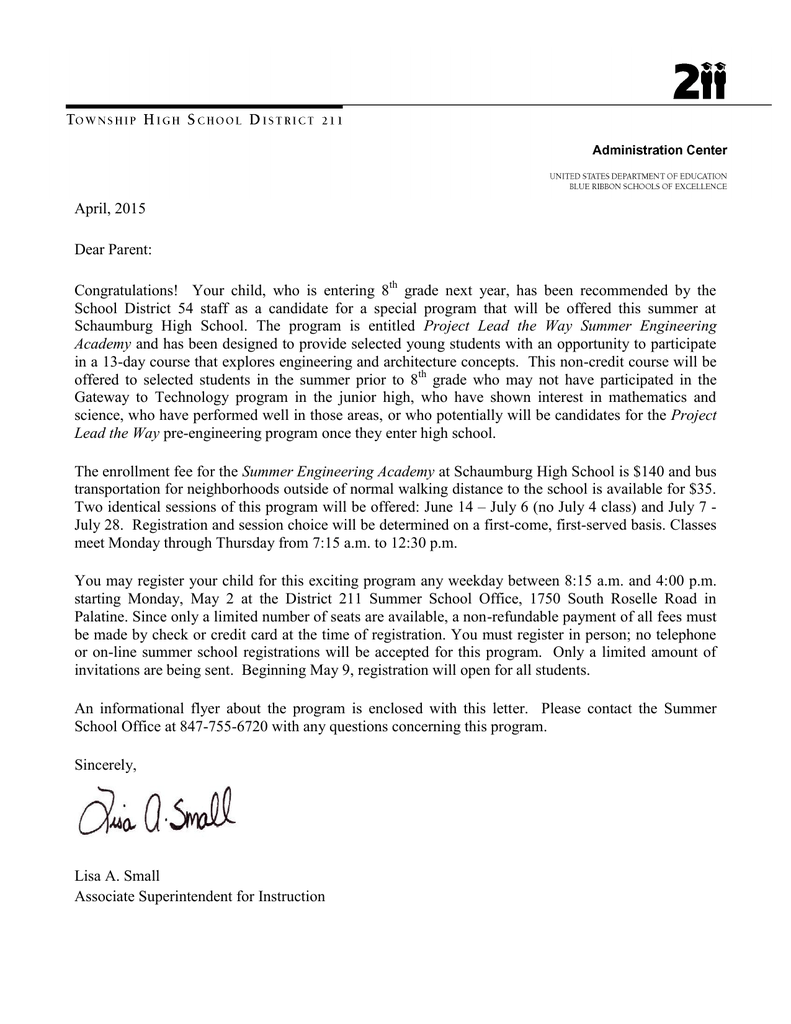 April, 2015
Dear Parent:
Congratulations! Your child, who is entering 8th grade next year, has been recommended by the
School District 54 staff as a candidate for a special program that will be offered this summer at
Schaumburg High School. The program is entitled Project Lead the Way Summer Engineering
Academy and has been designed to provide selected young students with an opportunity to participate
in a 13-day course that explores engineering and architecture concepts. This non-credit course will be
offered to selected students in the summer prior to 8th grade who may not have participated in the
Gateway to Technology program in the junior high, who have shown interest in mathematics and
science, who have performed well in those areas, or who potentially will be candidates for the Project
Lead the Way pre-engineering program once they enter high school.
The enrollment fee for the Summer Engineering Academy at Schaumburg High School is $140 and bus
transportation for neighborhoods outside of normal walking distance to the school is available for $35.
Two identical sessions of this program will be offered: June 14 – July 6 (no July 4 class) and July 7 July 28. Registration and session choice will be determined on a first-come, first-served basis. Classes
meet Monday through Thursday from 7:15 a.m. to 12:30 p.m.
You may register your child for this exciting program any weekday between 8:15 a.m. and 4:00 p.m.
starting Monday, May 2 at the District 211 Summer School Office, 1750 South Roselle Road in
Palatine. Since only a limited number of seats are available, a non-refundable payment of all fees must
be made by check or credit card at the time of registration. You must register in person; no telephone
or on-line summer school registrations will be accepted for this program. Only a limited amount of
invitations are being sent. Beginning May 9, registration will open for all students.
An informational flyer about the program is enclosed with this letter. Please contact the Summer
School Office at 847-755-6720 with any questions concerning this program.
Sincerely,
Lisa A. Small
Associate Superintendent for Instruction
.
..
6
1
0
2
l
o
o
h
c
S
Summer
TOWNSHIP HIGH S CHOOL DISTRICT
211
Project Lead the Way
Summer Engineering Academy
Incoming Districts 15 and 54 8th Grade Students
Background
The Project Lead the Way program is a cornerstone of the District 211 STEM (Science, Mathematics,
Engineering, and Technology) efforts in our schools. This series of pre-engineering courses is an
enrollment option for most students and provides a high-quality college-level curriculum with practical
career exploration in a growing professional field. Courses in the Project Lead the Way program
are available to freshmen through seniors. To that end, we are excited to offer an opportunity for
participation in an exciting summer program to incoming eighth grade students who will enter District
211 as freshmen in one year.
Course Content
This is a summer course for 7th grade (to be 8th grade) students who are creative, like working in
groups, and have a curiosity about how things work. Students engage in units in which they explore
robotics, electronics, and Autodesk Inventor drafting and design software. Students will use state of
the art technology to solve design challenges in a variety of exciting hands-on activities.
Who Should Register?
The course is designed for students who did not participate in the Gateway to Technology program
offered in the junior high. There are limited seats available. Therefore, students will be selected to be
invited to register through a collaborative effort of the junior high and high schools. Invitations will be
sent in writing, with specific instructions on the registration process included.
Where Will This Course Be Offered?
Identical 13-day sessions are held at the following locations:
Schaumburg High School (for District 54 students)
7:15 a.m. to 12:30 p.m.
$140 fee and $35 bus transportation (if needed)
Two identical sessions:
June 14 - July 6 (no Friday or July 4 classes) OR July 7 - July 28 (no Friday classes)
– more –
Fremd High School (for District 15 students)
7:15 a.m. to 12:30 p.m.
$140 fee and $35 bus transportation (if needed)
Two identical sessions:
June 14 - July 6 (no Friday or July 4 classes) OR July 7 - July 28 (no Friday classes)
What "Project Lead the Way" Coursework is Offered at the High Schools?
There are six courses in the Project Lead the Way series offered to District 211 high school students:
• Introduction to Engineering Design™ — uses a design development process while enriching
problem-solving skills; students create and analyze models using specialized computer software.
• Principles Of Engineering™ — explores technology systems and manufacturing processes;
addresses the social and political consequences of technological change.
• Digital Electronics™ — teaches applied logic through work with electronic circuitry, which
students also construct and test for functionality.
• Civil Engineering and Architecture™ — exposes students to the design and construction
of residential and commercial building projects, design teams and teamwork, engineering
standards, and technical documentation.
• Biotechnical Engineering™ — engages students in rigorous and relevant hands-on problems
related to the human body, cell biology, genetics, disease, and other biomedical science topics.
• Computer Integrated Manufacturing™ — gives students the opportunity to employ automation,
control systems, sensing devices, computer programming, and robotics to efficiently massproduce a product using a 3-D model.
Where Can I Get More Information?
Additional information, including registration information, program and transportation fees, and class
dates and times will be included in a personal letter that will be sent to prospective candidates once
they are identified.