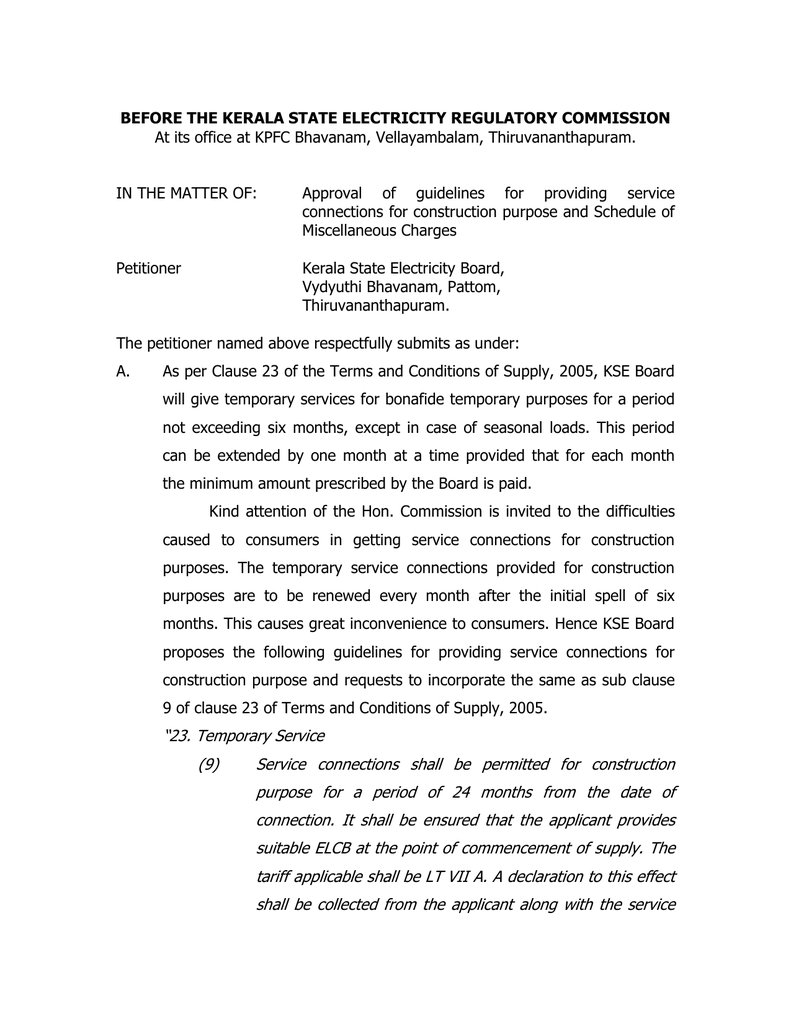 BEFORE THE KERALA STATE ELECTRICITY REGULATORY COMMISSION
At its office at KPFC Bhavanam, Vellayambalam, Thiruvananthapuram.
IN THE MATTER OF:
Approval of guidelines for providing service
connections for construction purpose and Schedule of
Miscellaneous Charges
Petitioner
Kerala State Electricity Board,
Vydyuthi Bhavanam, Pattom,
Thiruvananthapuram.
The petitioner named above respectfully submits as under:
A.
As per Clause 23 of the Terms and Conditions of Supply, 2005, KSE Board
will give temporary services for bonafide temporary purposes for a period
not exceeding six months, except in case of seasonal loads. This period
can be extended by one month at a time provided that for each month
the minimum amount prescribed by the Board is paid.
Kind attention of the Hon. Commission is invited to the difficulties
caused to consumers in getting service connections for construction
purposes. The temporary service connections provided for construction
purposes are to be renewed every month after the initial spell of six
months. This causes great inconvenience to consumers. Hence KSE Board
proposes the following guidelines for providing service connections for
construction purpose and requests to incorporate the same as sub clause
9 of clause 23 of Terms and Conditions of Supply, 2005.
"23. Temporary Service
(9)
Service connections shall be permitted for construction
purpose for a period of 24 months from the date of
connection. It shall be ensured that the applicant provides
suitable ELCB at the point of commencement of supply. The
tariff applicable shall be LT VII A. A declaration to this effect
shall be collected from the applicant along with the service
connection application. The authority superior to the
authority who had sanctioned the service connection shall be
authorized to extend the period of service by another 12
months, after ensuring safety of installation."
B. The various rates of miscellaneous nature viz., Application fee,
reconnection fee, testing fee etc. for service connection specified in
the Terms and Conditions of Supply, 2005 require redefinitions and
revision of rates to match with the specific requirements of consumers.
KSEB has proposed to suitably revise the above rates and incorporate
the same in the KSEB Terms and Conditions of Supply, 2005. The
Schedule of Miscellaneous Charges incorporating the revised rates is
given as Annexure. It is requested that approval of the Hon.
Commission in this regard may please be issued at the earliest and the
same incorporated in the KSEB Terms and Conditions of Supply, 2005.
Prayer
The petitioner most humbly requests the Hon. Commission to approve the
guidelines for effecting temporary service connection for construction purposes
and the Schedule of Miscellaneous Charges and to incorporate the same in KSEB
Terms and Conditions of Supply, 2005.
Acc: Annexure
Chief Engineer
Commercial & Tariff
Schedule of Miscellaneous Charges
Sl. No.
1
2
3
4
5
6
Description
Amount
Application Fee
a
Service Connection
L.T. Supply
i
Rs. 50
H.T. Supply
ii
Rs. 1,000
E.H.T. Supply
iii
Rs. 5,000
b
Shifting of meters, change of tariff, connecting up additional load, change of ownership,
disconnection & reconnection on request, testing accuracy of meters, testing transformer
Rs. 10
oil etc. for individual benefit
Realignment of lines, shifting of posts / lines etc. for individual benefit
c
For LT lines
Rs. 100
i
For HT lines
Rs. 500
ii
Hire & Hire purchase of materials
d
Rs. 50
Request by consumer
e
i
Reduction / increase of connected load / contract demand
Rs. 25
ii
Meter Reading and associated billing
Rs. 150
Note: Applications for Voltage Improvement, mass petition for line extension and deposit works by local bodies are
exempted from remitting application fee. A petition signed by four or more people may be considered as a mass
petition.
Processing fee
For change of ownership
a
Rs. 100
10% of estimate
For shifting of lines
b
amount
Monthly Rental Charges
Single Phase
Three Phase
a
Over head service line beyond WP Service (35 meter clear span)
5 Ps/m
10 Ps/m
including phase line adding, line conversion and HT/LT lines
b
Insertion of a post alone
50 Ps
50 Ps
c
Energy Meter (Rupees per month or part thereof) for service connection provided with
Single Phase Meter
i
Rs. 10
Three Phase Meter
ii
Rs. 20
Three Phase CT Meter
iii
Rs. 75
Note: Charges shown above are uniform irrespective of whether the meters are mechanical, electronic or
having wide range.
Shifting of Meter (labour portion)
Single phase energy meter:
a
Rs. 300
Three phase energy meter:
b
Rs. 550
CT meter (LT)
c
Rs. 1,200
TOD meter
d
Rs. 1,800
LT
HT
EHT
Reconnection Fee
a
When the supply to installation remains disconnected
for period not exceeding six months due to nonRs. 30
Rs. 1,000
Rs. 2,000
payment of electricity charges
When the supply to installation remains disconnected
b
for period exceeding six months due to non-payment of
Rs. 100
Rs. 2,000
Rs. 4,000
electricity charges or on request of the consumer
(including testing fee)
When the supply to installation remains disconnected
c
due to fault in installation / due to non-compliance with
the provisions of the KSEB Terms and Conditions of
Rs. 100
Rs. 3,000
Rs. 6,000
Supply, 2005 (even if the period of disconnection does
not exceed six months) (including testing fee)
Testing Fee
The first test and inspection of a new installation shall be carried out free of charge.
a
If any further test and/or inspection becomes necessary owing to any fault in the installation or due to non
b
compliance with KSEB Terms and Conditions of Supply, 2005 or for testing for extensions, the charges
payable in advance for each additional test and / or inspection shall be as follows:
LT Single Phase
Rs. 25
i
LT Three Phase
Rs. 50
ii
HT
Rs. 1,000
iii
EHT
iv
Rs. 2,000
Testing fee for metering equipment at consumer's request per test.
c
Single Phase Meter
Rs. 100
i
Three Phase Meter
Rs. 200
ii
Sl. No.
1
7
8
9
Description
Amount
Application
CT Fee
/ TOD Meter
Rs. 1,000
iii
Trivector Meter
Rs. 1,000
iv
CT/PT Unit
Rs. 1,500
v
HT - CT alone (per set)
Rs. 750
vi
Rs. 100
vii LT- CT (per CT)
Rs. 750
viii HT – PT
Note: Consumer has the option to entrust the meters (to be tested) in the Electrical Section Office, remitting
transportation cost with packing charge of Rs. 100/- per meter in addition to testing fee mentioned above.
Testing of Transformer Oil (per sample)
Rs. 200
d
Miscellaneous Charges
Dismantling of service connection (On request by consumer)
Rs. 100
a
Establishing Credit in the meter (prepaid meter)
First Credit establishment for the month
Nil
a
Subsequent Credit establishment
Rs. 100
b
Service Connection Charges
Tariff
Phase
Connected load
Amount
Rs. 300
501 to 1000 W
a
LT-I (A)
Single Phase
Rs. 525
1001 to 2000 W
Rs. 750
Above 2000 W
Up to 10 kW
Rs. 1,500
Rs. 1500 plus Rs.
Three phase
200 per kW for
Above 10 kW
loads
over
and
above 10 kW
Single Phase
Rs. 750
b
LT-II
Three phase
Rs. 1,500
Upto 5 kW
Rs. 115 per kW
c
LT-IV
Rs. 225 per kW for
Above 5 kW entire
connected
load
Rs. 200 per KW
d
LT-VI (A, B, C)
Single Phase
Rs. 750
e
LT-VII (A, C)
Up to 10 kW
Rs. 2,250
Three phase
Rs. 4,500
Above 10 kW
f
HT-I, II, IV, V
Rs. 450 per kW subject to a minimum of Rs. 50,000
Rs. 450 per kW
g
EHT
Note :
The following categories of consumers are exempted from Service Connection Charges:
i
LT-I (A) consumers having connected load upto 500 W, SC/ST consumers under LT-I (A) having connected
load less than 1000 Watts, LT-III, LT-V, LT-VI (D), LT-VII (B) and HT-III.
New domestic connection or conversion of 1ø to 3ø in the case of serving / retired Board employees
ii
Telephone booths approved by BSNL and run by physically handicapped persons (40% disability to be
iii
certified by Medical Officer not below the rank of Civil Surgeon of Health Service Department)
SSI units
iv
Entrepreneurs engaged in manufacturing or production of goods and acknowledged by District Industries
v
Centre
Industries having registration under Khadi & Village Industries Board or Industrial Co-operative Societies Act
vi
where the service require construction of only LT overhead lines, the length of which does not exceed 500 m
and connected load does not exceed 50 kVA
vii Consumers availing service connection by remitting cost of effecting supply.